The French chocolate charlotte is an elegant no-bake dessert featuring Ladyfingers and a rich chocolate mousse. Prepared with 5 components only, the charlotte is absolutely decadent and will sure look impressive for any festive occasion!
Chocolate charlotte is a fabulous showstopper for any occasion. You can make this traditional French dessert for a birthday party, Valentine's Day, Christmas, or just a simple dinner with friends. Really, as long as you love chocolate, any excuse is valid to bake a chocolate charlotte.
The charlotte recipe may seem a little intimidating at first, but it doesn't have to be. I baked my first chocolate charlotte for my 15 year old birthday party. I'm not gonna lie here, it didn't look as beautiful as the one in the photos today, but the intense chocolate flavor sure was there.


A beautiful chocolate charlotte
Chocolate charlotte is a simple chocolate mousse filling surrounded by soaked ladyfingers. It is somehow more elegant than a chocolate layer cake, yet way quicker to make. You just have one preparation, and the recipe doesn't require any baking. So if you want to impress your loved ones with your baking skills, go for chocolate charlotte!
In France, a charlotte is traditionally prepared in a charlotte mold or charlotte cake pan. It is more or less a Bundt cake pan, which replicates the shape of ladyfingers. You can also use a 7-8-inch (18-20 cm) round springform with detachable edges or alternatively a large pastry ring to make a charlotte.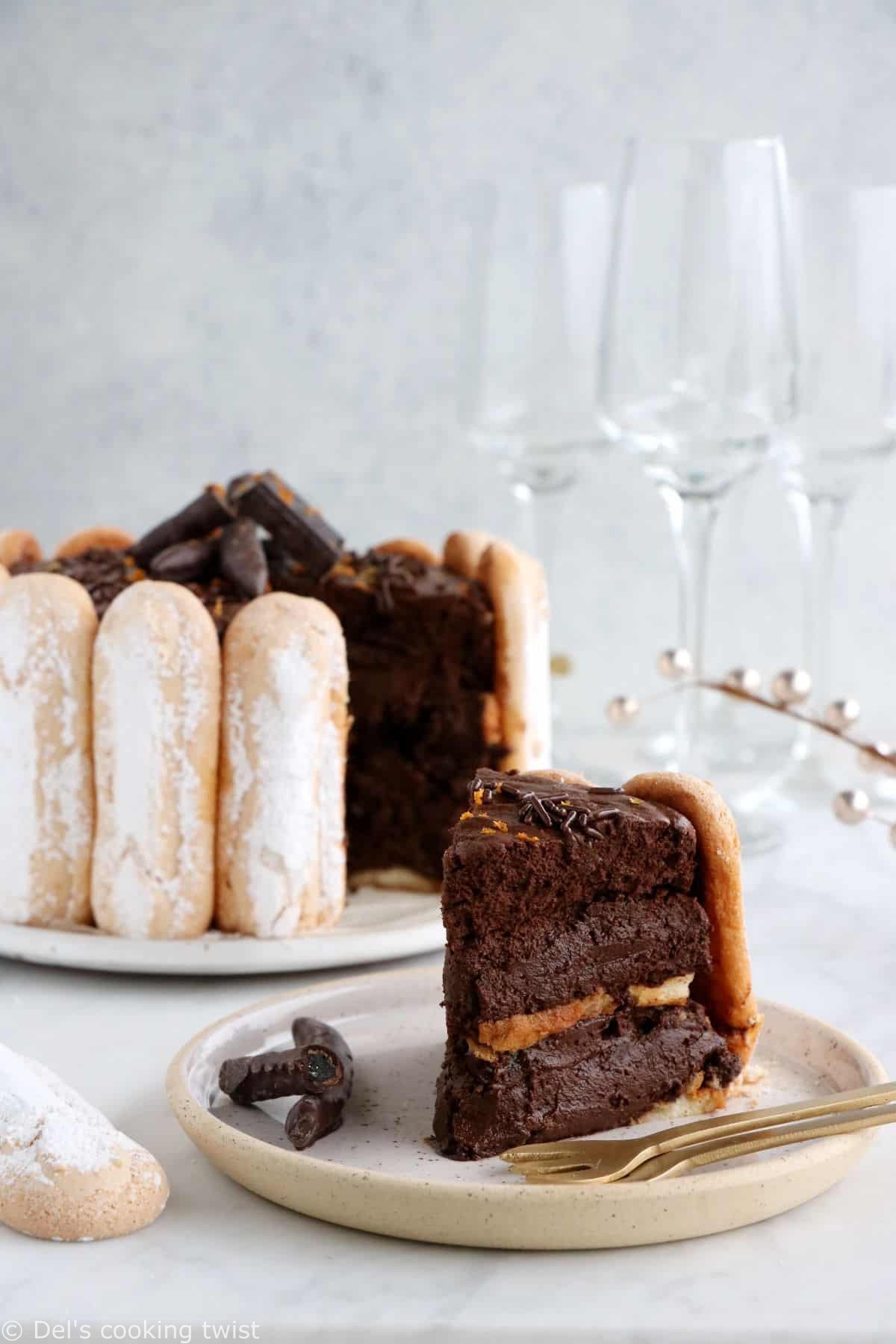 A few simple ingredients
As I said earlier, the recipe involves very few ingredients. For this reason, I recommend you go for high quality ingredients, it make all the difference when it comes to the flavors. Here's what you need:
Dark baking chocolate (60% cocoa). I found that baking chocolate with 60% cocoa is the sweet spot to have intense chocolate flavors and a light mousse texture. A higher percentage of cocoa will make your mousse too dense and heavy, while a lower percentage of cocoa will compromise the chocolate notes.
Unsalted butter. I go for unsalted butter and add a pinch of salt, that somehow cut the sweetened of the recipe and bring out the chocolate flavors. You can instead go for salted butter, but in this case skip the salt in the recipe.
Eggs. Use them large if possible, and separate the whites and the yolks like you would do for a classic chocolate mousse. The yolks will bring a rich texture, while the egg whites, once beaten into stiffed peaks, will create an airy and cloudy texture to your chocolate mousse.
Sugar. It brings some sweet flavors and enables a light, airy texture to the mousse. For this last reason, do not try to cut the sugar in the recipe or to substitute with any other sweetener.
Ladyfingers. You may or may not know that there are two types of ladyfinger: the classic dry, crunchy ones (so-called ladyfingers) and the soft ones (savoiardi or "biscuits à la cuillère"). I went for the second option in this charlotte recipe. Be reassured though, both versions work  for a charlotte. If you want to go the extra mile, you can also prepare homemade ladyfingers!


Bonus ingredient. I also added some chocolate-dipped candied orange peels (roughly chopped) in my chocolate charlotte. They add some crunchiness to the charlotte, plus chocolate and orange are like best friends. You can go with or without them, or simply add some orange zest to your chocolate mousse.
How to assemble chocolate charlotte?
Soak the flat side of each lady finger into the sugar syrup.
Arrange the ladyfingers all around the sides and the bottom of the pan (soaked side facing inward and rounded-side facing out), nice and snug to avoid gaps.
Pour in half of the chocolate mousse in the center.
Add a layer of soaked ladyfingers on top (+ an extra layer of chopped chocolate-dipped orange peels if using), then pour in the rest of the chocolate mousse.
Let chill in the refrigerator for 12 hours (overnight) for best results.
Remove the springform, allow to come to room temperature for 15 minutes, and serve!






Tips for success and possible variations
Do not overmix the chocolate mousse. When folding chocolate and egg whites, be very gentle and fold until just combined. Overmixing will result in a dense mousse texture
Soak biscuits in either coffee/alcohol/syrup. There are many possible versions to soak the biscuits for a charlotte. I chose to soak them in a simple syrup of sugar and water, to make the charlotte suitable for both kids and adults. For an adult company, you can soak the biscuits in coffee or in a mixture of rum and sugar. For all these options, remember to soak them very briefly so they hold their shape. The extra layer inside the cake can be soaked a little longer in the syrup.
Allow the charlotte to come to room temperature before serving. I usually remove it from the refrigerator about 15 minutes before serving. This way, the chocolate mousse is like a cloud melting in your mouth.
To make clean, perfect and beautiful slices, place your knife under warm water, wipe it, and slice, wiping it after each cut.


More decadent chocolate recipes:
Traditional French desserts you'll love: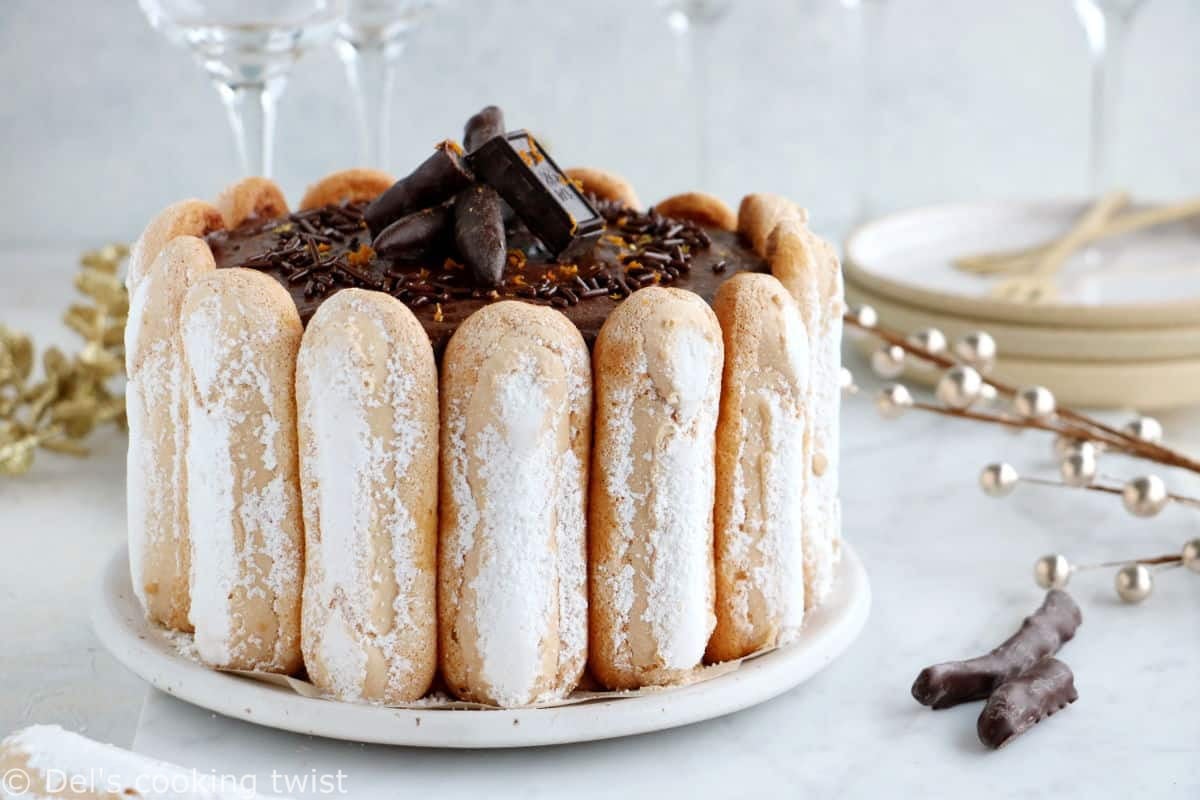 Lastly, if you make this Chocolate Charlotte, be sure to leave a comment and/or give this recipe a rating, letting me know how you liked it. And of course, don't forget to tag me on Instagram! Thank you and enjoy!
Print
Chocolate Charlotte Cake
Author:

Prep Time:

1 hour

Chilling Time:

12 hours

Total Time:

13 hours

Yield:

8

servings

1

x

Category:

Cakes and pies

Cuisine:

French
---
Description
The French chocolate charlotte is an elegant no-bake dessert featuring Ladyfingers and a rich chocolate mousse. Prepared with 5 components only, it will sure look impressive for any festive occasion!
---
20

lady fingers

11.5 ounces

(

330g

) high quality baking chocolate, at 60% cocoa*, broken into pieces

1

stick (115g) unsalted butter, diced
A pinch of salt

8

large eggs, whites and yolks apart

½ cup

(

110g

) sugar + 4 Tablespoons, divided

5.3 ounces

(

150g

) chocolate-dipped candied orange peels**, chopped (optional)

⅓ cup

(8

0

ml) water

2 Tablespoons

rum (optional)***
---
Instructions
Line a round springform with removable bottom with parchment paper (bottom and rims). You can choose a springform ranging from 7-inch (18 cm), 8-inch (20 cm) or 9-inch (23 cm) in diameter. The smaller the diameter the higher the filling. Set aside.
Place butter and chocolate in a bowl. Melt in the microwave in 30 seconds intervals, until smooth. Let cool slightly.
In a medium bowl, beat the yolks and sugar using a hand mixer until pale and fluffy. Slowly pour in the chocolate mixture and mix until combined.
In a large bowl, beat the egg whites with a pinch of salt until peaks form. Add about ¼ egg whites to the white chocolate filling, then fold in the rest of the filling very carefully. It must be light and fluffy.
For the syrup***, heat up water and sugar in a saucepan placed over medium heat until it starts bubbling. Stir and remove from heat to cool slightly.
To assemble the charlotte, take a ladyfinger and quickly soak the flat side (the bottom) in the syrup. Place it against the side of the pan, rounded-side facing out and flat side (soaked side) facing inward. Repeat and arrange the ladyfingers all around the sides of pan, nice and snug to avoid gaps. Place the rest of the ladyfingers in one layer at the bottom of the pan.
Pour two thirds of the chocolate mousse inside the pan, then add an additional layer of soaked lady fingers on top. Sprinkle the chocolate-dipped candied orange peel over, then ladle the rest of the mousse on top, and smooth it out with a spatula. Place in the refrigerator to set for at least 4 hours (ideally overnight), until the mousse is set.
When the Charlotte is chilled and set, carefully remove it from the springform, peel off the parchment paper from the edges, place on a serving tray, and leave at room temperature for 15 minutes before serving (the chocolate mousse will be soft and perfect). Slice, and enjoy!
---
Notes
* I find that using baking chocolate at 60% cocoa is the sweet spot. Below 60% the chocolate flavors are not bold enough, over 60% the mousse texture tends to be dense and makes the dessert a little heavy in my opinion.
** Chocolate-dipped candied orange peels is optional in the recipe but make this chocolate charlotte ultra delicious!
*** The syrup can be prepared with water and sugar, or with water-sugar-rum, or with coffee-sugar. Just choose what you like the most.
Keywords: Chocolate Charlotte