A delicious sweet and salty Brittany crepe to enjoy with a glass of cider!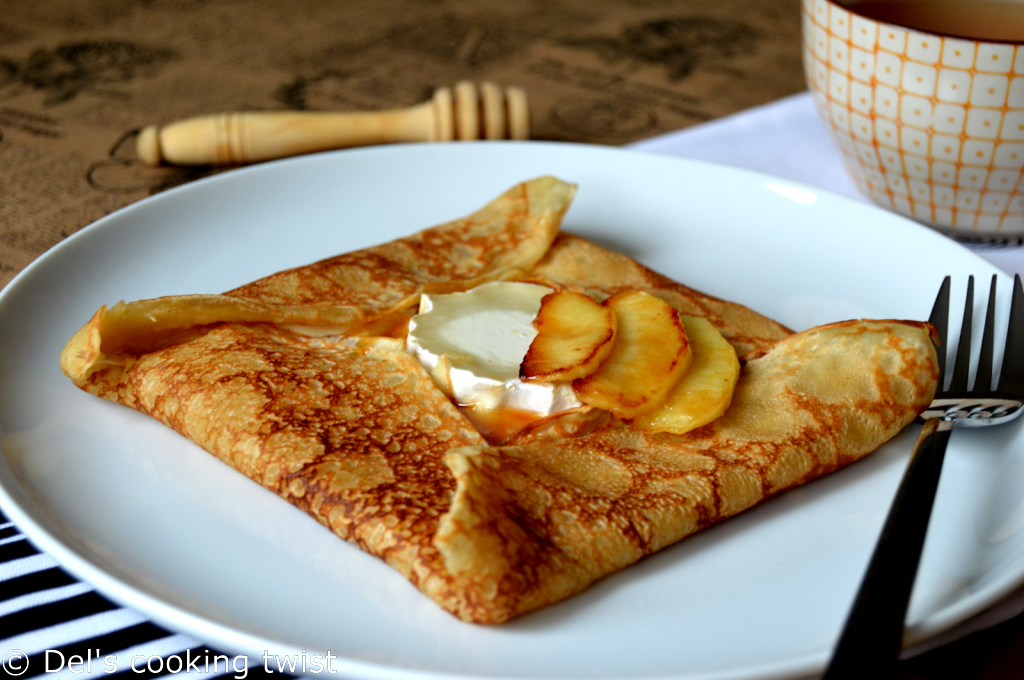 It's the first Wednesday of the month, it's 3pm and I need to have my recipe ready for 6pm for the French challenge Bataille Food #13 in which I registered earlier. This time, we all gather around some tasty French crepes from Brittany, a lovely idea from J'ai le coeur gourmandise who lives in Brittany, in France. I almost cancelled my participation to the challenge because of the lack of time, but then I thought: "come on, I can't do that to my dear friend Sophie!". She is hosting this thirteenth edition of the Bataille Food and I'm actually the one who chosed her as a host (since I was hosting the previous Bataille Food about Layer Cakes last month). And here I am with this recipe, just in time!
​For this challenge, we were supposed to use at least one ingredient from the Brittany region. Since I live in Sweden, it becomes a bit more complicated to find them. That's why I chose salted caramel. I LOVE salted caramel (seriously, who doesn't?) and it's terribly good heavenly spread on crepes, without anything else. The thing is that I didn't have so much time as you can easily guess, so I just grabbed a jar of salted caramel (from brittany!) that I had recently bought in France and used it in my recipe. I feel a bit ashamed that I didn't have time to make the salted caramel recipe by my own, but I have a pretty good one and I will publish it quite soon, so keep an eye open on my blog!
For now, I searched inspiration on Pinterest (as I often do) and stumbled upon a weird association between caramel and goat cheese. Silly, I thought at first, a bit bored to not find anything special. Then I thought about it again, trying to figure the taste it could have. That's brilliant!! I'm a huge fan of goat cheese and I always associate it to something sweet (honey, basically). So why not with salted caramel then? Plus the texture could be very interesting I thought!
And I was right, it was just divine! I also added some apple slices to the recipe but I would recommend to not over charge with apples, otherwise you will loose the combination of flavors. So, as they say in How I met your mother "just a little bit"! And don't forget to enjoy with a glass of apple cider, as they do in Brittany!
Print
French Crêpes with Goat Cheese and Salted Caramel Apples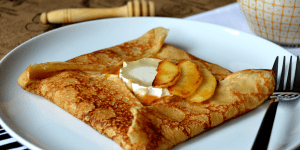 Author:
Prep Time:

20 mins

Cook Time:

45 mins

Total Time:

1 hour 5 mins

Yield:

10

-

1

2

1

x
Category:

Main dishes

Cuisine:

Français
A delicious sweet and salty Brittany crepe to enjoy with a glass of cider!
For the crepes:
4 1/4 cups

(

500g

) wheat flour

3/4 cups

(

150g

) brown sugar

4

large eggs

4 cups

(1L) milk

1 Tablespoon

of rum or Grand Marnier
Some salted butter (for the pan)
For the filling:
2 cups

(

450g

) goat cheese

4

apples
Salted caramel

2 Tablespoons

of salted butter
Instructions
For the crepes: sift the flour and the brown sugar into a large mixing bowl. Make a well in the center and break the eggs into it. Begin whisking the eggs with the flour, then gradually add the milk in small quantities and mix well to avoid lumps. Add the rum. Let the batter resting for half an hour.
In the meantime, slice the log of goat cheese, 0,5 inch wide each. Peel, core and cut the apples in slices. Heat a medium pan with some salted butter, then add the apple slices and stir gently for a few minutes until they get a lovely golden color. Just before they are ready, add two tablespoons of salted caramel.
Now get a large pan very hot, then turn the heat down to medium and, to start with, do a test pancake to see if you are using the correct amount of batter (they must be thiner than classic pancakes). When the first side is cooked, just flip the crepe over with a palette knife. The second side will need a few seconds only.
Turn the crepe one more time and turn the heat to low. Add a large slice of goat cheese in the center and some apples slices around. Back the edges of the crepes with a palette knife like on the picture and serve immediately. Repeat it with the other crepes. Easy, right?
Did you make this recipe?
Lastly, if you make this French Crêpes with Goat Cheese and Salted Caramel Apples, be sure to leave a comment and give this recipe a rating, letting me know how you liked it. And of course, don't forget to tag me on Instagram! Thank you and enjoy!
Here is the list of all the participants for this Bataille Food:
La cuisine au fil d'ariane | Bistro de Jenna | Bavardages gourmands | Mon p'tit coin gourmand | Sylvia | Une cuisine pour Voozenoo | Marine en cuisine | Un Week-end une recette | Mel l'a Fée | Cerises et friandises | Caprices gourmands | Kalou and cook | Trognon de pomme | Del's cooking twist | La cuisine de Stéphy | Et charlotte découvrit la cuisine / Le monde de Lully | Les petites marmites de Mika | Confessions de 2 foodaholic | Secrets de gourmandise | Les gourmandises de Némo | Nathalie Pélagère | CC Cuisine | Les recettes de Flo | ça ne sent pas un peu le brûlé par là? | Popote et nature | Objectif zéro miettes | Valentine pâtisse | Chut je pâtisse