This beautiful Blackberry Apple Pie is the perfect combination of summer and fall flavors reunited together in a pie. It features some sweet and juicy flavors, all wrapped up in a perfect flaky pie crust with a lattice top.
Between blackberries and apples I couldn't decide, so I went for both. With just a little bit of creativity, it's actually easy to pimp up fruit pies by pairing ingredients together. And as we are currently transitioning between summer and fall, what's better than combining the best of both seasons – a blackberry pie and a classic apple pie – in one single pie?
Whether you're hosting a last summer garden party or are already in the mood for fall with Thanksgiving in preparation, this pie will do the trick. You can indeed use either fresh or frozen blackberries and even combine them with some blueberries. As for the apples, you are of course guaranteed to find them available whatever the season. With its perfect flaky crust and a beautiful lattice crust, I hope this blackberry apple pie will set up your pie game for the season to come!
A delicious blackberry apple pie
You need simple ingredients to make the blackberry apple filling, but each of them is key to enhance the fruit flavors of the pie. Here's what you can expect:
Baking Apples. Any variety of baking apples would do. Honeycrisp, Granny Smith Fuji or Pink Lady for instance would do just fine.
Blackberries. I love the sweet flavors of the blackberries and here they pair beautifully with the apples. That being said, you could absolutely combine them – or even replace them – with some blueberries (they're also easier to find). Note however that blueberries are a little more acidic so you may want to add a little more sugar to the recipe in this case. Also, if you use fresh berries, give them a wash and gently pat dry them in a clean towel before using.
Sugar. I use very little sugar in the recipe as I don't want the sugar to overtake the flavors of the fruits in the pie (when doing so, it seems that all fruit pies taste the same – sweet and no fruit in particular). That being said, the way you sweeten a pie of course depends of your personal tastes and you may want to add a little bit more sugar.
Lemon juice and zest. It seems optional but lemon enhances the flavors of the fruits while adding some light and fresh notes to the pie. So don't skip it!
Cornstarch. The use of cornstarch prevents the fruits from being too juicy in a way that the bottom crust becomes soggy.
Can I use frozen blackberries? Yes you can! If doing so, thaw them first and drain off any excess liquid before mixing them with the remaining pie filling ingredients. Also, you will need to increase the cornstarch to approximately 1/4 cup (30g). Cornstarch acts as a thickener in the pie filling and helps to create the juicy, syrupy blackberry filling that you want in a pie. Without the cornstarch your filling will be too runny.
The lattice pie crust: a must have!
I could speak about lattice pie crust for hours. It's really fun to do, a very entertaining activity if you ask me, and what a feeling when you see the final result! I will spare you the details here and will instead refer you to this lattice pie crust tutorial where you'll find detailed instructions.
Just a few tips though:
Make sure you the dough is really cold when making the stripes, so they hold their shape.
Best is to work quick enough with the dough, and with confidence. Don't overthink the all process; and if you have irregular stripes, it's fine too!
Consider placing the dough in the fridge if it's becoming too warm when making the stripes, especially the braids.
To make the braids around the pie, I recommend you cut out thinner stripes for a better result. Also, pat gently with water under the braids so they stick to the edge of the pie.
How to make a shimmering crust?
Now that you've become an expert at latticing a crust, let's not forget the final touches. They may seem tiny details to you but they make all the difference between a good pie and a great pie!
Start with brushing your pie with egg wash, and sprinkle some additional sugar all over. The addition of sugar will make your pie extra crunchy.
To bake the pie, adjust the rack to the lower third position in your oven. Then, bake the pie in 2 steps: start at high temperature for about 15 minutes and then lower the oven temperature and bake 50 more minutes or until pie is golden and the filling is bubbling. To prevent the edge from burning, and especially if you've made braids around the pie, cover with foil as soon as they become golden, usually around 30 minutes baking or so. Alternatively you can use a pie crust shield; this will come handy as you don't have to wrap foil all around your pie.
How to serve your pie?
Your pie is fresh out from the oven, the entire house smells beautiful, now what? Sorry to tell, but I count on you to be a little bit more patient (I promise the pie is worth the extra wait!). Indeed, if you were to slice and serve the pie right away, you risk to destroy the pie as it's still hot and the filling won't be fully set inside. So instead, let cool at room temperature for at least 30 minutes and ideally over an hour.
When the pie is ready to handle, slice it, serve with a scoop of vanilla ice cream on top and add a few leaves of mint. The result is just WoW! I hope you enjoy!
What about re-heating the pie? If you happen to have leftovers, you can store the apple blackberry pie in the fridge. You can then re-heat the pie in the oven for about 15 minutes at 350°F (180°C) so that the pie is almost warm with a bubbling filling again!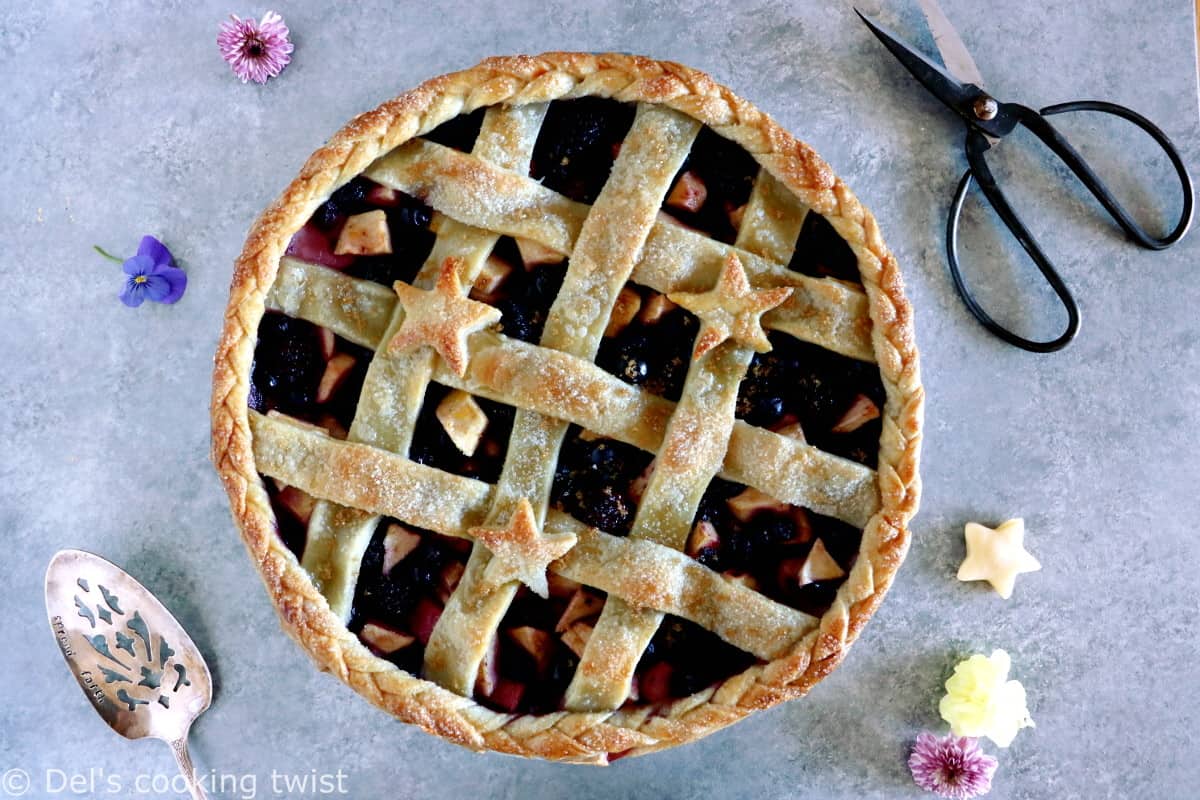 More fabulous fruit pies to make: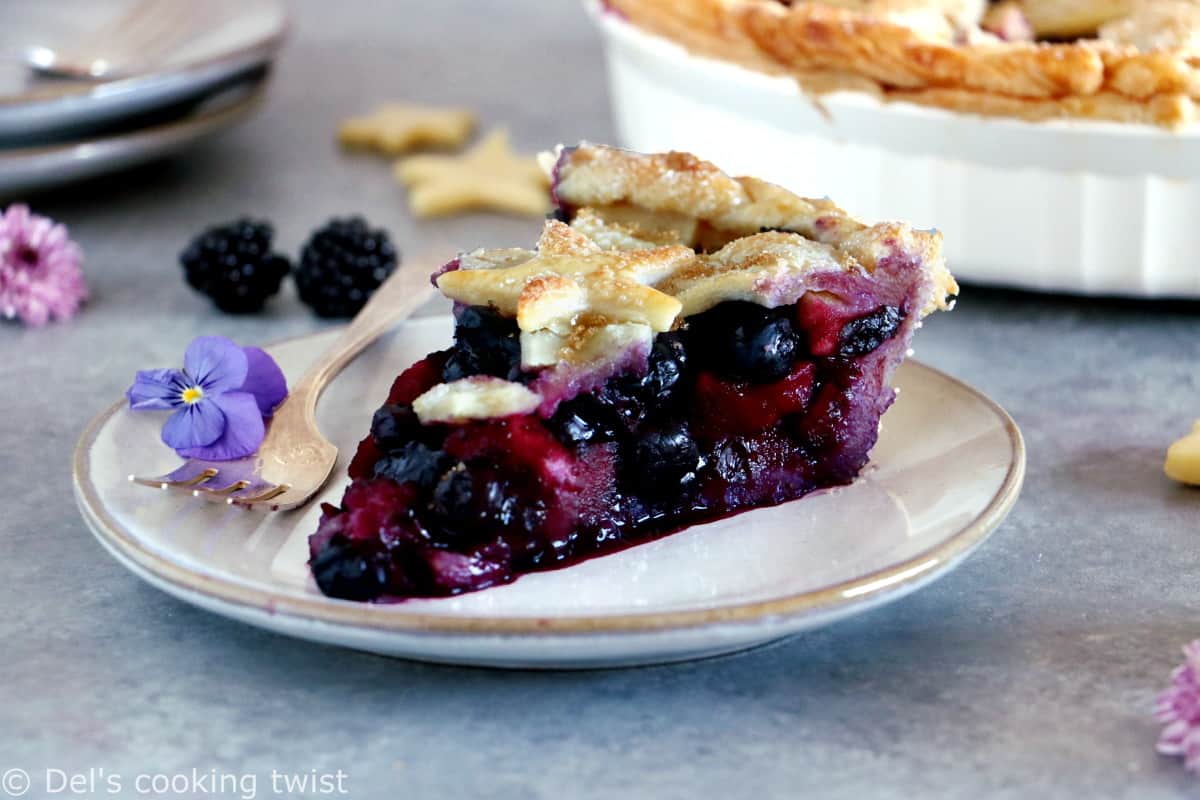 Lastly, if you make this Blackberry Apple Pie, be sure to leave a comment and/or give this recipe a rating, letting me know how you liked it. And of course, don't forget to tag me on Instagram! Thank you and enjoy!
Print
Blackberry Apple Pie
Author:

Prep Time:

1 hour

Total Time:

50 mins

Yield:

8

servings

1

x

Category:

Cakes and pies

Cuisine:

American
---
Description
This beautiful Blackberry Apple Pie is the perfect combination of summer and fall flavors reunited together in a pie. It features some sweet and juicy flavors, all wrapped up in a perfect flaky pie crust.
---
For the crust (makes 2):
3 1/2 cup

(

15 oz

/

420g

) all-purpose flour

1

pinch of salt

1 cup

+ 4 Tablespoons (

10 oz

/

280g

) unsalted butter

2 teaspoons

granulated sugar

2/3 cup

(

5 oz

/150 ml) water
For the filling:
4 cups

(approx.

600g

) blackberries*

2

–

3

big apples, sliced

1/2 cup

(

100g

) sugar

3 Tablespoons

cornstarch

1 teaspoon

vanilla extract

1 Tablespoon

lemon juice
Zest of

1

lemon

2 Tablespoons

unsalted butter, diced
For brushing:
1

 large egg

2 teaspoons

 water

2 Tablespoons

sugar
---
Instructions
For the crust:
In a medium-sized bowl, mix together the flour and salt. Dice the butter into small pieces and crumble it with the flour until lumps are the size of small peas. Add sugar and stir well. Pour in the iced cold water, little at a time, mixing with a fork. Finish by hand and shape into a ball. Divide in two equal parts and wrap each of them into cling film. Place in the refrigerator and chill for about 30 minutes.
Take the first dough and roll out into a until the dough is 3 inches (7 cm) longer than the pan you are using, and around 1/4″ (5 mm) in thickness. Carefully fold the dough, lay it across the pie pan, and gently unfold the crust, using your hands to fit the dough down into the pan. Burst any air bubbles with a fork.
For the lattice strips: On a lightly floured work surface, roll out the second pie dough into a 12-inch (30 cm) circle.
Using a pizza cutter or pastry roller, slice the dough into large strips (the width of the strips is totally up to, and you can make 2 additional braids with the strips to display around the pie dish if you wish). Lay the strips on a prepared baking sheet and refrigerate until needed.
For the filling:
In a large mixing bowl, combine blackberries and apple slices together with sugar, cornstarch, vanilla extract, lemon juice and zest. Mix carefully so that all fruits are well-coated and let sit for 20 minutes.
Preheat the oven to 425°F (220°C).
Using a rubber spatula, scrape the blackberry-apple filling into the pie crust shell. Top with diced butter.
Prepare a lattice pie crust following this step-by-step tutorial, and add 2 braids around the pie dish (optional but so worth it when you see the final result!). In order to seal the braids and the edge of the pie, gently pat with water underneath the braids.
For brushing:
 Beat together the egg and water in a small bowl until well combined. Brush the edges of the crust with the egg wash and sprinkle with sugar.
Bake for 15 minutes at 425°F (220°C), then reduce the oven temperature to 350°F (180°C) and continue baking for 50 minutes, or until the crust is golden and the filling is bubbling. Let cool at room temperature for at least 30 minutes before slicing.
---
Notes
* You can also use a mix of blackberries and blueberries.
Keywords: Blackberry Apple Pie