Say hello to the best homemade cherry pie, baked from scratch with an easy butter pie crust. This classic fruit pie recipe is packed with sweet and juicy flavors, and topped with a flaky lattice crust. A great family summer dessert!
July is here and it's time to whip up the best cherry pie just in time for the 4th of July! Over the years, I have learned to make my very own cherry pie recipe, based on trial and error, and I'm proud to share it with you today. There is no doubt it will soon become a classic in your house too. So, say goodbye to these canned cherry pie fillings and learn with me how to bake a cherry pie from scratch.
The key to the perfect cherry pie recipe comes in two parts: the cherry pie filling on one hand, and the pie crust on the other. It seems simple, but there are a few tricks to use in order to bring your cherry pie to the next level. Let me guide you through them and show you how to make the best cherry pie!
Cherry pie ingredients
There are countless cherry pie recipes on the web so you could probably find any random recipe. But when it comes to the absolutely best cherry pie, I strongly advise this one, using the following ingredients:
2 homemade butter pie crusts. It's my go-to fruit pie crust recipe, a trustworthy recipe that will never fail you and is 100% butter-based (no shortening).
Cherries. Generally, sour cherries are the best option for baking. Black cherries also work beautifully. Just keep in mind that if you go for sweet cherries, you may need to cut the sugar in the recipe a little bit.
Cornstarch. This will help retain the juice from the cherries and prevent soaking the bottom of the pie crust.
Sugar to sweeten up all the pie! Just go for granulated sugar, but there is no harm in using brown sugar if you wish.
Vanilla extract, almond extract, lemon juice. I use them to enhance the cherry pie flavors. Almond extract in particular is my personal twist that makes all the difference in the recipe.
Whip up the best cherry pie filling
As previously mentioned, the key ingredient to making this cherry pie filling extra delicious is almond extract. The bitter taste of almond extract combined with vanilla notes really takes your pie to the next level!
Also, and because the filling has a tendency to soak up the dough when baking, I like to pre-cook the cherry pie filling beforehand with a little bit of cornstarch until it thickens. For best results, let the filling cool in the refrigerator before pouring over the pie crust. This way, the lattice strips will remain cold and easy to handle when making the lattice crust.
All-butter pie crust
When it comes to fruit pies and especially the ones that involve a lattice crust, it is important to choose the right recipe. You want the dough to be strong enough to hold its shape together.
Among all existing recipes, this all-butter pie crust is by far my favorite. With the idea in mind that I didn't want to use any shortening, I whipped up this all-butter pie crust a few years ago for my Apple Pie recipe and have been using it ever since. It's simply the best all-butter pie crust for any fruit dessert, ready with minimal effort and ingredients. It works every single time!
All-purpose flour, butter, sugar and ice-cold water is all you need. Just mix all the ingredients by hand or with a wooden spatula and you'll see that the dough comes together easily into a smooth ball. The recipe proportions yield 2 pie crusts (one for the bottom, one for the lattice), so it's best to divide the ball into two parts, wrap each of them in cling film and refrigerate for 30 minutes.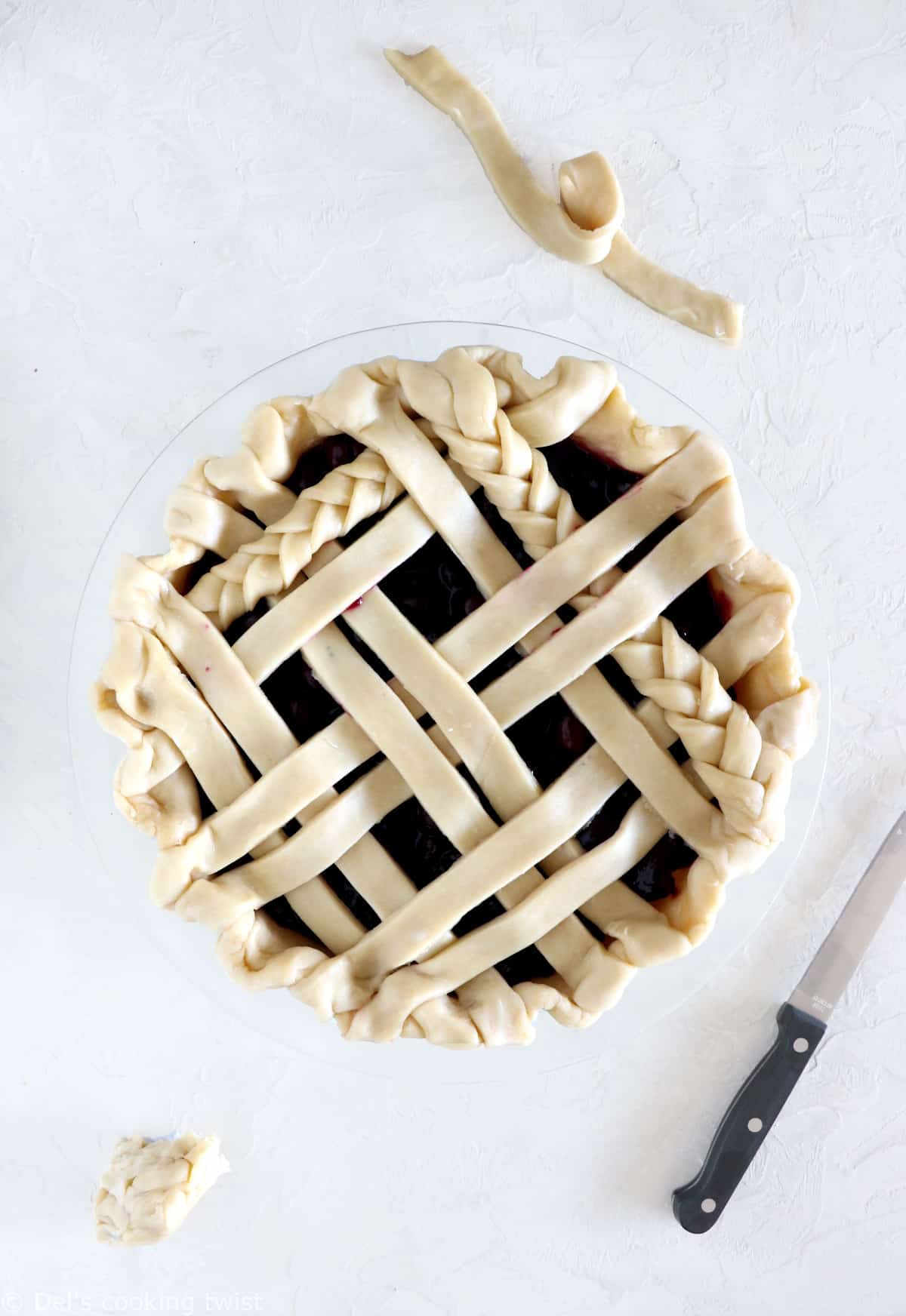 Tips for perfecting lattice pie crust
Making lattice crust is always my favorite part in a fruit pie. It's a very entertaining activity (that you can make with the help of your little ones) and it makes the most stunning effect! Here's how to make a perfect lattice pie crust:
First rule: go fast in this process to avoid warming up the dough. If you take too much time, place the dough in the refrigerator in between steps to ensure you always work a chilled dough.
Roll out the second dough into a large disk (reminder: the first dough is used as the bottom part of the pie).
Use a pizza cutter or pastry roller to make the lattice strips.
Slice the dough into 10-12 strips. You can even make a few braids, like I did for this recipe.
The width of the strips is totally up to you.
Lay the strips on a prepared baking sheet and refrigerate until needed.
Follow the recipe instructions explained in the recipe card to lattice the crust.
Final touch and baking/re-heating tips
Once your lattice crust is ready, brush it with egg wash and sprinkle with a little bit of sugar for a shimmering effect (this is optional though). Then, place the pie into the lower rack of the oven and bake at 425°F (220°C) for 15 minutes, then lower the oven to 350°F (180°C), and bake for 50 more minutes. Note that every oven is different so keep an eye on your pie, and feel free to cover with aluminium foil in case the top is browning a little too fast. The pie is ready when the crust is golden and the filling is bubbling.
It's important to let the pie cool for a couple of hours before serving. This will allow the filling to firm up a little bit and ensure a neat slicing. The pie will keep for a few days in the refrigerator. If like me you like when your pie is slightly lukewarm, you can re-heat each slice for about 30 seconds in the microwave or the half pie/entire pie for 15 minutes in the oven at 350°F (180°C). Enjoy as is, or with a scoop of vanilla ice cream!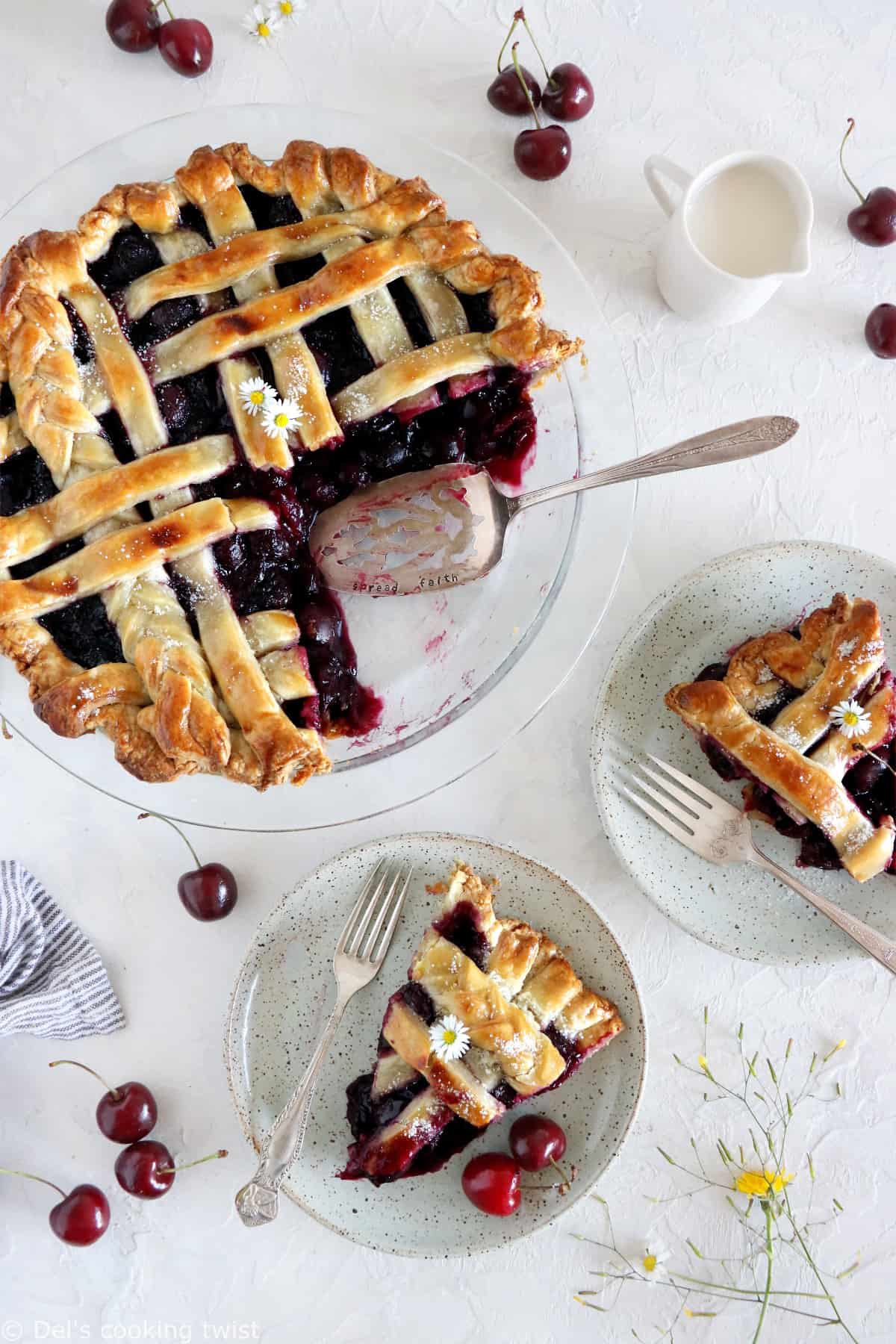 More fruit pie recipes you'll love:
Other cherry recipes: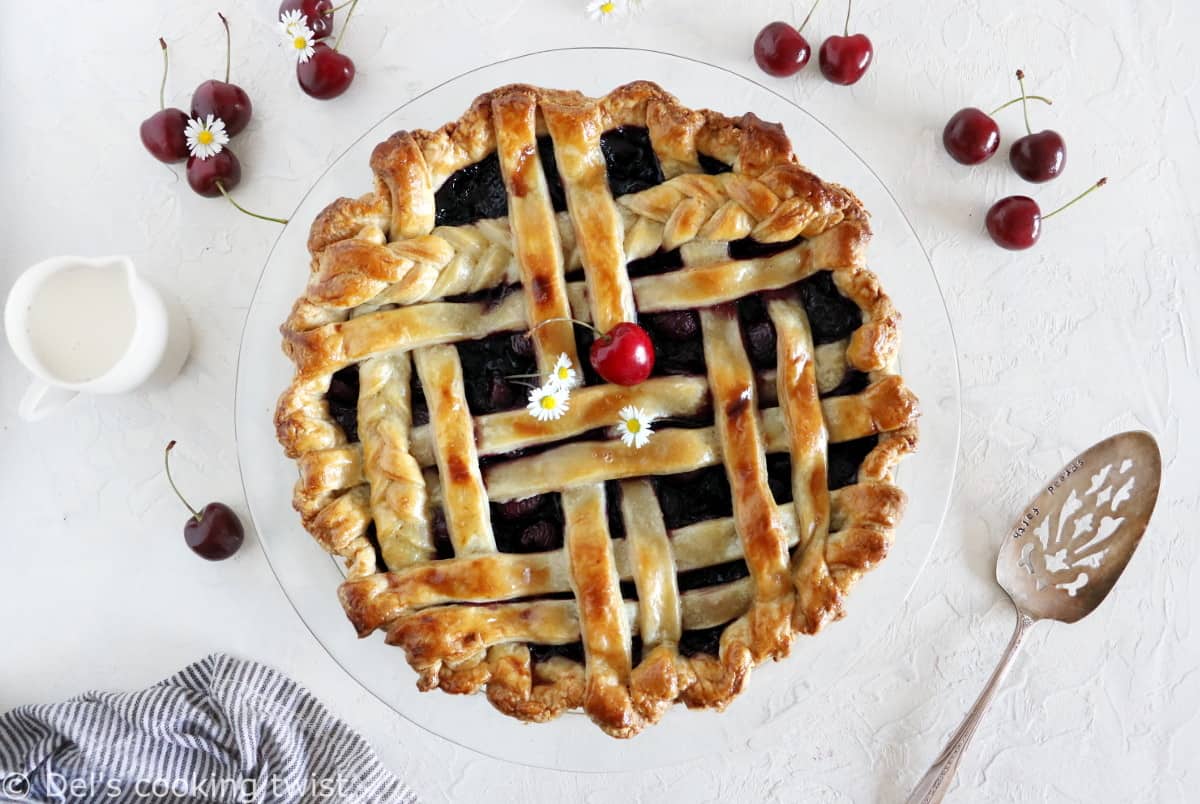 Lastly, if you make this Cherry Pie, be sure to leave a comment and/or give this recipe a rating, letting me know how you liked it. And of course, don't forget to tag me on Instagram! Thank you and enjoy!
Print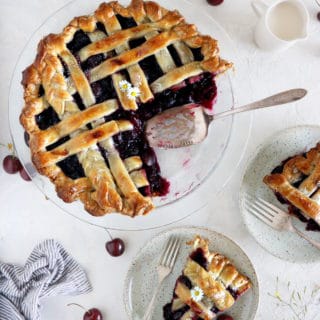 Best Homemade Cherry Pie
Author:

Prep Time:

45 mins

Cook Time:

50 mins

Total Time:

1 hour 35 minutes

Yield:

8

servings

1

x

Category:

Cakes and pies

Cuisine:

American
---
Description
Say hello to the best homemade cherry pie, baked from scratch with an easy butter pie crust. This classic fruit pie recipe is packed with sweet and juicy flavors, and topped with a flaky lattice crust. A great family summer dessert!
---
For the crust (makes 2):
3 1/2 cup

(

15 oz

/

420g

) all-purpose flour

1

pinch of salt

1 cup

+ 4 Tablespoons (

10 oz

/

280g

) unsalted butter

2 teaspoons

granulated sugar

2/3 cup

(

5 oz

/150 ml) water
For the filling:
2

pounds (about

5 cups

) cherries, pitted

3 Tablespoons

cornstarch

2/3 cup

(

130g

) granulated sugar

1/2 teaspoon

salt

2 teaspoons

bourbon vanilla extract

1/2 teaspoon

almond extract

1

and 1/2 tablespoons fresh lemon juice

2 tablespoons

unsalted butter, cut into small cubes
For brushing:
1

large egg

2 teaspoons

water

2 Tablespoons

sugar, for decoration (optional)
---
Instructions
For the crust:
In a medium-sized bowl, mix together the flour and salt. Dice the butter into small pieces and crumble it with the flour until lumps are the size of small peas. Add sugar and stir well. Pour in the iced cold water, little at a time, mixing with a fork. Finish by hand and shape into a ball. Divide in two equal parts and wrap each of them into cling film. Place in the refrigerator and chill for about 30 minutes.
Take the first dough and roll out into a until the dough is 3 inches (7 cm) longer than the pan you are using, and around 1/4″ (5 mm) in thickness. Carefully fold the dough, lay it across the pie pan, and gently unfold the crust, using your hands to fit the dough down into the pan. Burst any air bubbles with a fork.
For the lattice strips: On a lightly floured work surface, roll out the second pie dough into a 12-inch (30 cm) circle.
Using a pizza cutter or pastry roller, slice the dough into 10 strips (the width of the strips is totally up to, and you can make one or two braids with the strips if you wish). Lay the strips on a prepared baking sheet and refrigerate until needed.
For cherry filing:
Combine the cherries, cornstarch, sugar, salt, vanilla, almond extract, and lemon juice in a large saucepan over medium-high heat. Simmer, stirring almost constantly, until the mixture starts to thicken – about 5-8 minutes. Reduce heat to low and cook for another 2 minutes before removing from the heat. Transfer to a heatproof bowl and cool to room temperature.
For assembling:
Preheat the oven to 425°F (220°C).
Using a rubber spatula, scrape the cherry pie filling into the pie crust shell. Top with cubes of butter.
Lay 6 of the strips parallel on top of the filling, leaving about 1/2-inch (10 mm) between each strip. Fold back every other strip, then place another strip of dough perpendicular to the strips. Unfold the folded strips so they lay over the perpendicular strip. Continue this layering process, weaving the strips over and under each other.
Trim the edges of the strips, leaving about 1/2 inch (10 mm) overhang. Roll the excess dough up so it's tightly sitting on the edge of the pie plate, then crimp the edges to secure the strips with the bottom pie crust.
For egg wash, beat together the egg and water in a small bowl until well combined. Brush the edges of the crust with the egg wash and sprinkle with sugar, if using.
Bake for 15 minutes. Reduce the oven temperature to 350°F (180°C) and continue baking for 50 minutes, or until the crust is golden and the filling is bubbling. Let cool at room temperature for at least 2 hours before slicing.
---