This is hands down the BEST flourless chocolate cake ever! Rich, chocolatey, with a light and fluffy texture and an irresistible crackly topping, it is an absolute chocolate lover's dream and might just become your favorite chocolate cake.
I've long searched for the perfect flourless chocolate cake recipe! It was either too dense, too rich with a fondant-like texture, or too dry. Also, I wanted mine gluten-free but with no complicated ingredients. In short, I wanted it with the same fluffy, fudgy and crispy texture than my French Chocolate Cake (my all time favorite chocolate cake). After a few attempts, I finally managed to obtain the same result, minus the flour. Hooray!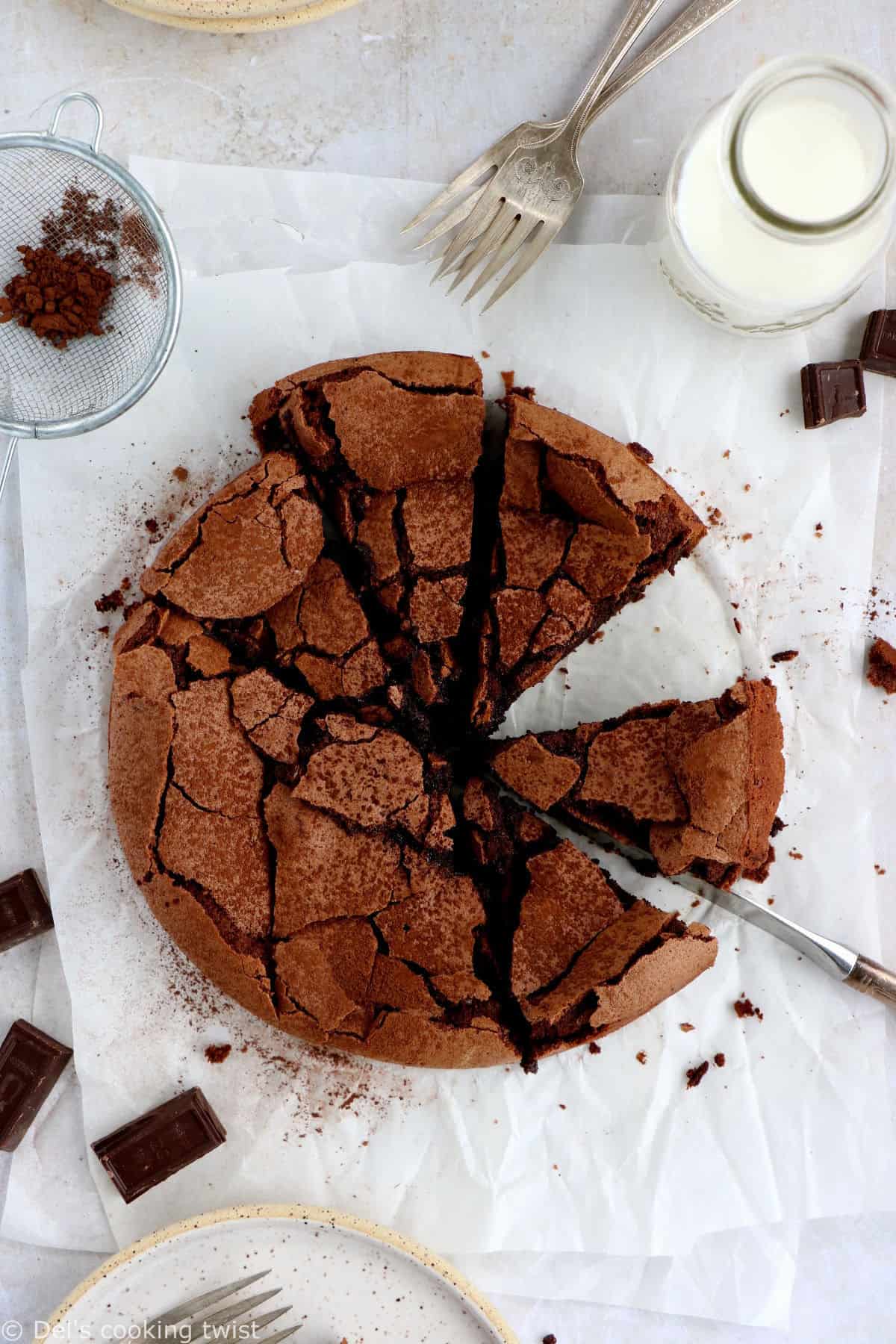 This chocolate cake is flourless and naturally gluten-free, prepared with unsweetened cocoa powder and a light and fluffy meringue prepared with egg whites and sugar. This makes the cake airy, fluffy, delicate, with an irresistible crackly topping that is naturally falling apart as you slice the cake. It's also ridiculously simple to make with 5 simple ingredients.
Why you will love this flourless chocolate cake:
5 ingredients only ✓
Super easy to make ✓
Naturally gluten-free ✓
Light and fluffy ✓
A rich and fudgy center ✓
A fallen crispy texture on top ✓
You won't miss the flour (at all)! ✓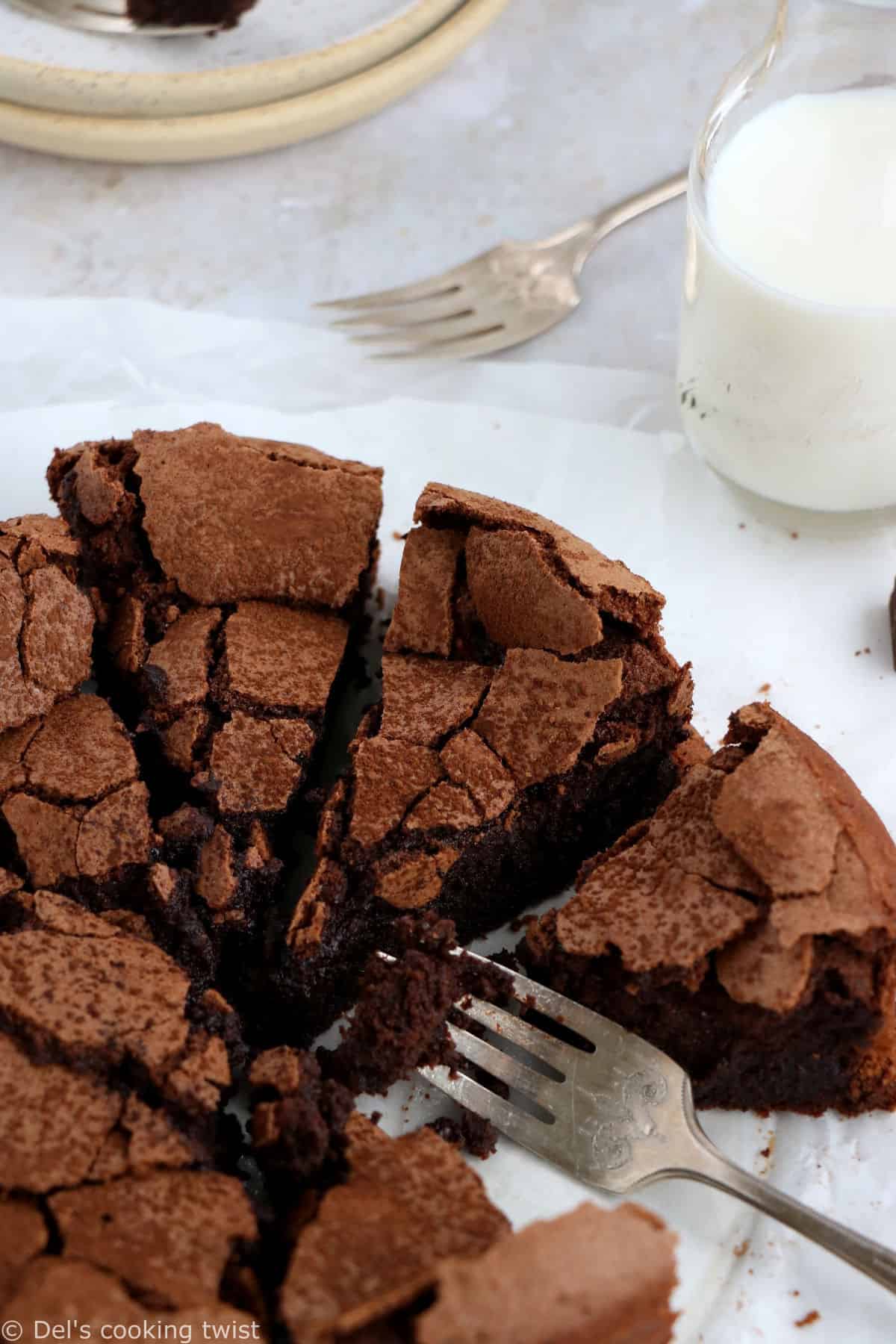 The secret to this flourless chocolate cake
In other words, what makes this chocolate cake hold together? Flour is usually what gives structure to a cake recipe, so how can we recreate the same effect without falling into a fondant cake recipe? The secret comes from the egg whites turned into an Italian meringue.
You need 5 eggs in the recipe, yolks and white separated. The whites turned into a meringue are what makes the cake so light and fluffy, with a crispy topping. You first need to beat the whites in a stand mixer or using an electric hand mixer. When they become foamy but are not firm yet, gradually add the sugar and keep beating until soft peaks. Make sure you stop beating before stiff peaks form to keep your meringue light, airy, and fluffy, before adding to the chocolate mixture.
The yolks, as well as the unsweetened cocoa powder, help stabilize the chocolate mixture and make it fudgy. The final result is a light and fluffy chocolate cake, minus the flour.
Important tips for success
This flourless chocolate cake is ridiculously easy to make, but there are a couple of tips that ensure success every single time. Make sure you read them all before jumping to the recipe:
Choose high quality baking chocolate. I recommend the use of semi-sweet baking chocolate, with a cocoa percentage between 55-60%, not higher. I find that higher cocoa percentage makes the chocolate mixture dense and difficult to fold with the meringue.
Cool the melted chocolate slightly before adding the yolks. This is common sense, but doing so prevents the yolks from cooking when you add them to the melted chocolate. I also recommend adding them one by one, whisking between each addition until incorporated before adding the next one.
Meringue success tips. Make sure you use a clean, dry, and preferably cold bowl to make the meringue. If the bowl is a little wet or too warm, this could prevent the meringue from forming. Also, do not add the sugar too soon, you want to wait until egg whites are foamy but not firm yet, then gradually stream the sugar and keep beating on high until the meringue is soft. You do not want a firm meringue here, or it will not fold properly in the chocolate mixture.
Sift the cocoa powder. It's important you use unsweetened cocoa powder in this recipe. Then, to ensure great results, I recommend to sift it through a fine sieve before using. This will prevent any lumps in the chocolate mixture.
Gently fold the ingredients together. Add a few large spoonfuls of the meringue to the chocolate mixture and fold gently, turning upside down with a rubber spatula to ensure an airy texture. Continue until fully combined.
Use the right pan. I recommend a 10 or 11 inch (25-28 cm) springform pan, if possible with detachable edges. Gently coat with butter before using. A smaller pan will make the cake too high and prolong the baking time, while a larger one will make it flat.
Comment réaliser un gâteau au chocolat sans farine ?
How to serve flourless chocolate cake?
I know it's hard to resist but I recommend waiting for the cake to cool completely before serving. This will enable the cake to hold together and enables a better slicing. Still, you should expect crumbs falling out of the cake, it's perfectly normal and what makes it so irresistible!
I love dusting this flourless chocolate cake with a little bit of unsweetened cocoa powder or sometimes confectioners' sugar instead. You can then enjoy it plain, as a dessert or served as a coffee cake in the afternoon. If you want to go a little fancier, there are plenty of options to serve flourless chocolate cake:
Add a scoop of vanilla ice cream on top
Serve along with vanilla custard crème anglaise (my favorite)
Add a dollop of whipped cream
Top with fresh berries of choice (raspberries are my favorite)
Make the cake yours, add your favorite toppings and let me know how you like it!
For the chocolate lovers out there!
More flourless dessert recipes: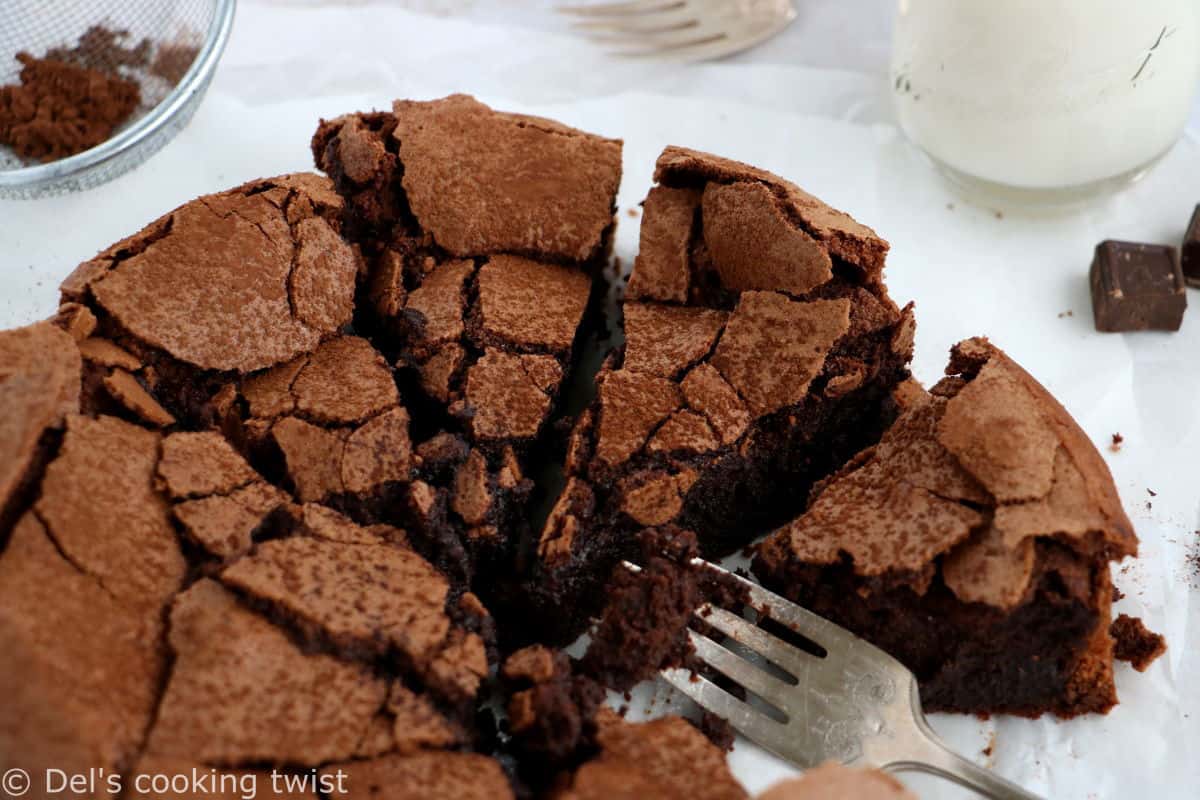 Print
Best Flourless Chocolate Cake
Author:
Prep Time:

20 mins

Cook Time:

35 mins

Total Time:

55 minutes

Yield:

8

servings

1

x
Category:

Cakes and pies

Diet:

Gluten Free
This is hands down the BEST flourless chocolate cake ever! Rich, chocolatey, with a light and fluffy texture and an irresistible crackly topping, it might just become your favorite chocolate cake.
7 ounces

(

200g

) baking chocolate, roughly chopped*

1

stick (120g) unsalted butter, diced

5

eggs, white and yolks apart

¾ cup

(

150g

) granulated sugar

1

pinch salt

2 Tablespoons

unsweetened cocoa powder, sifted (+ extra for dusting)
Instructions
Preheat the oven to 325°F (160°C) and generously grease the bottom and sides of a 10 or 11-inch (25-28 cm) springform with butter. Set aside.
Place butter and chocolate in a large microwave safe bowl, and melt in the microwave in thirty second intervals, stirring well between each interval. Repeat until completely melted and no clumps of chocolate remain. Set aside to cool slightly.
While the chocolate cools, separate the egg whites from the yolks, placing the yolks in a separate bowl. Set aside.
Add the egg whites and a pinch of salt in the bowl of a stand mixer fitted with the whisk attachment, and beat the egg whites, starting on medium speed, and slowly increasing to high. When the whites becomes foamy but are not firm yet, stream in granulated sugar and continue beating until soft peaks form (you don't want to end up with a meringue with stiff peaks for this recipe).
Add the yolks to the melted chocolate, one at a time, whisking well between each addition. Add the sifted unsweetened cocoa powder, whisk to combine.
Gradually incorporate the whipped egg whites into the chocolate mixture by dropping large spoonfuls at a time into the chocolate mixture and folding to combine. Mix until combined and no streaks of egg whites or cocoa powder remain. Do not over mix.
Gently spoon the batter into the prepared pan into an even layer and bake at 325°F for about 30-35 minutes, or until the center is set and the edges of the cake start to pull away from the sides of the pan. Allow to cool completely before removing from the springform, and dust with extra cocoa powder if desired. Slice, and enjoy!
Notes
* I recommend high quality baking chocolate with 55% or 60% cocoa maximum. Chocolate with a higher percentage of cocoa would make this cake a little dense.
Keywords: Best Flourless Chocolate Cake
Did you make this recipe?
Lastly, if you make this Best Flourless Chocolate Cake, be sure to leave a comment and give this recipe a rating, letting me know how you liked it. And of course, don't forget to tag me on Instagram! Thank you and enjoy!