Seriously the best ever fudge brownies – and it's vegan! With just a few basic ingredients, you get the perfect fudgy texture. It's addiction at first bite!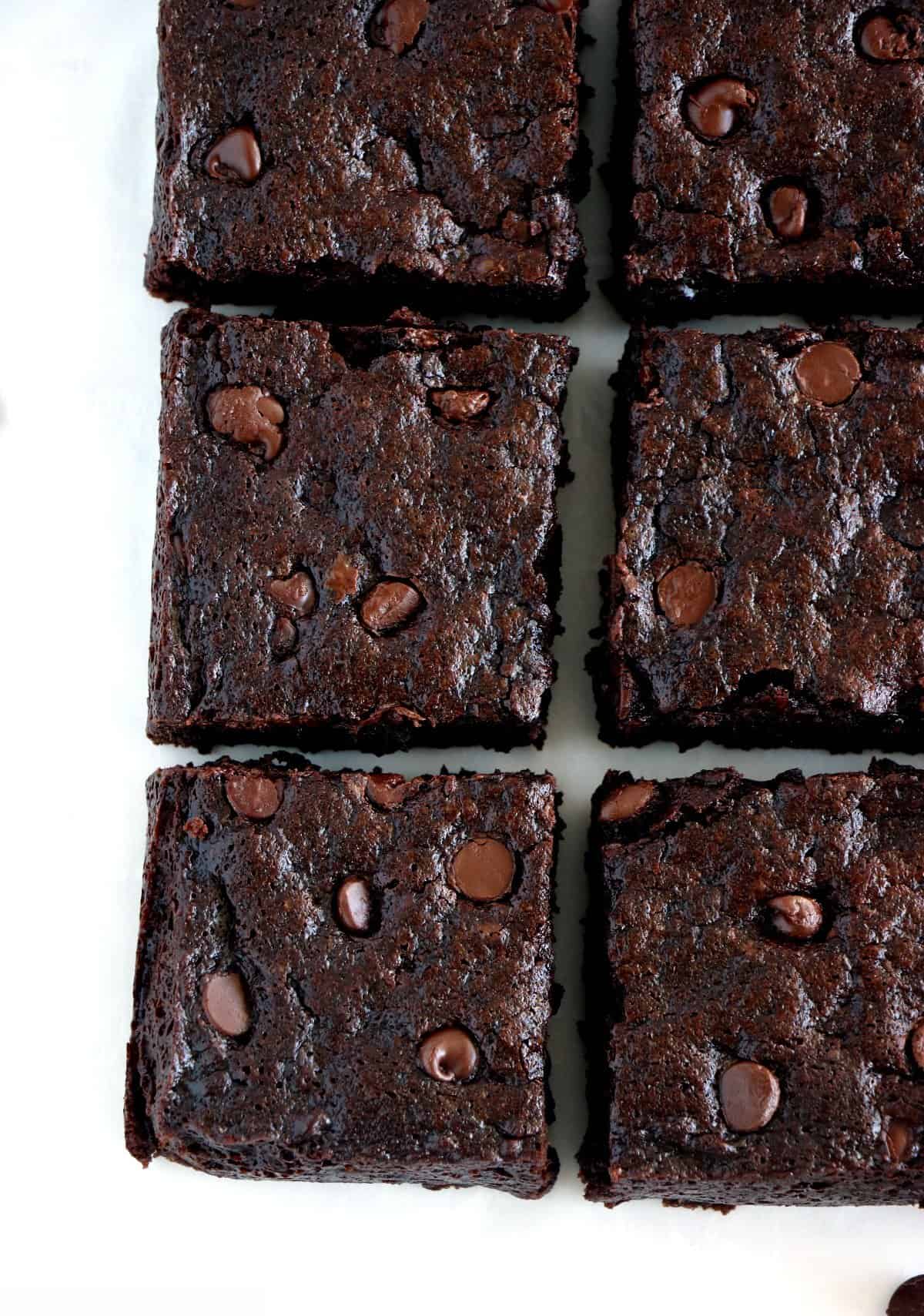 To all chocolate addicts out there, I have the recipe you were looking for. Forget all the brownie recipes you tried before, this one is the only one you will ever need in your life. I'm not kidding. It's quick, easy, and it works every single time. Whether vegan or not, you will find yourself falling in love with this brownie recipe and will for sure bake it again and again.
Ok, so what is so special about this brownie recipe? Well again, it's vegan. Don't make the amalgam though, vegan does not mean healthy. It might sound silly to you, but many people actually think that adopting a vegan lifestyle goes with healthier habits. Maybe it is the case, but it doesn't mean you can't indulge a decadent sweet treat once in a while.
To make this brownie vegan, there is nothing easier. I just replaced two regular eggs (that you would need for a non-vegan version of this recipe) with a flaxseed egg. Have you heard of a flaxseed egg before? It's truly magic and works beautifully in most baking goods. A flaxseed egg is indeed made of ground flaxseed that you combine with water until you get a thick and fluffy viscous texture making it look like an egg.
You can either purchase regular flaxseeds and grind them yourself using a peppermill or a spice mill for instance, or you can go directly for a ready-to-use ground flaxseed package. Note that the flaxseeds tend to lose their healthy properties very fast once they are ground so it's most of the time recommended you grind them just before using them. In a baking recipe however, it doesn't matter too much as we are looking for the texture rather than for the healthy properties.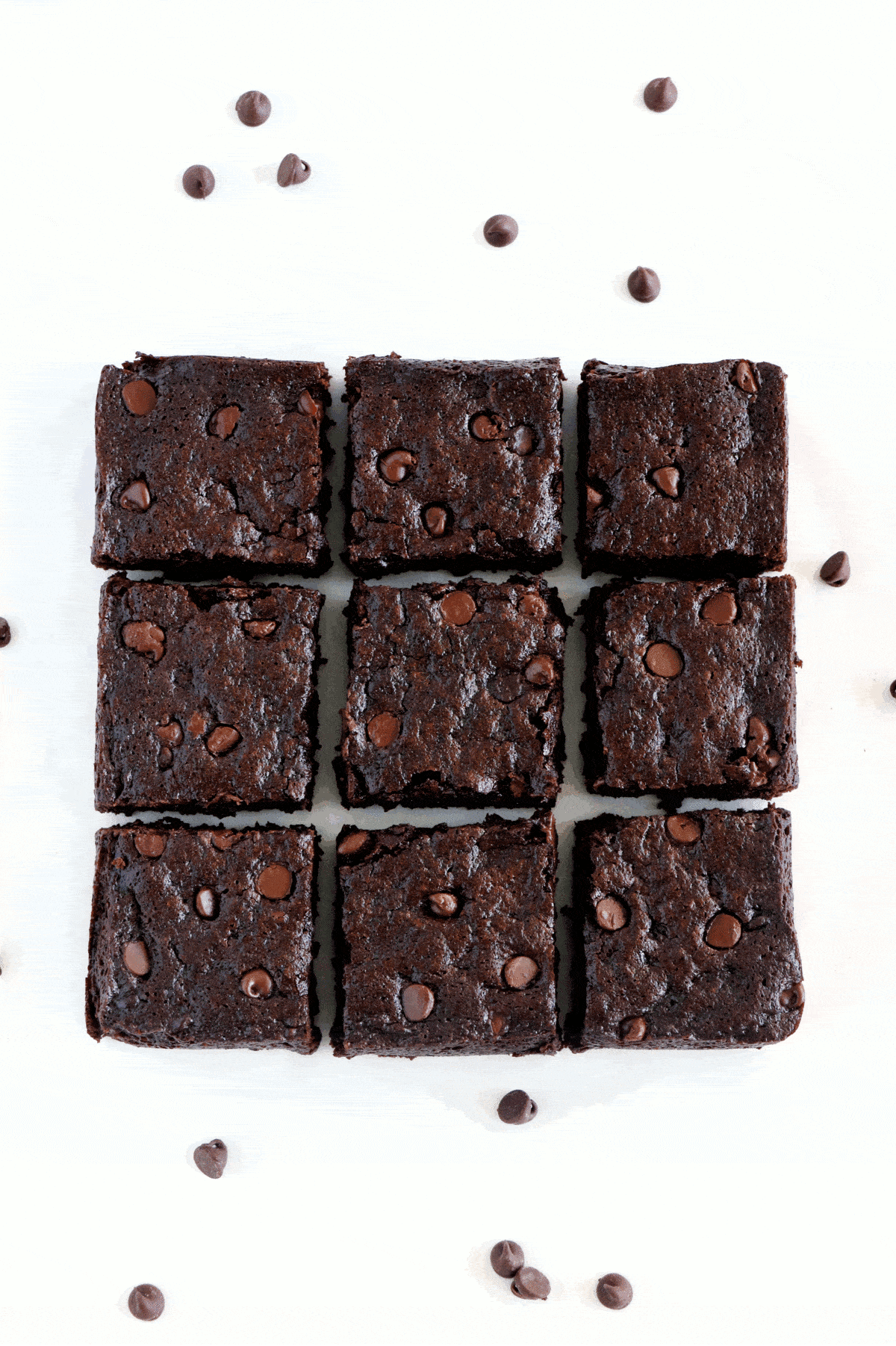 Except the perfect texture brought by the flaxseed, you will be happy to learn that the use of these tiny seeds doesn't have any impact on the final taste of the brownies. You could indeed easily fool someone who is reluctant to trying vegan recipes, claiming they are tasteless. Not convinced yet? Try it and see!
As for the chocolate, it is important to go for a non-dairy chocolate if you are vegan, as most chocolate we purchase in store actually contain spares of milk, if not more than that. Here we use chocolate for the chocolate chips only, the other chocolate being used in the form of unsweetened cocoa powder. The choice of cocoa powder instead of chocolate is important in a brownie recipe as it is what will give the cake it's rich fudgy texture. I have tried to use regular chocolate in previous recipes and it always makes the cake too dense instead of fudgy.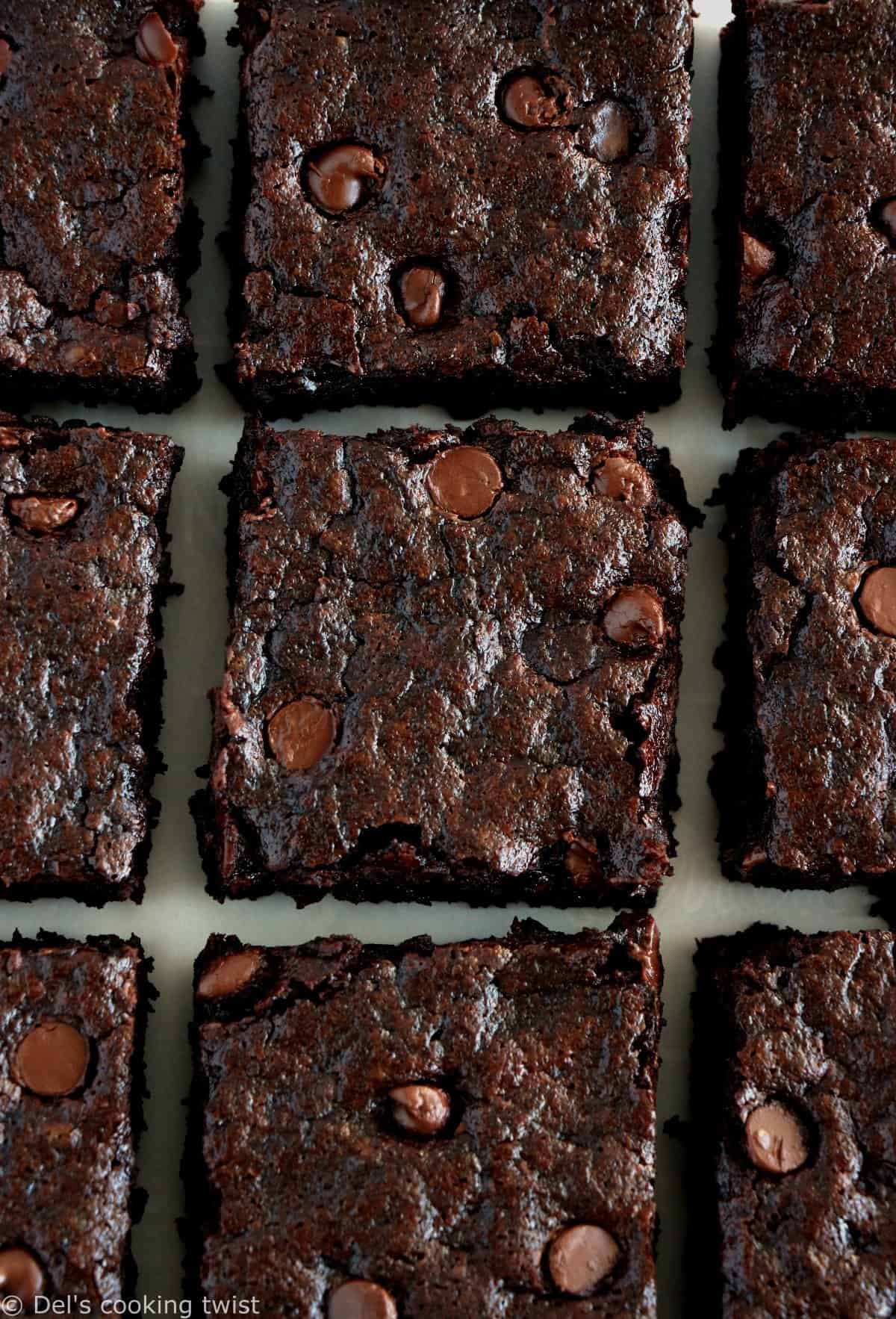 It is important to go for a high quality unsweetened cocoa powder. Between dutch-processed and natural, I always prefer the dutch-processed one (Valrhona, Droste) in my baking recipes as it has more fat content than the natural one, bringing more moisture to your recipes. If you can't make your hands on a dutch-processed, make at least sure you go for unsweetened cocoa powder.
I also recommend you sift the cocoa powder and the flour for better results, even though it not mandatory for the second one. If you don't have a sifter, just use a sieve, it will do the trick. Last part: the vegan butter! I used Earth Balance vegan butter for this recipe, but margarine should work too. Just make sure it does not contain any milk spares.
Now what if you want to make a NON-VEGAN version of this brownie? It's easy peasy! Just replace the flaxseed egg with 2 eggs and use regular butter or margarine instead of the vegan one. For the rest, proceed exactly the same! A little trick I have tried (and that saved me from doing a brownie overdose): once completely cooled – and not before – cut the brownie into squares, then freeze single slices in a ziploc bag. This way, when you have a little brownie craving, just remove it from the freezer, place 15 seconds in the mirowave and you have an ooey-gooey fudge brownie as if you had just baked it. Heaven!
Print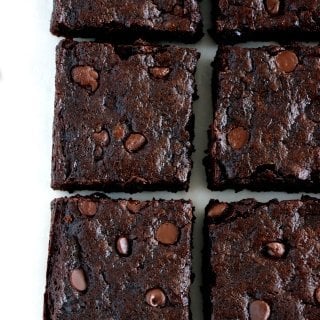 Best Ever Vegan Fudge Brownies
Author:

Prep Time:

20 mins

Cook Time:

35 mins

Total Time:

55 mins

Yield:

9

-

12

servings

1

x

Category:

Cakes and Pies

Cuisine:

Vegan
---
Description
Seriously the best ever fudge brownies – and it's vegan! With just a few basic ingredients, you get the perfect fudgy and gooey texture. It's addiction at first bite!
---
4 Tablespoons

ground flax seeds

1/2 cup

+ 2 Tablespoons (

150

ml) water

1 cup

(

250

ml) vegan butter (earth balance brand), melted and cooled

3/4 cup

(

150g

) granulated sugar

3/4 cup

(

135g

) brown sugar, lightly packed

1 teaspoon

vanilla extract

1 cup

(

120g

) all purpose flour

1 cup

(

125g

) unsweetened cocoa powder

1/2 teaspoon

salt

1 cup

(

175g

) non-dairy chocolate chips
---
Instructions
Make the flaxseed egg by stirring the ground flax seeds and water in a small bowl. Set aside to thicken.
Preheat the oven to 350 F (180 C) and line a 9×9 pan with parchment paper.
In a large bowl, whisk the melted vegan butter and sugars together. Add the flaxseed egg, vanilla, and whisk until evenly combined.
Sift in the flour and cocoa powder, using a strainer or a sifter. Add salt, fold in the chocolate chips, and stir with a rubber spatula until just combined (do not overmix).
Pour the batter into the prepared pan and bake for 35-40 minutes, until the middle of the brownies no longer jiggles and is just set.
Remove from the oven, allow to cool in the pan for 15 minutes, then pull the brownies out, using the parchment paper and let cool for another 15-30 minutes before slicing and serving.
---
Notes
Recipe adapted from Nora Cook.
NOTE: for a non-vegan version, replace the "flaxseed egg" with 2 eggs, and use regular margarine. Easy!