Celebrate summer with this beautiful Swedish Midsummer Cake (Midsommartårta), full of fresh flavors: strawberries, lemon curd and cream cheese frosting.
This coming Friday starts the long weekend of Midsummer in Northern Europe and in particular in Sweden. This period of time centered upon the summer solstice is the occasion of many traditions and celebrations in the countryside all around the country, with nature at the center of all festivities.
I moved from Sweden to Chicago almost two years ago now, but I kept the Midsommar traditions alive, since David and I got married last year exactly on the date of Midsummer in France. Because we both love Sweden and met there on the first place, we had centered the entire wedding around Midsummer celebrations. When I think about it today, I wouldn't have done anything differently. Wildflowers, Swedish food, songs and dances around a beautiful Midsummer maypole were at the centerpiece of this fantastic summer day, full of emotions, laughs and good vibes for everyone.
MY LATEST VIDEOS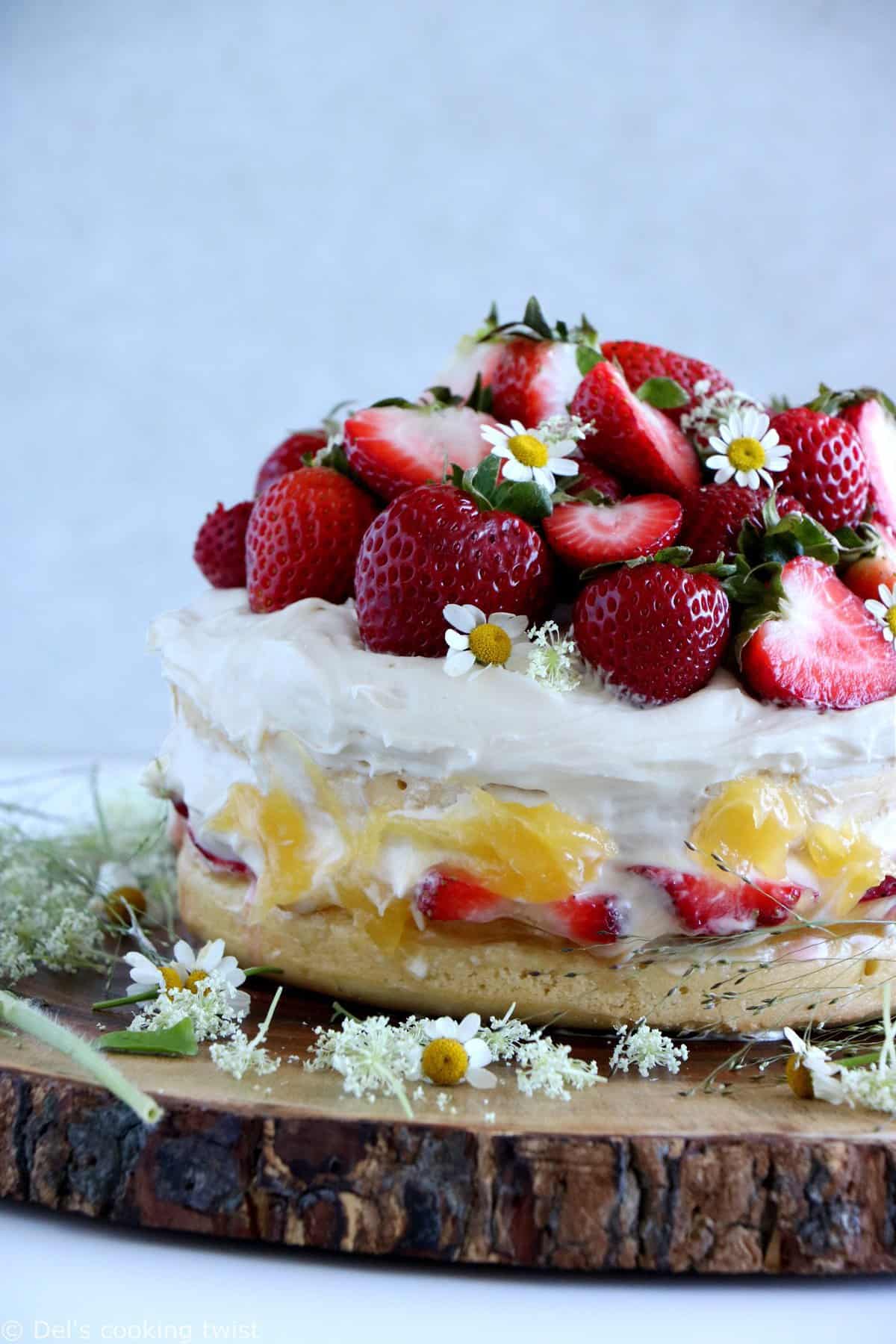 This is exactly what Midsummer is: a very long weekend – from Thursday afternoon to Sunday night – during which Swedes take time to relax in the countryside, surrounded by friends and/or family, drinking, dancing, singing… and doing it again and over again until daylight lasts, enjoying the very long summer days at their best. This is such a feeling, it is hard to describe but highly recommended to experience once in a lifetime!
As for all Swedish celebrations, there are some food traditions coming along: pickled herring, gravlax salmon, and of course the Midsommar Cake Midsommartårta! This dessert is not exactly a unique recipe, it is mostly a generic name used for any kind of Midsummer, so you could basically name whichever dessert Midsummer dessert "Midsommartårta" if you wish. In reality, we usually picture a dessert with fresh strawberries and lot of cream, from a basic strawberry & cream cake to a fancy layer cake or pavlova that has become very popular in Sweden these last years too.
A few years ago, I shared with you a Strawberry Layer Cake recipe I had baked for Midsummer: a delicious cake with terrible photos (no doubt I made progress in food photography, haha!). I originally wanted to reshoot the photos for you this year but happened to bake a whole different version instead, I hope your don't mind. Here again I used fresh strawberries, lemon, and cream cheese, but the look and the filling are different.
This time, I wanted a more rustic look, and made the sides of the cake a little bit messy instead of recovering the cake sides in a thick, even layer of cream cheese frosting. You could equally make it naked and/or more layer cake look alike if you would like to. As for the filling, I simply layered lemon curd (go check my lemon-curd recipe), fresh sliced strawberries and cream cheese frosting, in between two thick layers of lemon flavored cakes. Once you assembled the cake, place in the refrigerator for about 45 minutes before serving or the cake may fall apart.
When it's time for dessert, add whole and halved strawberries on top together with wild flowers, ideally elderflowers if you can find some, and enjoy with your loved ones… and a glass of sparkling wine!
Happy Midsummer to all my dear friends in Sweden!
Swedish Midsummer Strawberry Cake (Midsommartårta)
Celebrate summer with this beautiful Swedish Midsummer Cake (Midsommartårta), full of fresh flavors: strawberries, lemon curd and cream cheese frosting.
Recipe type:
Cakes and Pies
Ingredients
For the cake:
1 cup (230g) unsalted butter, softened to room temperature
1 cup (180g) granulated sugar
¼ cup (50g) light brown sugar
4 large eggs
1 Tablespoon vanilla extract
3 cups (345g) sifted all-purpose flour
1 Tablespoon baking powder
½ teaspoon salt
1 cup (240ml) buttermilk*
3 medium lemons, juice and zests
For the cream cheese frosting:
8 ounces (224g) full-fat brick style cream cheese, softened to room temperature
½ cup (115g) unsalted butter, softened to room temperature
3 cups (350g) confectioners' sugar
1 - 2 Tablespoons heavy cream
1 teaspoon vanilla extract
1 pinch salt
For the filling:
½ cup (150g) lemon curd
2 cups (approx. 300g) fresh strawberries
Instructions
Preheat the oven to 350°F (180°C). Grease and lightly flour two 9x2 inch (23x5 cm) cake pans with nonstick spray. Set aside.
For the cake batter:
Using a handheld or stand mixer with a paddle attachment, beat the butter on high until creamy. Add both sugars and beat on medium-high speed until creamy. Add eggs, vanilla, and beat on medium speed until everything is combined. Scrape down the sides and bottom of the bowl as needed. Set aside.
In a large bowl, mix together the flour, baking powder, and salt.
Slowly add the dry ingredients to the wet ingredients, stirring well.
Add the milk, lemon zest, and lemon juice, and stir with a rubber spatula until everything is just combined. Do not overmix.
Spoon batter evenly into the 2 prepared cake pans and bake for about 25 minutes or until a toothpick inserted in the center comes out clean. Remove from the oven and allow to cool completely before assembling the cake.
For the frosting:
Using a handheld or stand mixer with a paddle attachment, beat cream cheese and butter together on medium speed until no lumps remain, about 3 full minutes. Add confectioners' sugar, 1 or 2 Tablespoon cream, vanilla extract, and salt with the mixer running on low. Increase to high speed and beat for 3 minutes.
For the filling and assembling the cake:
Using a large serrated knife, trim the tops off the cake layers to create a flat surface.
Place 1 layer on your cake stand. Evenly cover the top with the lemon curd, then add a layer of sliced strawberries, and one layer of cream cheese frosting.
Top with 2nd layer, and cover with more frosting, on top and if desired on the sides if you want a more finished visual (I like mine half naked, making it more rustic). Cover with whole and half strawberries, and refrigerate for at least 45 minutes before serving or the cake may fall apart as you cut.