Let's treat ourselves with a wonderful veggie burger made with Portobello mushroom, blue cheese, caramelized onions and an easy homemade 40-minute hamburger bun!
November could not end without a recipe involving a key seasonal ingredient: mushroom. Portobello mushroom to be exact! When I lived in Sweden, eating (and picking up!) mushrooms was a common thing while they were in season. To me, the best way to enjoy mushroom is to sauté them with some garlic and serve them on top of a slice of bread with butter and sea salt. But they are many other ways to cook them.
Find here a few mushroom recipes from the blog that are among my favorite: Baked eggs with Chanterelles and thyme, the sumptous creamy mushroom soup (I should really re-shoot and update the pictures of this delicious recipe!), Spaghettis with Chanterelles mushrooms and cognac, and the beautiful Saint-Marcelin cheese tartlets with oyster mushroom, broccoli and walnut ninaigrette.
And a few years ago, I also discovered the Portobello mushroom, an extremely large, dark brown mushroom, that is mainly produced in the United States (about 90% of the worldwide production apparently). My boyfriend David who grew up in the States knew this mushroom from before and was ridiculously crazy about it. He introduced me to this large mushroom once, through his favorite grilled blue cheese Portobello mushroom recipe.
Since then, we had made several Portobello mushroom recipes together but for some reasons, I had never shared a single one on the blog… until today! According to me, a burger is the best way to be introduced to the Portobello mushroom and it's a great opportunity to choose a veggie option that doesn't taste like greens (for those who are reluctant to the greens eater – which I am not). The Portobello mushroom has indeed a meaty flavor and texture when cooked. As a result, they are great meat substitutes with no fat, sodium or cholesterol.
In this recipe, the Portobello mushrooms are first marinated in a teriyaki sauce, then grilled and topped with blue cheese that melts beautifully. Add to this some delicious caramelized onions and a kidney bean-tomato sauce. Note here that it is possible to skip the bean-tomato sauce in the recipe ; I personally love it but others might prefer a simple association Portobello-caramelized onions. Between both options, just pick your favorite.
The last touch of this burger recipe is the burger bun itself, which is 100% homemade as well. I admit that I often go for a ready-to-use burger bun, but I always end up disappointed as it considerably decreases the quality of your burger. This had to come to an end, so I searched for a quick and easy bun recipe and I found the one: a 40-minute hamburger bun recipe! It is ridiculously easy to make and it tastes amazing. You don't even need a stand mixer such as a Kitchen Aid as you only knead the dough for about 3 to 5 minutes by hand. Seriously, I wonder how come I have waited so long before making a A-to-Z homemade burger!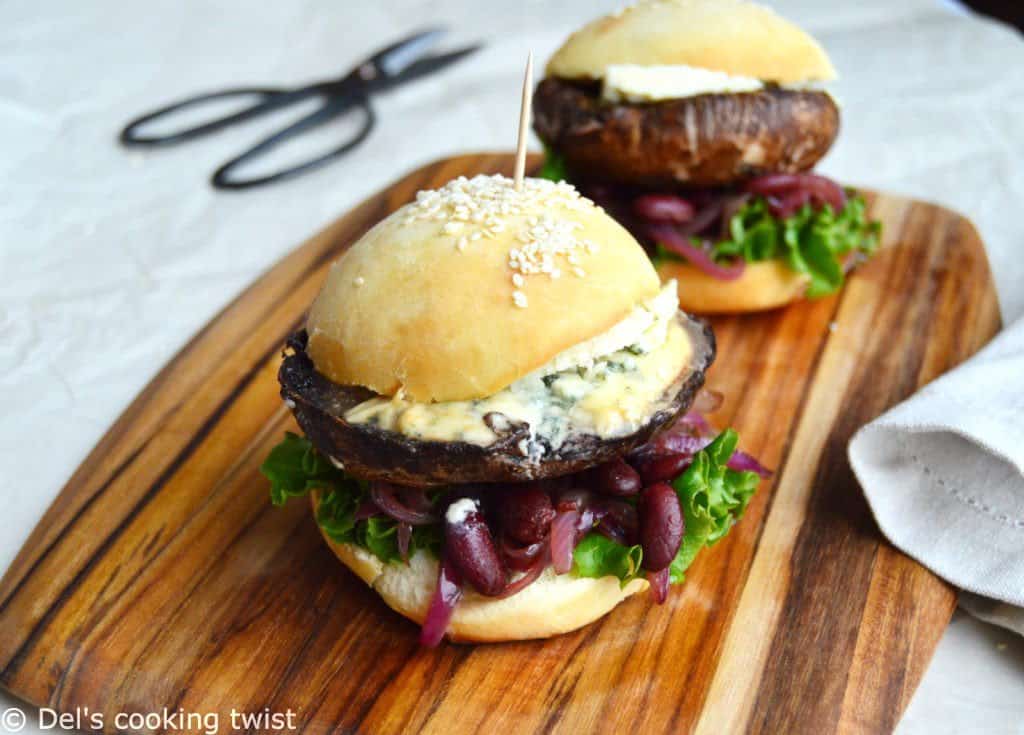 Instead of French fries or even sweet potato fries, I would suggest a side of green salad with a simple vinaigrette to serve with your Portobello mushroom burger. This will avoid an overlap of flavors and make you focus on the burger itself. Hope you enjoy!
Portobello Mushroom Burger with Blue Cheese and Caramelized Onions
A decadent Portobello burger made with an easy homemade 40-minute burger bun recipe. The perfect treat to enjoy with your friends!
Ingredients
For the burger buns (makes about 6 buns):
2 tbsp active dry yeast
1 cup + 2 tbsp warm water
⅓ cup vegetable oil
¼ cup sugar
1 large egg
1 tsp salt
3 to 3½ cups all-purpose flour
4 tbsp butter, melted
1 tbsp sesame seeds
For the mushrooms:
6 Portobello mushrooms
4 tbsp teriyaki sauce
4 tbsp balsamic vinegar
7 oz (200g) blue cheese
For the caramelized onions:
2 medium red onions, finely sliced
¼ cup olive oil
¼ cup balsamic vinegar
1 tbsp brown sugar
For the bean-tomato sauce (optional)*:
½ cup cooked kidney beans
⅓ cup tomato sauce
To serve:
Instructions
For the burger buns: in a large bowl, dissolve yeast in warm water. Add oil and sugar; let stand for 5 minutes. Add the egg, salt and enough flour to form a soft dough. Turn onto a floured surface; knead until smooth and elastic, about 3-5 minutes. Do not let rise. Divide into about 6 pieces; shape each into a ball. Place 3 in. apart on greased baking sheets. Cover and let rest for 10 minutes. Brush each one with the melted butter, and sprinkle sesame on top. Bake at 425°F (220°C) for 8-12 minutes or until golden brown. Remove from pans and transfer to wire racks to cool.
For the mushrooms: combine teriyaki sauce and balsamic vinegar in a medium sized shallow dish. Place mushroom caps, gill-side up, and let marinade for minimum 15 minutes.
For the caramelized onions: heat olive oil in a large skillet over medium heat, throw the onions and cook them until translucent. Pour the balsamic vinegar, sprinkle over the sugar, and cook uncovered for about 20 minutes, stirring occasionally. The onions are ready when they are soft, slightly sticky, and smell caramelizing.
For the bean-tomato sauce*: heat up the already cooked kidney beans with the tomato sauce in a small saucepan.
In a large skillet, heat olive oil over medium-high. Cook the Portobello mushrooms, until toasted on each side and cooked through, about 12 minutes (6 minutes per side). Top each mushroom with blue cheese and continue to cook until just melted, about 2 minutes.
To assemble the burgers: cut the burger buns in half, cover one half with a lettuce leave, then top with the bean-tomato sauce*, the caramelized onions, and the cheese-topped Portobello mushrooms. Cover with the remaining burger bun. Serve with a side of green salad.
Notes
* Note here that it is possible to skip the red bean tomato sauce in the recipe ; I personally love it but others might prefer a simple association Portobello-caramelized onions. Between both options, just pick your favorite.