15+ amazing shareable snacks and appetizers to choose from for your summer gatherings, garden parties or any other occasion of your choice.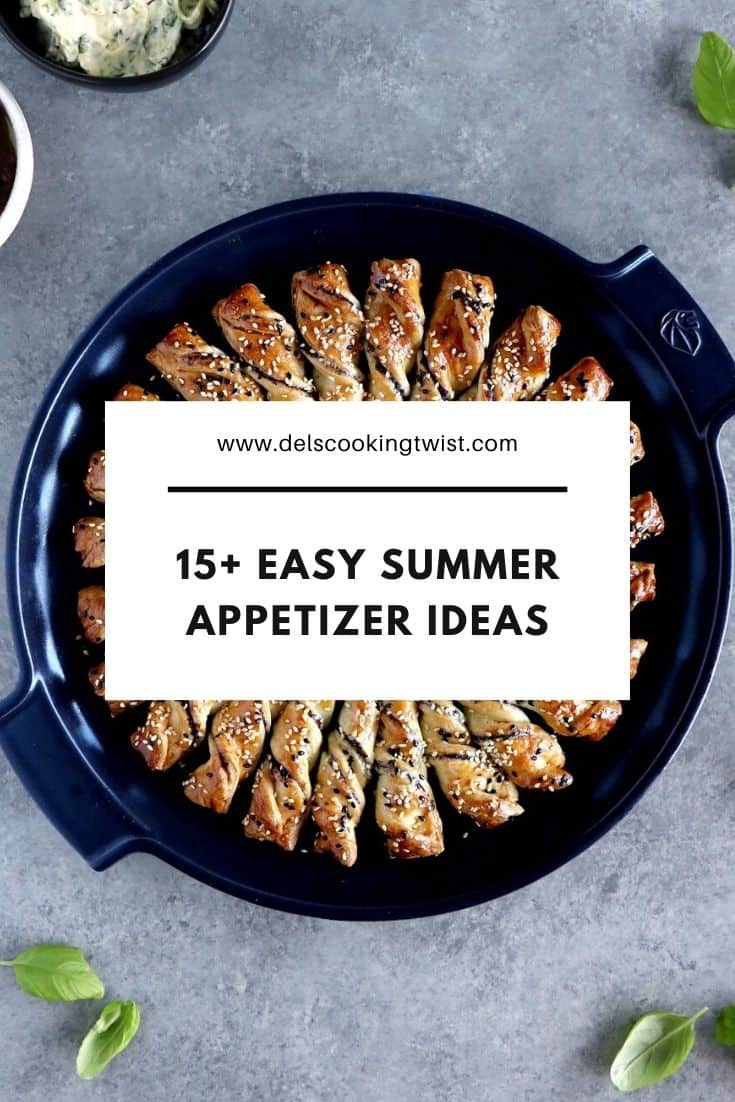 It's July 14th today! Happy Bastille Day to all my fellow French friends and family! Whether you are planning a picnic prior to the fireworks tonight or getting ready to watch the World Cup Final tomorrow with France against Croatia, there is always a good reason to throw a summer party. Snacks, appetizers, and small bites in general are a great option, as they are shareable and do not require too much preparation.
Here I put together 15+ shareable snacks and appetizers that will I hope bring you some inspiration this summer. Pick your favorites and enjoy!
1. Goat Cheese & Sun-Dried Tomato Madeleines
These Goat Cheese and Sun-Dried Tomato Madeleines are so addictive! Make plenty of them and bring with you for a picnic or any summer gathering party. Tip: you can prepare the batter one day in advance and keep it in the refrigerator until using.
2. Baba Ganoush
Make the best of eggplants while they are in season. This Baba Ganoush is a lovely creamy dip to serve with crackers or pita chips.
3. Sweet Potato Fries with Avocado Dip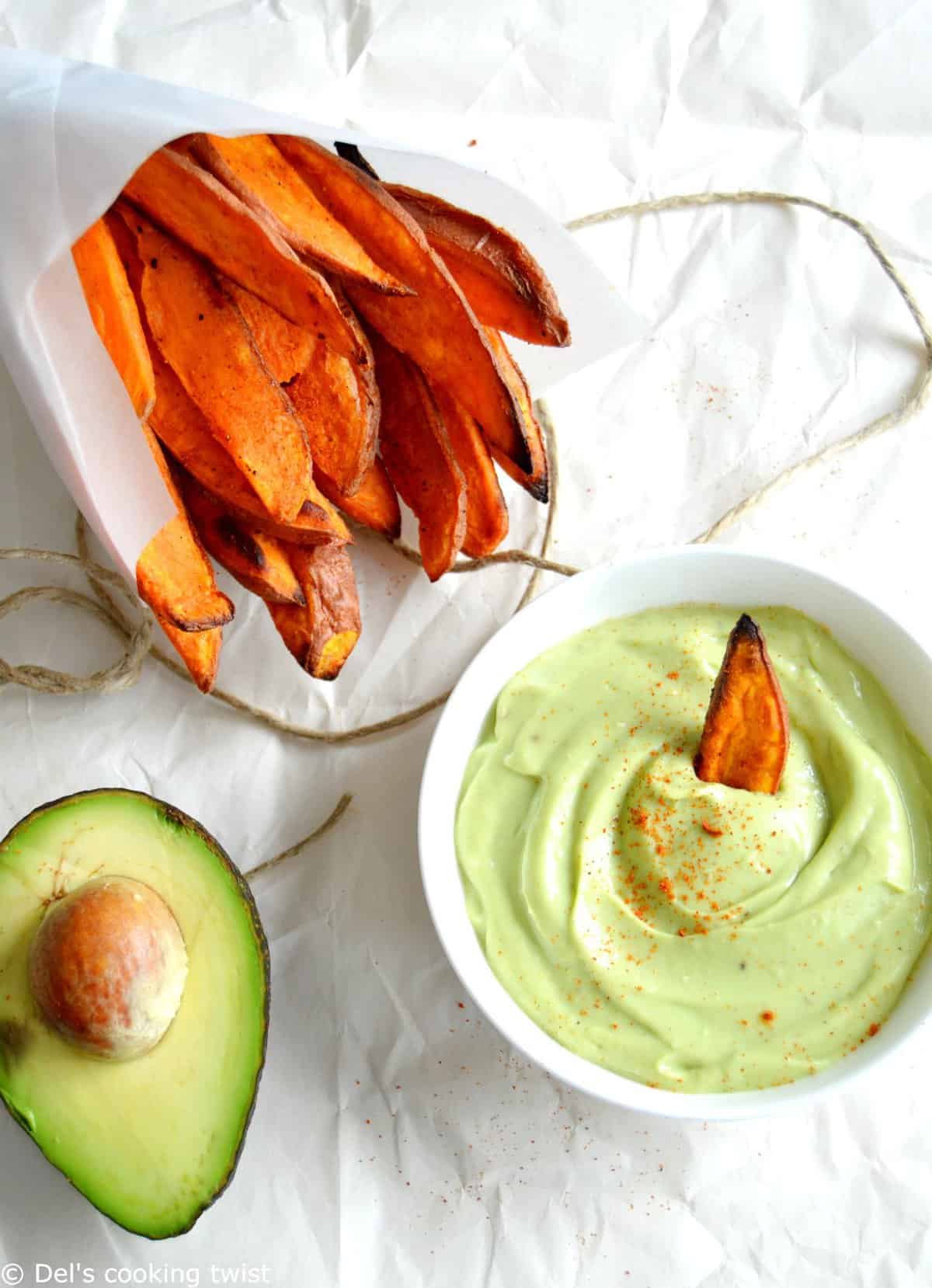 Nothing can beat these Healthy Sweet Potato Fries with Avocado Dip. The fries are sweet, crispy and slightly spicy. It's love at first bite.
4. Eggplant Rolls filled with Roasted Garlic Hummus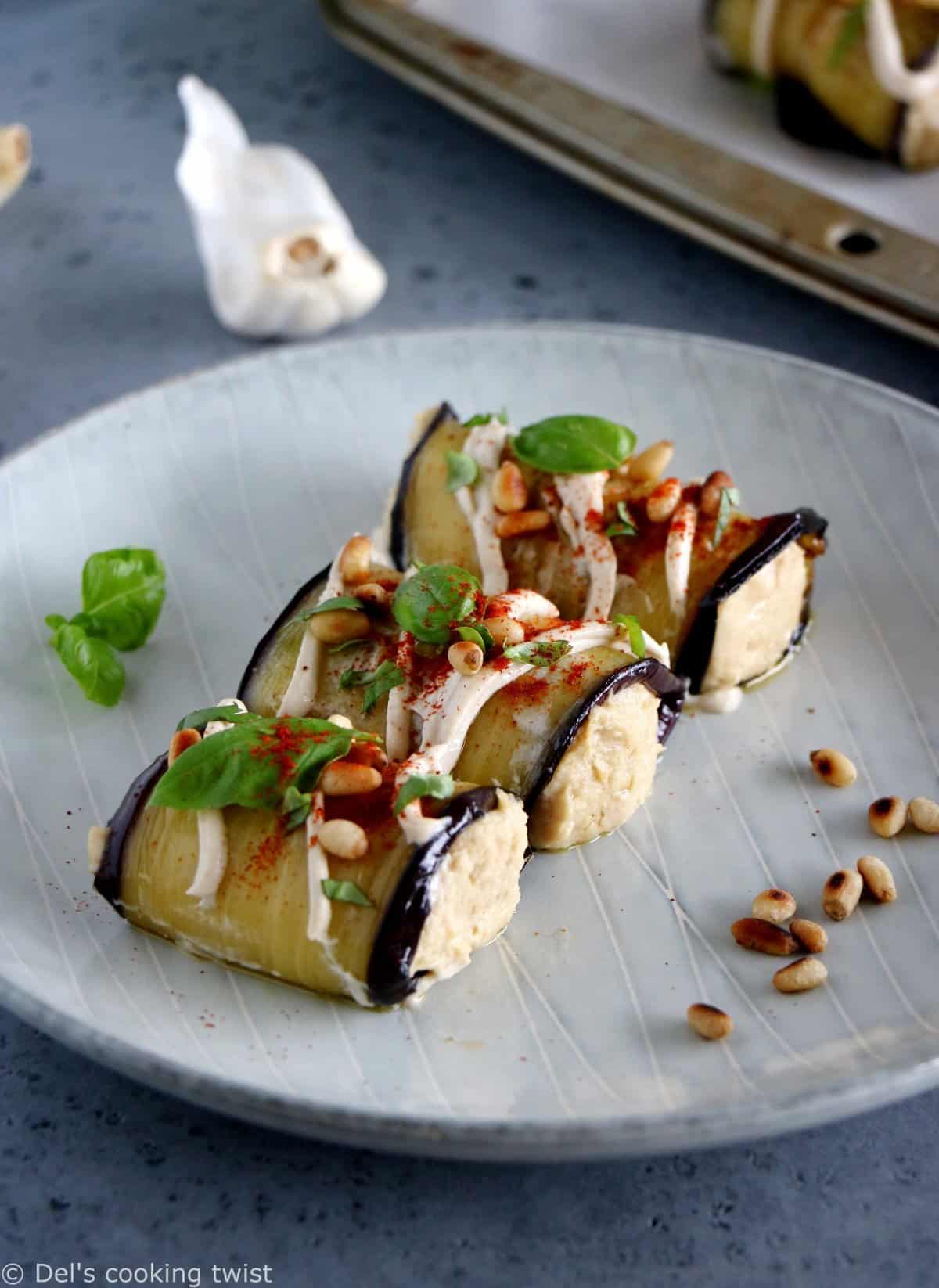 Vegan and gluten-free, these Eggplant Rolls filled with Roasted Garlic Hummus make a fantastic snack or appetizer. And if you run out of time, just go for the roasted garlic hummus itself; it's heaven!
5. Whole Wheat Mediterranean Pizza Star Ring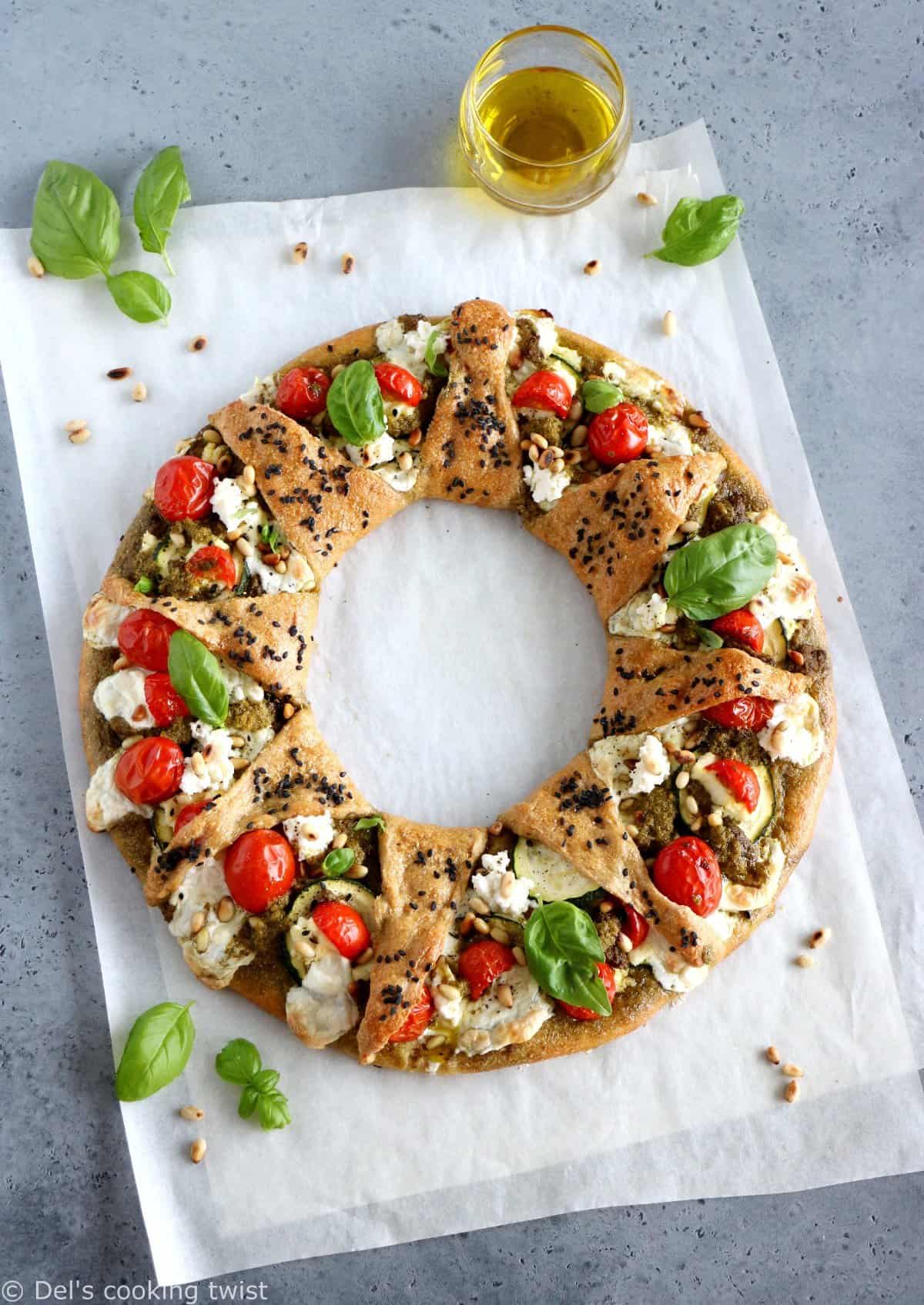 Beautiful, colorful and generous, this Mediterranean Pizza Star Ring is prepared with a whole wheat crust, which brings an additional nutty taste.
6. Roasted Red Pepper Hummus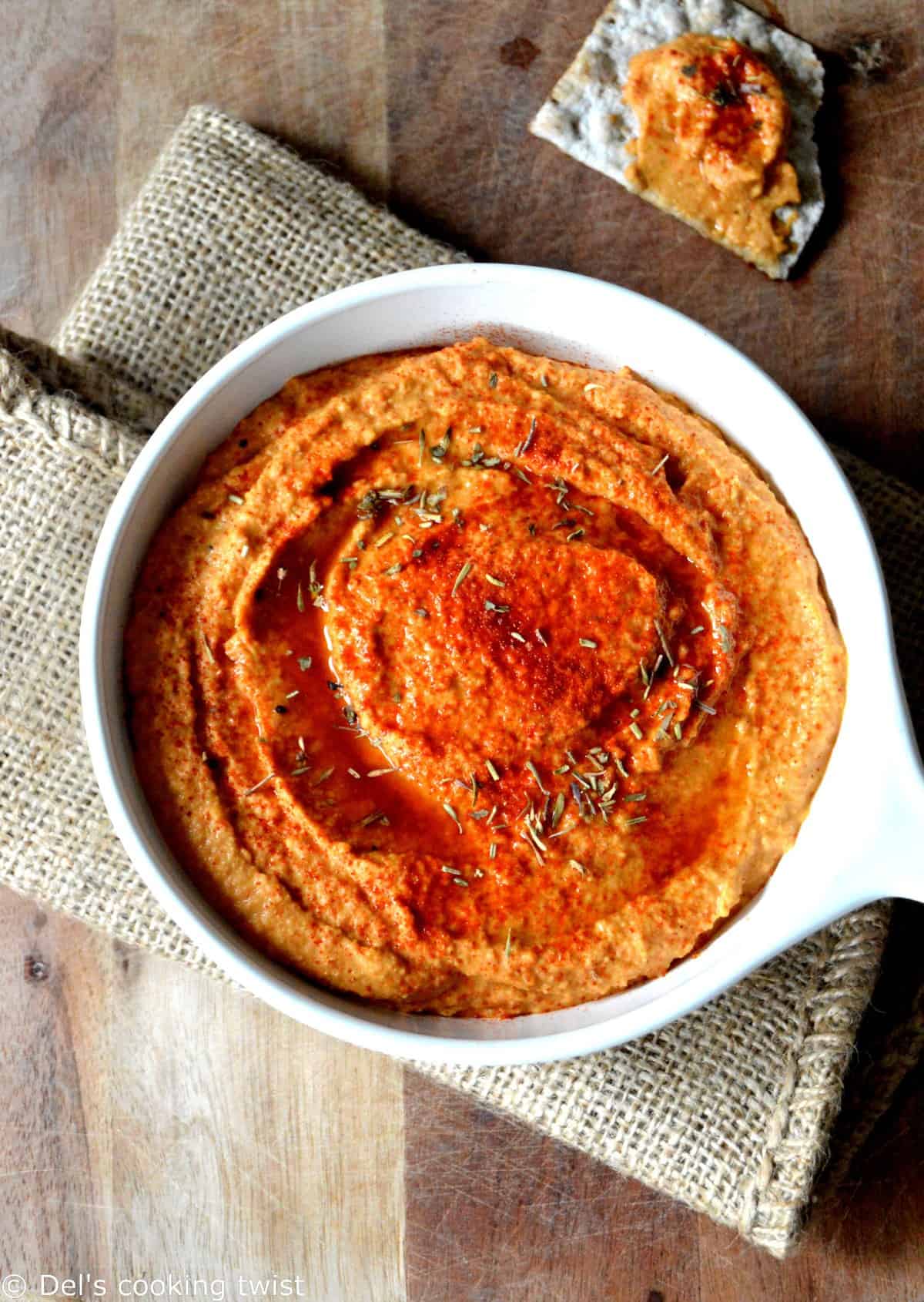 Roasted Red Pepper Hummus is my favorite hummus and probably the one I prepare the most. I also like the red color brought by both the red bell pepper and the oil it releases when baking.
7. Pissaladière (Caramelized Onion & Anchovy Tart)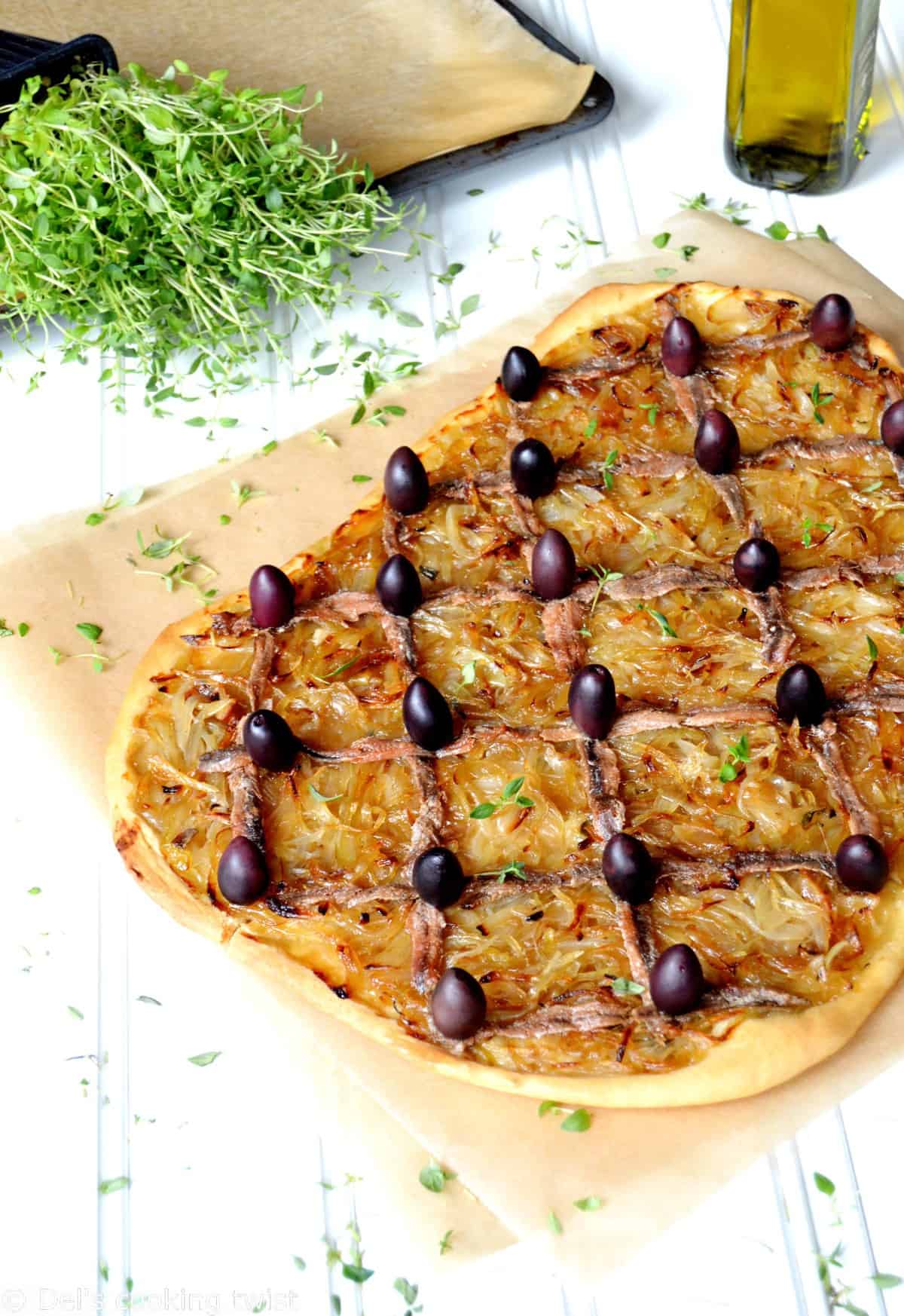 French Pissaladière is a great classic in south of France. On top of a thin crust, layer some caramelized onions, anchovies and olives. Prepare onto a large baking sheet and slice into small squares.
8. Homemade Pita Chips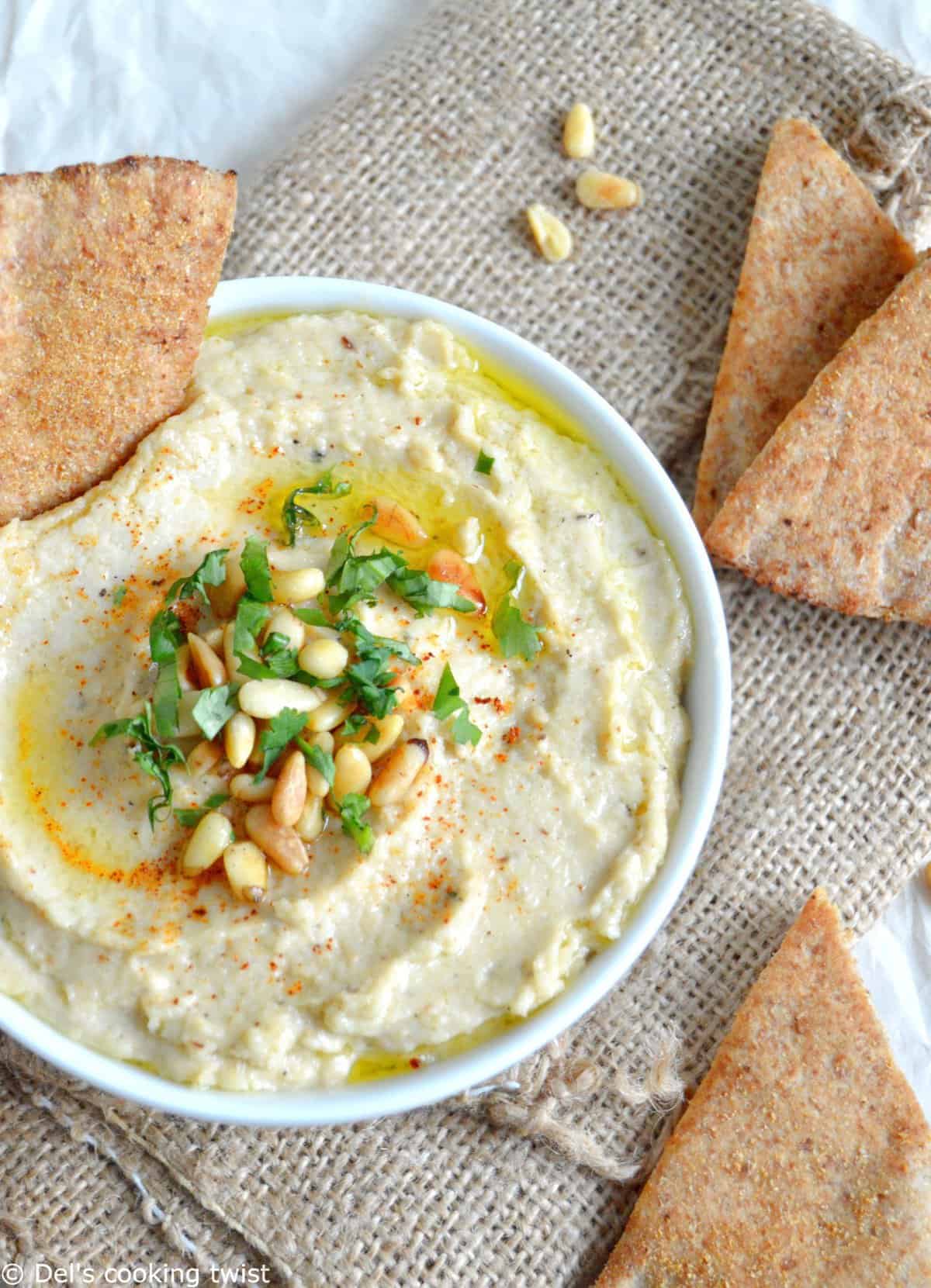 Homemade Pita Chips are so easy to prepare and taste amazing. Serve with any hummus of your choice, such as this roasted lemon and cauliflower hummus that is absolutely incredible.
9. Eggplant Stacks with Goat Cheese
I'm literally crazy about these Honey Drizzled Eggplant Goat Cheese Stacks. They are so soft, tender with a crispy touch brought by the walnuts. Plus they are extremely easy to prepare.
10. Savory Granola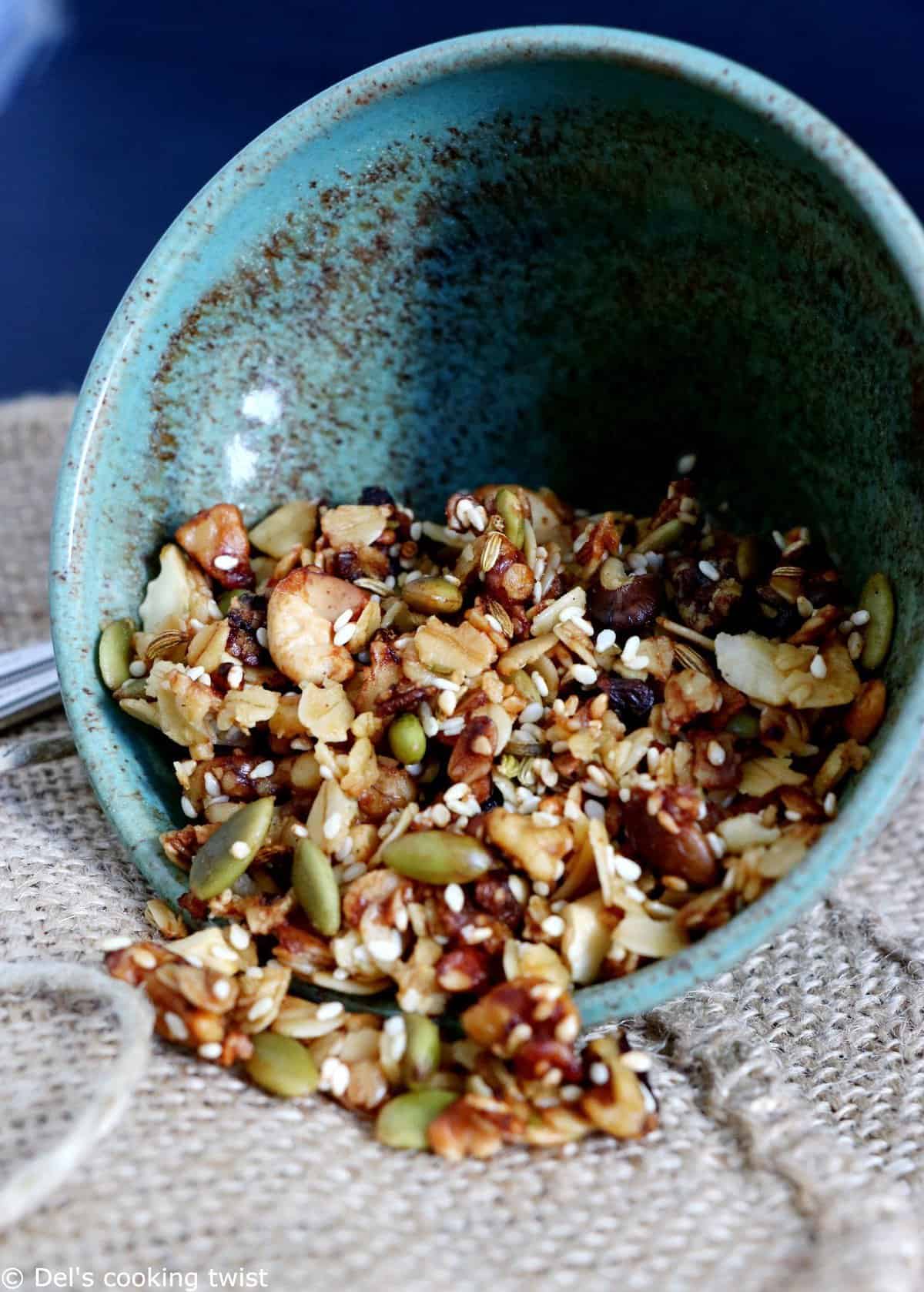 What about an easy savory snack to enjoy anytime of the day? This Easy Savory Granola is perfect as is, sprinkled over your salads or over your savory tartines.
11. Bell Pepper Bites
Perfect appetizer bites, these Bell Pepper Tots are like mini individual crustless quiche. Feel free to use mushrooms, cherry tomato, grated zucchini or whatever you fancy instead of bell peppers.
12. The Perfect Guacamole
There is always a need for guacamole at any party. The Perfect Guacamole according to my very own standards is made with avocado, lime, garlic, and chili pepper. Simple flavors beautifully put together.
13. Garlic Herb Potato Wedges
They are crispy and irresistible. These Garlic Herb Potato Wedges are always a favorite, whether you prepare them as a snack or a side to a main course.
14. Carrot & Turmeric Hummus
One more hummus I love: the Carrot and Turmeric Hummus. Dip in some raw vegetables to make it even healthier (cucumber, carrots or celery stalks will be perfect).
15. Easy Avocado, Hummus & Feta Quesadillas
These Easy Avocado Hummus and Feta Quesadillas make a lovely vegetarian appetizer to any gathering party with friends. Add some fresh cilantro and jalapenos for extra taste.
16. Tarte Soleil Appetizer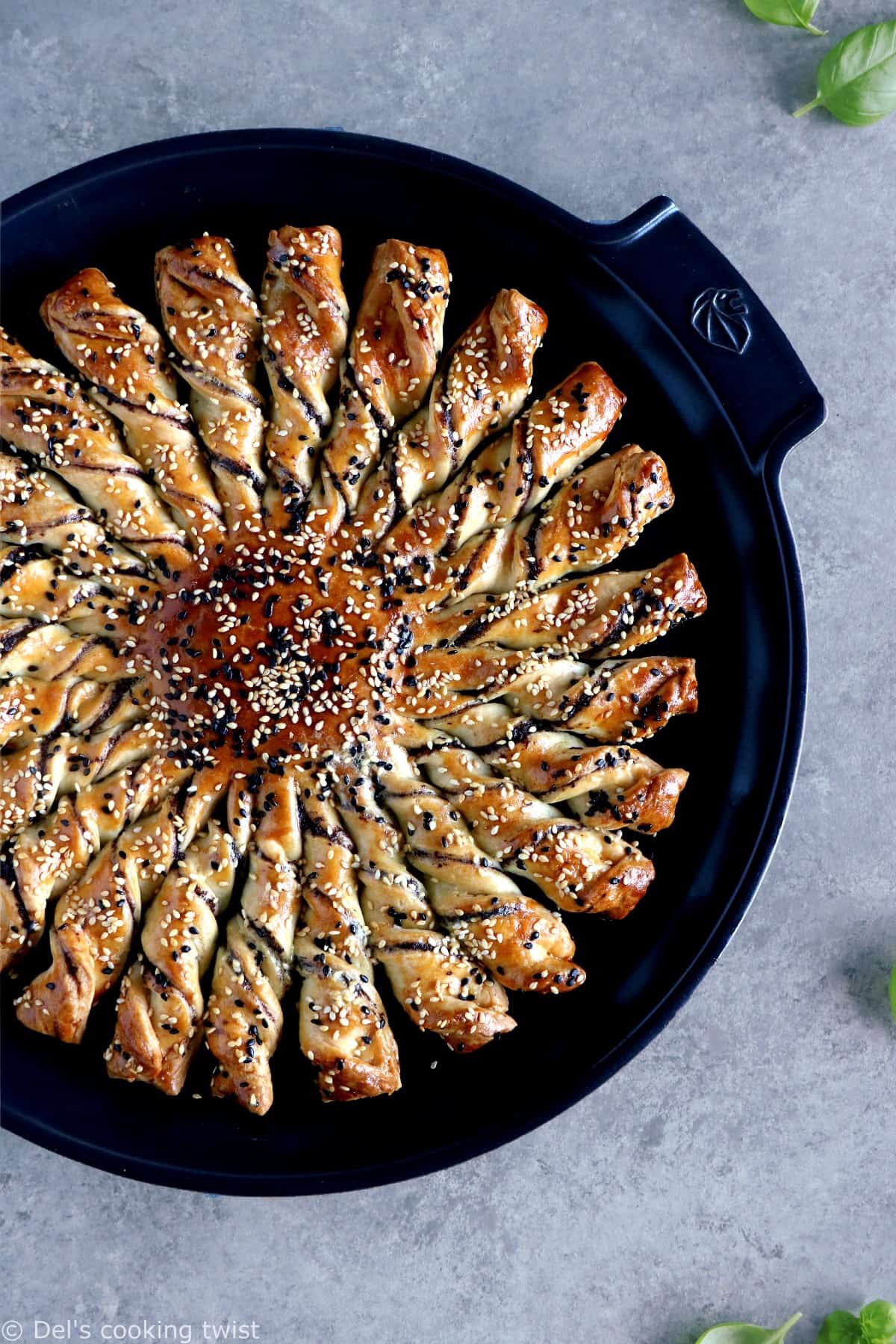 Tarte Soleil Appetizer: 5 ways! Tarte Soleil Appetizer is a French-inspired pull-apart puff pastry that always makes the greatest impression among your guests. It comes here in 5 easy ways and different fillings, so you never run out of options!
17. Easy Smoked Salmon Pizza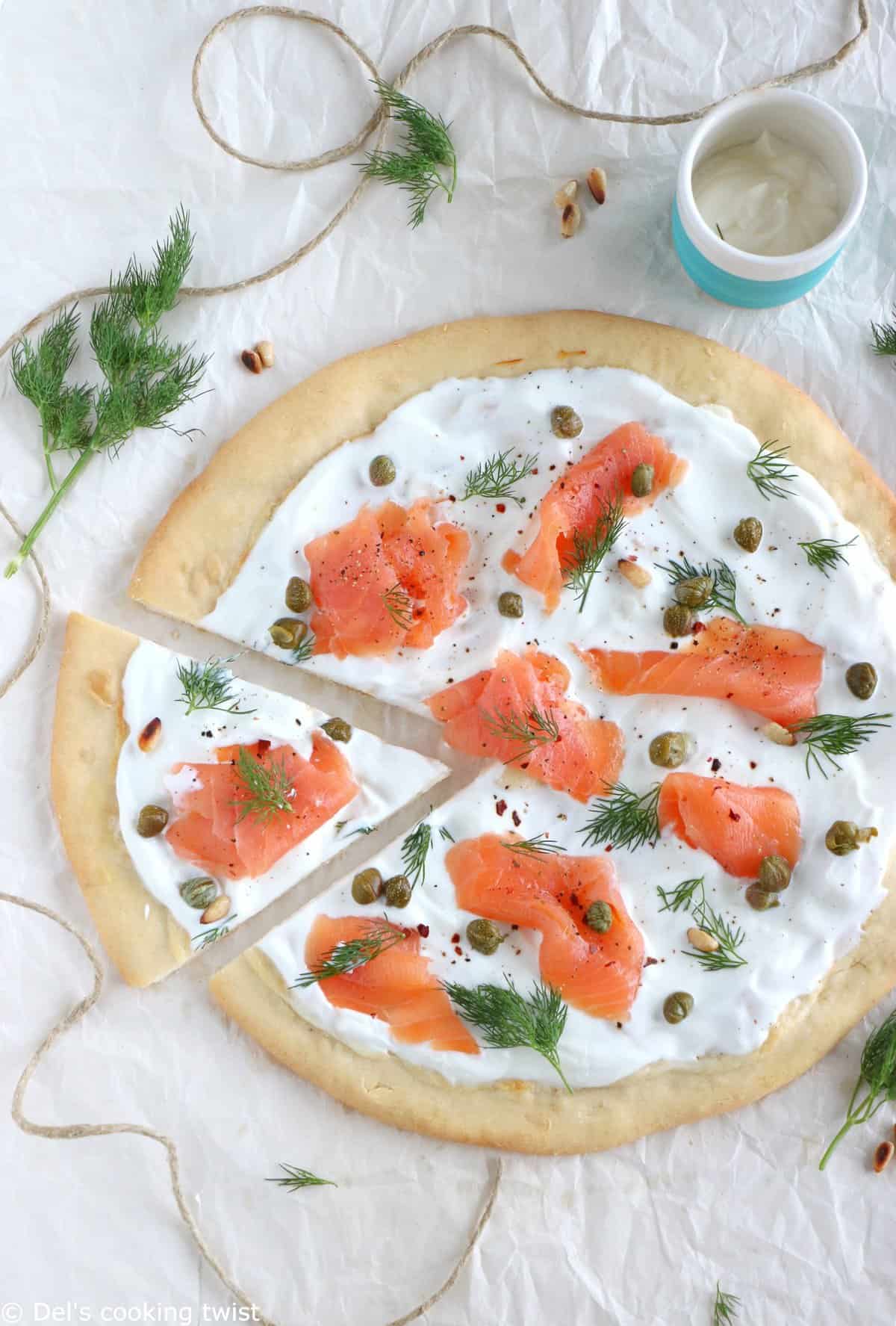 This Smoked Salmon Pizza with Capers is quick, fresh, easy, and delicious. I love the association of capers, dill and salmon, on a bed of sour cream.
Have fun with summer and don't forget homemade snacks & appetizers that always taste so much better!