Learn how to master the technique of eggplant roll appetizers, filled here with a homemade roasted garlic hummus.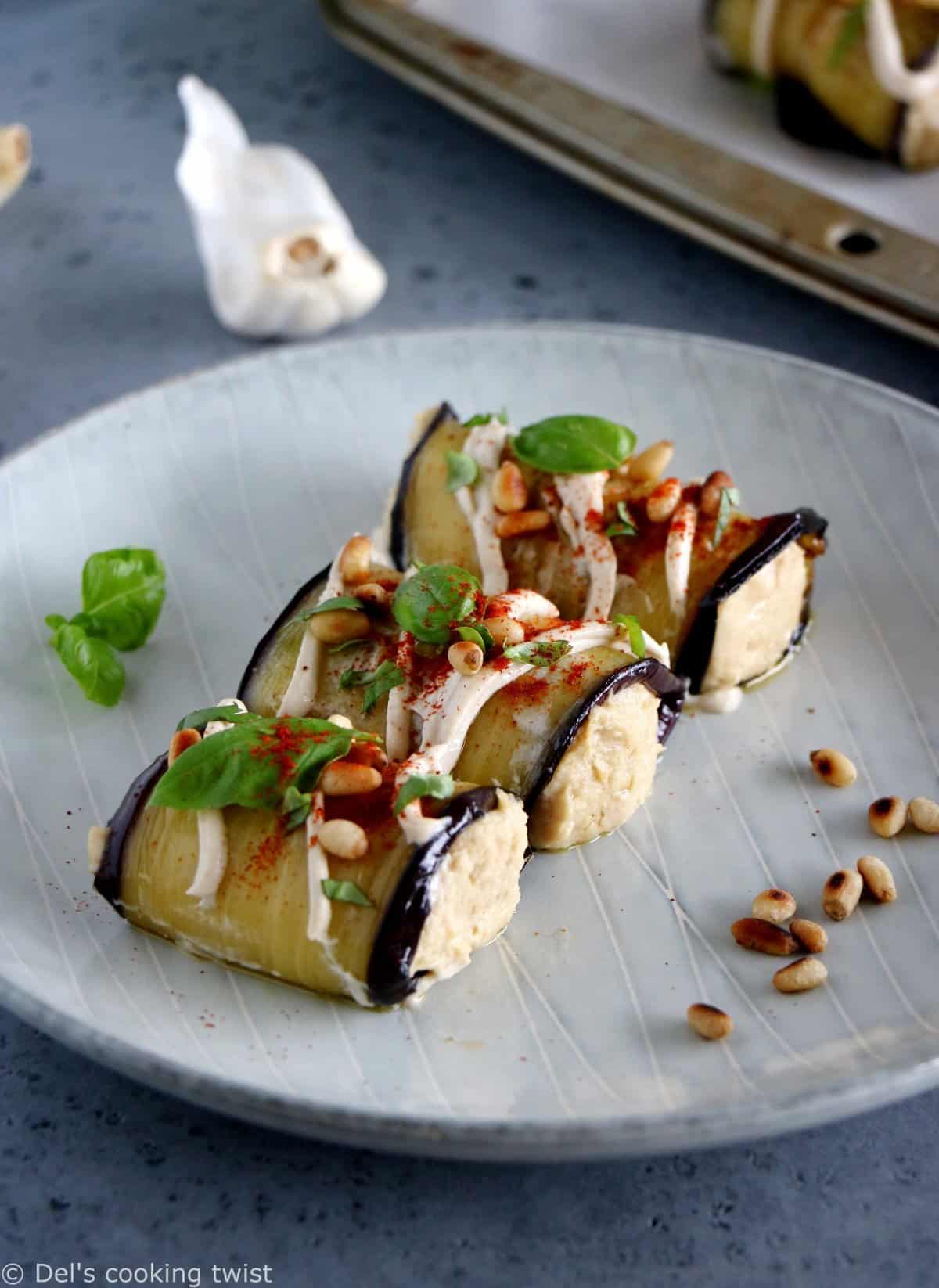 Summertime calls for garden parties, picnics and other gatherings involving easy shareable finger foods. Give up on all kinds of processed foods from these events, and replace them with homemade wholesome snacks instead. It might seem a little bit scary if not overwhelming at first, but once you actually take the time to make the recipe yourself, you will soon understand than the result is highly worth your effort.
For this specific finger food recipe, I used 2 main ingredients – eggplants and chickpeas – that I already used in various appetizer recipes in the past. Among them, you will find the traditional Baba Ganoush, Eggplant Stacks with Goat Cheese, and also several hummus recipes, such as a Roasted Red Pepper Hummus, a Roasted Lemon Cauliflower Hummus or a Roasted Carrot Hummus with Turmeric.
MY LATEST VIDEOS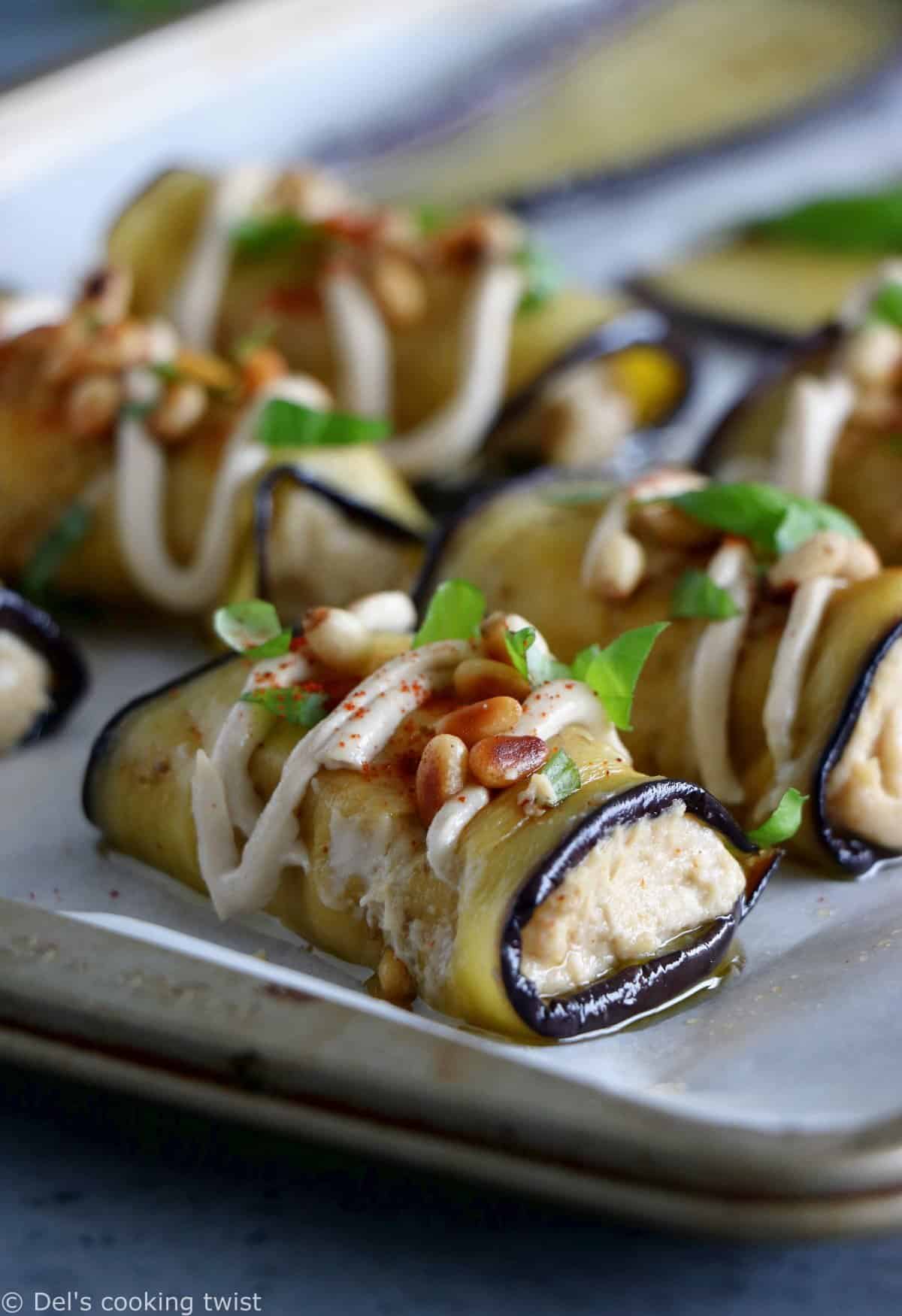 You got it, I am crazy about hummus. Chickpeas are amazing, I will never say it enough (check also 15+ fun ways to use chickpeas). Coming back to hummus in particular, I like the fact that it is wholesome, vegan, gluten-free, and very satisfying. Also, the great thing with hummus is that you can dip in whichever vegetable of your choice, which makes it a great healthy appetizer, as long as you prepare it yourself. Homemade hummus tastes far much better than the industrial one, and enables you to have full control over the amount of salt and hence make sure you don't over-use it.
A couple of months ago, I tried an incredible roasted garlic hummus at a signing book event in Chicago. I was there for the Chef Stephanie Izard, who won Top Chef US many years ago and then opened several restaurants in Chicago, launching a few years later a full range of food products. Her restaurants catered the signing event with various foods and appetizer, among which a very addictive roasted garlic hummus. I immediately got obsessed with it and started to experiment in my kitchen, with the idea to recreate a similar hummus.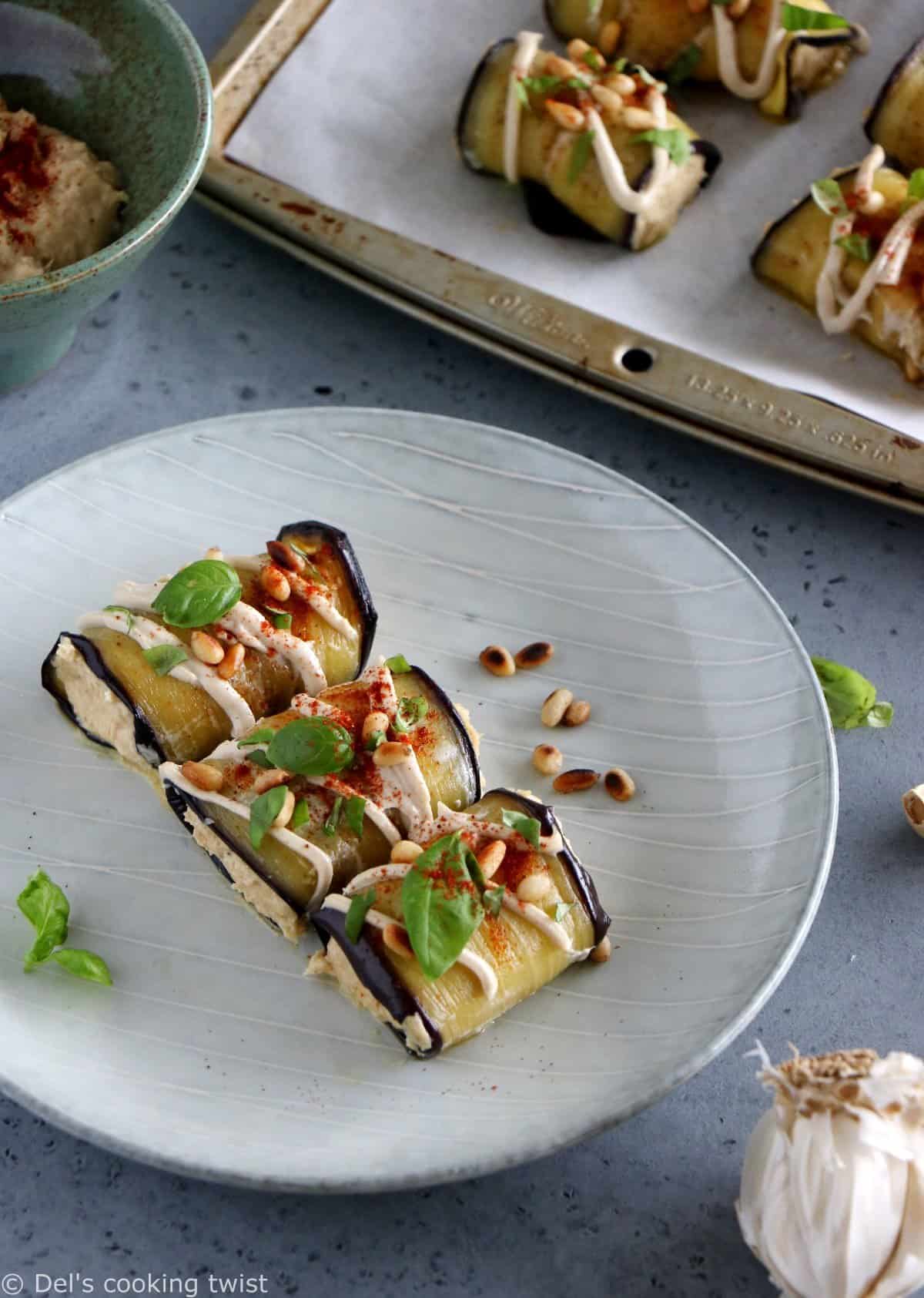 Roasted garlic hummus is smoky and strong in flavors. With no surprise, the main part of the recipe consists in roasting garlic in the oven. It might seem a little bit technical at first but it isn't. Here I used 2 large garlic heads, but you might need to adjust a little bit depending on where you live, American garlic being much bigger than in Europe, where I would advise the use of 3 garlic heads instead. And if you are not too much into garlicky foods, you could use only one.
To roast the garlic, you will need to cut the upper part and remove the loose papery outside skin. Place onto a large piece of foil, drizzle with olive oil, wrap it up, and bake for about 40-45 minutes, or until garlic is soft and tender (insert a knife into the center of garlic to check). The rest is piece of cake: process as you would do for a classic hummus recipe, i.e. mix everything up in a food processor until smooth, adjusting the quantity of water as needed. Don't forget to taste and adjust the seasoning according to your own tastes.
The other part of the recipe consists in slicing eggplants lengthwise in thin layers (not too thin either or it will break), brush with olive oil on both sides, sprinkle with salt, and bake each side until soft and tender. Let cool a little bit, then fill with hummus at the wider end of eggplant slice, and roll it up. Let cool in the refrigerator, and when ready to serve, drizzle with the lemon tahini sauce.

Eggplant Rolls filled with Roasted Garlic Hummus (Vegan, Gluten-Free)
Learn how to master the technique of eggplant roll appetizers, filled here with a homemade roasted garlic hummus.
Ingredients
For the eggplant slices:
2 medium eggplants
1 teaspoon olive oil
¼ teaspoon salt
For the roasted garlic hummus:
2 heads garlic
Extra virgin olive oil
2½ cups (250g) cooked chickpeas (or from canned)
4 Tablespoons tahini
3 Tablespoons fresh lemon juice
2 Tablespoons water, more as needed
Salt, to taste
1 teaspoon sumac
½ teaspoon cayenne pepper (optional)
For the lemon-tahini sauce + for garnish:
2 Tablespoons tahini
½ lemon, juice
1 clove garlic, crushed
1 teaspoon agave syrup (optional)
Water
3 Tablespoons fresh parsley, chopped (for garnish)
Toasted pine nuts (for garnish)
Instructions
For the eggplant slices:
Heat a grill to medium high heat or alternatively preheat the oven to 400°F (200°C).
Slice the eggplants lengthwise into ¼ inch (1 cm) thick slices. Generously brush each slice with olive oil on both sides, and sprinkle with salt.
Grill the slices for approximately 3 minutes per side until golden in color and tender. Alternatively lay the slices on a baking sheet and bake in the oven for 5 minutes per side.
For the roasted garlic hummus:
Preheat oven to 400°F (200°C).
Remove the loose papery outside skin from the garlic heads, but keep the cloves intact. Cut about ½ inch (1 cm) from top. Place each garlic clove each in a separate piece of foil large enough to wrap around. Lightly drizzle with olive oil. Close the foil up. Bake in heated oven for 40-45 minutes or until the garlic is very soft. Remove from heat, let cool briefly, and peel.
In the bowl of a food processor, fitted with a blade, place the roasted garlic, cooked chickpeas, tahini, lemon juice, and water. Sprinkle salt, sumac and cayenne. Blend until smooth, adding a little more water or lemon juice, until you achieve desired smooth texture. Taste and adjust seasoning as needed.
To assemble, place 1 to 2 spoonfuls of hummus at the wider end of the eggplant slice and roll up. Repeat with the remaining slices.
For the lemon-tahini sauce:
In a bowl whisk together the tahini, lemon juice and crushed garlic. Add approximately one Tablespoon of water and continue to whisk until a a smooth sauce forms.
To serve drizzle the rolls with the lemon-tahini sauce and sprinkle with parsley and/or pine nuts.