Healthy grab-and-go nutritious snack ideas to keep you energized throughout the day and help you be prepared when a little craving shows up. For even more inspiration, make sure you check my healthy snacks section.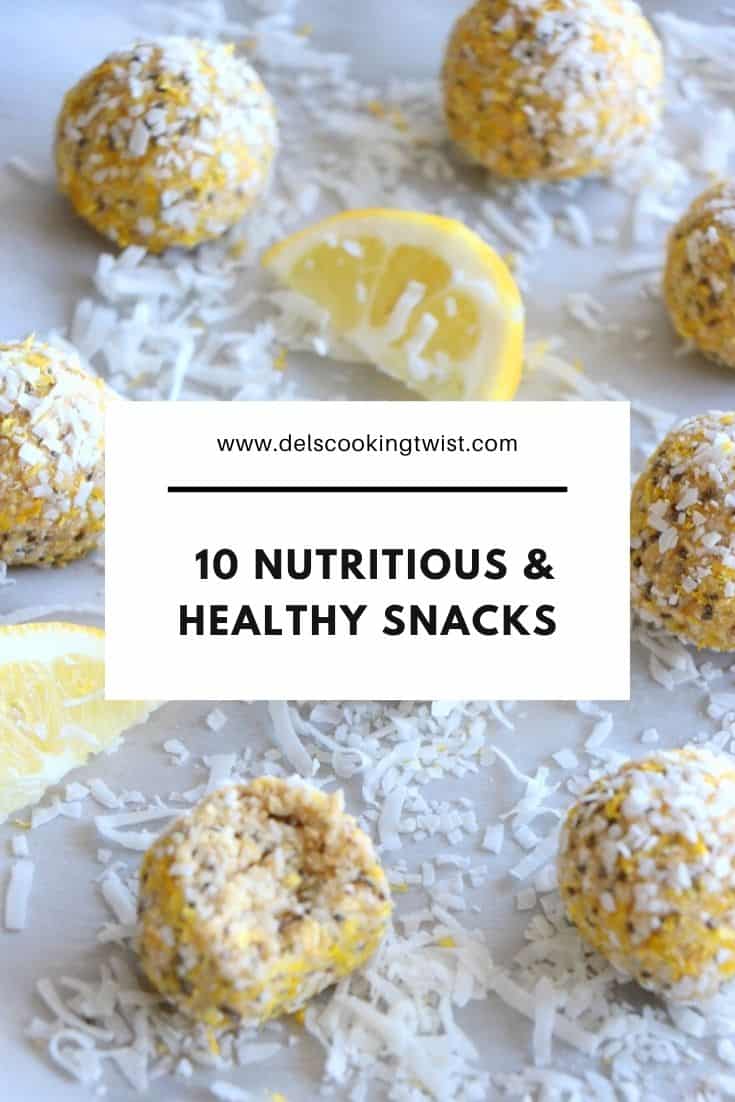 We are all busy bees, with long days at work, meetings, workouts, not to mention all the unexpected that keeps us active all day long. Sometimes, it can be tough to make it through the day, and even through the week. With no surprise, energizing food is key. But let's face it, it's not always as simple as it seems to find the inspiration and the time to prepare nutritious on-the-go snacks.
These healthy snack ideas are either easy to store in your purse or to pour into a portable tumbler for a sippable snack on the go. Homemade and prepared with natural ingredients only, these snack recipes are loaded with good-for-you ingredients to bring you all the energy you need. Most of them are also vegan and gluten-free! I usually prepare my energy balls once a week only, store them in an air-tight container and grab just a few whenever a little craving arrives. This way, I'm always prepared!
1. Healthy No-Bake Energy Bites (gluten-free)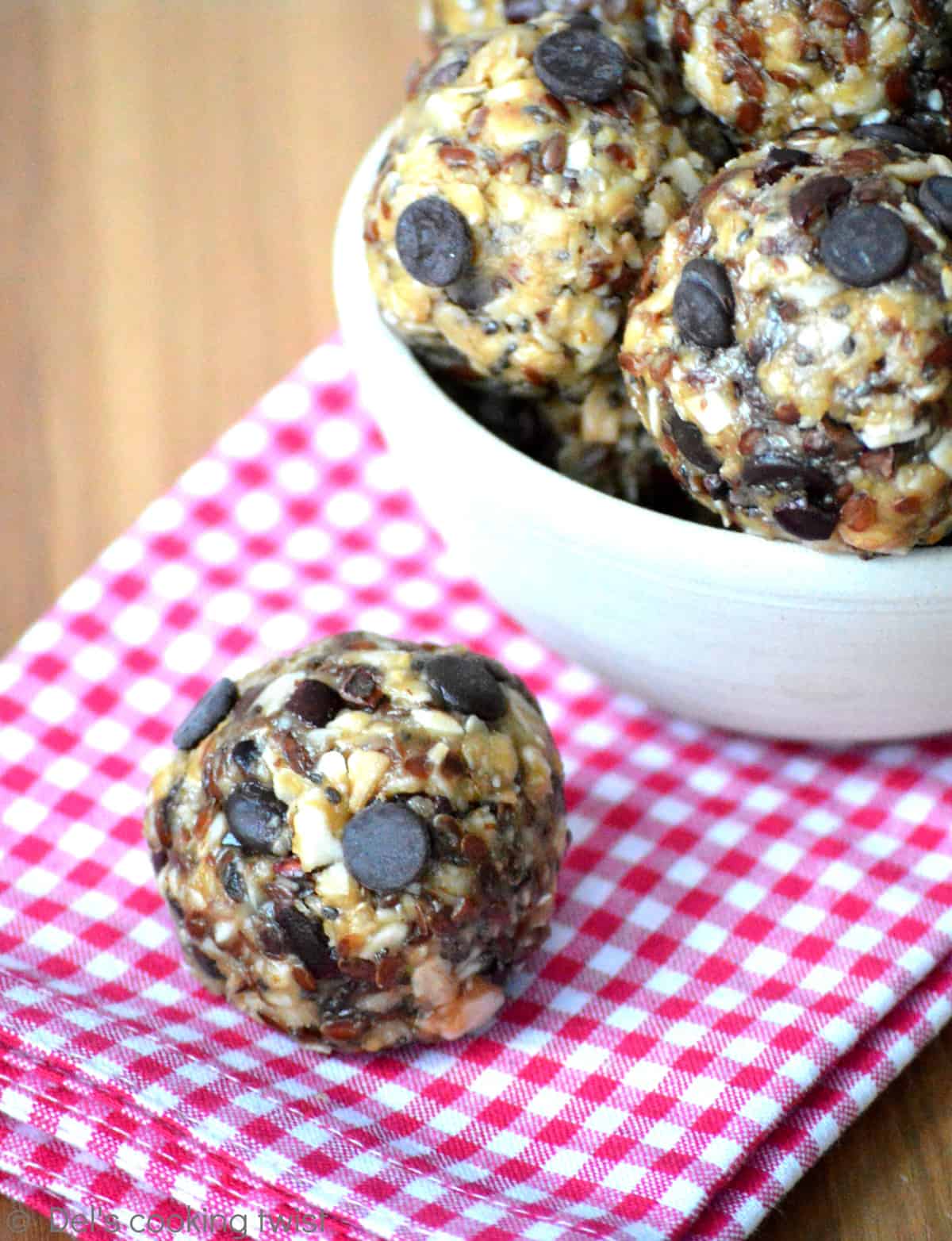 These No-Bake Energy Bites have become one of my favorite quick ad healthy snacks that I prepare every so often. Loaded with with peanut butter, mini chocolate chips (or alternatively cocoa nibs) and many superfood ingredients, they bring you energy throughout the day. I sometimes create variations around this recipe, replacing peanut butter with any other nut butter (almond butter and cashew butter are my favorite).
2. Berry Bliss Balls (vegan, gluten-free)
These lovely pink-colored Berry Bliss Balls prepared with coconut are naturally loaded with antioxidant, vitamine C, and dietary fiber. Not a fan of shredded coconut? Cover them with slivered almonds instead!
3. Creamy Banana Peanut Butter Smoothie (gluten-free)
This Creamy Banana Peanut Butter Smoothie is my all-time favorite drink for breakfast or after a workout session. It's super creamy, rich, and brings you tones of energy. I've made it countless times and I LOVE it!
4. Healthy Pumpkin Energy Bites (vegan, gluten-free)
Trick or treat? This Healthy Pumpkin Energy Bites are bursting with pumpkin pie flavors, which make them the perfect seasonal treat around Halloween or any time of the year really!
5. Superfood Green Energy Balls (vegan, gluten-free)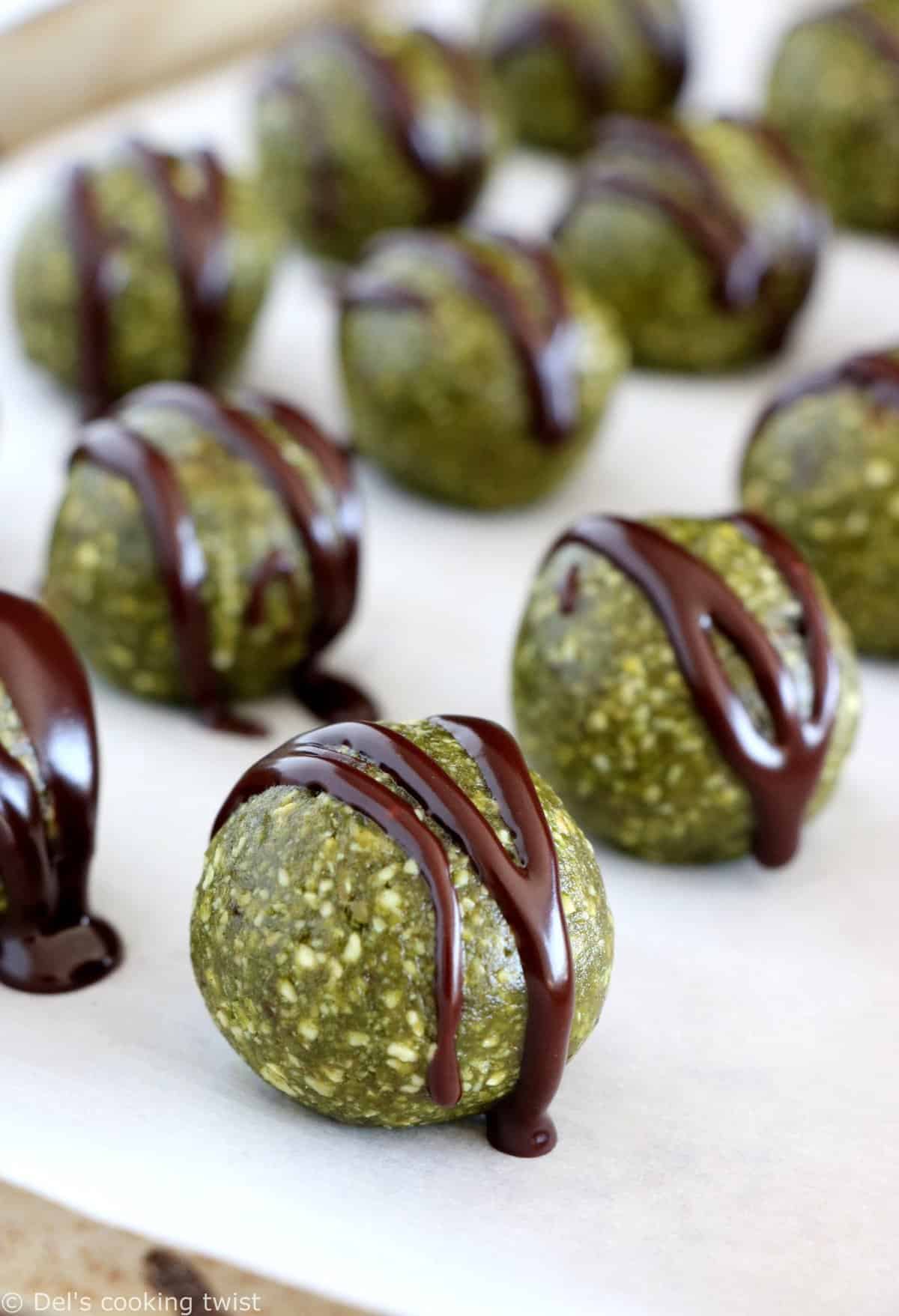 For an extra boost, these Superfood Green Energy Balls are prepared with cashews, spirulina and matcha tea powder. Add a drizzle of dark chocolate on top and you have a delicious healthy treat.
6. Almond Energy Balls with Dried Fruits (vegan, gluten-free, refined sugar-free)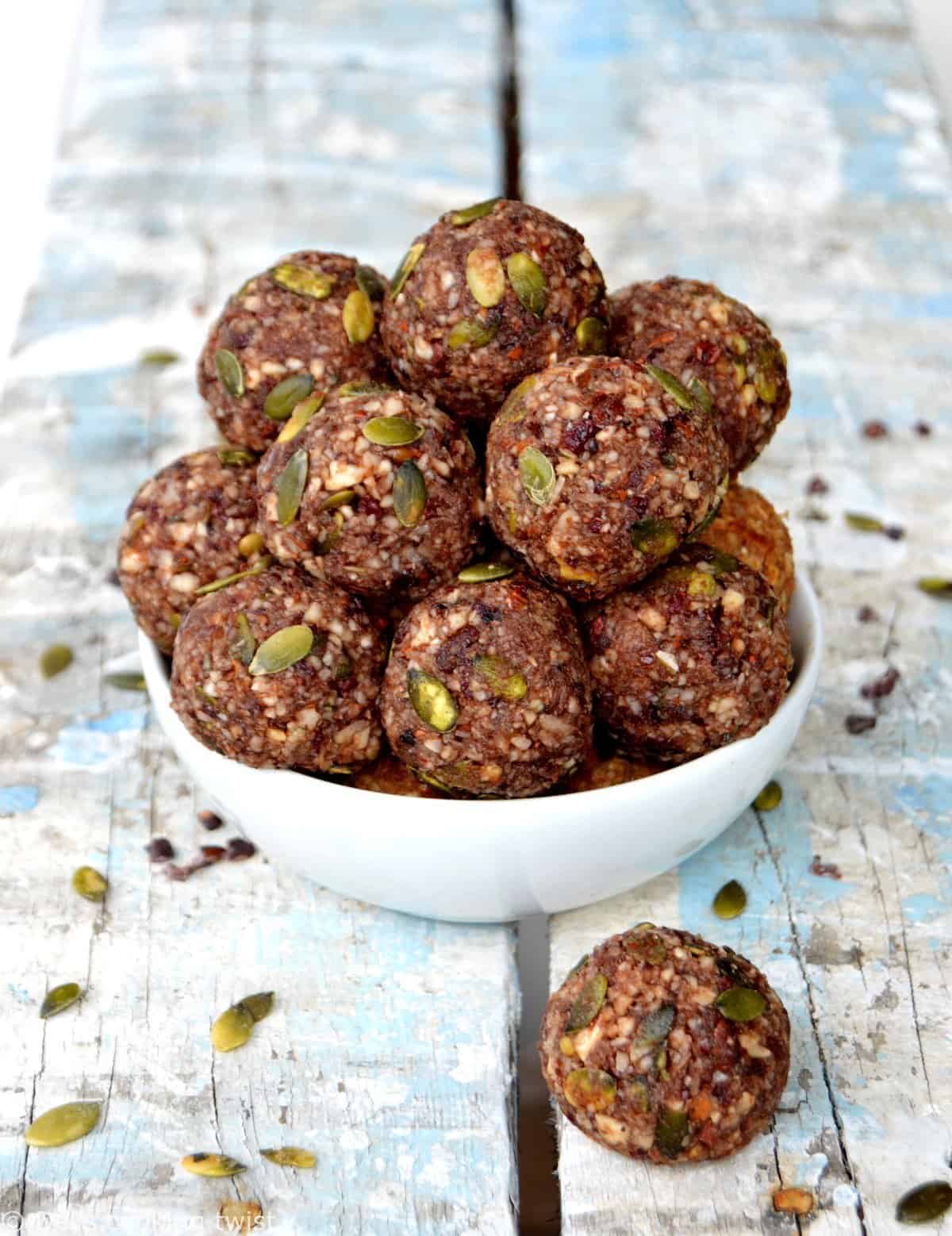 Nuts and seeds are the main ingredients of these super healthy, energetic and nutritious Almond Energy Balls with Dried Fruits. They are also naturally sweetened with dates and I used a little bit of unsweetened cocoa powder too. So good!
7. Healthy Lemon Coconut Energy Balls (vegan, gluten-free)
Lemon juice, lemon zest, coconut, chia seeds… These Healthy Lemon Coconut Energy Balls are original, very refreshing and nut-free. You have no reason not to love them.
8. Thin Dark Chocolate Almond Snacking Bars (gluten-free)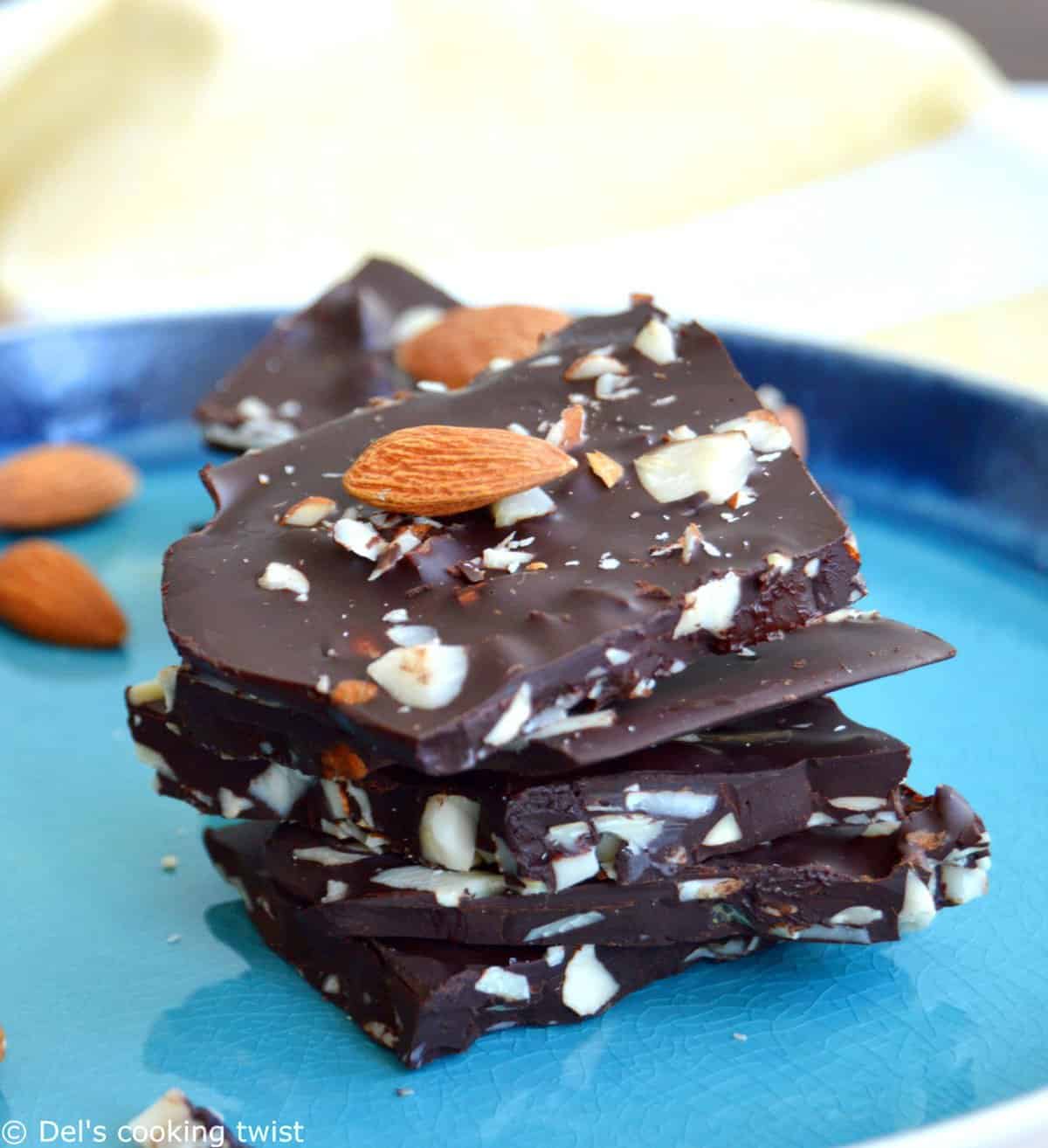 Thin Dark chocolate Almond Snacking Bark are a super easy simple treat prepared with unsweetened chocolate and loaded with magnesium and calcium.
9. Easy Chocolate Chip Granola Bars (vegan, gluten-free, refined sugar-free)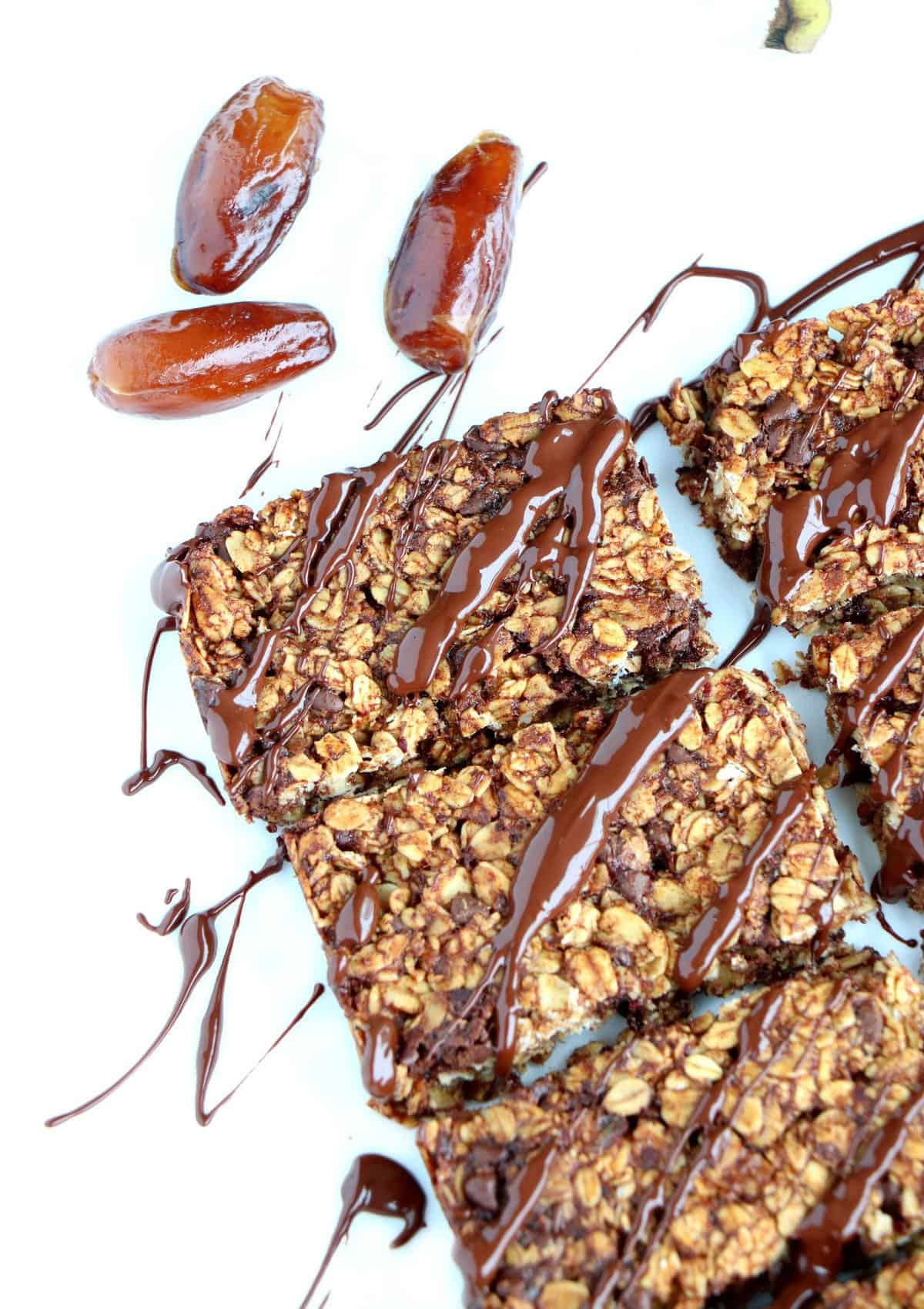 Naturally sweetened with ripe bananas and dates, these Easy Chocolate Chip Granola Bars are soft and chewy, full of good-for-you ingredients and slightly addictive!
10. Raw Spicy Lime Bites (vegan, gluten-free, refined sugar-free)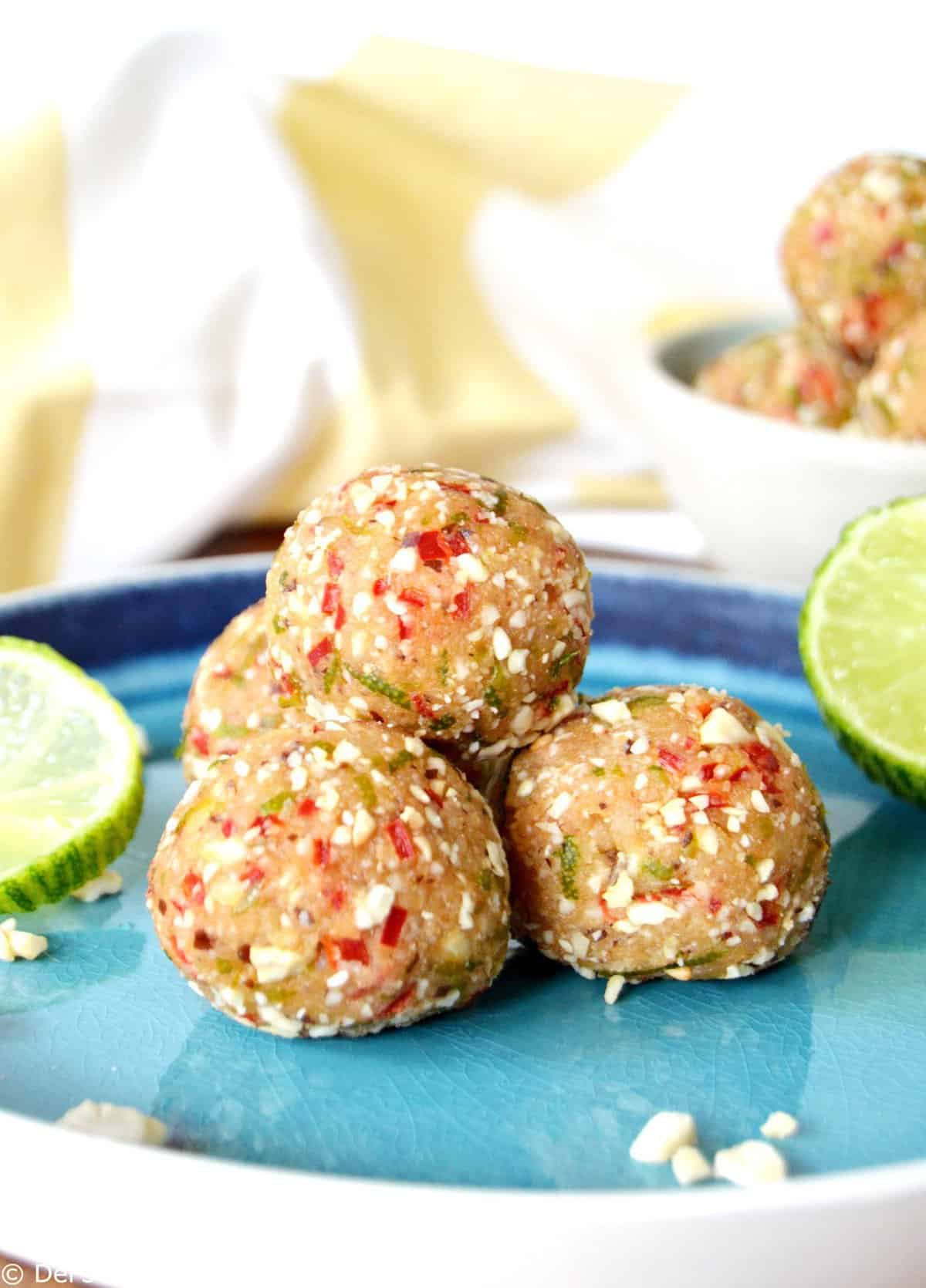 Lovers of all things spicy, these Raw Spicy Lime Bites are for you! They are nutritious, naturally sweetened with dates, and original too!
11. Savory Granola (gluten-free + a vegan version)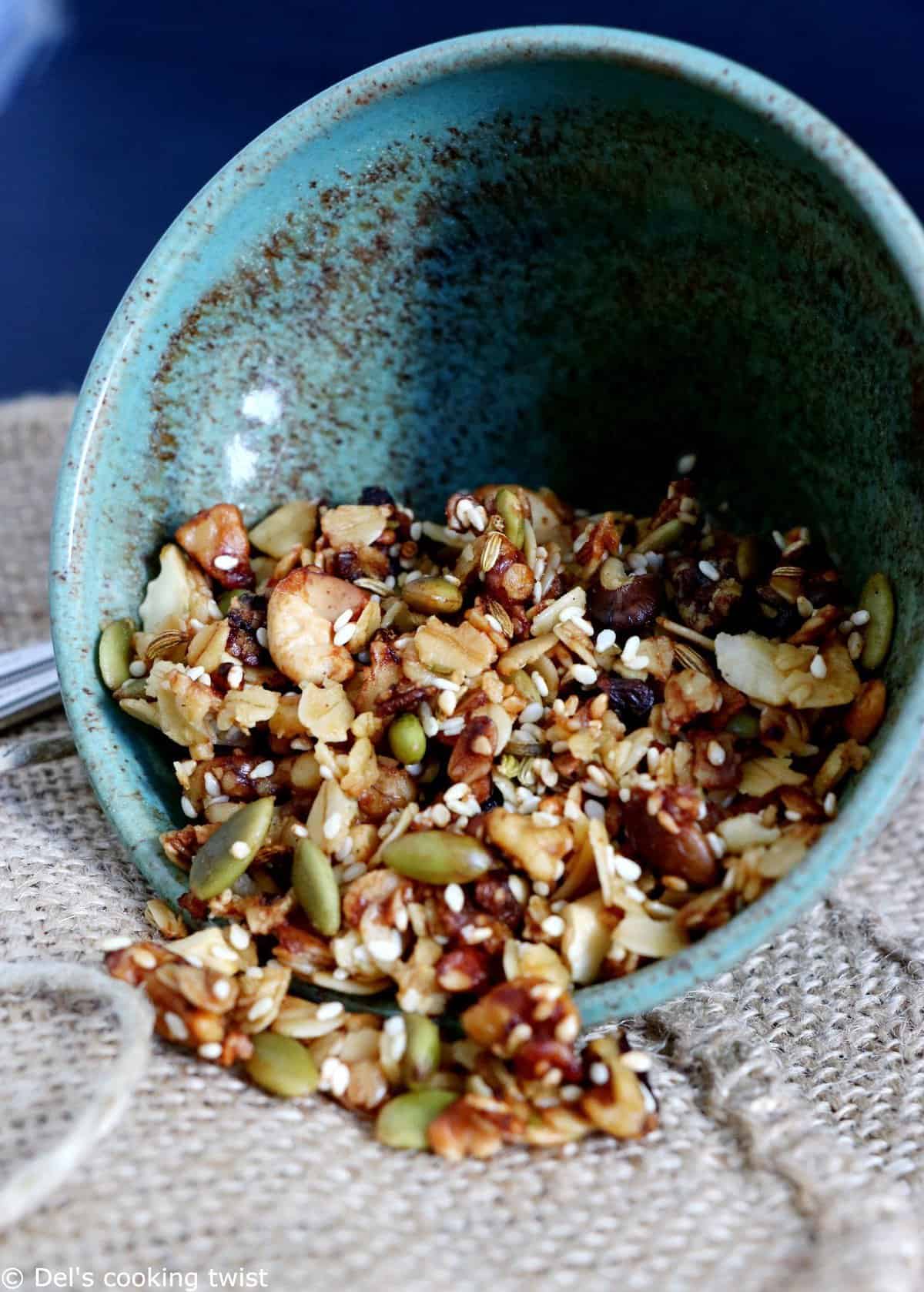 If you are more on the savory side when it comes to quick and easy snacks to grab on the go, this simple Savory Granola will soon become a favorite of yours.
12. 5-Ingredient Snickers Bliss Balls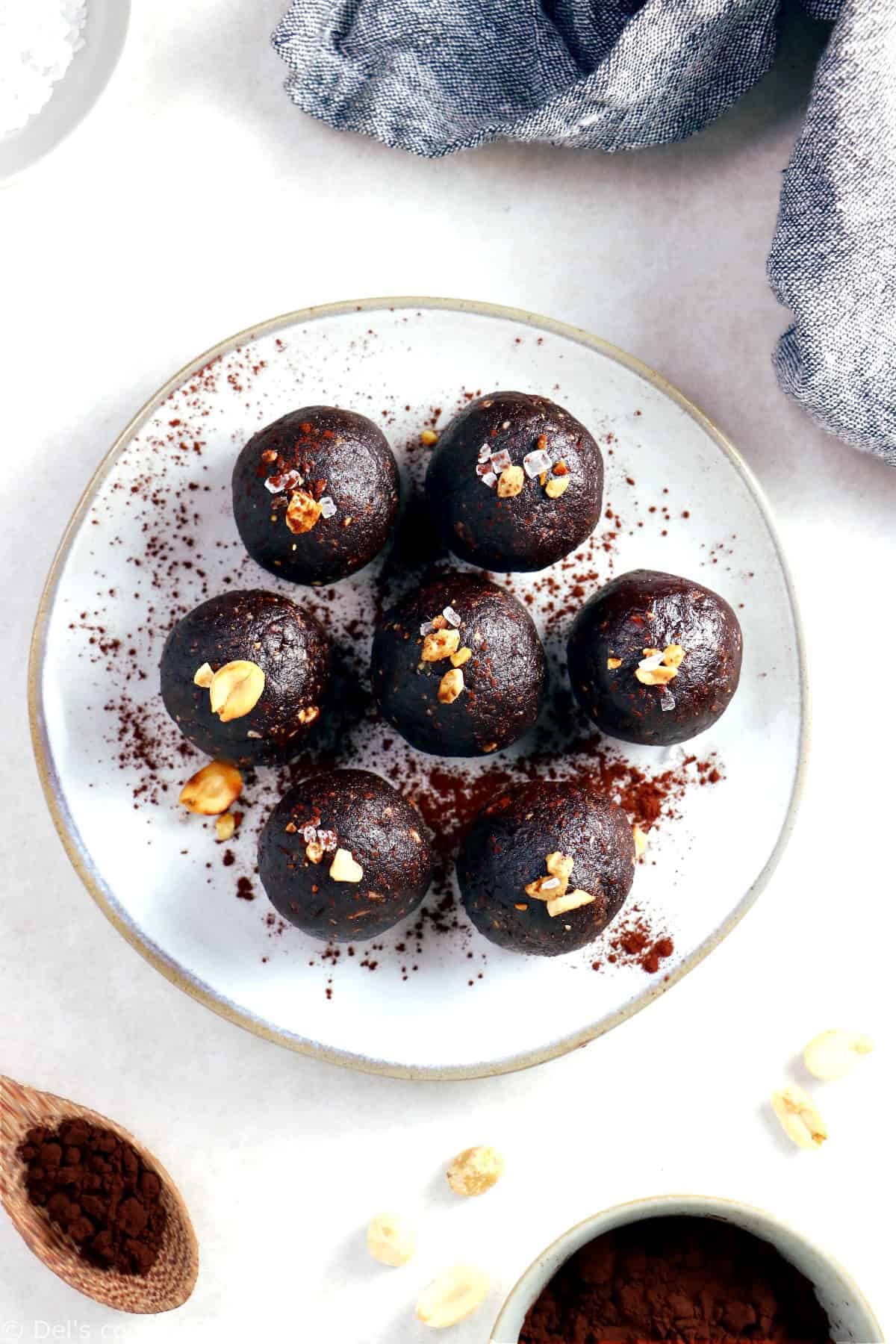 Grab one last energy ball on your way out to this post. These 5-Ingredient Snickers Bliss Balls feature raw unsweetened cocoa, peanut butter and natural sweeteners. To die for. You would never guess they're healthy!
I hope you found some inspiration along the way to create delicious healthy & nutritious snacks!
Lastly, if you make a few of these nutritious snacks, be sure to leave a comment and/or give this recipe a rating, letting me know how you liked it. And of course, don't forget to tag me on Instagram! Thank you and enjoy!