These 10 easy and satisfying avocado recipes, either sweet or savory, will make you fall in love with this wonderful fruit again.
Avocado became widely popular over the last few years and considered as one of the healthiest foods in the world until it became victim of its own success. The sudden increase in demand for avocados has indeed taken a toll on the natural environment of Mexico, farmers having to choose between the forests that support wildlife or expanding their avocado farms. I believe a healthy diet shouldn't be based on the last hottest trends but rather on a well-balanced diet where all fruits and vegetables have their importance and should be consumed regularly, avocado included.
You might need to think twice before using avocados everyday but it doesn't mean you should stop eating them. Avocados are indeed loaded with health benefits. High in calories due to their high fat content, they are nevertheless an excellent source of monounsaturated fat, that are known to help protect against heart disease and lowers blood pressure. The oils provided by an avocado include oleic acid and linoleic acid, recommended as part of a balanced diet to prevent high cholesterol.
Avocados have also more soluble fiber than other fruit and contain a number of useful vitamins and minerals, such as B-vitamins, vitamin K, potassium, copper, vitamin E and vitamin C. The consumption of avocados have been associated with various health benefits, such as decreased risk of cardiovascular disease, and it also have the advantage of being very satisfying, which keeps you full and satiated, avoiding cravings.
Last but not least, don't forget avocados are just simply delicious with their rich, creamy texture, and this is also why we all love them so much. I leave you now with a bunch of avocado recipes to try for any occasion. Enjoy!
ON THE SAVORY SIDE…
1. FANCY SALMON-AVOCADO EGGS BENEDICT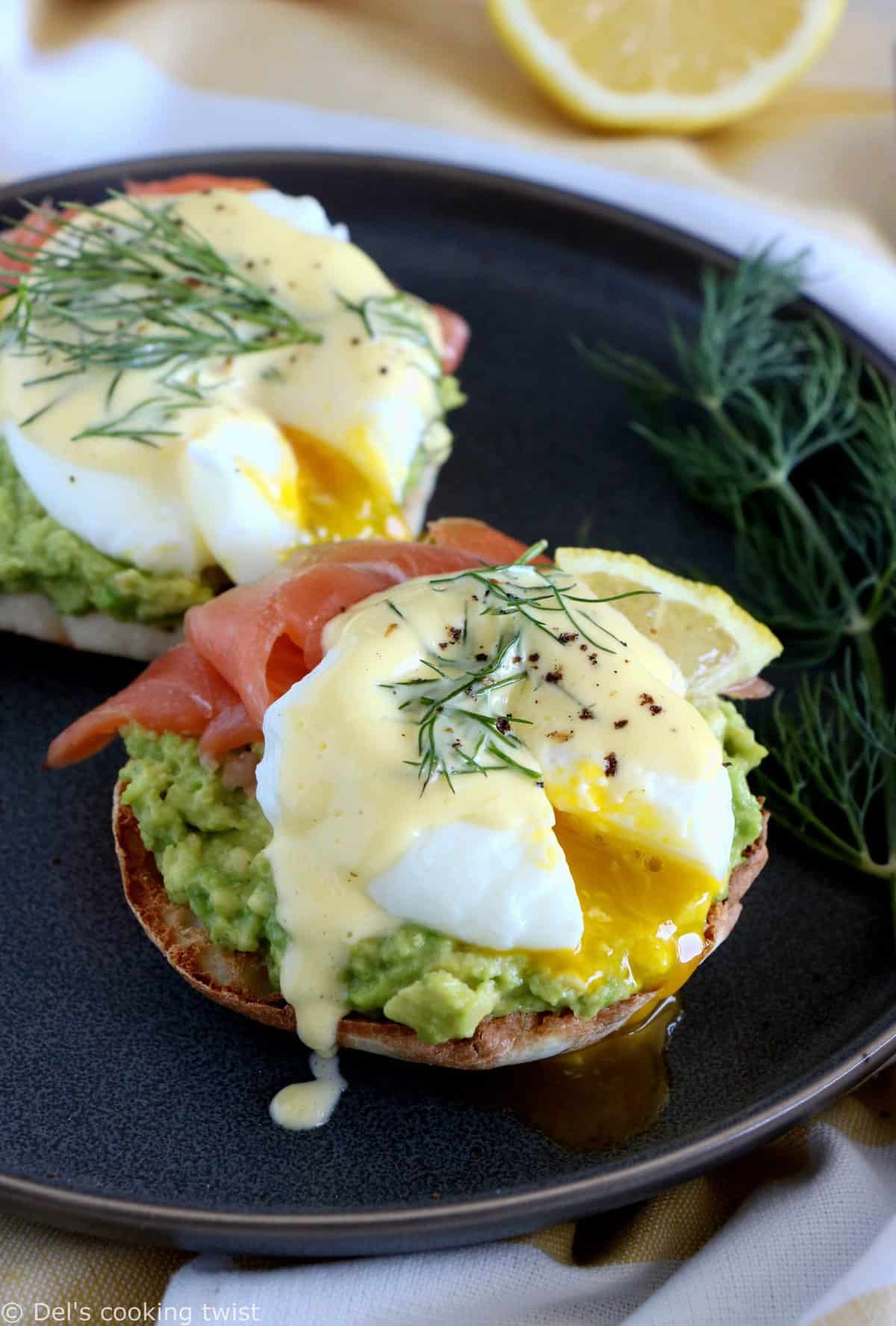 These fancy salmon-avocado eggs Benedict are the quintessence of the classic avocado toast and will make a fancy breakfast or brunch with friends. Give it a try!
2. AVOCADO SOFT-BOILED EGG SALAD WITH A RASPBERRY VINAIGRETTE
This avocado soft-boiled egg salad with a raspberry vinaigrette is quick and easy to prepare, yet slightly original. It is also healthy and very satisfying.
3. SALMON & AVOCADO QUINOA SALAD WITH GRAPEFRUIT VINAIGRETTE
This salmon and avocado quinoa salad is colorful, healthy and naturally gluten-free. It offers a great balance between protein, vitamins and magnesium.
4. EASY AVOCADO, HUMMUS AND FETA QUESADILLAS
These avocado, hummus and feta quesadillas are very easy, quick to prepare, and will make a perfect savory breakfast, lunch or dinner.
5. THAI SALMON TACOS WITH MANGO-AVOCADO SALSA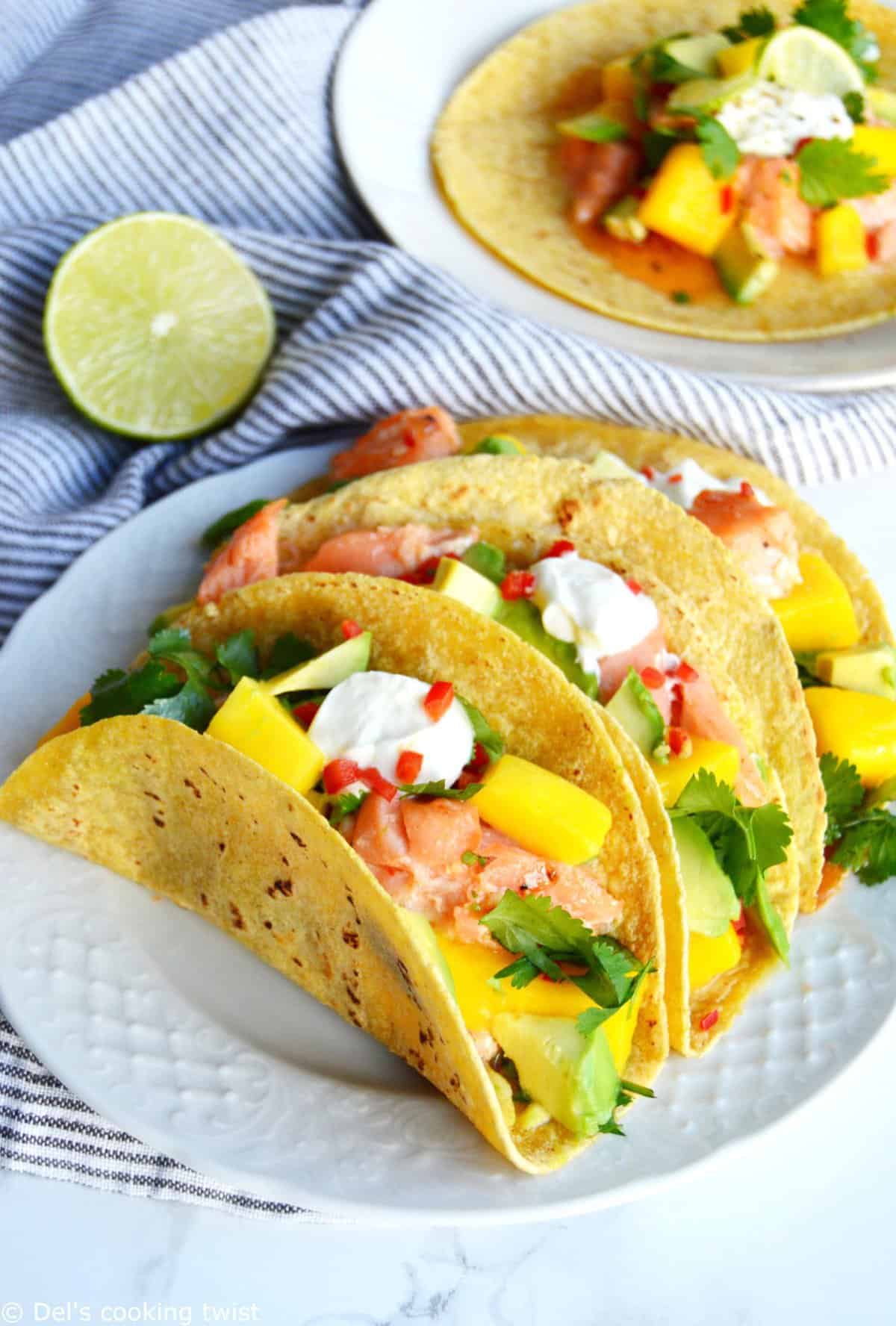 This thai salmon tacos with mango-avocado salsa provides you everything you need to kick off your day: proteins, carbs, vitamins. A beautiful sweet and savory taco that is also incredibly delicious!
6. SIMPLE BEET AVOCADO TOAST
I have this thing for pretty food, and this is just another reason why I like these simple beet avocado toasts. I prepare them for a savory breakfast, a quick lunch on the go, or even a light dinner.
7. HEALTHY SWEET POTATO FRIES WITH AVOCADO DIP
These sweet potato fries with avocado dip make the ideal healthy low-carbs snack dish to indulge when I have friends coming over at the last minute. The fries are crispy on the outside yet soft and tender in the inside, and the avocado dip extremely creamy!
8. SALMON TARTARE WITH AVOCADO & MANGO
The combination of the trio is just perfect while the overall salmon tartare with avocado & mango is enhanced by the slightly spicy lemon marinade.
ON THE SWEET SIDE…
9. GREEN AVOCADO SMOOTHIE BOWL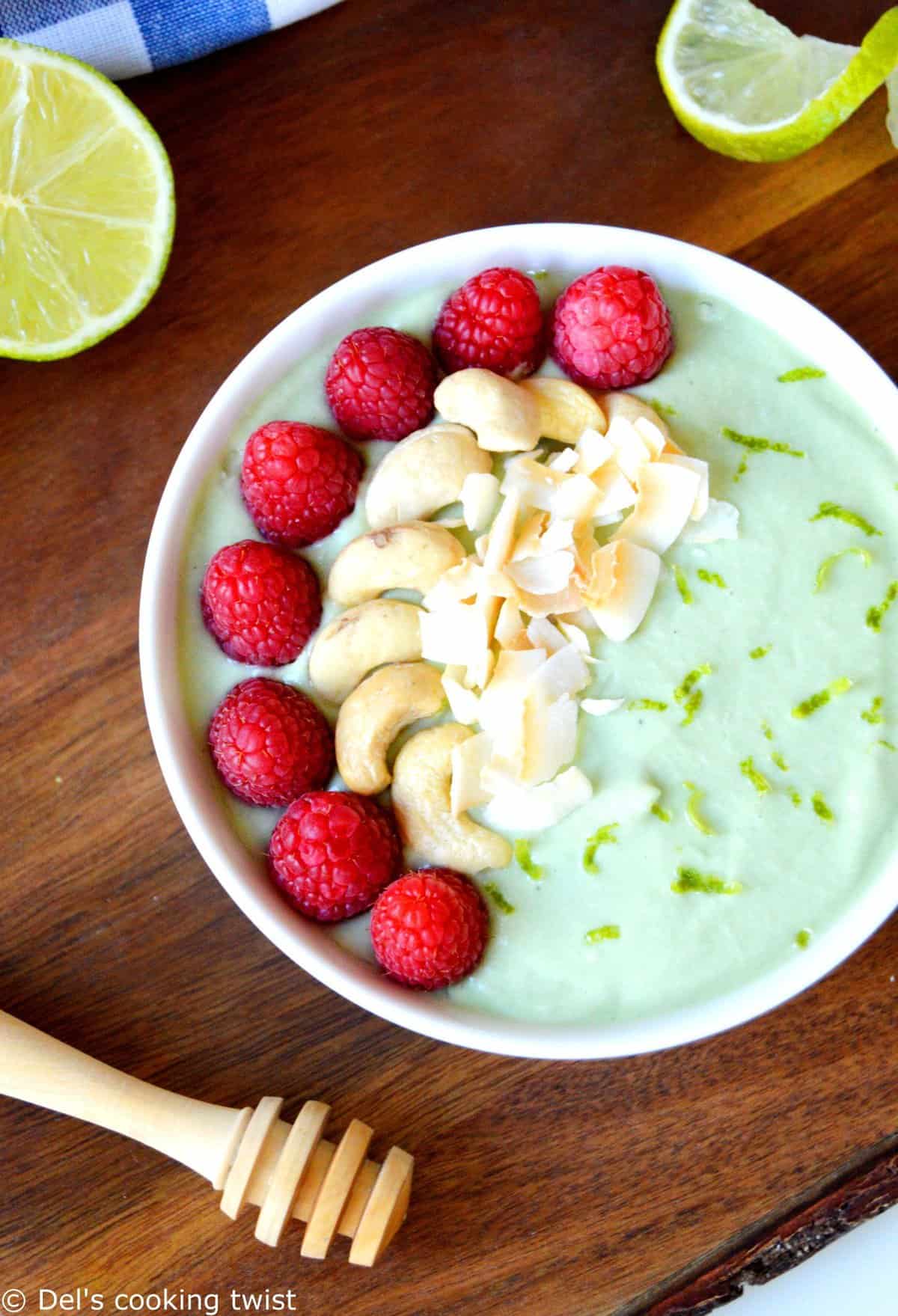 Don't worry, this sweet green avocado smoothie bowl doesn't taste avocado at all! You will love the subtle flavors of lime and coconut together, while avocado brings here all the soft and creamy texture. Perfect for slow mornings.
10. HEALTHY DOUBLE CHOCOLATE AVOCADO COOKIES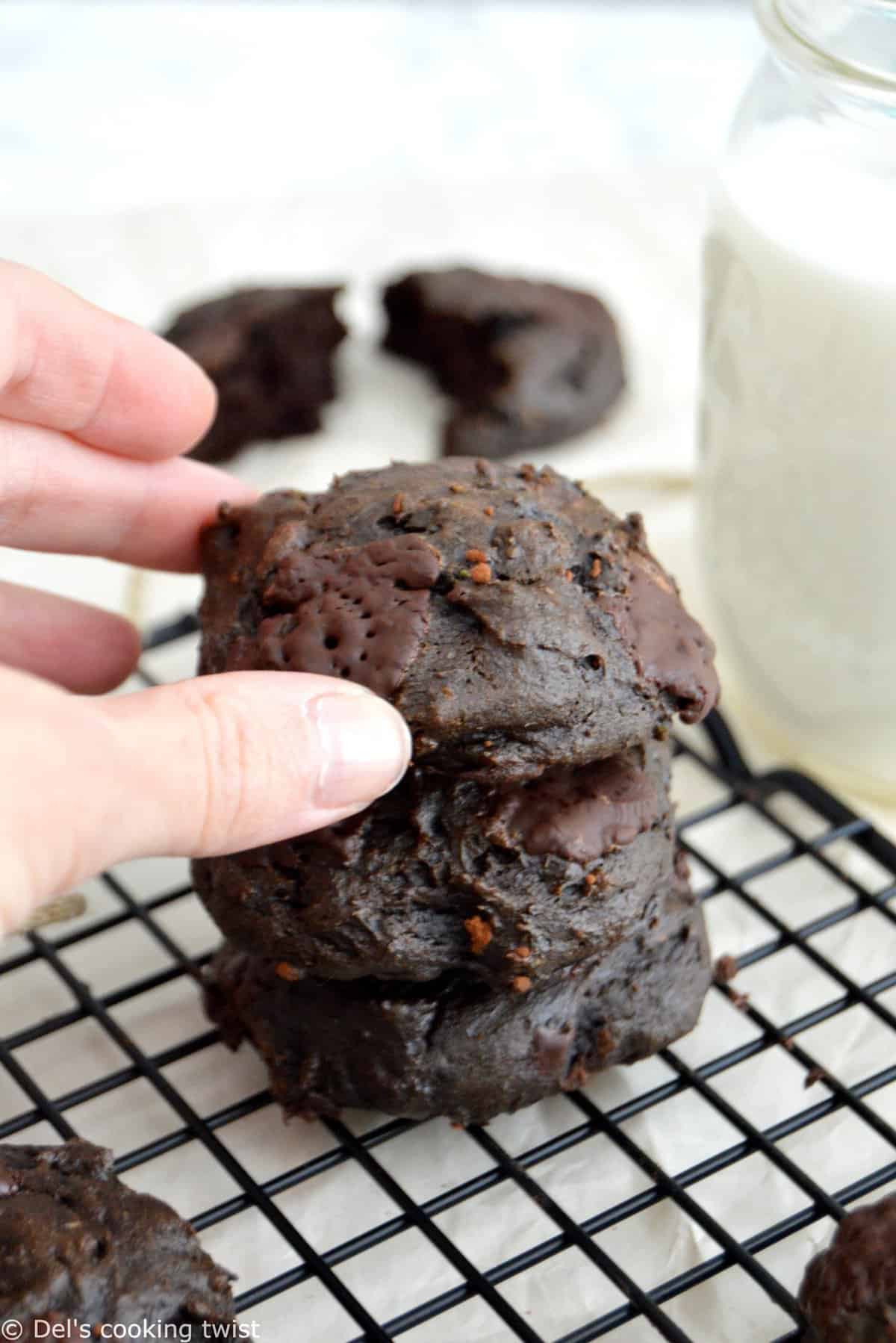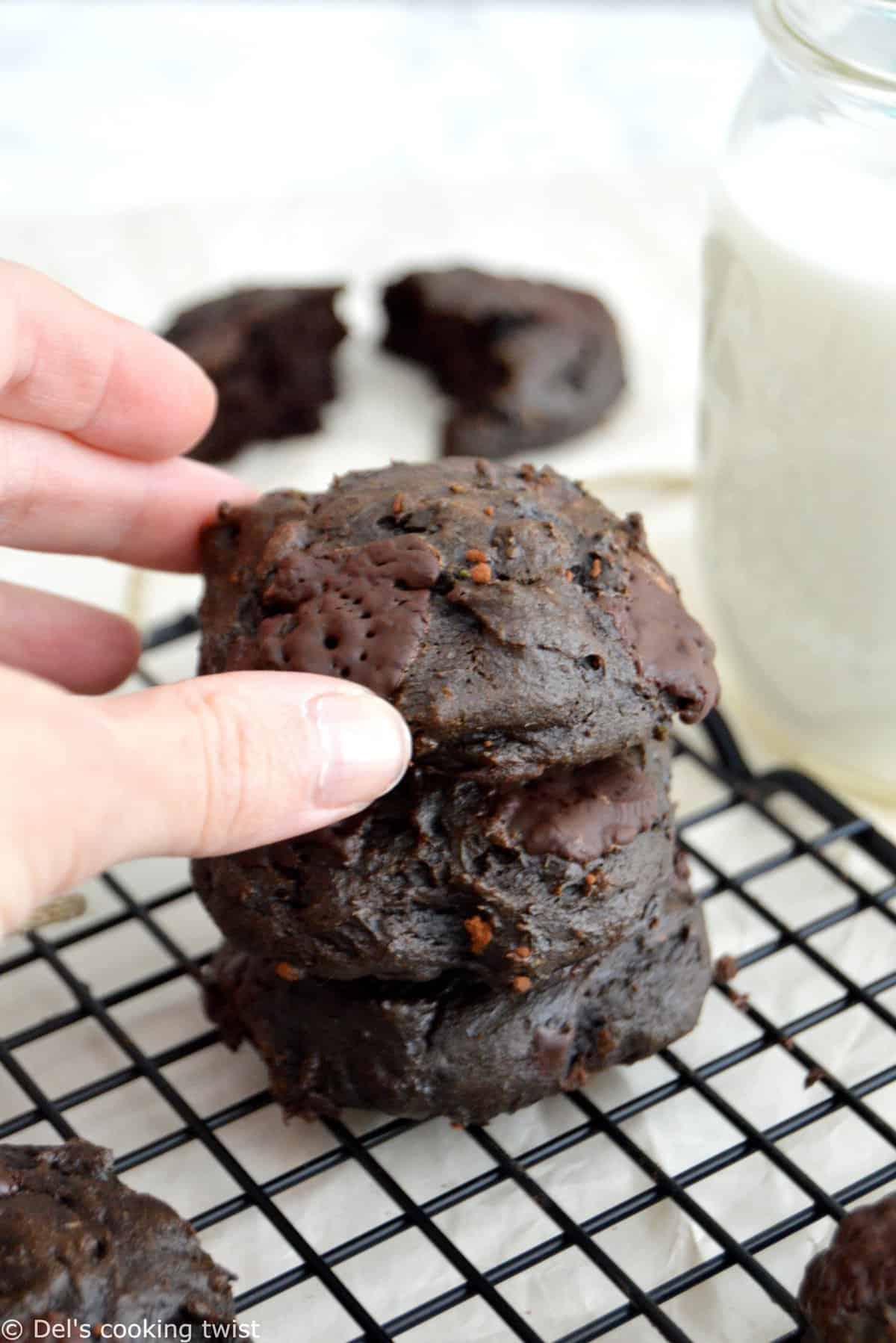 Whenever you need a chocolate break, these healthy double chocolate avocado cookies are the solution. Sugar and dairy free, they also can be vegan. I also have a little step-by-step video to guide you!
And you, what are your favorite avocado recipes? Let me know, I'm always curious! 🙂