A giant colorful salad always gives me positive vibes! This healthy salad packed with protein and vitamins is a beautiful recipe that kickstart your Spring/Summer mood in no time, believe me!
Yes, I am dreaming of warmer days, as in fact the weather is still a bit chilly here in Sweden. When I've discovered Oliver's Travels, I started dreaming of the stunning villa holidays they offer, often in the South of France. My thoughts were all focused on the upcoming summer season. Just imagine: a beautiful villa with a pool, a generous sun, a bikini with a fouta, a good book… and a refreshing salad! Ah, I could spend hours searching about my perfect trip for this summer right now. Have you booked yours, already?
While I yearn for these beautiful days, let's come back to this colorful and healthy salad. Don't get me wrong, I am not into diets at all as you might know already. However I do believe in a happy healthy lifestyle and this starts with beautiful and tasty food. This salmon and avocado quinoa salad, naturally gluten free, offers a great balance between animal and vegetable protein, vitamins (including vitamin C) and magnesium, while the amount of fat is reasonable.
Don't think too much about what's in your plate in detail though, just enjoy the refreshing taste of this salad and keep dreaming about summer as I'm doing right now. Way to go!
Salmon & Avocado Quinoa Salad with Grapefruit Vinaigrette
Ingredients
For the salmon and avocado salad:
4 salmon fillets (150g each)
1 cup (190g) black quinoa, rinsed
1 cup of fresh spinach
2 avocados
2 grapefruits
1 handful of slivered almonds
For the grapefruit vinaigrette:
½ cup extra virgin olive oil
1 tbsp red wine vinegar
¼ cup of freshly squeezed grapefruit
1 tbsp honey or agave syrup
1 tsp Dijon mustard (optional)
Salt and freshly ground pepper
Instructions
Rinse the black quinoa and cook it with two cups of water, about 20 minutes. Let cool completely.
Preheat the oven to 400 F. Place the salmon fillets on a non-stick baking sheet or in a non-stick baking pan. Bake until the salmon is cooked through, about 15-20 minutes. Let cool completely and piece into medium to large chunks.
Peel the grapefruit and cut into wedges or slices. Cut the avocados in half, peel and slice them.
For the grapefruit vinaigrette: place the oil, grapefruit juice, vinegar, honey and mustard in a glass jar. Season with salt and pepper, seal the jar and shake to combine.
Toast the slivered almonds on both sides in a small pan on high heat for a couple of minutes while stirring constantly to prevent them from burning.
Blend all the ingredients in a large bowl and serve with the grapefruit vinaigrette.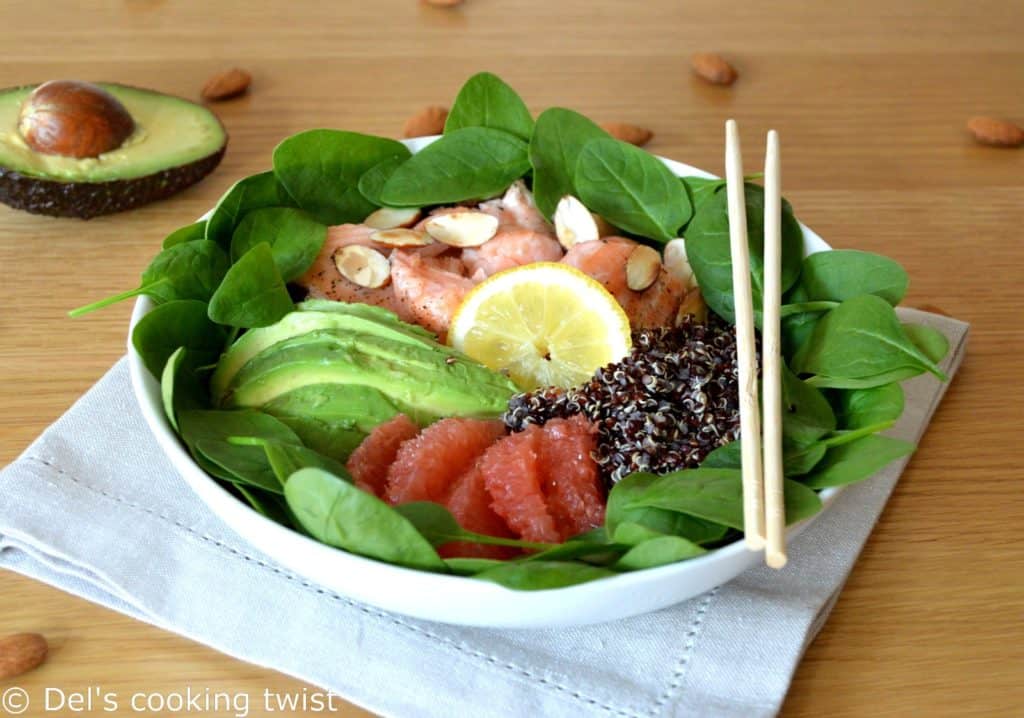 Yum