Subtle and elegant, this wild mushroom and roasted squash buckwheat risotto is a great alternative to your classic rice risotto. Serve along with a glass of white wine and enjoy!
I've recently learned how to cook with buckwheat and I'm now experimenting around this mysterious and surprising ingredient. After my French ratatouille bowl with buckwheat and burrata, I'm now back with a buckwheat recipe in the form of risotto. Arborio rice counts among my very favorite ingredients (either in the form of rice pudding or risotto) and I figured it would be fun to replace it with buckwheat in a risotto recipe. And guess what? It works and it's absolutely fabulous.
Given the season, I prepared my buckwheat risotto with a creamy wild mushroom sauce and served it up with roasted red kuri squash. The result is fragrant, deliciously creamy and elegant!
A delicious buckwheat risotto
Basically, the buckwheat risotto is  prepared the same way a classic Italian risotto is, with white wine and broth ladled little by little until fully absorbed. Be careful though, as buckwheat tends to become mushy if cooked too long.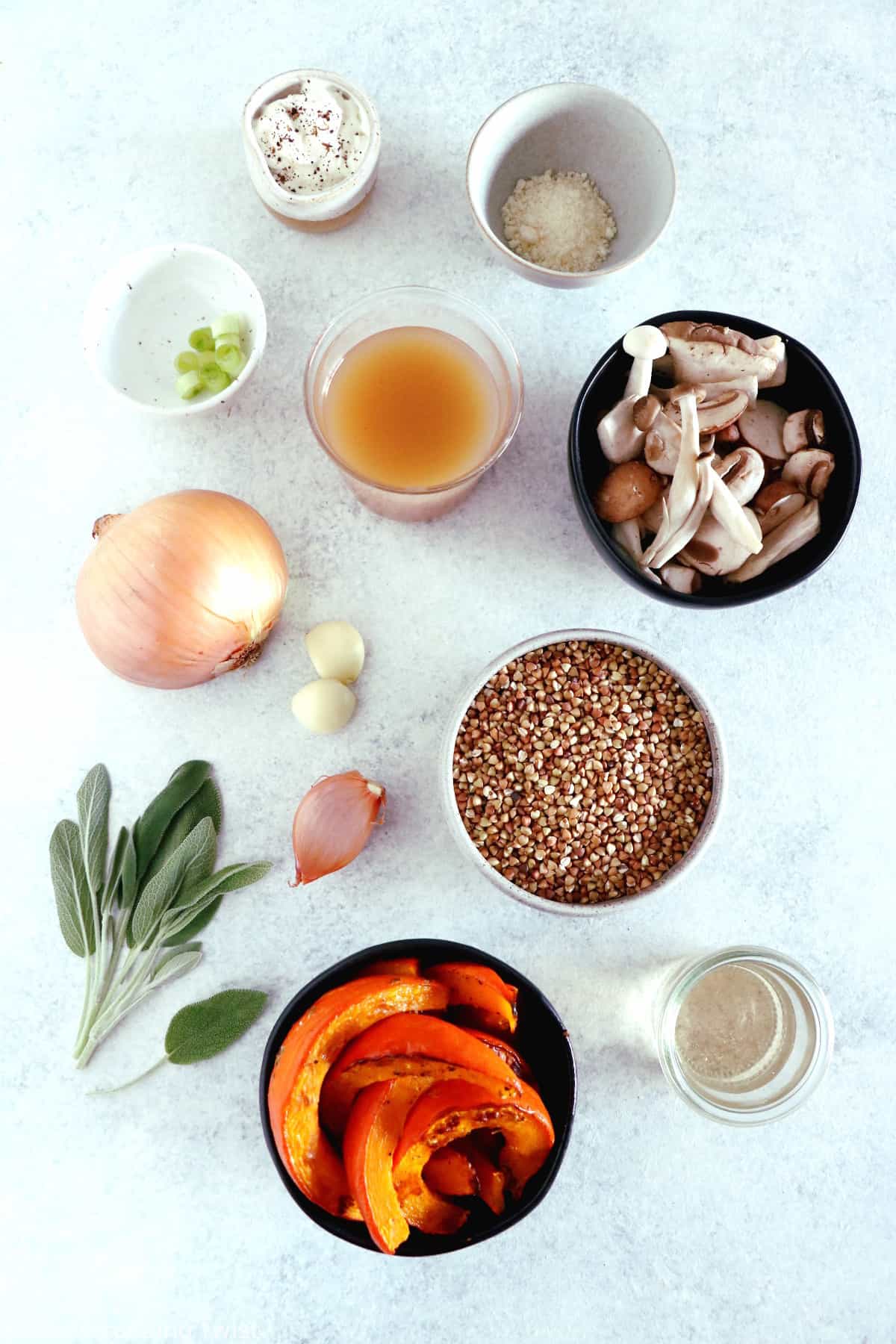 Ingredients include: buckwheat, wild mushrooms, ½ red kuri squash, 1 shallot, ½ onion, 2 garlic cloves, vegetable broth, crème fraîche, white wine, sage leaves, grated parmesan.
The choice of buckwheat. There are different types of hulled buckwheat kernels (called groats), basically the pale tan-to-green one with a mild flavor and the brown one, known as kasha and with a strong and nutty flavor. From my experience, the first one tends to become mushy easily while cooking, while the second one holds its shape better. As a result, I personally prefer to make buckwheat risotto with kasha. In the end, this is mostly a matter of personal tastes and you could also make risotto with whole buckwheat groats.
A wild mushroom sauce
Unlike most risottos prepared with arborio rice, here we prepare the mushroom mixture separately. Sauté shallots, garlic and wild mushrooms into a pan, then pour in the white wine and combine with crème fraîche. You obtain a very French and elegant mushroom sauce. Try to use a mix of wild mushrooms (shiitake, oyster, cremini, chanterelles…) for even more flavors.
Also, note that I combine only half of the sauce with the buckwheat risotto and reserve the other half to pour over the risotto when serving. If you don't mind the aesthetics of the dish, you can also use all the sauce in the risotto all at once.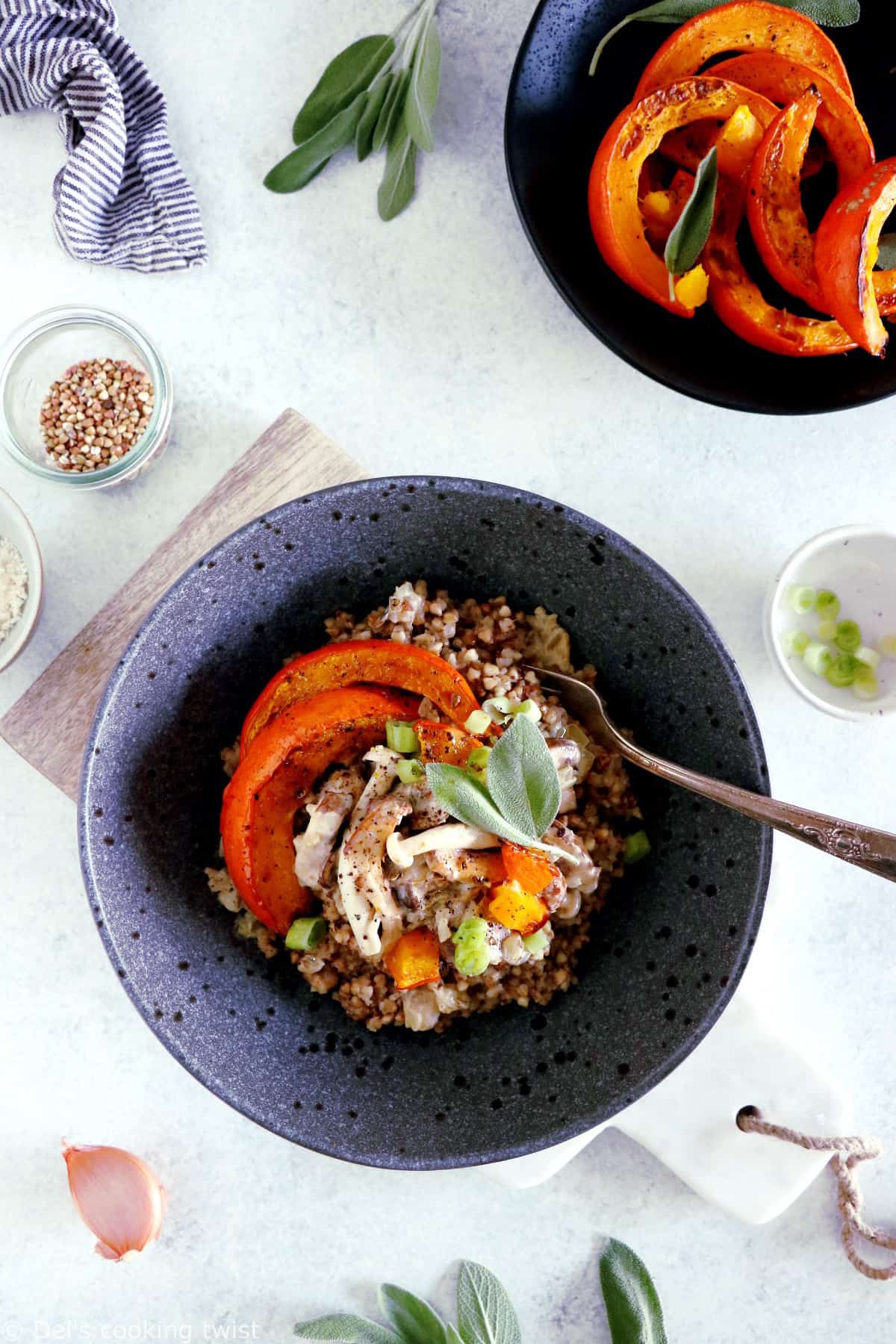 Add some roasted squash!
This wild mushroom buckwheat risotto could of course be served as is, but I went over the top and decided to top it with roasted squash too!
Exactly like for my roasted squash I used roasted squash, fig and spinach salad, I used red kuri squash to serve on top of my risotto. I like it for its rich and buttery texture, coupled with a subtle nutty taste. Also, you don't necessarily need to peel it, which spares you some effort and time. I like to roast it and serve it into thick slices for a lovely visual effect. But know that you could also dice it into chunks (just keep an eye on the roasting time so it doesn't burn).
Can I pass on the squash? For a quicker version, yes! Serve your wild mushroom buckwheat risotto with just a few sage leaves and shaved parmesan.
The secret to fabulous flavors
The secret to any risotto goes for this buckwheat risotto too. If you ask me, the combination between shallots and white wine takes it to the next level. Also, don't pass on parmesan cheese for serving, and keep in mind that sage leaves will bring hints of freshness. Finish it up with freshly ground black pepper, and serve immediately!
More risotto recipes to discover:
Other delicious mushroom recipes:
Lastly, if you make this Wild Mushroom & Roasted Squash Buckwheat Risotto, be sure to leave a comment and/or give this recipe a rating, letting me know how you liked it. And of course, don't forget to tag me on Instagram! Thank you and enjoy!
Print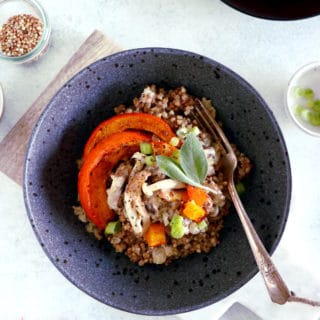 Wild Mushroom & Roasted Squash Buckwheat Risotto
Author:

Prep Time:

15 mins

Cook Time:

30 mins

Total Time:

45 minutes

Yield:

4

servings

1

x

Category:

Savory

Diet:

Vegetarian
---
Description
Subtle and elegant, this wild mushroom and roasted squash buckwheat risotto is a great alternative to your classic rice risotto. Serve along with a glass of white wine and enjoy!
---
½

red kuri squash, sliced

2 Tablespoons

olive oil

4 Tablespoons

(

60g

) butter, divided

½

yellow onion

1

shallot, minced

2

garlic cloves, minced and divided

5

sages leaves, chopped

1 1/3 cup

(

250g

) buckwheat groats (kasha)

1 cup

(250ml) white wine + 2 Tablespoons

2 cups

(500ml) vegetable broth

5 cups

(

13 ounces

/

375g

) mixed wild mushrooms (shiitake, oyster, cremini), washed and sliced

2 Tablespoons

(

30g

) crème fraiche
Salt and freshly ground black pepper

¼ cup

(

30g

) parseman cheese, shaved or grated, for topping
Spring onions, sliced (optional)
---
Instructions
Preheat the oven to 425°F (220°C) and line a large baking sheet with parchment paper.
In a large mixing bowl, toss together the squash, olive oil, and season with salt and pepper. Transfer to the baking sheet in an even layer, place in the oven and roast for about 20 minutes or until roasted, turning the slices once so they roast on both sides.
Meanwhile, melt 2 Tablespoons of butter in a sauté pan placed over medium heat. Add the shallot and one minced garlic clove, and cook until translucent, about 1 minute. Pour in 2 Tablespoons of white wine and cook for about 2 minutes until evaporated. Add wild mushrooms, sage, and cook for about 5 minutes or until the mushrooms are soft and fully cooked through. Season with salt and pepper and stir in the crème fraiche. Cover with a lid and set aside.
In a large pot placed over medium heat, add the remaining butter. Once melted, add the onion and remaining garlic. Cook until fragrant, stirring often, about 1 minute. Add the buckwheat groats and toast them for 2 minutes. Pour in one cup of white wine, bring to a simmer, and let evaporate for about 5 minutes until half of the liquid is left.
Turn the heat on low, then slowly ladle the vegetable broth, about ½ cup at a time. As the liquid starts to get absorbed by the buckwheat, add a bit more to the pot until you've used all broth and the buckwheat is fully cooked and tender (about 25 minutes).
Turn off the heat, add half of the mushrooms and parmesan to the pot and stir to combine*.
For serving, scoop the risotto onto each plate. Top with the remaining mushroom sauce, roasted red kuri squash slices, and extra shaved parmesan, a few sage leaves and spring onion for decoration. Sprinkle additional freshly ground black pepper and enjoy!
---
Notes
* You could add all the sauce to the risotto at once, but I like to do half in the risotto and half for serving on top. It adds some creaminess to the dish and makes an elegant presentation of the dish.
Keywords: Buckwheat risotto