Based on the easy classic no-knead bread recipe, this whole wheat version tastes like artisan bread with no effort. Learn how to master this bread yourself!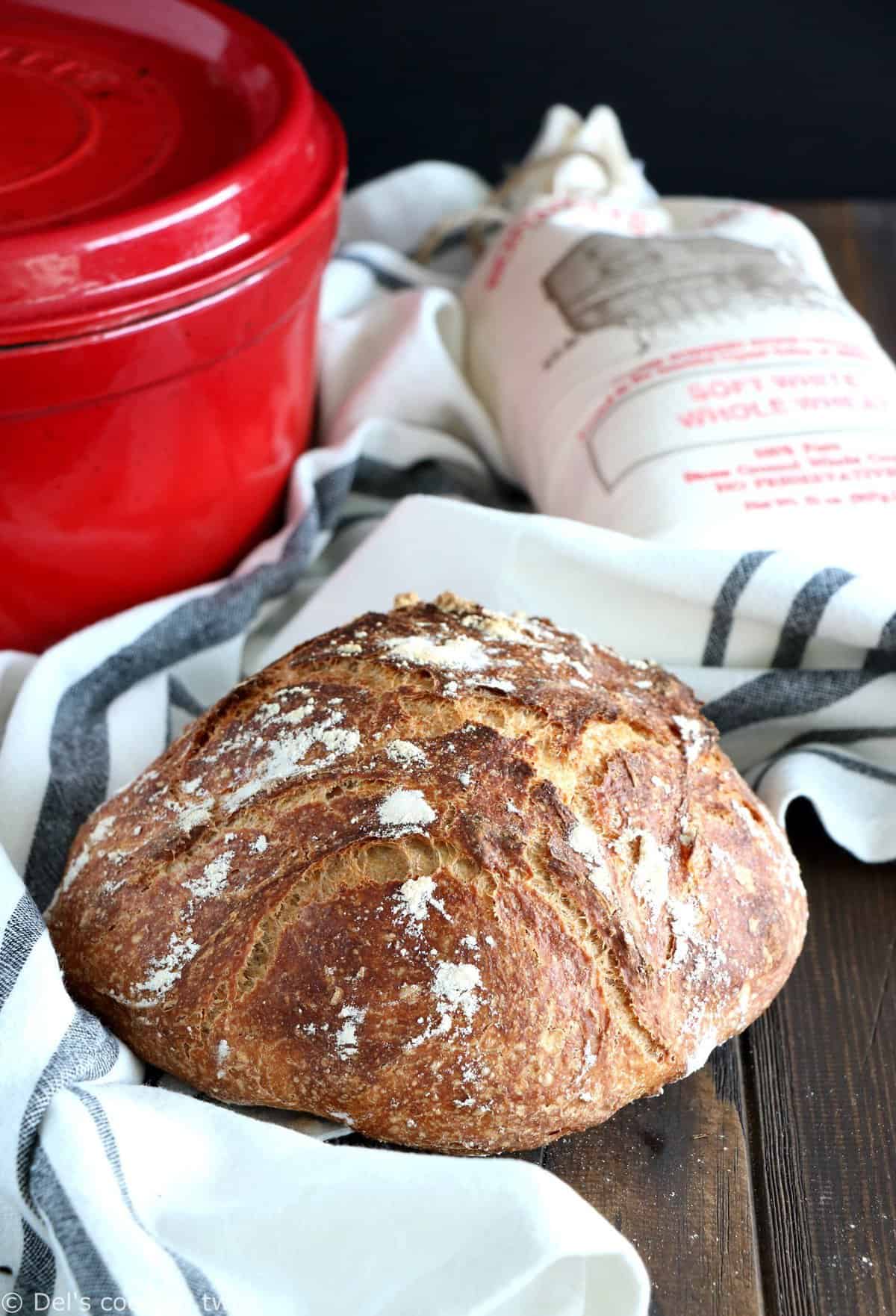 There we are: day #5 of our bread week during which I have been sharing with you a new no-knead bread recipe every single day. Find them below in case you missed them:
And today the Whole Wheat No-Knead Bread
It's been very fun for me to create all these variations to the original classic no-knead bread, a recipe I discovered through a friend over a year ago and that literally changed my life since then. I would never have believed that making homemade bread could be that easy! You can do it too and I hope my mini series convinced you to try. All you need is stir the ingredients, let rest, and bake. No kneading!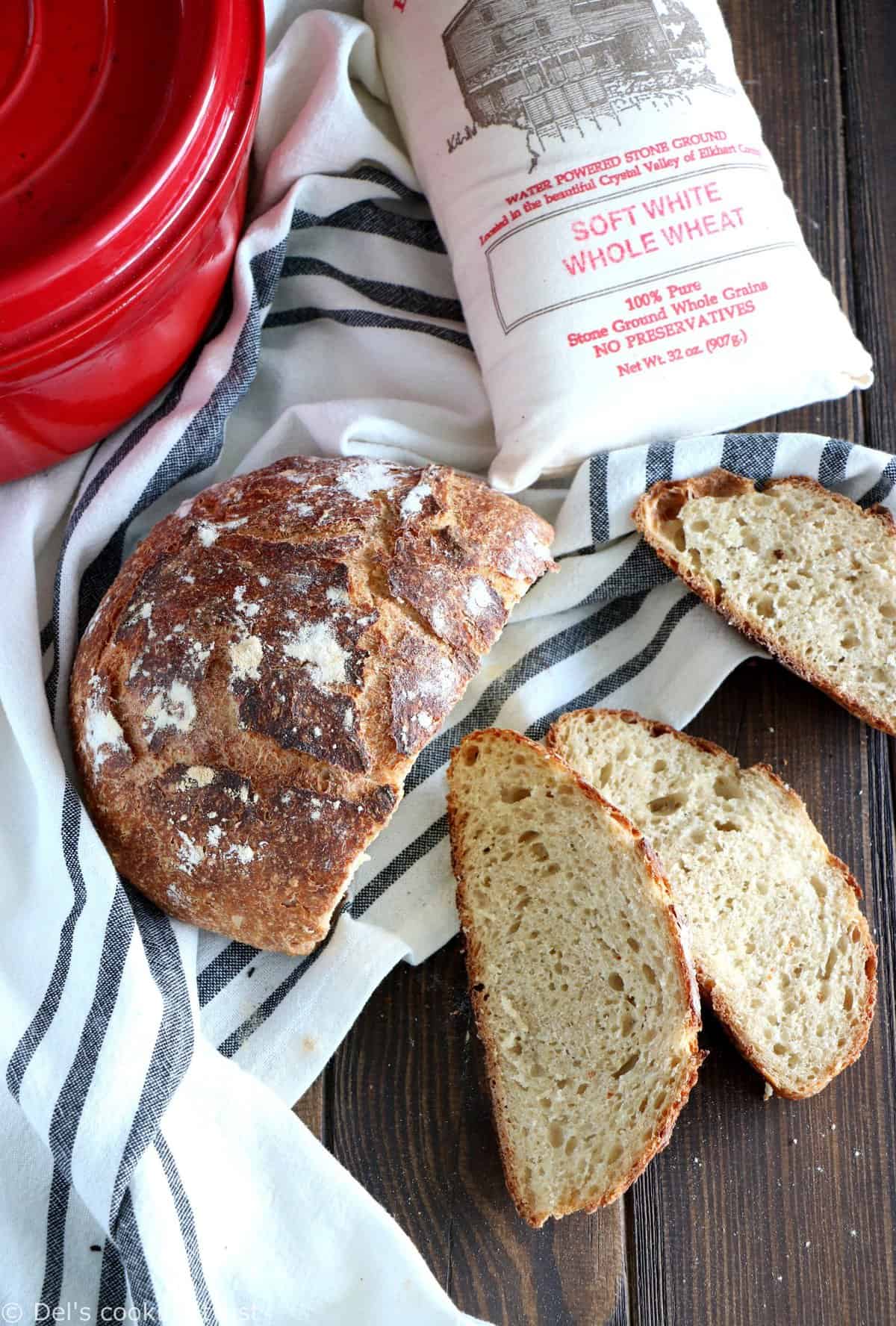 I'm sorry if I am repeating myself but in case you are catching up this mini series now or randomly stumbled upon this recipe, I need to make a quick definition update. A no-knead bread is indeed a method of bread baking in which the kneading part is replaced with a very long fermentation (rising part) instead. To make it simple, it means that you do not need to knead the dough at all, which makes the bread completely effortless. I have been baking and teaching baguettes before, and believe me it's a whole different story!
The last version of my mini series is a simple whole wheat no-knead bread. You would think that replacing all-purpose with whole wheat wouldn't need a recipe itself, but there are indeed some rules we need to keep in mind to make it right. Usually, for a classic recipe, it is ideally recommended to replace up to 25% of all-purpose flour with whole wheat flour.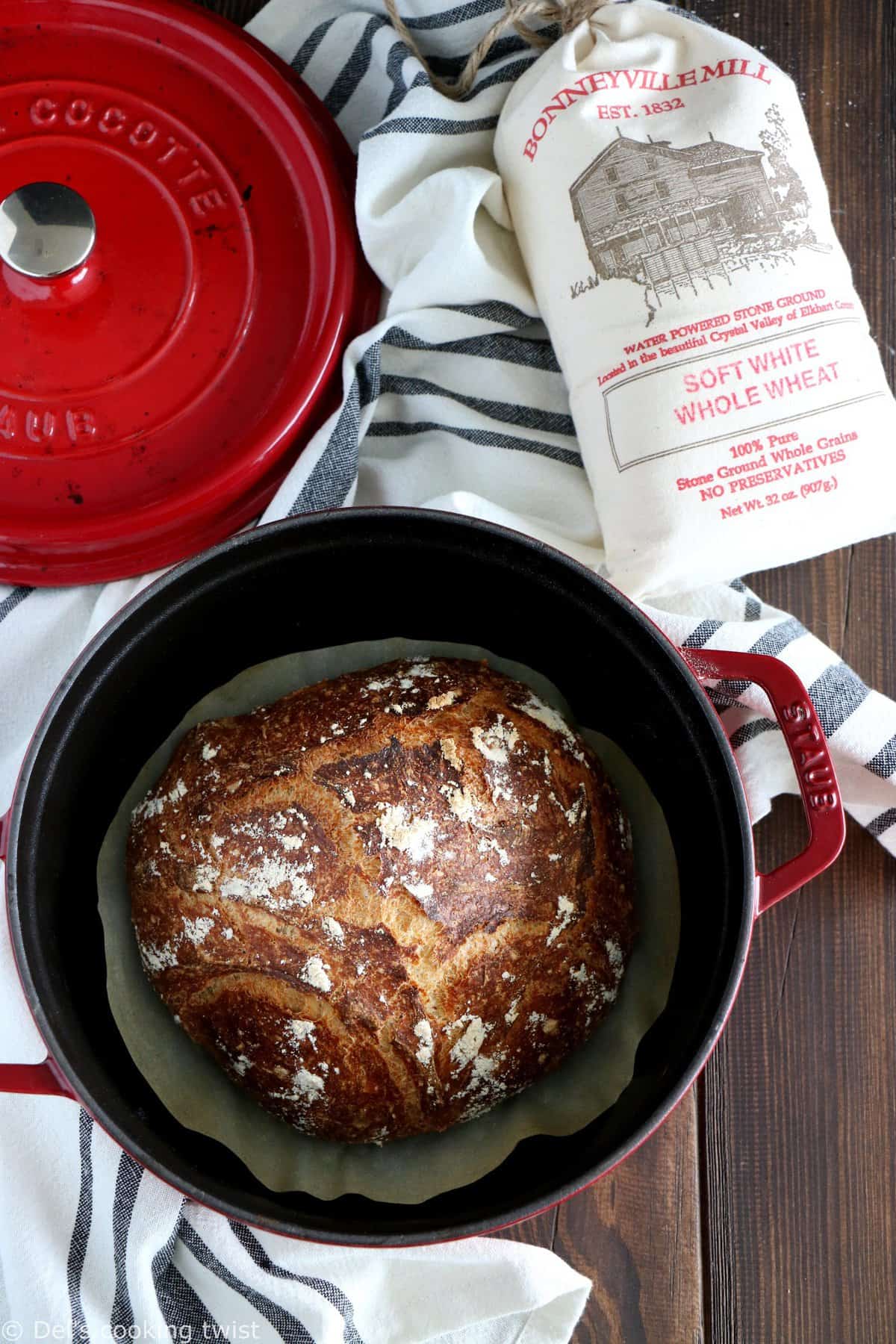 The reason is simple: when using whole wheat flour, your bread texture is denser than it is with all-purpose flour, so you need to find the right balance between taste and texture. Using whole wheat flour only would work somehow but your bread will be dense, hard to slice, to chew… just not what you are expecting when eating bread.
This bread is also a special kind, a no-knead kind to be exact. So I have made a few attempts to see how my bread would turn out with whole wheat flour. In the end, I find that using 1/3 whole wheat flour and 2/3 all-purpose work perfectly fine. You end up with a slightly different texture from the original classic no-knead bread, with a slightly denser texture (but not too dense) and a lovely and subtle nutty taste brought by whole wheat flour.
Using whole wheat also makes your bread healthier in many ways. One of the primary nutritional differences between whole-wheat and white flour is the food's fiber content. The refining process associated with making white flour separates the fiber-rich brain from the rest of the grain, so white flour typically contains less fiber than its whole-grain counterpart. For example, 1/2 cup of white flour contains 1.3 grams of fiber, while an equal serving of whole-wheat flour contains 6.4 grams.
Foods involving whole wheat flour also regulate your blood sugar after a meal, preventing blood sugar spikes and crashes, so you're satisfied for longer after your meal. Last but no least, whole-wheat flour provides a nutritional advantage over some white flours due to its vitamin content. Whole-wheat flour contains several vitamins, including folate, riboflavin and vitamins B-1, B-3 and B-5.
So many reasons to try this no-knead bread using whole wheat flour, even if not 100% whole wheat. If you want to increase your fiber intake, you can also add some seeds. My general advice is to vary bread recipes as often as possible so you never get tired of bread. In this end, I hope my mini series helped!
Print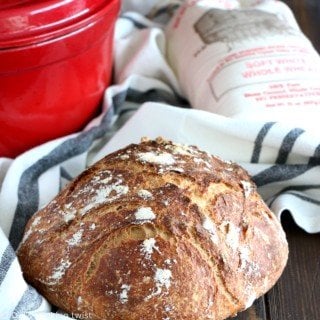 Whole Wheat No-Knead Bread
Author:

Prep Time:

5 mins

Cook Time:

45 mins

Total Time:

50 mins

Yield:

1

bread

1

x

Category:

Breads & Brioches
---
Description
Based on the easy classic no-knead bread recipe, this whole wheat version tastes like artisan bread with no effort. Learn how to master this bread yourself!
---
2 cups

(

240g

) all-purpose flour

1 cup

(

115g

) whole wheat flour

1½ teaspoon

salt

½ teaspoon

instant yeast

1½ cups

(

360

ml) room temperature water
---
Instructions
In a large mixing bowl, whisk the flours, salt, and yeast together until mixed. Stir in the water until a chunky, thick dough forms. If needed, add a few more teaspoons of water, just enough to get the dough barely wet throughout. Cover the mixing bowl with a cloth or plastic wrap and let it rest overnight (about 12 hours) at room temperature.
In the morning, preheat the oven to 450°F (230°C) and place a 4 to 6-quart heavy covered pot (cast iron, enamel or ceramic) inside, until you reach the desired temperature, or ideally for 30 minutes.*
Once the oven is hot, remove the covered pot, and carefully line with parchment paper (be careful, it's hot!). Gently scrape the dough from the bowl, shape onto a ball with your hands and place in the pot (the dough will look a little bit sticky and messy but it's normal, just let it be). Sprinkle some flour on top, and place in the oven with the lid on for 30 minutes. Remove the lid, and bake for another 10-15 minutes to get the outside crust golden brown and crispy. Transfer onto a cooling rack, and let cool. It's done!
---
Notes
*If you really have no time, I sometimes skip this part and it works too. Just remember that it's better if you follow this step but you don't necessarily have to.
NOTE: this bread doesn't last long as it dries out quickly. It is best eaten fresh, ideally same day of baking or at the latest the day after.
Other no-knead bread recipes to try: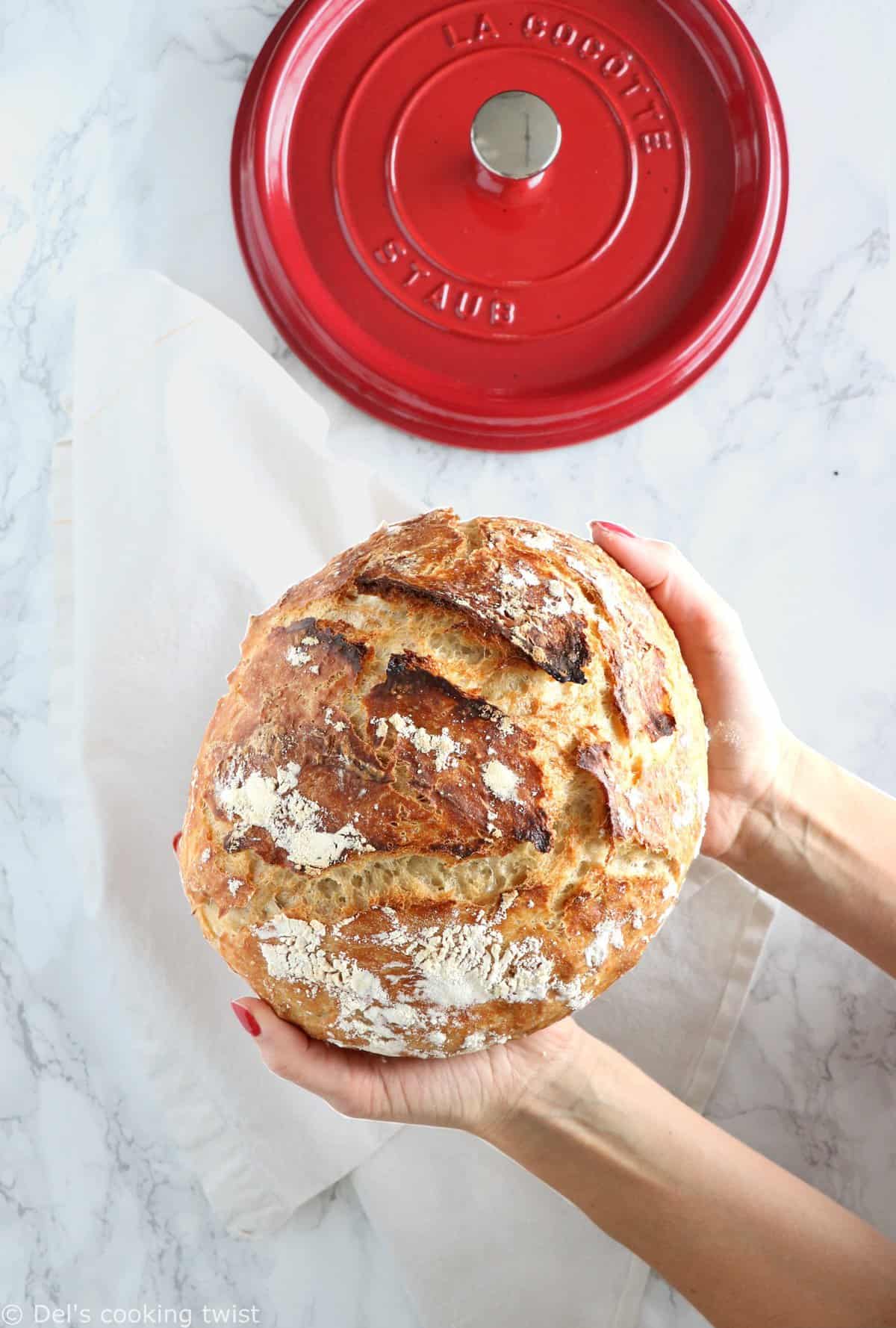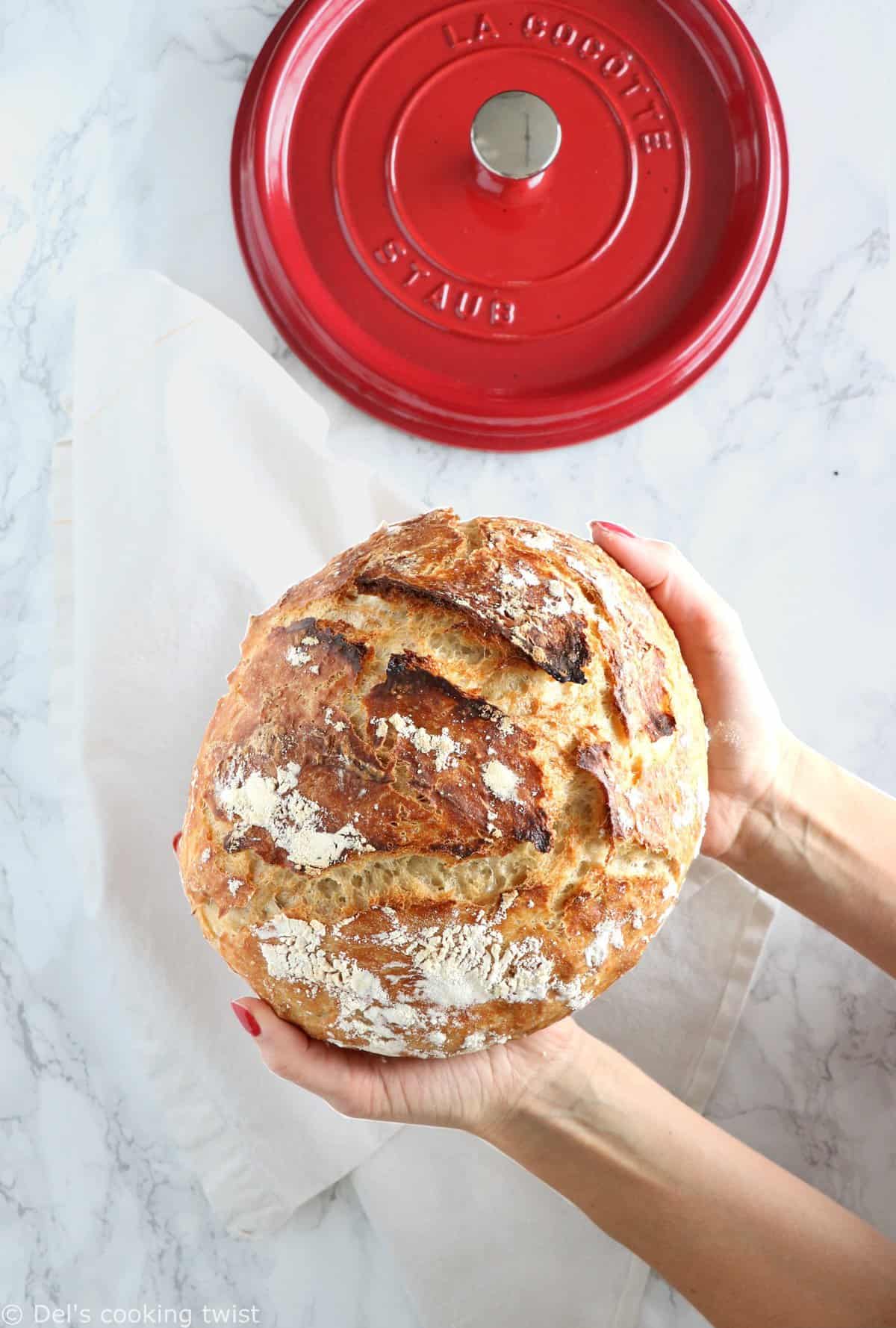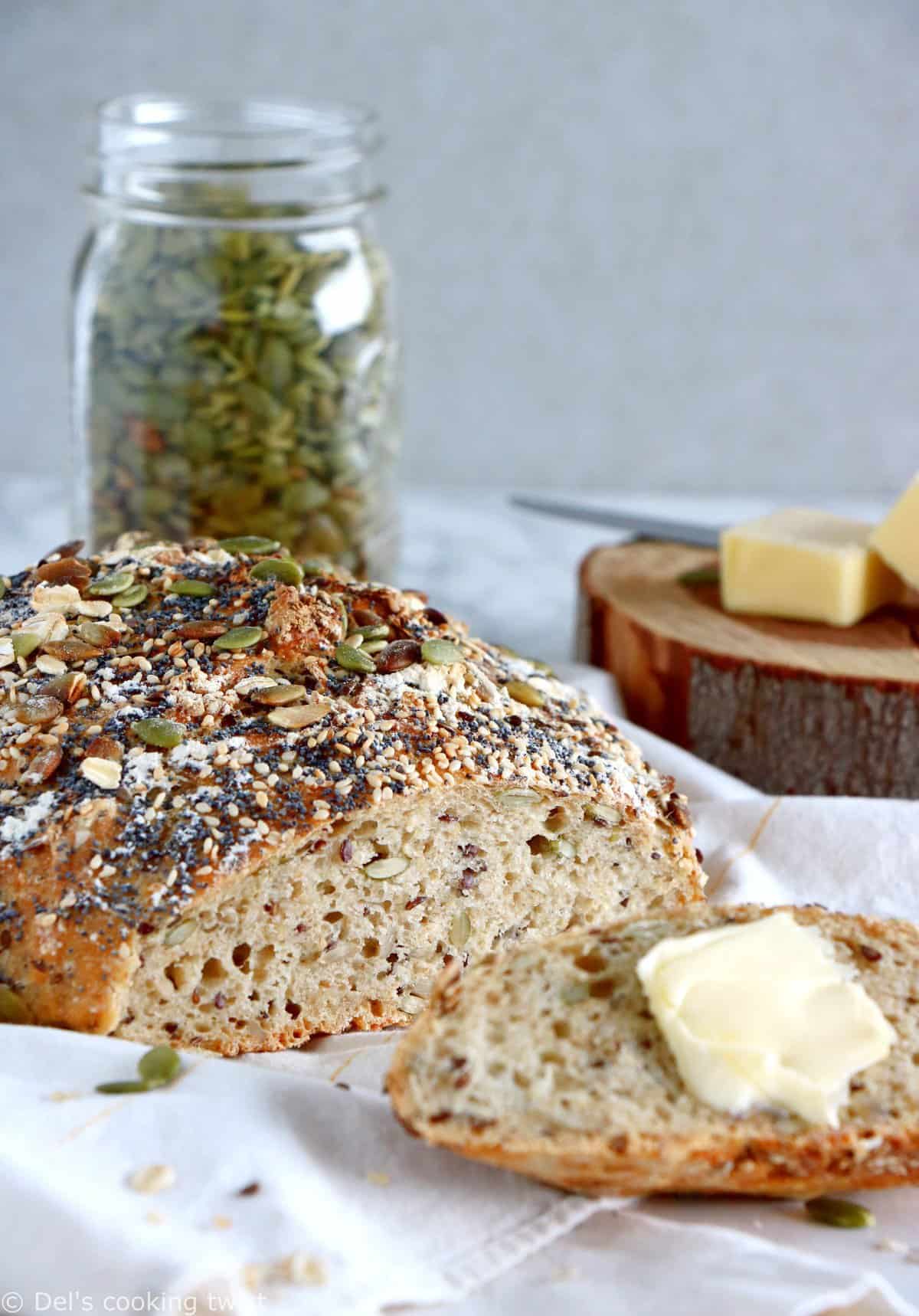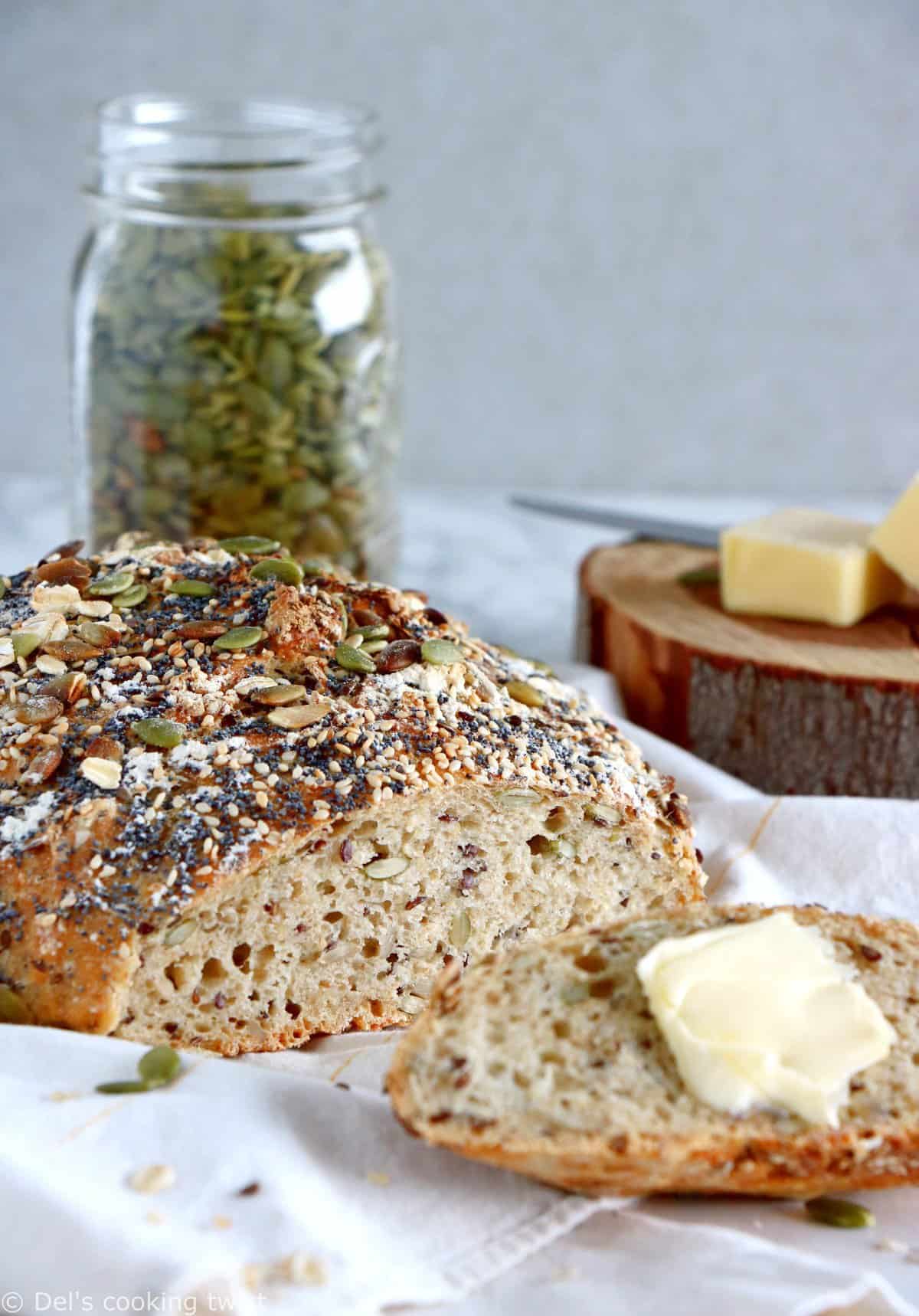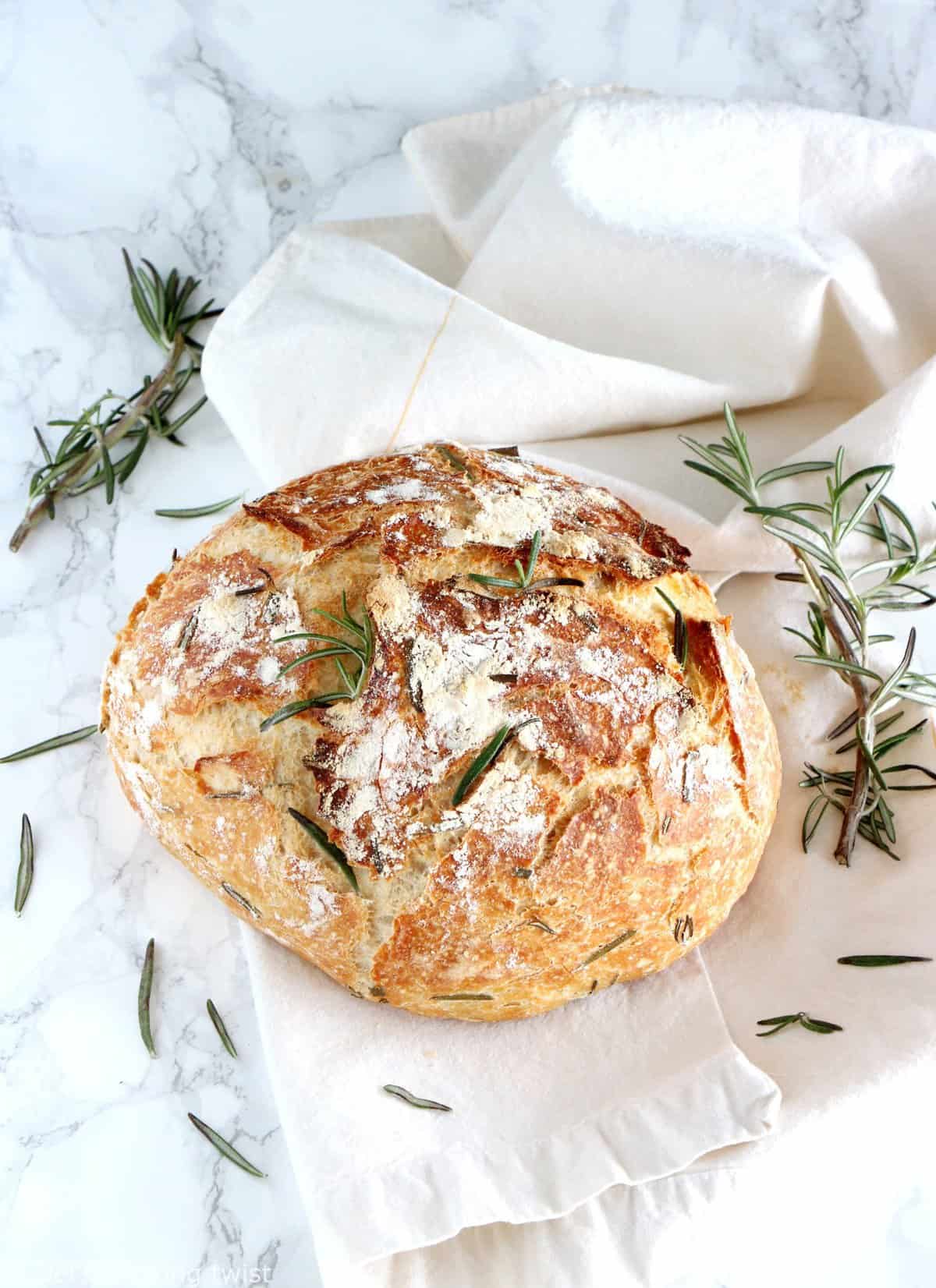 Rosemary & Green Olives No-Knead Bread.