This vegetarian butternut squash quinoa chili is hearty, healthy and very satisfying. It features chunks of butternut squash, black beans, and quinoa for some additional texture. A great take on the classic recipe that even meat-eaters will love.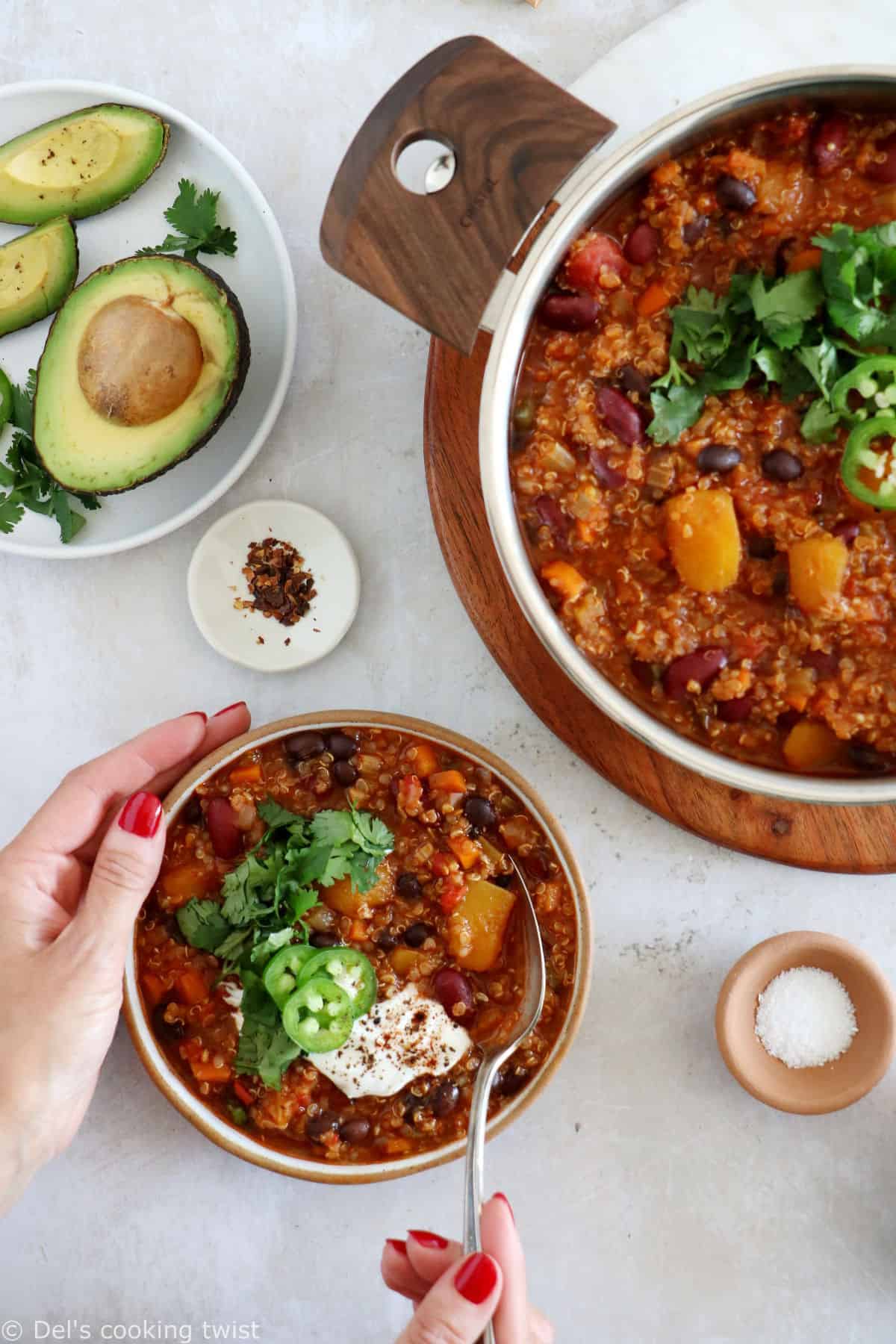 For those chilly evenings, there's nothing better than gathering the family around the table with a warm bowl of chili. Chili is so versatile and easily adaptable in a vegetarian version, and it always makes a great comforting recipe everyone love. Today's version features some butternut squash together with quinoa and black beans, making a comforting meal loaded with flavors.
Cristel, high quality pans made in France
I made the recipe from start to finish in one pot, using Cristel stewpan from the Strate Collection, and it was just perfect. I first used Cristel cookware at the Inspired Home Show a few years ago, and I fell in love with their pans. Fast forward to today, I'm delighted to partner with them to introduce you to this premium cookware range.
If you're not familiar with the brand, Cristel is a French manufacturer of premium stainless steel cookware. Nearly all Cristel products are guaranteed made in France (against manufacturing defects), in a factory located in Burgundy. They boast high-quality features, among which the most distinctive one is the innovation of the detachable handle cookware concept. It allows for easy maintenance and storage, and versatility too. You can for instance remove the handles from the pan in order to fit in the oven, or play with different sets of handles to use the pan as a serving dish and make your kitchen look modern, elegant or rustic.
Last but not least, Cristel has long been a leader in the environmental movement in everything they do. Not only do their products come with a lifetime warranty, but over 90% of their cookware is made locally in France using renewable energy, 97% of the waste from the production lines is upcycled, and 100% of the water used is recycled.
For you exclusively, a 35% discount sitewide!
Yes, you read it right. I'm excited to share with you a 35% discount on all Cristel products, starting today and until November 29th. Simply use code DELSTWIST35 at checkout to redeem the offer. This is for sure an excellent choice as a premium gift for the cook in your house that can last a lifetime!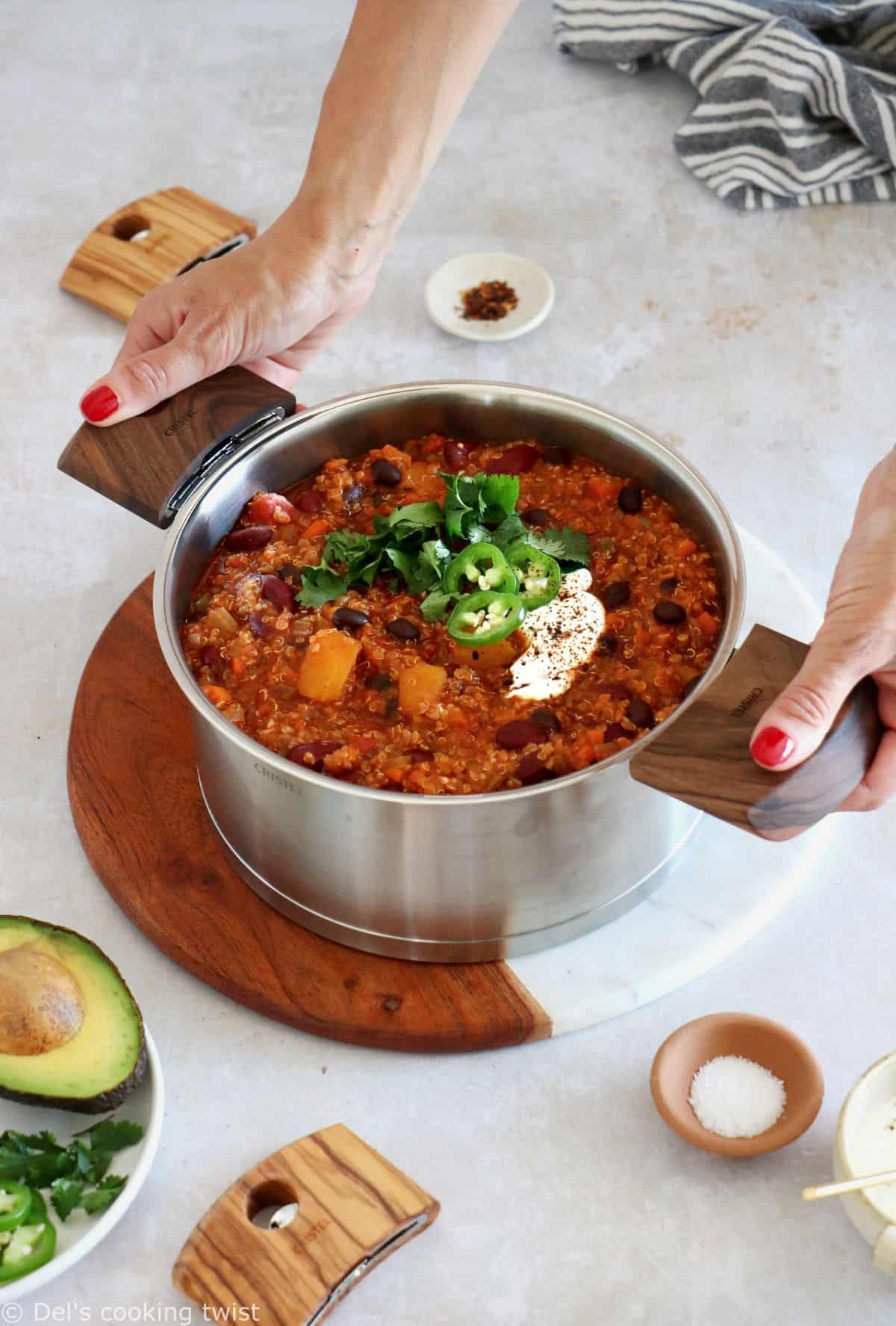 Butternut squash quinoa chili ingredients:
Butternut squash. You will need one medium butternut squash, peeled, seeded and cut into large cubes (about 1.2 lbs / 500g).
Mirepoix + garlic. This French flavor base is a combination of onion, carrot and celery generally cut to the same size. Together with the garlic, the mirepoix helps create a flavorful base for the chili.
Jalapeño. It boosts the spicy flavors of the chili, and brings a hint of spice. I like to add one in the chili preparation and use another one, sliced, for topping.
Black beans + red kidney beans. You could use black beans only, but I love the combination of both black and red beans. Plus the red beans add some nice colors to the chili.
Quinoa. This is used in this vegetarian recipe as a replacement of ground meat in a classic chili recipe, mostly for its texture. It also adds a boost of plant-based protein and makes the chili more satisfying.
Diced tomatoes. Use them canned, and make sure you go for diced, not the whole tomatoes or tomato sauce.
Tomato paste. You need it for its sweet and smoky flavors.
Spices + herbs. They're essential to a great chili. Always taste and adjust seasoning as you go. And keep in mind that salt acts as a flavor boost and will enhance the spices.
Light brown sugar. It's optional, but I find that the addition of brown sugar cuts the acidity from the tomatoes and somehow boost the smoky flavors of the chili.
Key steps to make butternut squash chili
Head over to the recipe card for the full recipe instructions, but here are the main steps for you to keep in mind when making the recipe:
I recommend to always start with chopping all your veggies. This will spare you some precious time when making the recipe.
Sauté all the veggies, following the order described in the recipe card.
Add all the spices + bay leaf, and give it a good stir.
Then pour in the "liquid" ingredients (diced tomatoes, water), and bring to a boil.
Cook the quinoa in the simmering water, until completely cooked, about 15 minutes.
Add the black beans, red beans, and adjust seasoning to boost the flavors.
Garnish with all the toppings listed below, and serve immediately. Enjoy!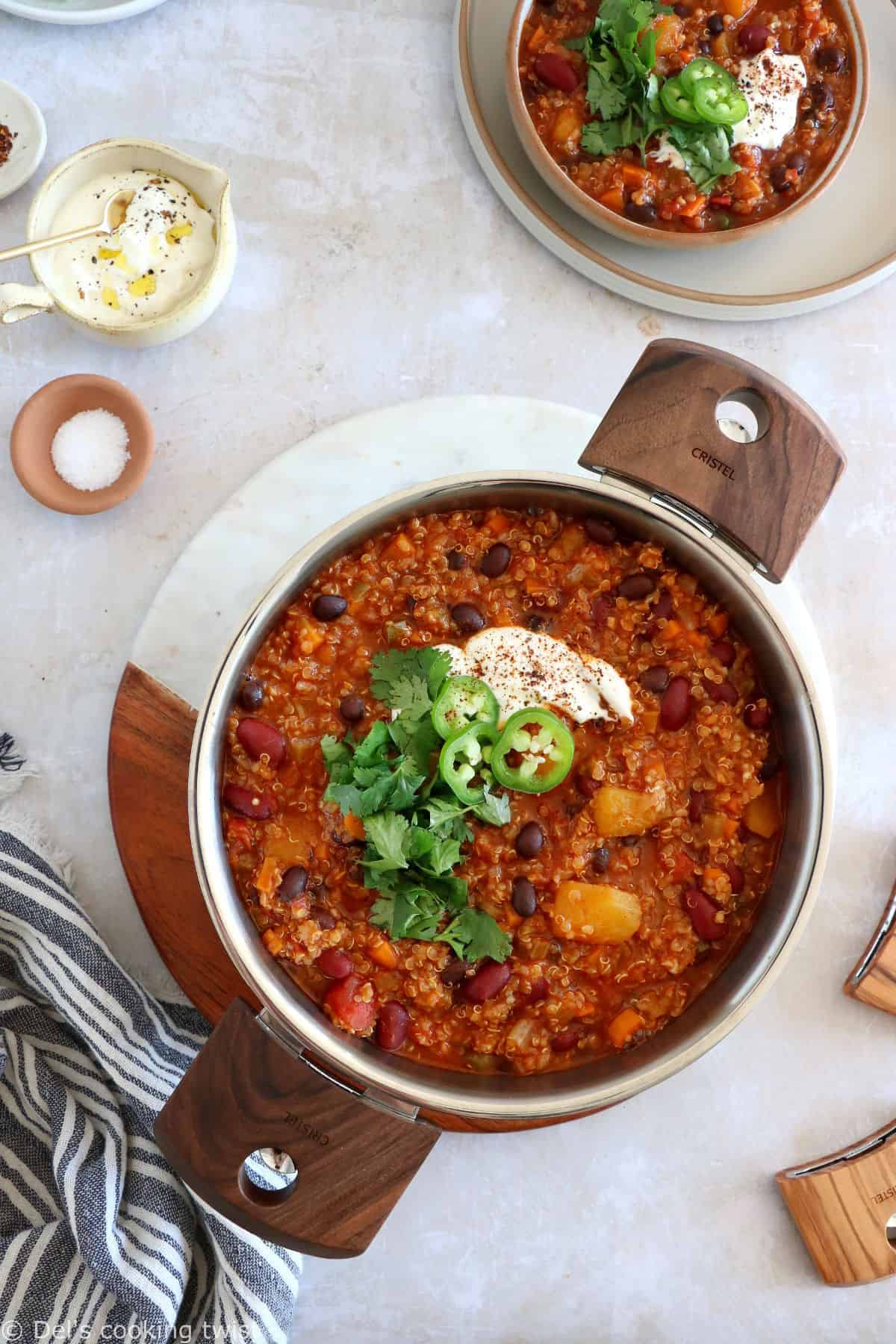 Can I make it vegan?
This butternut squash chili is practically almost vegan per say. The only ingredient that isn't vegan is the sour cream, that you can of course leave behind and/or replace with a vegan sour cream of choice. The same goes with the grated cheddar if you use it as a topping (which I recommend); there are many vegan grated cheese options that would do very well in replacement of actual cheese.
What to serve with this chili?
When it comes to a chili, the toppings are equally important than the recipe itself if you ask me. They are the little extra that boost all the flavors and makes all the difference between a good and a great chili. Find below my favorite topping ideas to add all at once:
Top with avocado, sliced, diced or mashed
Add a generous dollop of sour cream
Sprinkle with grated cheddar (yes, so good!)
Add some sliced jalapeños
And garnish with fresh cilantro, chopped
Optionally, you can add a few drops of tabasco sauce!
You can enjoy this butternut squash quinoa chili on its own with all the topping listed above, or with a side of rice to make a satisfying meal. Some also love to dip in some tortilla chips.
Storing and freezing instructions
This vegetarian butternut squash quinoa chili is a great make-ahead recipe, that can last for several meals throughout the week. Simply store in an airtight container for up to 5-7 days, or in the freezer for up to 3 months. Reheat in the microwave, and add some brown sugar to enhance the flavors and cut the acidity if needed.
More chilis & stews for you to try:
Print
Vegetarian Butternut Squash Quinoa Chili
Author:
Prep Time:

30 mins

Cook Time:

30 mins

Total Time:

1 hour

Yield:

8

servings

1

x
Category:

Savory

Diet:

Vegetarian
This vegetarian butternut squash quinoa chili is hearty, healthy and very satisfying. It features chunks of butternut squash, black beans, and quinoa for some additional texture. A great take on the classic recipe that even meat-eaters will love.
1

yellow onion, minced

2

small carrots, diced

2

sticks celery, diced

1

jalapeño, diced (+

1

for serving, sliced)

1

medium butternut squash (1.2 lbs/

550g

), peeled, seeded and cubed

3 Tablespoons

olive oil

4

cloves garlic, minced

1 teaspoon

chili powder

1 teaspoon

ground cumin

2 teaspoons

smoked paprika

¼ teaspoon

ground cinnamon

1

bay leaf

3 Tablespoons

tomato paste
Salt and pepper, to taste

1

14-ounces (400g) can diced tomatoes

2 cups

(

500

ml) vegetable stock or water, or more as needed

1 cup

(

180g

) quinoa, rinsed

1

14-ounces (400g) can kidney beans

1

14-ounces (400g) can black beans

1

–

2

teaspoons light brown sugar (optional)

2 Tablespoons

sour cream (for serving)
Fresh cilantro, chopped (for garnish)
Instructions
Heat olive oil over medium heat in a large pot. Add the mirepoix (onions, carrots and celery), butternut squash, and jalapeño, and sauté for about 5 minutes, stirring often.
Turn down the heat, add minced garlic, stir, and sauté for 2 more minutes. Add chili powder, cumin, paprika, cinnamon, bay leaf, tomato paste, and season with salt and pepper. Stir well, and cook for one more minute.
Pour the tomatoes, vegetable stock/water, and bring to boil. When boiling, add the quinoa and reduce heat to medium-low or low, so it's at a gentle simmer. Cook for 15 minutes, or until quinoa is cooked, adding more water to the pot if needed.
Add kidney beans and black beans, and stir well. Taste and adjust seasoning as needed, adding more chili powder or cumin for smokiness, salt for saltiness, or a little light brown sugar to balance the heat and draw out the other flavors.
Serve as is or with a side of rice, garnished with chopped cilantro, avocado, sour cream, grated cheddar, and sliced jalapeño. Enjoy!
Keywords: Butternut Squash Chili
Did you make this recipe?
Lastly, if you make this Vegetarian Butternut Squash Quinoa Chili, be sure to leave a comment and give this recipe a rating, letting me know how you liked it. And of course, don't forget to tag me on Instagram! Thank you and enjoy!