Take a spin to the classic Shepherd's Pie, make it entirely vegan with a mushroom-lentil "meat" and top with a generous layer of pumpkin mash. A healthy, comforting dish!
Thanksgiving is now right around the corner and it's about time to think about the menu in details. I'm pretty sure many of you already have a vague idea of what you want to prepare, but if not you can find a few ideas among these 40 Fantastic Thanksgiving Recipes and if you want to be even more specific among these 20 Vegetarian Thanksgiving Recipes. Whatever you choose on the menu, make sure you prepare one of my 3 favorite desserts: the Classic American Pumpkin Pie (made entirely from scratch, with real pumpkin and cream), The Best American Pecan Pie, and The American Apple Pie.
As for now, let's focus on the savory part. For the occasion I have prepared a Shepherd's Pie, turned it vegan, and replaced the potato mash with a pumpkin sweet potato one. But before we go any further, let me come back a minute on what is a Shepherd's Pie exactly. Originally from United Kingdom, this dish started with a confusion, depending on whether it was made out of sheep or beef. Two names were invented, the Shepherd's pie for the first one and the cottage pie for the other one. Despite of that, it seems that people kept mixing them up for a very long time.
Fast forward to 2018, we now have a vegan version of the Shepherd's Pie! Should we give it a name too? Any suggestion? So basically no meat here, no eggs and no dairy. Instead I prepared a meat-alike mixture made out of lentils (you can use green or brown – brown is actually better but not always easy to find) and balsamic vinegar. Whether you are vegan yourself or not, you will sure like this version that also has the advantage of being much healthier too.
What about the topping now? As you probably know, it is usually made of a potato mash that you spread out over the filling. In this case, I made it a little bit more "Thanksgivingy" by using pumpkin and sweet potato. I also added a little bit of potato, that brings some extra texture.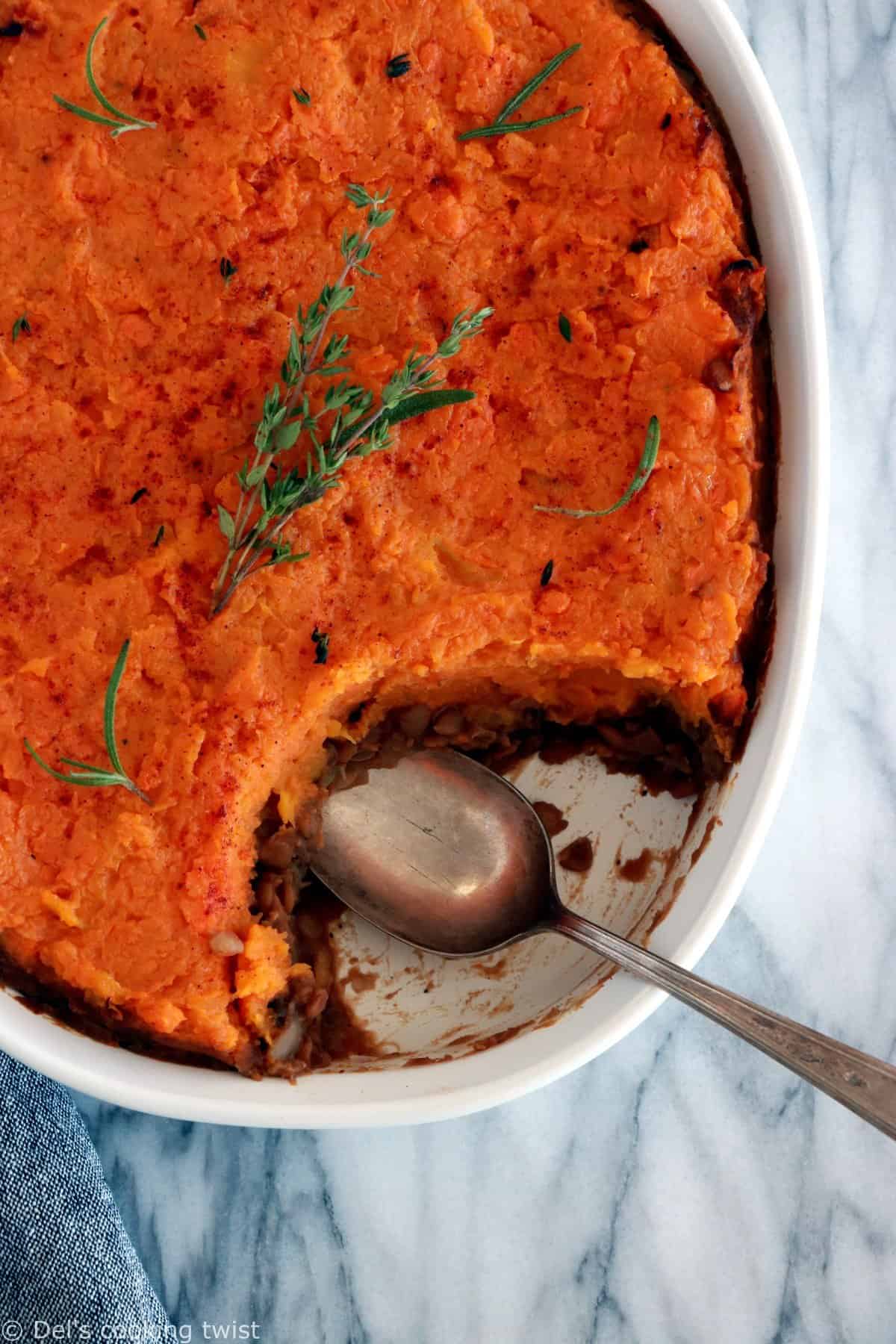 In the recipe I went for a quick and simple version, consisting of simply cooking both pumpkin and sweet potatoes in a large pot filled with salted water. If however you have time and/or want to play around with the flavors, I would suggest you roast pumpkin dice and sweet potato slices in the oven with a drizzle of olive oil all over. Then mash using a potato masher as you would normally do. The result: even more flavors and more personality brought to the dish.
The seasoning also matters to enhance the overall flavors of the dish, and this is true both for the mushroom-lentil filling and for the pumpkin sweet potato mash. So feel free to taste and adjust the seasoning as needed, using more salt, pepper, or even paprika powder. When serving, add extra leaves of fresh rosemary too. Serve warm, and enjoy!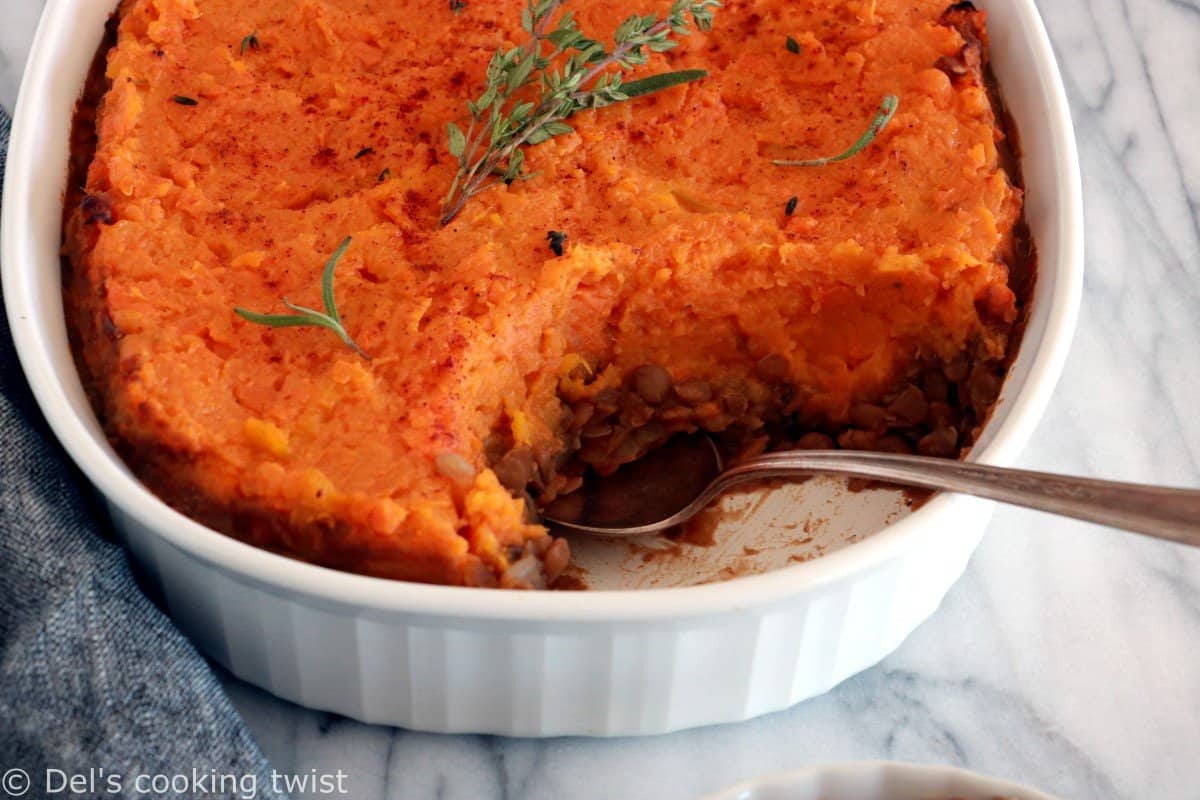 Print
Vegan Pumpkin & Sweet Potato Shepherd's Pie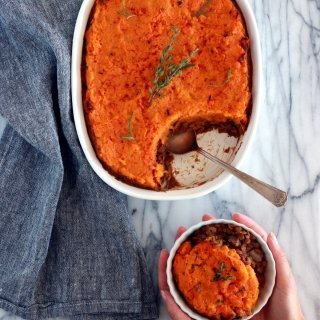 Author:
Prep Time:

20 mins

Cook Time:

45 mins

Total Time:

1 hour 5 mins

Yield:

4

-

6

servings

1

x
Category:

Savory

Cuisine:

Vegan
Take a spin to the classic Shepherd's Pie, make it entirely vegan with a mushroom-lentil "meat" and top with a generous layer of pumpkin mash. A healthy, comforting dish!
For the lentil filling:
2 cups

(

200g

) mushrooms, sliced

1

small yellow onion, minced

1 Tablespoon

olive oil

2

cloves garlic, minced

1

small sprig rosemary, leaves

1

small sprig thyme, leaves

1/2 teaspoon

ground paprika

1/4 teaspoon

ground cayenne pepper
Salt and pepper, to taste

3 Tablespoons

balsamic vinegar

3 cups

(750ml) vegetable stock

1 cup

(

150 grams

) brown or green lentils, rinsed

2 teaspoons

cornstarch +

2 tablespoons

water
For the pumpkin and sweet potato mash:
4 cups

(

650g

) pumpkin, diced

2

medium (2 cups/500g) sweet potatoes, sliced

1

medium (1 cup/150g) potato, sliced

60

ml (1/4 cup) almond milk

1 Tablespoon

olive oil

1 teaspoon

paprika
Salt and pepper
Instructions
For the lentil filling:
Heat oil in a large, heavy bottomed pan over medium heat, and once hot add the mushrooms and sear for about 5 minutes. Add the onions and cook until softened. Stir in the garlic, herbs, and spices; season with salt and pepper, and cook for an additional minute. Pour in the balsamic vinegar, stir.
Add the vegetable stock, increase the heat to high and bring to a rolling boil. Add the lentils and reduce the heat to medium-low, then simmer for 20-25 minutes, or until the lentils are cooked. Taste and adjust seasoning as needed.
In a small bowl, whisk the cornstarch with water and stir it in to the filling, stirring for a few minutes constantly until the mixture thickens. Remove from the heat and set aside.
For the pumpkin and sweet potato mash:
Place pumpkin, potatoes and sweet potatoes into a medium pot with water and a pinch of salt. Bring to a boil over high heat, then reduce to medium and simmer until tender, about 20 minutes.
Drain and mash, using a potato masher. Add milk, olive oil, paprika, salt and pepper, and stir well. Adjust seasoning as needed. Set aside.
Preheat the oven to 400°F (200°C) and grease a shallow baking dish with oil.
Pour the mushroom filling into the prepared dish and top with the pumpkin and sweet potato mash, spreading into an even layer.
Bake for 15-20 minutes, until golden and the sauce has started to bubble up around the edges. Serve immediately, with a side of green salad.
Keywords: Vegan Shepherd's Pie
Christmas
,
Fall
,
Family-Friendly
,
Gluten-Free
,
Lentils
,
Main Dishes
,
Pumpkins (Winter Squash)
,
Sides
,
Sweet Potatoes
,
Thanksgiving
,
Vegetarian
,
Winter
Did you make this recipe?
Lastly, if you make this Vegan Pumpkin & Sweet Potato Shepherd's Pie, be sure to leave a comment and give this recipe a rating, letting me know how you liked it. And of course, don't forget to tag me on Instagram! Thank you and enjoy!
Shop the recipe

Here are a few items I used for this recipe:
Staub 4-qt Round Cocotte | Staub Olivewood Cook's Spoon | Stainless Steel Potato Masher | French White Oval and Round Bakeware
Some of the links above are affiliate links, which pay me a small commission for my referral at no extra cost to you! Thank you for supporting Del's cooking twist.