This hearty, fragrant and healthy lentil curry in a creamy coconut milk sauce is naturally vegan and gluten free. Serve with a side of white rice spiced with cardamom.
It might seem weird or boring to some of you but lentils have always been among my favorite foods. Yes, I absolutely love this lens-shaped seed that have been part of the human diet forever somehow (according to archaeological evidence, they were eaten 9,500 to 13,000 years ago). To be honest, I feel lucky that I often like by taste some of the healthiest ingredients on earth ; I don't even need to force myself to like them.
First of all, lentils is a great source of protein. Of all legumes, lentils contain the third-highest levels of protein, which makes them a wonderful source of protein for vegetarians and vegans. I am none of them myself, but my diet is almost exclusively plant-based and therefore vegetable protein are important to me. Lentils also increase steady, slow-burning energy due to its fiber and complex carbohydrates. This way, they are very nutritious and leave you full and satisfied until the next meal. Last but not least, lentils are also known for their great content of iron, which transports oxygen throughout your body and is key to energy production and metabolism. You get it, there is always a reason to prepare yourself some lentils.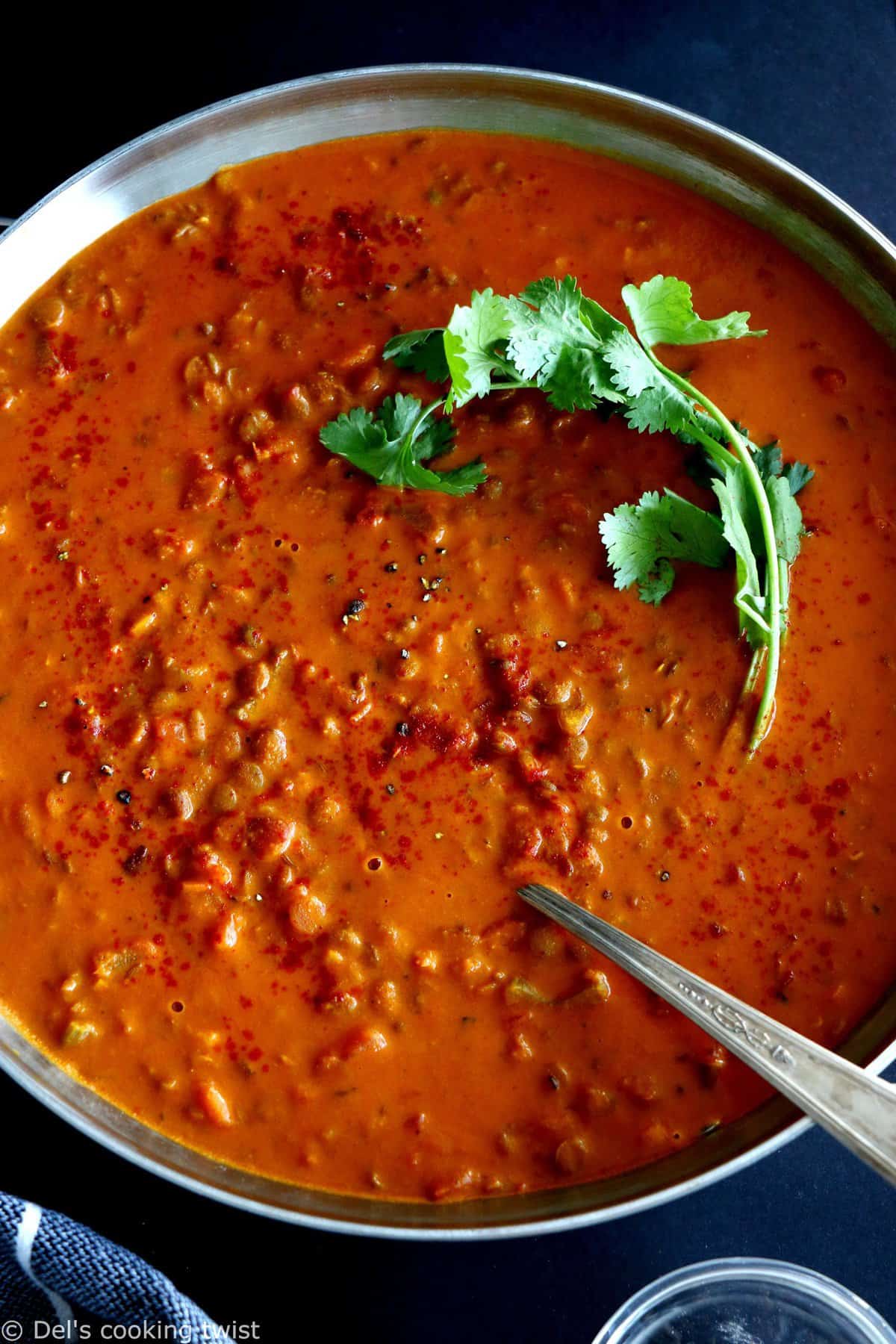 If you are looking for some inspiration, you can check the following recipes:
Today's recipe is a warm, hearty and fragrant seasonal lentil dish that has become a favorite here. I love curries of all sorts and made several vegan ones in the past (eggplant chickpea curry, mango curry tofu, vegan chickpea curry…) but I had never thought of a lentil curry until recently when I tried one in an Indian vegetarian restaurant that has now become one of my favorite spots for Indian food in Chicago. The one I'm suggesting today is inspired by this dish but does not pretend to be specifically Indian. It's just a delicious, creamy, coconut lentil curry dish with seasonal veggies that is also healthy and very satisfying.
On top of that, it's extremely simple to prepare. My advice: cook some huge quantities at once and freeze in individual portions together with a side of rice. It will make perfect homemade and healthy lunch boxes to bring to the office. I actually recommend to even double the recipe quantities, and you'll be all set for quite a while (this dish can be stored for a few months in the freezer). Also, good to know: it's always better when re-heated, as the spice flavors have time to develop their fragrance with time.

Both vegan and gluten free, this healthy curry dish soaked in a creamy coconut sauce is exactly what you need to warm you up on a chilly day. For extra topping, serve with fresh cilantro and Indian bread such as a garlic naan, chapati or paratha. With this dish, even a convinced meat eater would turn vegetarian ; it's just simply delicious!
Print
Creamy Coconut Lentil Curry (vegan, gluten free)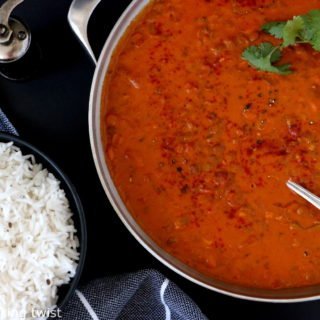 Author:
Prep Time:

30 mins

Cook Time:

45 mins

Total Time:

1 hour 15 mins

Yield:

4

-

6

servings

1

x
Category:

Savory

Cuisine:

Cuisine du monde
This hearty, fragrant and healthy lentil curry in a creamy coconut milk sauce is naturally vegan and gluten free. Serve with a side of white rice spiced with cardamom.
2 Tablespoons

olive oil

1

medium onion, chopped

2

–

3

(about

9 oz

/ 250g) carrots, sliced

1 teaspoon

cumin seeds

1 teaspoon

coriander seeds

1

garlic clove, minced

1

can (28 oz / 793g) crushed tomatoes

2 Tablespoons

fresh ginger, grated

1 teaspoon

turmeric (or curry powder)

1 teaspoon

salt

1 cup

(

200g

) dried green lentils

1

can (15oz / 425g) coconut milk, full-fat

3 cups

(

75

cl) water
Instructions
Heat olive oil in a large pot over medium-high heat. Add the onion, carrots, and cook until slightly golden. Add the cumin and coriander seeds and cook for 1 more minute, stirring often. Add the garlic and cook for 1 last minute.
Pour the can of crushed tomatoes and add the ginger, turmeric, salt. Stir well and cook for a few minutes.
Add the lentils, 3 cups of water, and bring to boil. Reduce the heat to low, cover the pot and let simmer for about 40-45 minutes stirring occasionally, until lentils are soft and carrots cooked through. Add a little bit of water if the preparation becomes too dry.
Once cooked through, add the coconut milk and bring the pot back to a simmer for a few minutes. Serve immediately, with white rice and fresh cilantro.
Did you make this recipe?
Lastly, if you make this Creamy Coconut Lentil Curry (vegan, gluten free), be sure to leave a comment and give this recipe a rating, letting me know how you liked it. And of course, don't forget to tag me on Instagram! Thank you and enjoy!