Sweet potato toasts are an absolute must try. Topped with a kale-grapefruit guacamole, they make a delicious healthy snack or appetizer, naturally vegan and gluten free.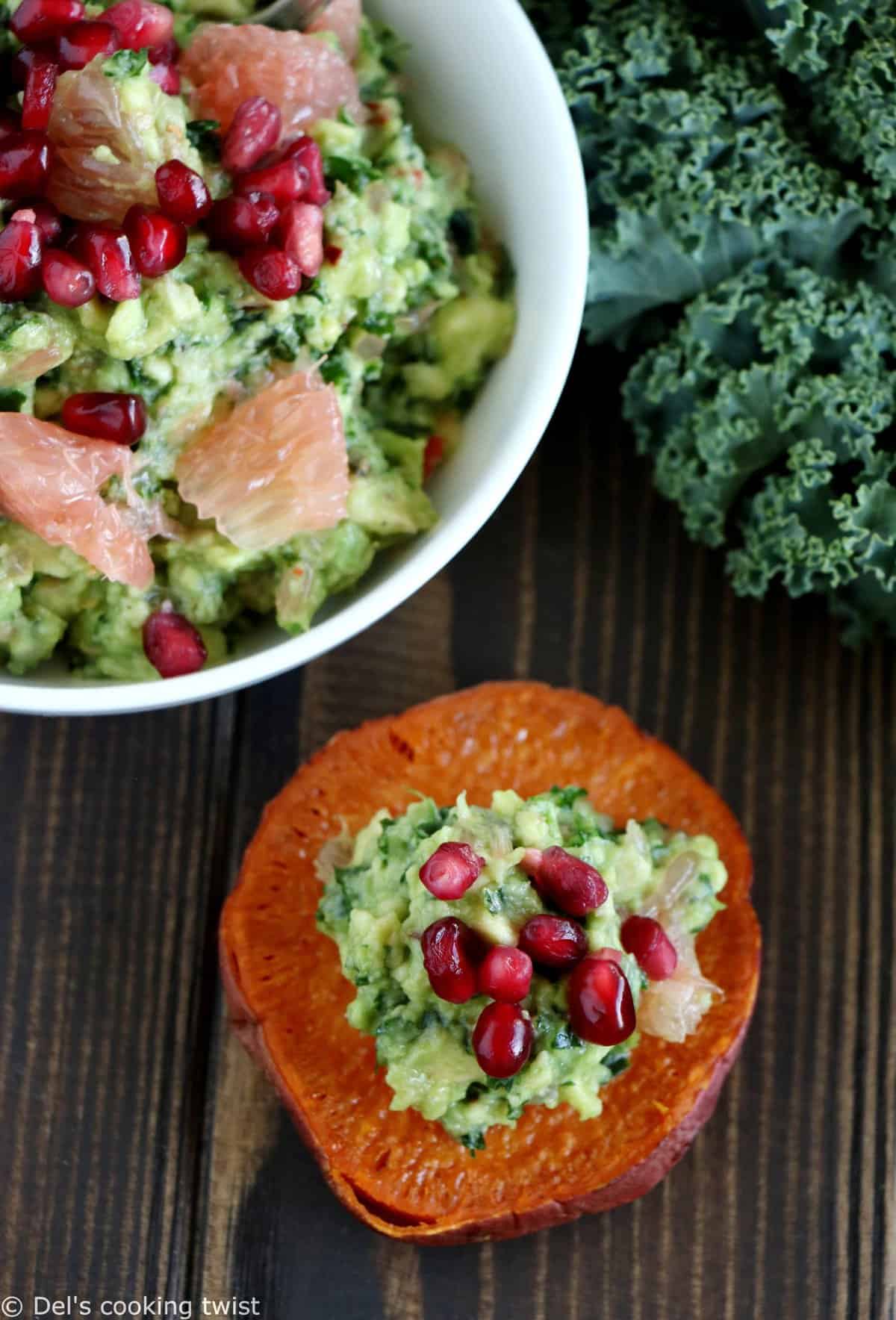 I love sweet potatoes and I'm really excited about today's recipe! Have you ever heard of sweet potato toasts before? They briefly became trendy a few months ago, as a gluten free and healthier version to a classic toast. Some people even say they are the new avocado toasts (also very popular over the last few years – people go nuts about them). But unless the last one, sweet potato toasts are made exclusively of sweet potatoes and replace the actual "toast" usually made of bread.
Don't get me wrong here: far from me the idea of cutting carbs from my daily diet. I do love bread and I do not intent to stop eating it (actually I even started to bake my own bread! But that's another story!). However, I find the idea of making toasts with sweet potatoes very fun and colorful, and I see that as a lovely alternative to bread from time to time.
There are two ways of making sweet potato toasts. The first one is the version I describe in my recipe below: sweet potato slices are toasted in the oven with olive oil and paprika for extra taste. Others go for a quicker version and simply place the sweet potato slices in the toaster until cooked through. I didn't go for this option as I believe olive oil and paprika bring extra flavor to the toast. As for the slices, you can decide to make them lengthwise or crosswise, depending on how big you want your toasts. I personally prefer crosswise, i.e. in a more circle shape.
If like me you are obsessed with sweet potatoes, you might also like: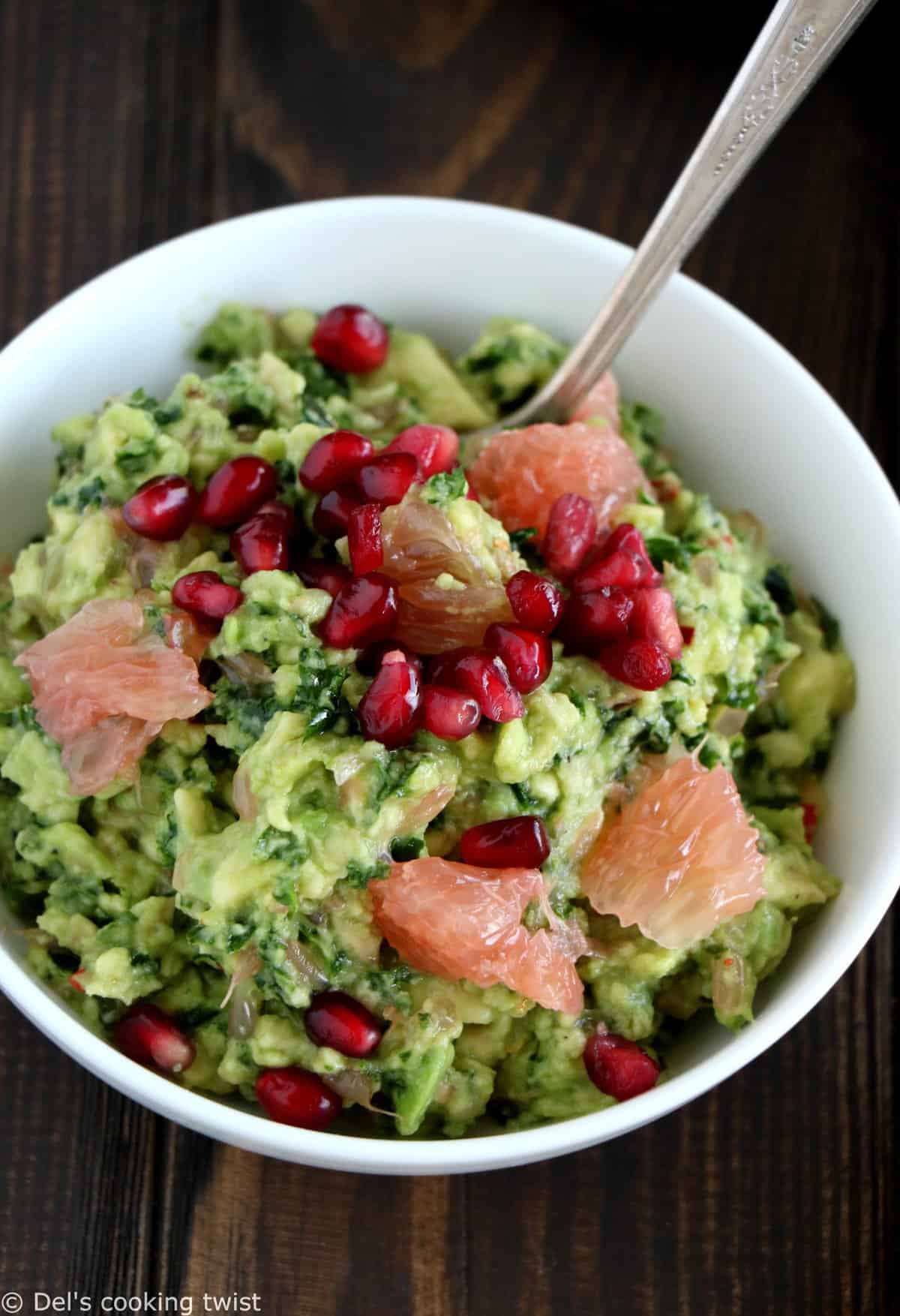 You might find some similarities between this recipe and my sweet potato fries with an avocado dip. Both of them are extremely healthy, on top of being decadent in taste. Sweet potato actually offer great nutritional properties. Loaded with dietary fibers, they are one of the richest source of beta-carotene, a nutrient your body convert into vitamin A after consumption. Among many health properties, beta-carotene has anti-inflammatory and anti-oxidant effects, with the capacity to regulate your blood sugar levels giving the high amounts of fibers it contains. Also, its potassium load help the natural detox function of your body. Here, my sweet potatoes are baked with olive oil, which is itself loaded with antioxidants and healthy fats.
So what about this kale guacamole now? I got the idea of this guacamole after trying a similar version at True Food Kitchen in Chicago, a restaurant I really enjoy for its creativity with vegetables, offering vegetarian, vegan and gluten free options in a delicious way. They make a kale guacamole that I order every time I go and that I really enjoy!
There are a few major differences with the original guacamole recipe: the addition of kale and the addition of grapefruit. Using no cream of any kind, this guacamole is also entirely vegan and much healthier than a classic version (although my guacamole recipe does not contain cream either; that's how I like it most). Then everything is of course about the seasoning. Using the right amount of spice, garlic, salt and pepper will definitely make the difference, and I advise you to taste to adjust seasoning as needed.
Coming back to the healthy side of this dish, it's good to know that pairing sweet potato with avocado is actually a great healthy combo, as as the beta-carotene is better metabolized when paired with healthy fats, and avocado is definitely one of them. And of course, you've got a lovely, easy but sophisticated-looking snack or appetizer that pleases everyone, whatever the occasion. Try it too, and let me know what you think about it. I'm pretty sure it will soon become one of your favorite savory snack as well!
Print
Sweet Potato Toasts with Kale-Grapefruit Guacamole (Vegan, Gluten Free)
Author:

Prep Time:

30 mins

Cook Time:

25 mins

Total Time:

55 mins

Yield:

24

small toasts

1

x

Category:

Appetizers

Cuisine:

Vegan
---
Description
Sweet potato toasts are an absolute must try. Topped with a kale-grapefruit guacamole, they make a delicious healthy snack or appetizer, naturally vegan and gluten free.
---
For the sweet potato toats :
3

medium sweet potatoes, sliced

2 Tablespoons

olive oil

1 teaspoon

ground paprika
For the kale guacamole :
3

medium ripe avocados

2

large kale leaves, finely chopped

1/2

grapefruit, diced

1

small chili pepper, minced

1

garlic clove, minced

1

lime, juice

1 Tablespoon

olive oil
Salt and pepper, to taste

2 Tablespoons

(

30g

) pomegranate (optional)
---
Instructions
Preheat the oven to 400°F (200°C) and line a baking tray with parchment paper.
For the sweet potato toasts: arrange sliced sweet potatoes on the tray, brush with olive oil and sprinkle some paprika over. Bake for 25 minutes, flipping half way through.
Meanwhile, prepare the kale guacamole: using a fork, mash the avocados in a shallow dish. Add finely chopped kale, diced grapefruit, minced chili pepper and garlic, fresh lime juice, and olive oil. Season with salt and pepper, and combine well. Place in the refrigerator until ready to use.
When the sweet potato toasts are baked through, top with guacamole and sprinkle some pomegranate over if desired. Enjoy straight away.
---