Skinny sugar-free cocoa raspberry granola for healthy mornings. Naturally vegan, it also makes a crunchy snack to satisfy your sweet tooth when a chocolate craving hits.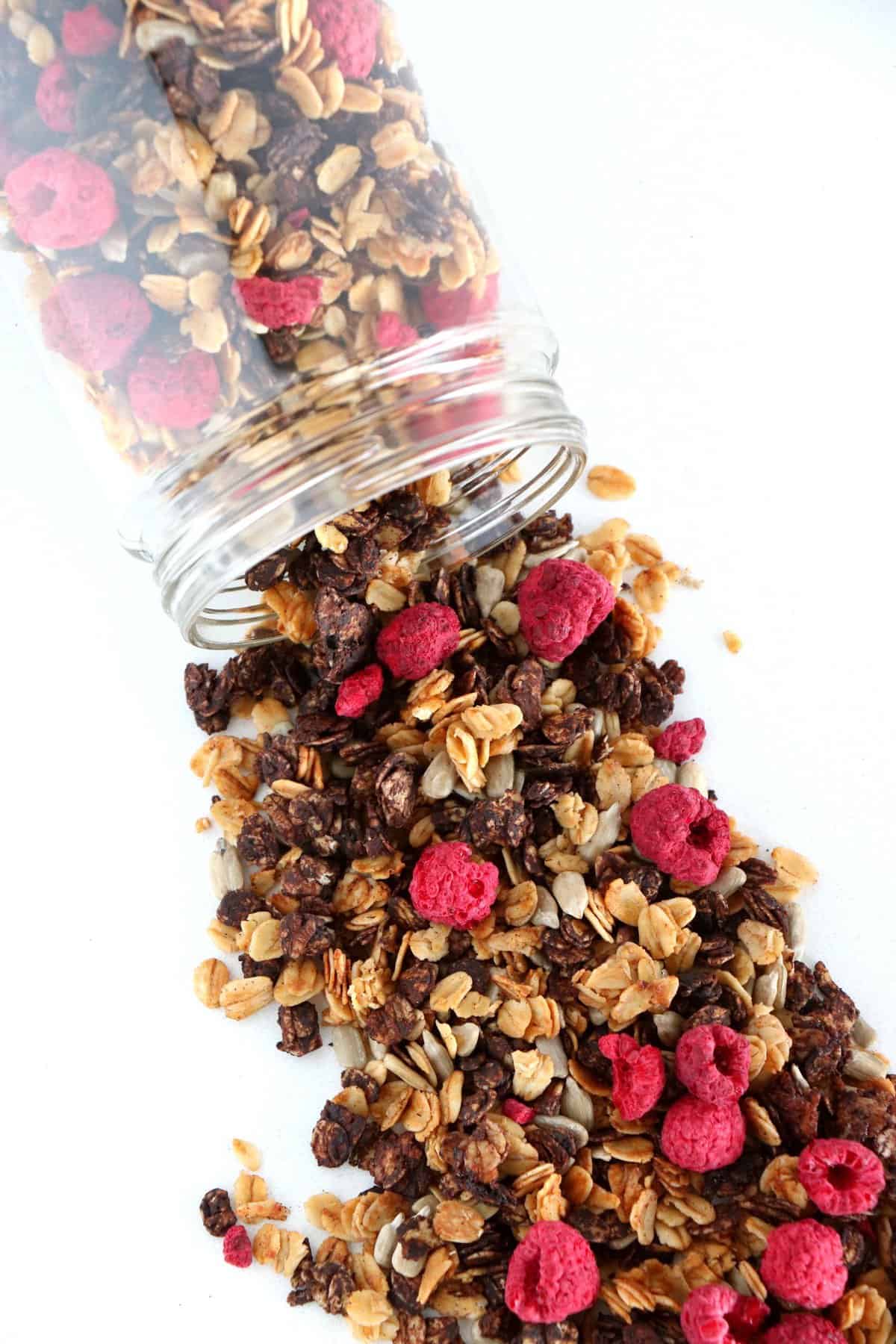 Nothing can beat a homemade granola, I will never say it enough. Granola and muesli are indeed extremely easy and quick to prepare, and more importantly so much healthier than a random granola you would purchase in a grocery store. We often think that it's easier to purchase a ready-to-use granola in order to spare us some time in the morning without skipping breakfast, but I'm sorry to say that it is actually a bad reasoning.
The problem with almost all granola brands is the amount of sugar, far too high compared to our daily needs. As you know, sugar calls for sugar. In other words, the more sugar we eat, the more we crave. And while our brain asks for some more sugar, we encounter at the same time some side effects in two steps. At first the sugar peek in our body provides us with energy and we feel excited and happy, but soon after we encounter the exact opposite with a drastic lack of energy, fatigue both physically and mentally (we feel discouraged, sad, moody and/or morose).
For this reason, it's important to pay attention to our daily sugar intake in order to be healthy both in our bodies and in our minds. I'm not the kind of girl obsessed with diets and I do not believe in a strict zero-sugar diet, but I think that if we follow some basic healthy rules, it can really make a whole difference in our present lives, with a long-term impact. Let's start with a healthy morning routine and very little sugar for breakfast.
For this sugar-free granola recipe, I got inspired by my favorite Swedish granola from Paulúns (and no, I am not sponsored by the brand to tell you this). When I lived in Sweden, it was my go-to granola: healthy, no added-sugar and absolutely delicious! I somehow always wanted to recreate the recipe so that I could share it with you but one thing always stopped me: the use of dried raspberries. Luckily, I recently found some ready-to-use dried raspberries from this brand, that happen to be organic and natural. I had no excuse anymore and gladly made a whole batch of my favorite granola recipe.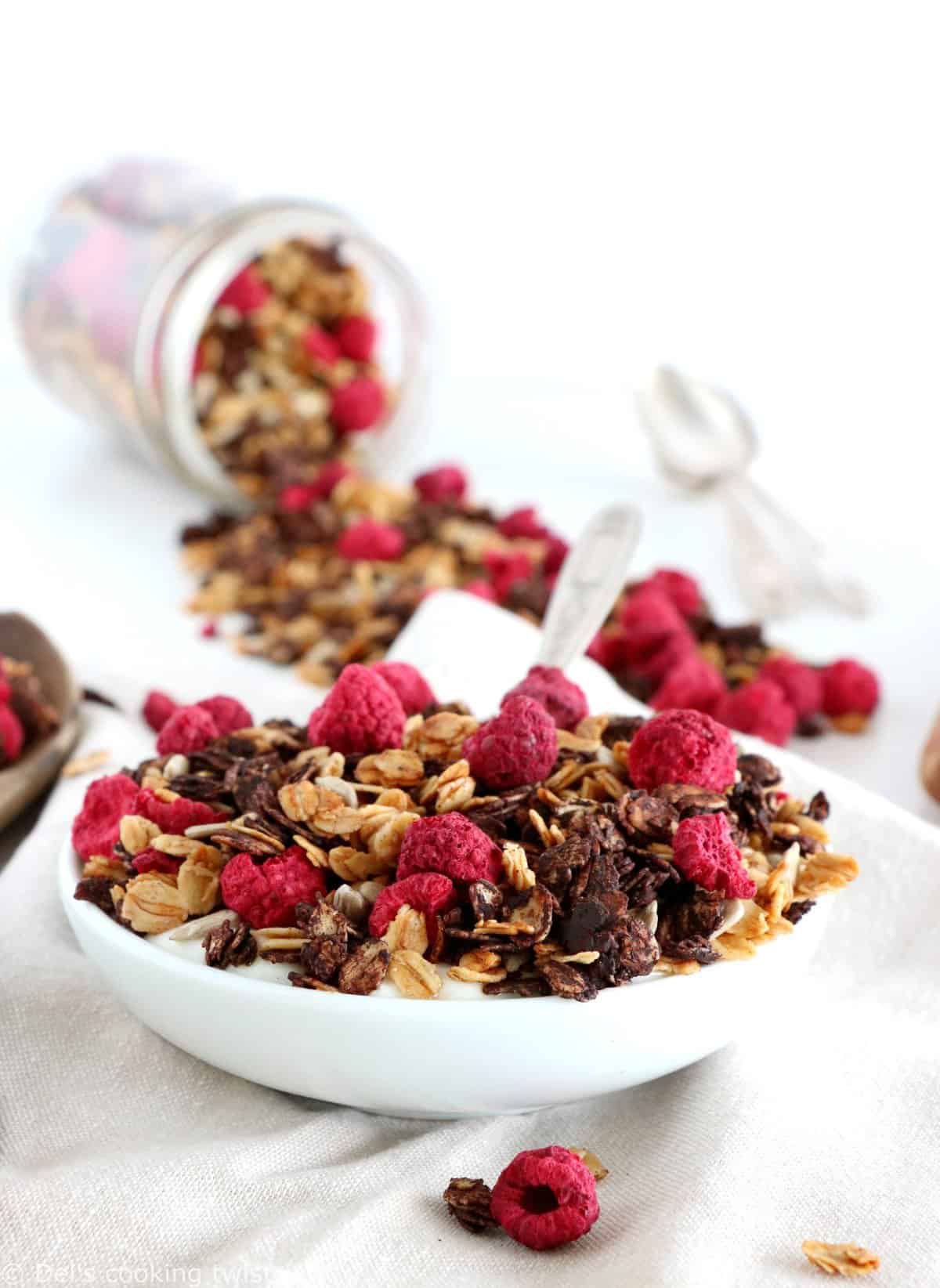 Other granola recipes might also like:
So what's inside this delicious sugar-free granola recipe? Wholesome, raw, plain and nutritious ingredients only, no added sugar of any kind, and a great amount of yum! In other words, you will find:
Old-fashioned rolled oats, that you can choose gluten free if you wish
Unsweetened cocoa powder
Unsweetened shredded coconut flakes
Melted coconut oil
Apple juice and dried dates to bring some sweetness to the whole
Dried raspberries (if you can't find dried raspberries, just skip them and replace with fresh raspberries when you serve your granola in the morning).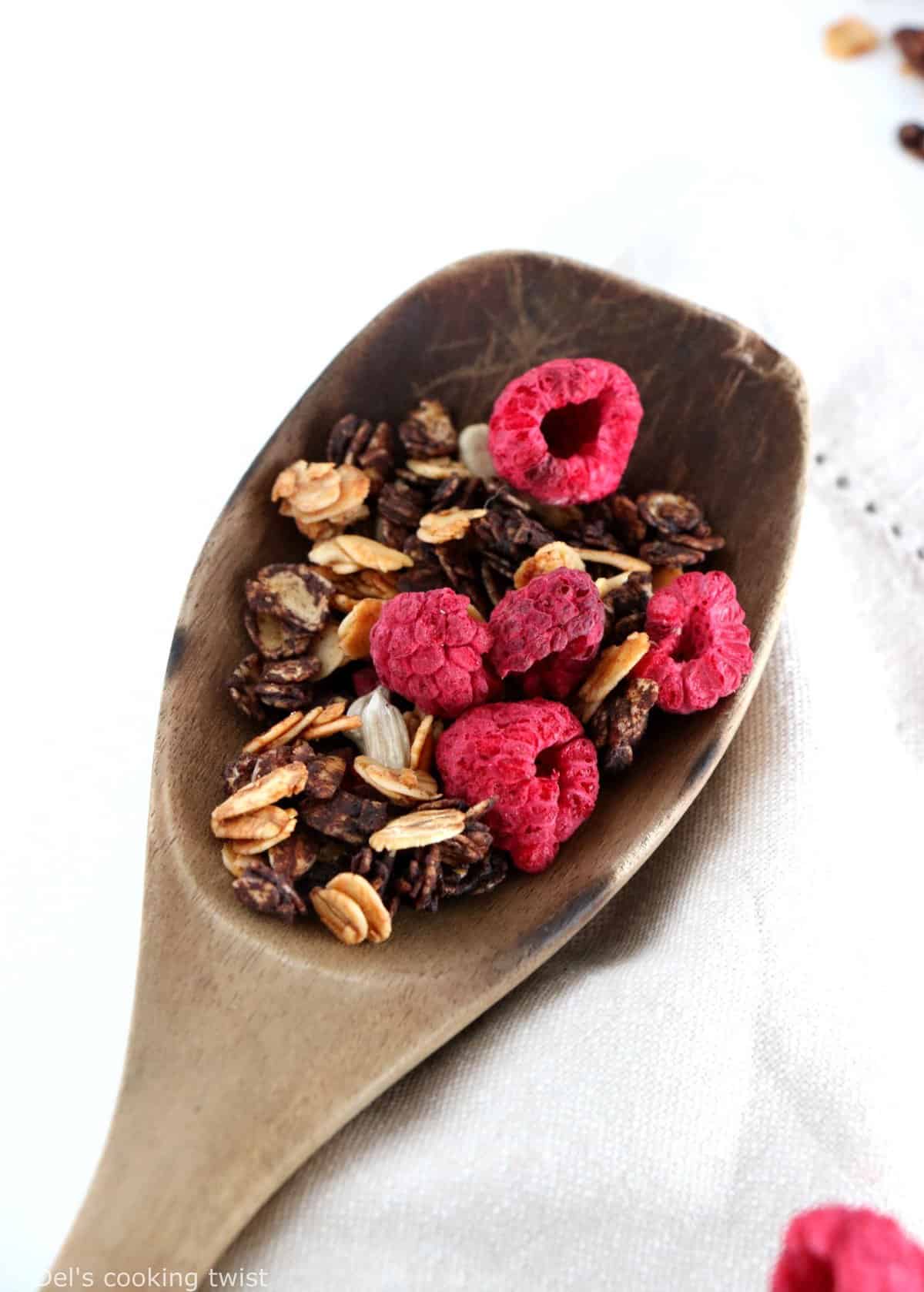 You can then add ingredients you like to improve the recipe as it suits you best. I went for sunflower seeds but you can also choose toasted hazelnuts, almonds, large toasted coconut flakes, and why not add some dark chocolate chunks. Granola is always a very forgiving recipe that you easily adapt to your own tastes. I would however keep the syrup as a base to make sure your granola is sugar-free: stir melted coconut oil with unsweetened apple juice, vanilla extract and sea salt, and remember to add a few dried diced dates if you would like some extra sweetness.
Last but not least, you will note that in this recipe I divided the cocoa granola part from the plain one. I do love this lovely visual bi-effect, but this is pure fantasy of mine and you could skip this part to make it 100% cocoa if you would like to. It will take even less time to prepare and will please all chocolate addict out there. This sugar-free granola is my best friend whenever I fancy a little crispy snack during the day with yogurt or fresh fruits, and always brighten up my breakfasts!
Print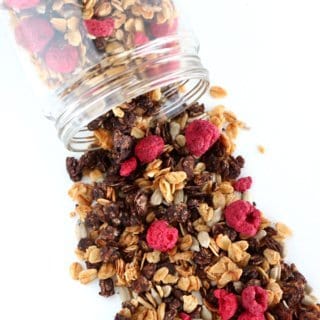 Sugar-Free Cocoa Raspberry Granola
Author:

Prep Time:

10 mins

Cook Time:

30 mins

Total Time:

40 mins

Yield:

1

large jar

1

x

Category:

Breakfast

Cuisine:

Healthy
---
Description
Skinny sugar-free cocoa raspberry granola for healthy mornings. Naturally vegan, it also makes a crunchy snack to satisfy your sweet tooth when a chocolate craving hits.
---
2 cups

(

180g

) rolled oats

1/2 cup

(

70g

) sunflower seeds

1/4 cup

(

20g

) shredded coconut flakes, unsweetened

2 Tablespoons

(

15g

) cocoa powder, unsweetened

3 Tablespoons

(

45

ml) coconut oil, melted

1/4 cup

(

60

ml) apple juice, unsweetened

1/2 teaspoon

vanilla extract

1

pinch sea salt

2 cups

(

1.5 oz

/

42g

) dried raspberries*

1

–

2

Tablespoons diced dates (optional)
---
Instructions
Preheat the oven to 300°F (150°C) and prepare 2 small baking sheets with parchment paper.
In a medium bowl, mix oats, sunflower seeds and shredded coconut flakes. Divide in 2 equal parts. Add cocoa to one half, mixing until well combined.
Melt coconut oil in a small saucepan. Add apple juice, vanilla extract, sea salt, and stir well.
Divide the syrup over each granola (the plain and the cocoa one), stirring until moist.
Transfer each granola onto the prepared baking sheets, and bake for about 20-25 minutes, stirring twice while baking. The granola is ready when dry and slightly golden.
Remove from the oven and let cool on the baking sheets for about 1 hour before mixing both the plain and cocoa granola together. Add dried raspberries and diced dates if using. Transfer to a mason jar or container to store.
---
Notes
* If you can't find dried raspberries, just skip them and serve your granola with fresh raspberries.