This Christmas, treat yourself with a festive French gingerbread topped with foie gras and served with a pear-vanilla confit.
To all my vegan and vegetarian friends, step out for a minute and please forgive me for today's recipe. For everyone else, indulge in this festive French starter on your Christmas menu: gingerbread topped with foie gras and a pear-vanilla confit.
In France, Christmas dinner is a serious thing. We actually celebrate it twice: we start the festivities on the 24th with a dinner, and the following day we partake in the endless Christmas day lunch/dinner that can last for hours. In my family, we usually start by noon with some appetizers. Everyone is happy to be reunited and we catch up on each other's lives. We take a seat and enjoy all the dishes that arrive one after the other, like a perfectly orchestrated dance. We take our time, no need to rush, Christmas is about good food and also about socializing! By the end of the day comes dessert to conclude this beautiful meal. Sometimes we break for a couple of hours before a final frugal buffet is served.
There are also typical foods that are served for Christmas dinner in France, and among them, of course, foie gras. Foie gras is a luxury food product made of the liver of a duck or preferably a goose that has been specially fattened, usually forced-fed. While foie gras is very controversial for the technique used, especially among the animal lovers community, it is still a very well-known delicacy in French cuisine. Its flavor is described as rich, buttery, and delicate, unlike that of an ordinary duck or goose liver pâté.
I enjoy foie gras for very special occasions only, and I usually pair it with something sweet. I also sprinkle some sea salt on top in order to play with the contrast of flavors. There are various ways to arrange it: you can for instance serve it on a slice of French brioche, with a side of fig or onion jam, or add a simple drizzle of balsamic vinegar.
Today I suggest a different version, which also plays with these sweet and savory flavors. Foie gras happens to go perfectly well with spices, so I simply baked a homemade gingerbread, that I then cut into stars with the use of a cookie cutter. It makes for a more elegant plating this way, and you can still use the gingerbread crumbs/leftover in a delicious cheesecake or tiramisu. Then I simply added a slice of foie gras on top, the final touch being a pear-vanilla confit.
The pear-vanilla confit is made of pears and vanilla drowned in sugar, so it is very sweet and we usually serve a very small amount of confit to accompany a savory dish. We could also pair it with strong cheese such as a blue cheese. Here the combination between the spicy gingerbread, the rich and delicate flavor of foie gras and the pear-vanilla chutney leads to a fantastic explosion of flavors in your mouth. Serve it with a sweet wine wine such as a Montbazillac or Sauternes, or a dry white wine if you prefer.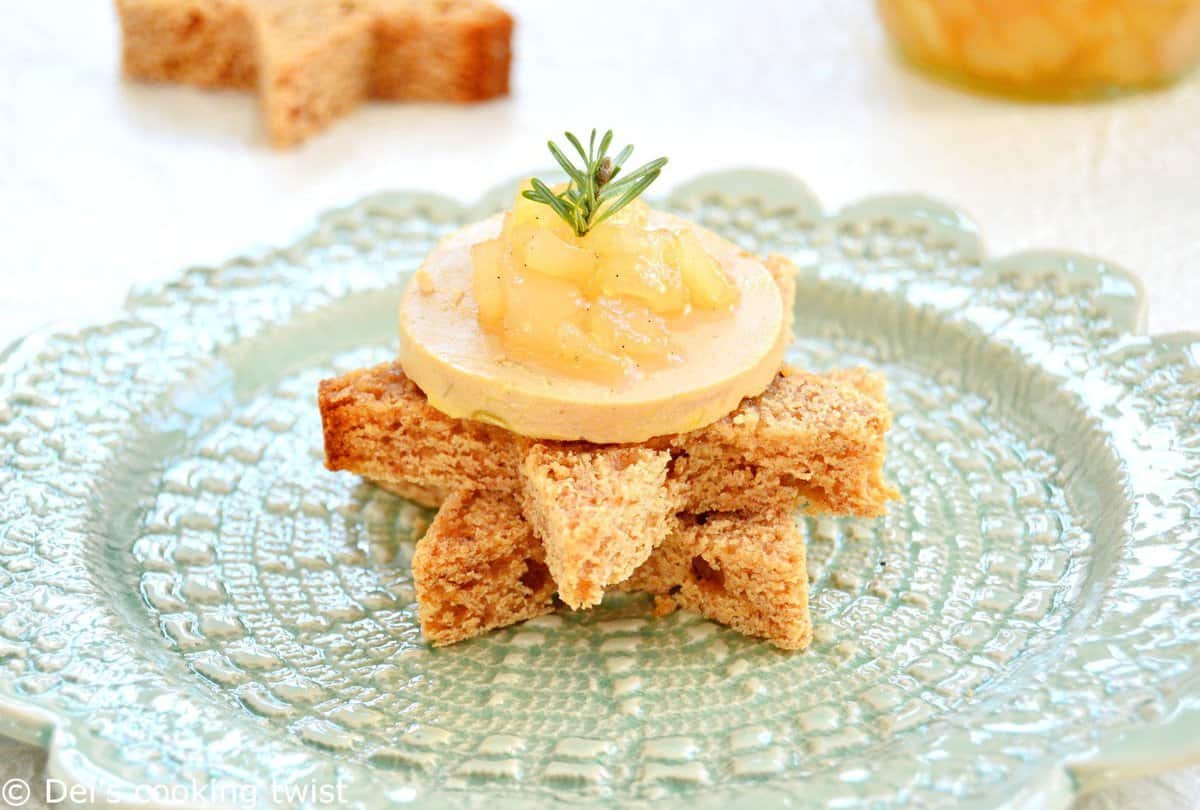 Print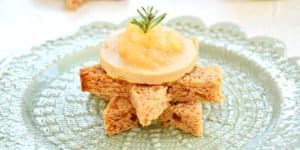 Star-Shaped Gingerbread Topped with Foie Gras and a Pear-Vanilla Confit
Author:

Prep Time:

1 hour

Cook Time:

1 hour 30 mins

Total Time:

2 hours 30 mins

Yield:

8

-

10

toasts

1

x

Category:

Savory

Cuisine:

French recipes
---
Description
This Christmas, treat yourself with a festive French gingerbread topped with foie gras and served with a pear-vanilla confit.
---
For the gingerbread:
2/3 cup

(

210g

) honey

1 cup

(

110g

) rye flour

3/4 cup

(

110g

) all-purpose flour

1/2 cup

(

110g

) cold plain milk

3 Tablespoons

(

40g

) caster sugar

1

pinch of salt

2 teaspoons

(

12g

) baking powder

2

large eggs

1/3 cup

(

75g

) melted butter

1 teaspoon

lemon zests

1 teaspoon

orange zests

1 teaspoon

all-spice

1 teaspoon

cinnamon
For the pear-vanilla confit:
4

large pears, peeled and finely diced

2 cups

(

400g

) caster sugar

1

vanilla pod

1

slice of lemon peel
For the foie gras:
1

bloc (7 oz/200g) foie gras
---
Instructions
Preheat the oven to 300°F (150°C). Grease a loaf pan with butter.
For the gingerbread: pour honey in a large bowl. Add rye flour and mix until well combined, using a hand mixer or a stand mixer with a paddle attachment on low speed. Incorporate one at a time all-purpose flour, cold milk, sugar, salt, baking powder, eggs and melted butter, stirring well after each addition. Add the spices and stir well.
Pour the batter into the prepared loaf pan and bake for about 50 minutes. When the gingerbread is lukewarm, unmold it and transfer to a wire rack to cool completely.
For the pear-vanilla confit: Place the pears into a large mixing bowl, cover with sugar and add the grated vanilla pod with the pod itself. Let sit for at least 3 hours.
Transfer into a medium-sized saucepan, add the lemon peel, and bring to boil on low heat, stirring occasionally. Lower the heat and let simmer for about 35 minutes (place a drop of confit onto a plate, if it's ready it will freeze instantly).
Remove the vanilla pod, and pour the confit into glass jars.
Slice the gingerbread into 8 to 10 slices, and using a cookie cutter, cut a star in the middle of each slice.*
Serve two stars of gingerbread on top of each other, add a slice of foie gras and garnish with the pear-vanilla confit. Grind fresh pepper on top for the final touch.
---
Notes
* Use the gingerbread crumbs/leftovers in a tiramisu or as the bottom part of a cheesecake.