Subtle and elegant, this variation around cauliflower in two textures and topped with a lovely walnut-cauliflower salsa makes for a very satisfying dinner.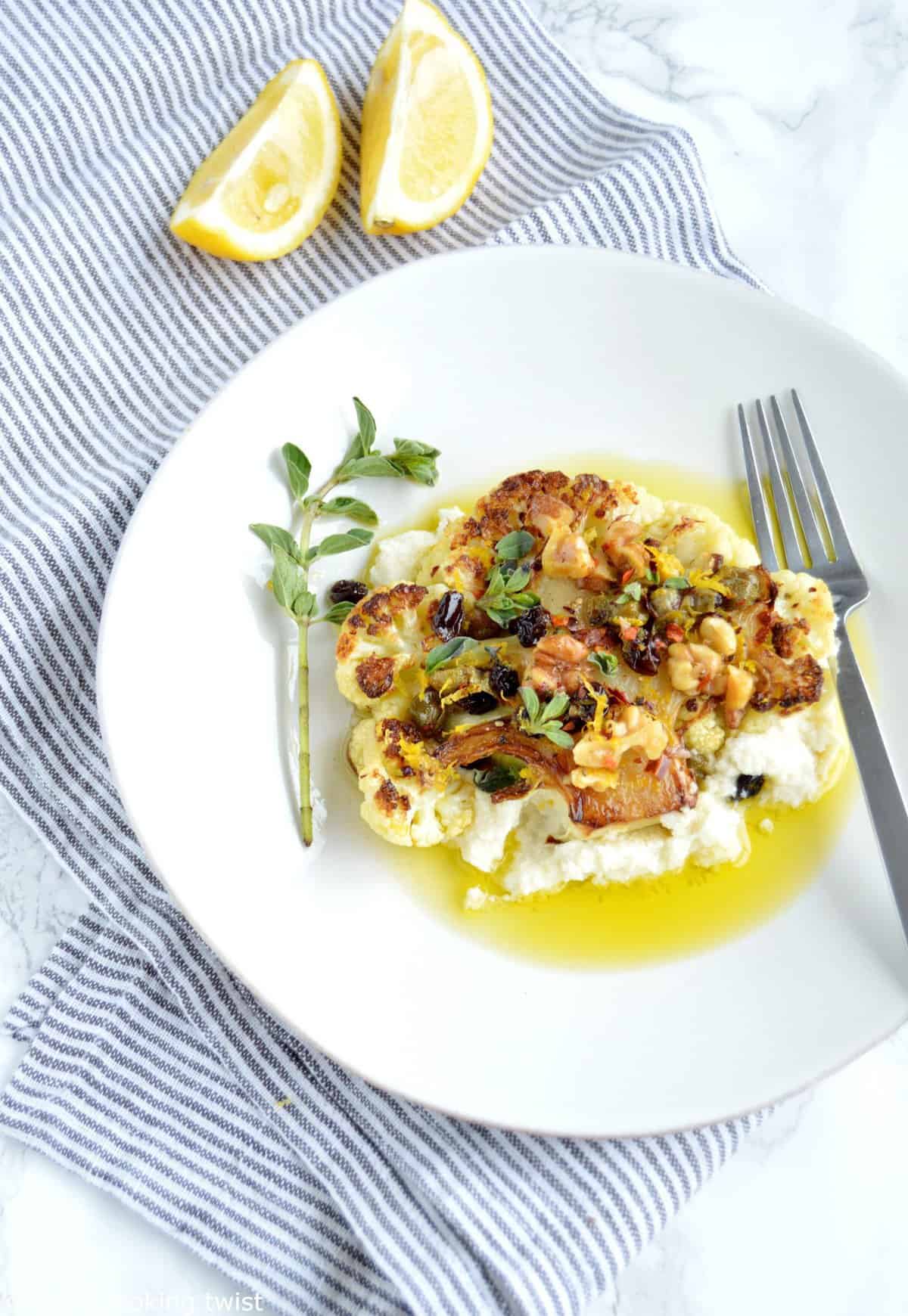 Often considered as a boring vegetable, cauliflower can be absolutely delicious when well prepared. Where I grew up in France, we used to enjoy it simply boiled with a vinaigrette or a béchamel sauce. Boring… Well, except that for some reason, I have always loved cauliflower nonetheless. I must be a weirdo! These last few years, I discovered new ways to cook it and realized you could actually make it much tastier and even turn it into a veggie everyone will agree to love. I am not kidding!
Among these recipes, there is of course the now popular cauliflower rice, consisting of pulsed cauliflower florets in a food processor to turn them into a sandy texture. My favorite way to enjoy it is in a Vegan chickpea curry. In this recipe, you simply substitute rice with cauliflower rice. You can even make a pizza dough out of cauliflower! If you are curious about it, just check my Veggie beet pizza with a cauliflower crust. I am also totally obsessed with roasted lemon cauliflower, that I used both in my Roasted lemon cauliflower and halloumi pita pockets with a vegan aioli, and in my easy Roasted cauliflower hummus with pita chips. Also, one of my favorite ways to cook cauliflower is in the oven, like I do in my Cauliflower Steaks with Harissa Tahini Sauce (vegan, gluten-free) or in this savory crumble with cauliflower and parsnip. All of these recipes are fabulous, easy to prepare, and make everyone happy!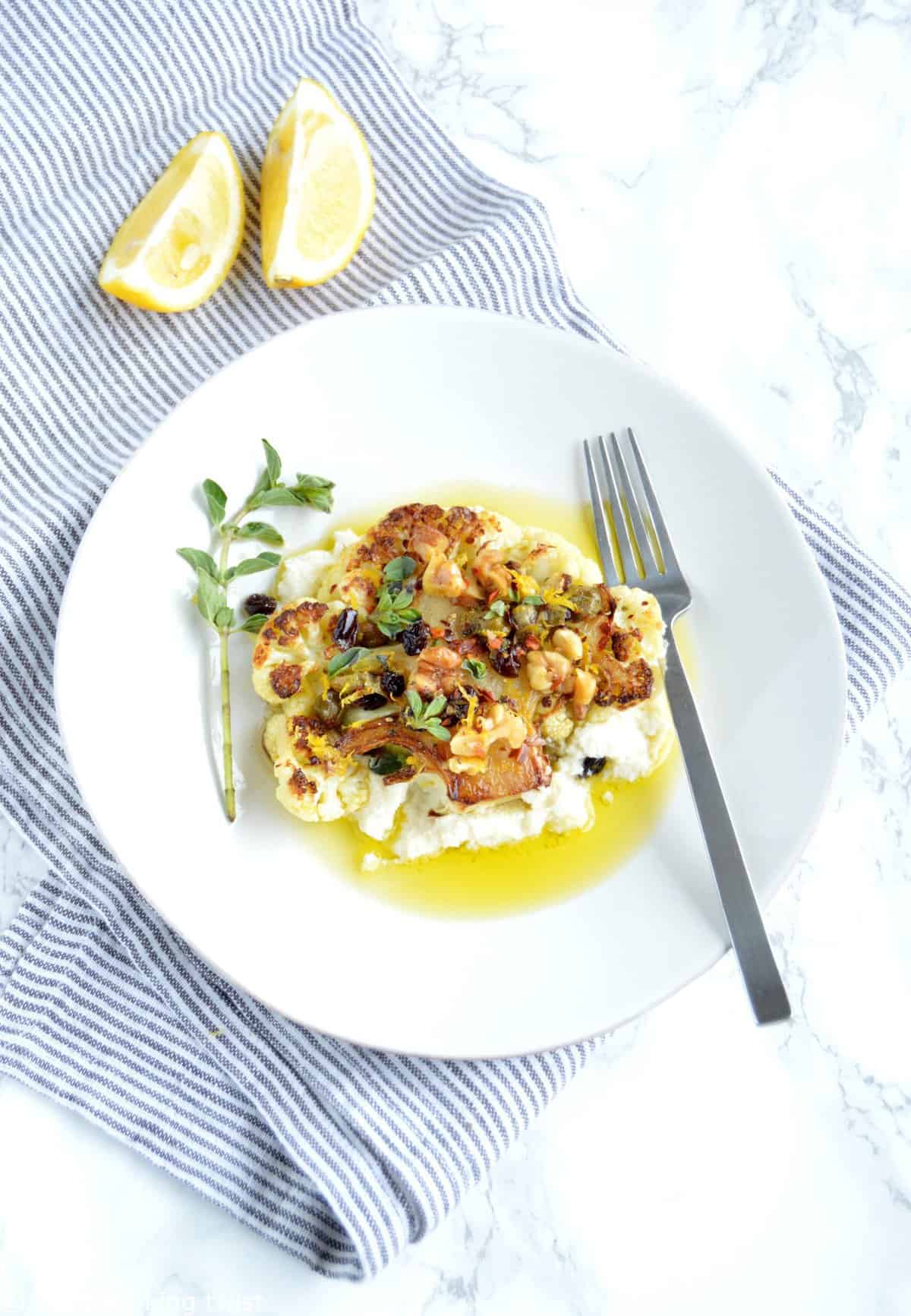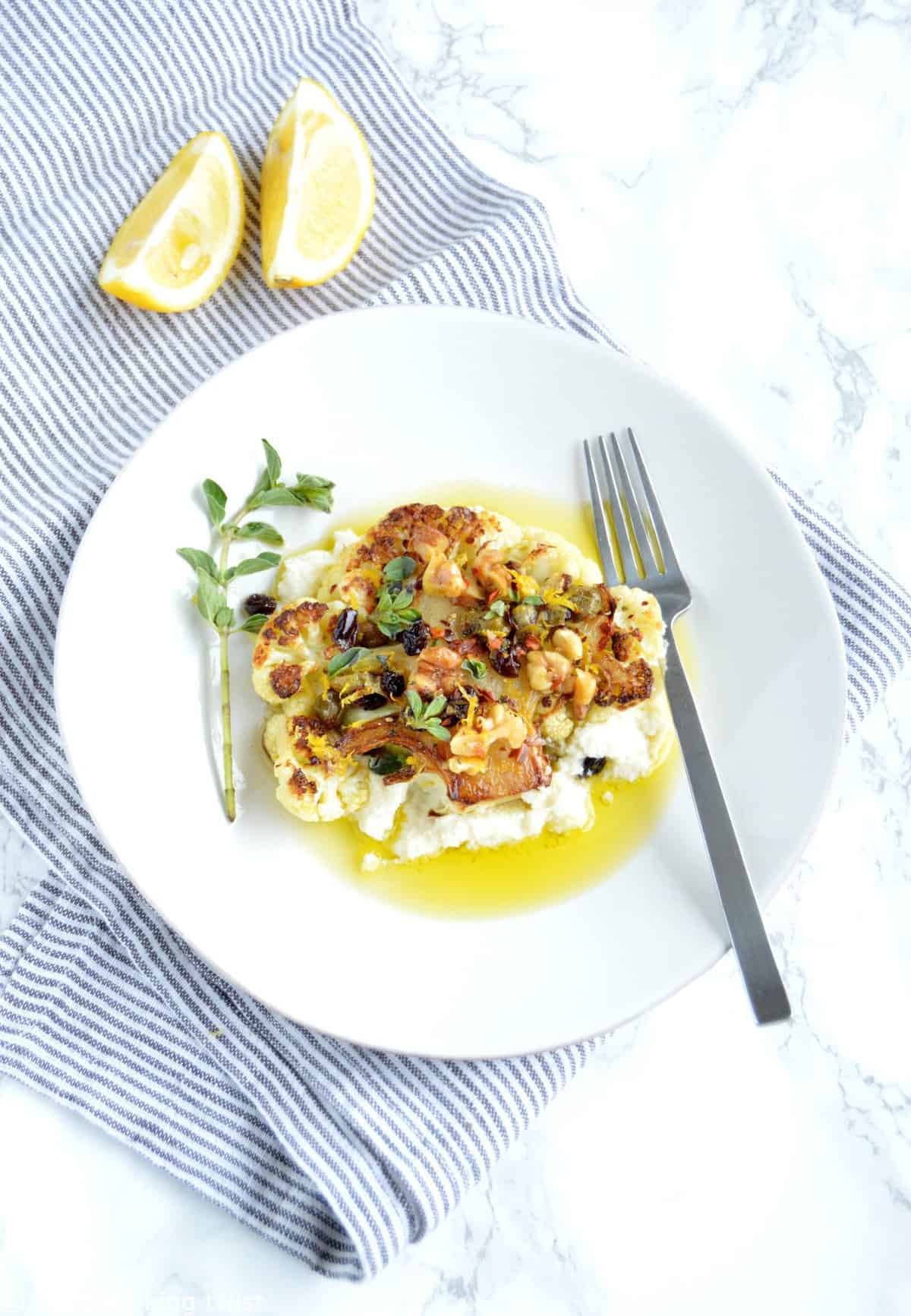 I should maybe now consider there is enough cauliflower recipes on my blog and focus instead on other veggies. But a couple of days ago I found another recipe in the paper edition of Bon Appetit magazine that immediately caught my eye. I couldn't help it, I had to try it too and loved it so much that I decided to simply share it with you, my dear readers, because I know you're gonna love it too.
Here, the cauliflower is not a side, it is the main and only ingredient of a full meal. With only one single cauliflower, we create a variation by playing with different textures contrasting with one another. The bottom part of the dish consists in a subtle cauliflower tahini puree, on top of which you have a roasted lemon cauliflower steak. To garnish the whole dish, we made a delicious walnut-caper salsa.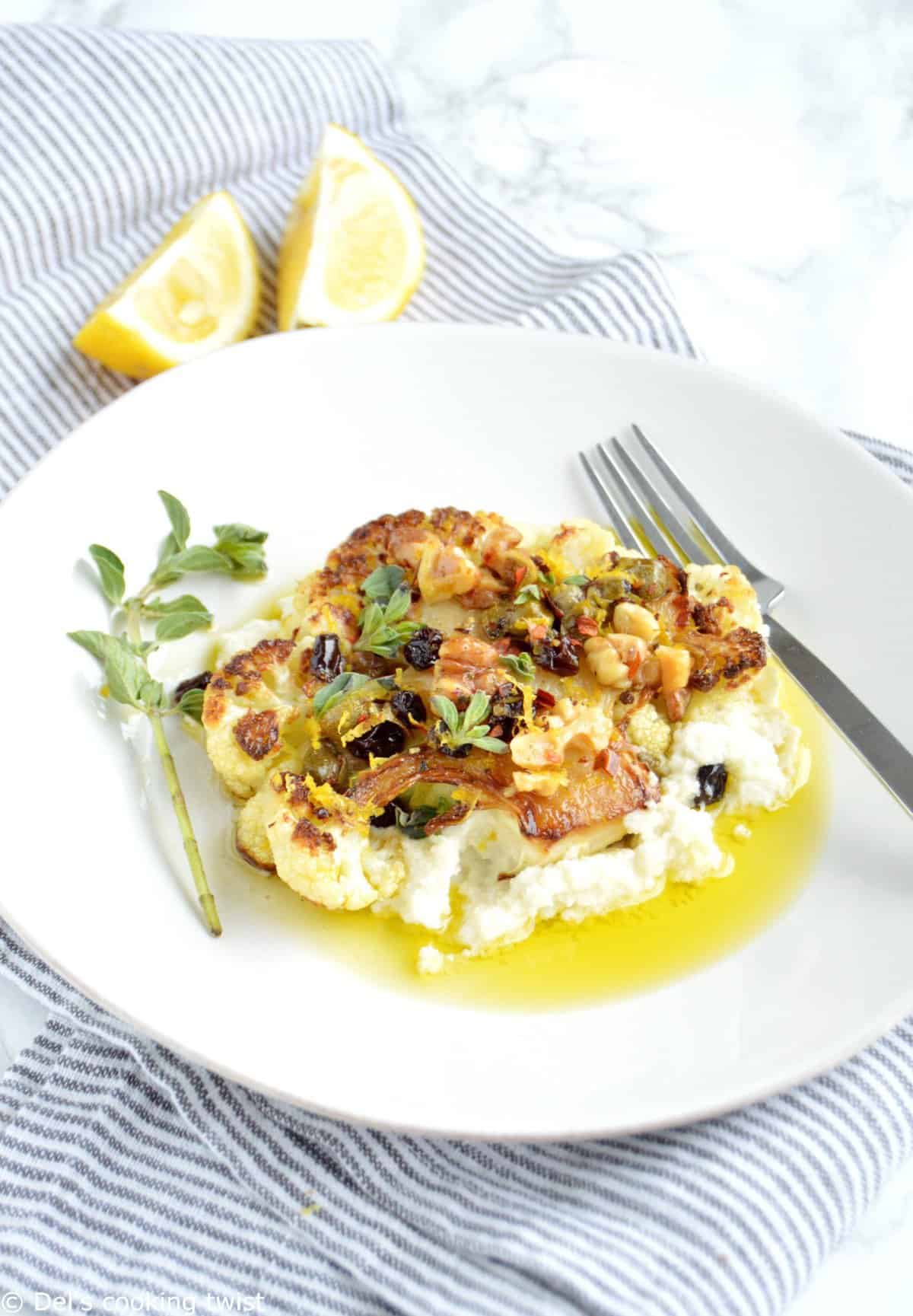 The cool thing in this recipe is that you actually use the entire cauliflower, not only the florets. Here, the latter are sliced into thick flat steaks, while the rounded edge as well as the stem and soft leaves are used to make the puree (you just need to get rid of the toughest leaves at the bottom part, if any). With one single cauliflower, you've got a main dish for two. How fun is that?
Don't be fooled, it's not because you use one single ingredient – or almost – that we're talking about using leftovers for a random everyday meal. Far from this, you get a very fancy dish instead, the kind of dish you would be served in a modern restaurant focused on fusion cuisine. Now let's ask a question you are probably asking yourself right now: but does a full meal based on vegetable satisfy one's appetite? Won't we leave the table starving? Thanks to its meaty texture, the cauliflower steaks will indeed do the trick very well, and combined with the nutritious walnuts of the salsa, you will find yourself just replete at the end of the meal.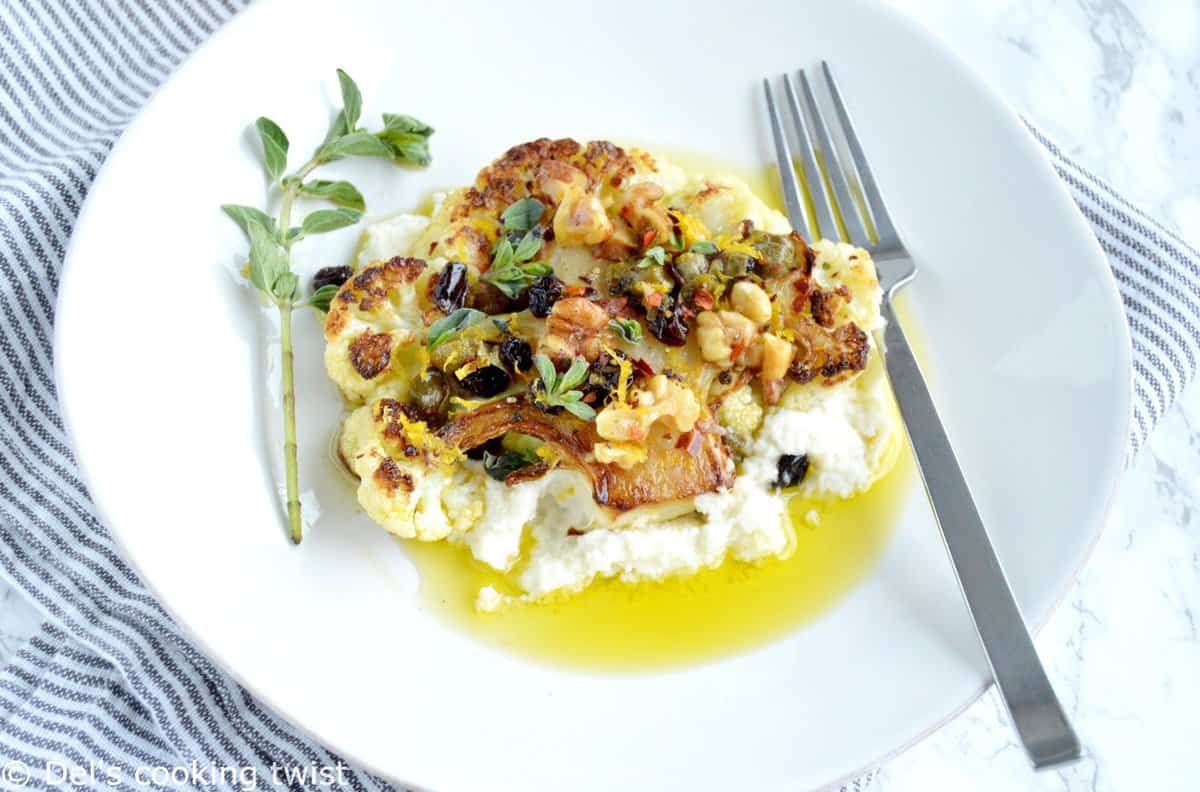 Entirely vegan and gluten free, this dish is also perfect for anyone following one of these specific diets. If, however, you do not mind the gluten, my recommendation is to serve the cauliflower steaks with some slices of bread, slightly toasted and garnished with garlic and olive oil. Enjoy with a glass of white wine, such as a Chardonnay or a Pinot Gris.
Print
Roasted Cauliflower with a Walnut-Caper Salsa (vegan and gluten free)
Author:

Prep Time:

1 hour

Total Time:

1 hour

Yield:

2

servings

1

x

Category:

Savory

Cuisine:

Vegan
---
Description
Subtle and elegant, this variation around cauliflower in two textures and topped with a lovely walnut-cauliflower salsa makes for a very satisfying dinner.
---
For the cauliflower steaks:
2 Tablespoons

olive oil

1 Tablespoon

unsalted butter

1

small head of cauliflower

2

sprigs oregano

1 1/2 teaspoon

lemon zests

1

pinch salt
For the cauliflower puree:
1 1/2 cup

(

500g

) reserved chopped cauliflower (from cauliflower steaks)

1

garlic clove, finely grated

2 Tablespoons

fresh lemon juice

2 Tablespoons

tahini
For the walnut-caper salsa:
1/3 cup

(

50g

) walnut

1/4 cup

(

60

ml) olive oil

2 Tablespoons

drained capers, patted dry

3 Tablespoons

coarsely chopped parsley

1 Tablespoon

dried currants

1 Tablespoon

red wine vinegar

1 teaspoon

finely grated lemon zest

1

pinch salt
To serve:
1/2

lemon, freshly squeezed
Salt and freshly ground pepper
---
Instructions
Preheat the oven to 425°F (220°C).
To cut the cauliflower: trim stem to create a flat base. Resting cauliflower on stem, cut in half from top to bottom, creating two lobes with stem attached. Cut off outer rounded edge of each piece in order to create two 1 1/2″ (about 3.5 cm)- thick "steaks". Very coarsely chop remaining florets (you should have about 1 1/2 cup). Set florets aside for making the cauliflower puree.
For the cauliflower steaks: heat oil in a large skillet over medium-high. Add butter and swirl until melted, then add the cauliflower steaks, oregano and lemon zest. Cook, gently lifting up cauliflower occasionally to let hot fat run underneath, until steaks are deep golden brown. Turn, season with salt, and transfer skillet to oven, roasting until stems are fork tender, 10-15 minutes.
For the cauliflower puree: cook cauliflower in a large saucepan of boiling water until very tender, 6-8 minutes. Drain. Pulse in a food processor with garlic, lemon juice, tahini, and one Tablespoon water until smooth. Season with salt.
For the walnut-caper salsa: preheat the oven to 350°F (180°C). Toast the walnuts on a baking tray covered with parchment paper, tossing from time to time until golden brown, about 7-10 minutes. Let cool, then coarsely chop.
Meanwhile, heat oil and capers in a small saucepan over medium heat, stirring often, until capers burst and are golden brown and crisp, about 5 minutes. Transfer carefully into a small heatproof bowl and let cool.
Mix walnuts, chile, parsley, currants, vinegar and lemon zest into cooled caper mixture. Salt.
To serve: spoon about 1/3 cup cauliflower puree onto each plate and place cauliflower steaks on top. Spoon some salsa over and sprinkle with salt and freshly ground pepper. Drizzle some fresh lemon juice, and serve immediately.
---