Lovely pumpkin spice madeleines, both fluffy and airy in texture. Served with a hot cup of tea, they are your perfect little sweet treat for cold days.
Winter is not over yet, and I'm not done with all the lovely warm spices we enjoy in this season. Well, I know that pumpkin spice actually starts even earlier, and we often link it to fall and pumpkin harvest with a pic around Thanksgiving. That's actually when I created this recipe for you but it somehow got lost in the middle of all my recipes… until today. I could have skipped it right now and kept it for myself until next fall, but I love it so much that I had to share it with you guys. After all, there is always a great excuse to eat madeleines, right?
As you might know already, madeleines are my thing and they always have been. I love their lovely bumpy shape, their cakey texture and fluffy, and let's just say they are absolutely adorable and perfect to accompany a cup of tea, coffee, or a cup of hot chocolate as I used to do as a kid. Also, I love the fact that they are so versatile and that there are endless possibilities to flavor them, in a sweet or savory version.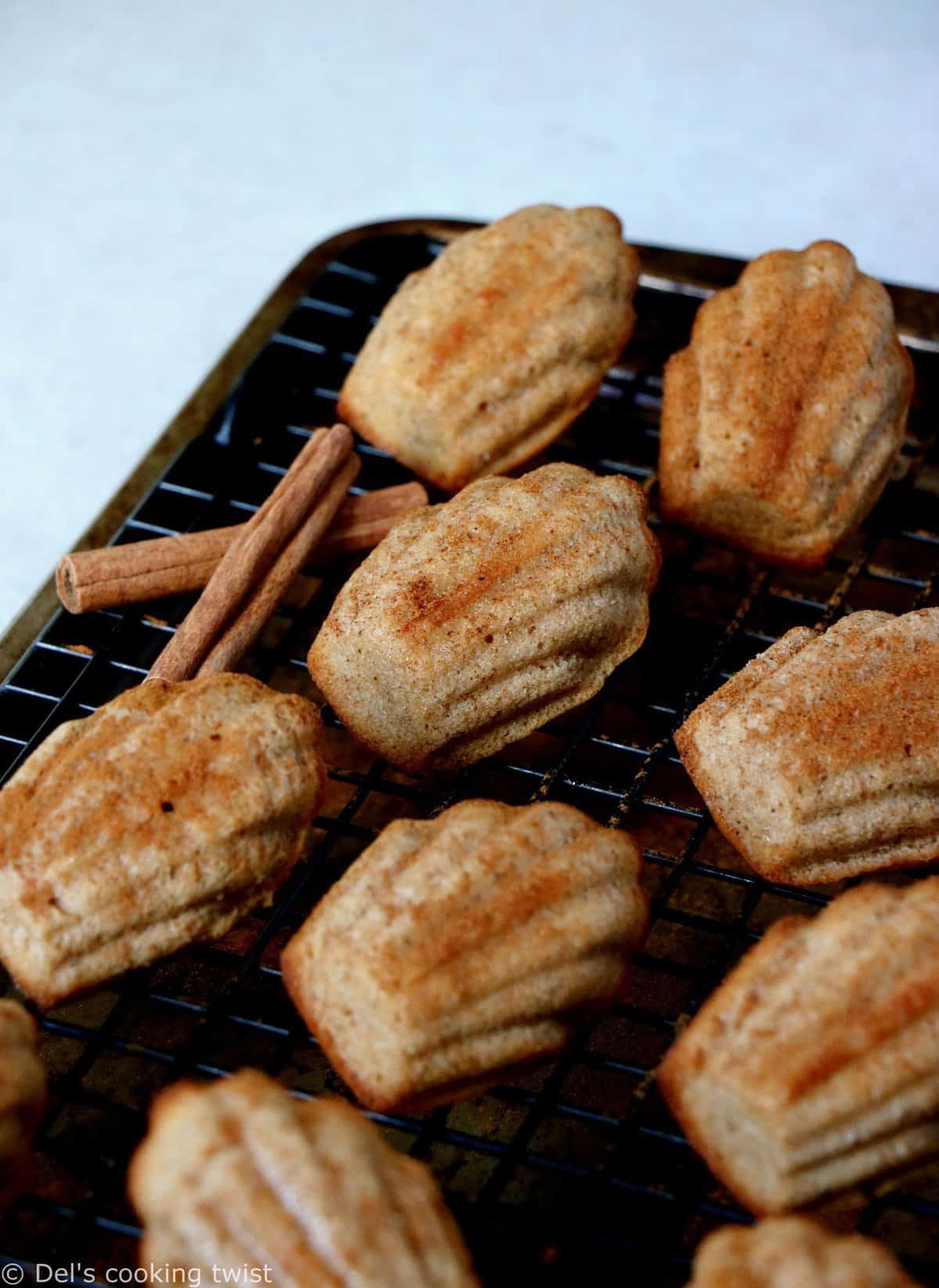 If like me you are crazy about madeleines, you should definitely check these ones too:
And if you ask me which one is my favorite, I simply can't answer to this question as it really depends on my mood, the season, etc. And even if pumpkin spice is closely linked to a certain time of the year, I think it doesn't bother me to have it in my madeleine year round, as I am absolutely crazy about this subtle cinnamon flavor paired with other spices such as ginger, nutmeg and clove. Note here that it's a pumpkin spice madeleine here, as opposed to a pumpkin madeleine that would have pumpkin puree in it. Here it's all about spices, and for the rest, you have the exact same texture as for a classic madeleine.
When I picture this precise pumpkin spice madeleine you have in front of you, I can't stop thinking about the day I served them to my guests. An adorable 2 year old kid were with us and he kept coming to the coffee table to grab some madeleines. Exactly as his mom, he's a madeleine freak, where other Americans would be donuts freak! I'm kind of both, as long as donuts are cakey/old-fashioned (not fried!) but my heart goes to madeleines first.
When it comes to the recipe itself, there is absolutely nothing difficult, and that's the beauty about it. With years and years of experience, I learned a few tricks however, like the one for the perfect little bump on top for instance. But I don't always want this lovely bump, as I really like to see the madeleines face down, showing us the delicate lines pattern instead. This characteristic pattern is not always easy to see, and it mainly depends on the madeleine baking pan you use. While many professionals would swear by the original stainless steel madeleine baking pan, coating the inside of each cavity with melted butter and flour, I prefer my silicone one, which is 100% non-stick and makes lines appear beautifully. Even if there might exist "right" or "wrong", I think we all need to make our own opinion and for me, the second one works better.
Besides this debate, there is also a few things to say about the ingredients. First of all, my advice is to whisk egg and sugar together until light and fluffy, about one minute. This will create air in the batter, making it airy. Also, I like to add a dash of milk, that make the madeleine soft. I really noticed the difference. Also, I would suggest you sift flour instead of using it plain, as it will improves the airy and fluffy texture of your lovely madeleines. I do not do it every time myself but I know it helps. Finally, the resting time is mandatory before you bake them, and don't forget to transfer your madeleines to a cooking rack once baked.
Now that madeleines have no secret for you anymore, go prepare these lovely madeleines, prepare yourself a hot cup of tea, and enjoy!
Print
Pumpkin Spice Madeleines
Author:

Prep Time:

10 mins

Cook Time:

10 mins

Total Time:

20 mins

Yield:

18

servings

1

x

Category:

Desserts

Cuisine:

American recipe
---
Description
Lovely pumpkin spice madeleines, both fluffy and airy in texture. Served with a hot cup of tea, they are your perfect little sweet treat for cold days.
---
2

large eggs

1/2 cup

(

100g

) sugar

3/4 cup

+ 1 Tablespoon (

100g

) all-purpose flour

¾ teaspoon

baking powder

1 1/2 Tablespoon

milk

1/3 cup

+ 1 Tablespoon (

100g

) butter, melted and cooled slightly

1 1/2 teaspoon

ground cinnamon

1/2 teaspoon

ground ginger

1/4 teaspoon

ground nutmeg

1/8 teaspoon

ground clove

1

pinch salt
---
Instructions
Brush the madeleine tray with melted butter or cooking spray, and shake in a little flour to coat, tapping out the excess.
Whisk together the eggs and the sugar in a bowl until frothy. Lightly whisk in the remaining ingredients. Leave to stand for 20 minutes.
Preheat the oven to 400°F (200°C).
Carefully pour the batter into the prepared madeleine tray, and bake for 8-10 minutes, or until the mixture has risen a little in the middle and is fully cooked through. Transfer the madeleines to a wire rack and leave for a few minutes to cool slightly.
---