I eat cake because it's somebody's birthday somewhere. Well, today it's my birthday and I'm happy to celebrate with you around this chocolate-mandarin meringue cake.
I have always loved birthdays and every year I like to make my birthday very special. While many people would rather forget about it (especially when getting older), it is for me something I care about. I don't mind the presents but I like the idea of the birthday cake, the birthday party, and the simple fact of having a special day just for me, myself, and I. No matters how old I am (I'm turning 22 for the fifteenth time!), I always love my birthday and I think it will continue my entire life. So if you're very close to me, you'd better not forget my birthday. Just kidding of course!
For every special occasion, I believe there must be a beautiful cake to celebrate, along with some sparkling drinks to make the event even more festive. Who's with me here? Today's cake is a sumptuous, elegant winter dessert that could equally be served as a birthday's cake or as a wedding cake for an intimate wedding party. Made with several layers of pure love and covered with a delicate Italian meringue shaped with golden swirls gently brown with a torch, this chocolate-mandarin meringue cake has a stunning look.

The multiple layers' base is made here of a biscuit with a light and airy in texture, unlike many layer cakes that usually have a very filling texture. It is indeed a recipe traditionally used for yule log, and I like how it behaves here: the cake is perfectly flat (you don't want to have it bumpy when used for a layer cake), and you can enjoy a huge slice without having this feeling that the cake is too heavy.
The cake itself is not very large in diameter as I used a 7-inch round form, but has 4 layers of cake, which is enough for 10-12 servings in total. The layers of cake are alternatively covered with a chocolate ganache and a mandarin curd, both homemade of course. The two pair very well together and bring a perfect winter touch to the cake. There is not much to say about the chocolate, as you can never go wrong with chocolate anyway, as long as you use a chocolate of good quality (it's key!).
The mandarin curd was however a first time for me. I preferred here mandarin over oranges, as the their taste is a little bit sweeter and also more subtle an gentle the taste of oranges. The madarin curd recipe is extremely simple and turns out great, thick and creamy, in just a few minutes. It is by far the best curd recipe I have ever made. You may have some curd left after spreading onto the different layers of the cake ; just keep it for later to serve with pancakes, crepes or onto a generous slice of brioche.
Spread alternatively the mandarin curd and the chocolate ganache onto the layers, covering with a last layer of cake. It is then time to prepare the Italian meringue, which is much easier to make than it might seem at first. I recommend however the use of a thermometer as it helps to have a better control over the syrup temperature. Once ready, cover the cake with the meringue, drawing some swirls with a spoon, the fun part being the use of the torch for a beautiful white and golden final touch.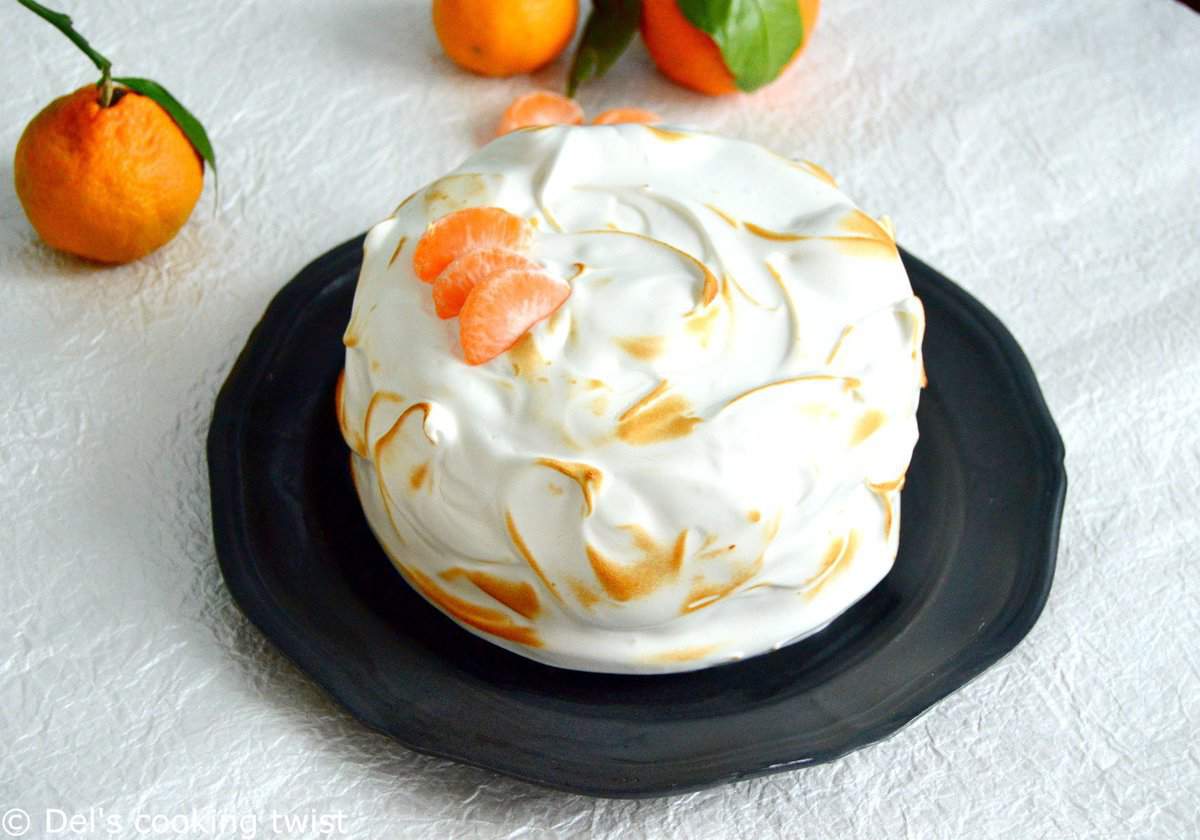 And tadaaa, the chocolate-mandarin meringue cake is now ready! Happy Birthday to me 🙂
Print
Outrageous Chocolate-Mandarin Meringue Cake
Author:

Prep Time:

1 hour 30 mins

Cook Time:

25 mins

Total Time:

1 hour 55 mins

Yield:

10

-

12

servings

1

x

Category:

Cakes and Pies
---
Description
I eat cake because it's somebody's birthday somewhere. Well, today it's my birthday and I'm happy to celebrate with you around this chocolate-mandarin meringue cake.
---
For the chocolate filling:
2 Tablespoons

mandarin zest

1/2 cup

(

70g

) dark chocolate, 70% cocoa

1/4 cup

(

60g

) unsalted butter

1 1/2 Tablespoon

(

25g

) confectioner's sugar

2 Tablespoons

(

15g

) unsweetened cocoa powder

1 Tablespoon

(

15g

) sugar
For the mandarine curd:
1/3 cup

+ 1 Tablespoon (

100

ml) mandarin juice

3/4 cup

(

140g

) sugar

2

large eggs

1/4 cup

(

65g

) softened butter, diced
For the cake:
9

large eggs, white and yolk apart

3/4 cup

(

150g

) sugar

3/4 cup

(

90g

) corn starch

3/4 cup

(

90g

) all-purpose flour
For the syrup:
1

lemon, juice

1 Tablespoon

(

15g

) caster sugar
For the Italian meringue:
1/2 cup

(100ml) water

1/2 cup

(

100g

) caster sugar

2

egg whites
---
Instructions
For the chocolate filling: zest one mandarin. Melt chocolate and butter in the microwave or in a small saucepan. Add in the icing sugar, cocoa powder and mandarin zest. Stir well.
For the mandarin curd: peel the madarin and mix them in the food processor. Pass them in the strainer to have only 100 ml juice, if possible. Pour the juice in the food processor, add the sugar and the eggs and mix again. Transfer to a medium-size saucepan over low heat and add the butter. Stir constantly until the butter melts. Increase the heat and continue stirring until you get a thick creamy consistency. The curd is ready when it coats the back of a spoon.
Preheat the oven to 340°F (170°C) and line a 7-inch round form spring form with parchment paper.
For the cake: beat the whites until almost fluffy and add sugar. Slowly incorporate yolks with a rubber spatula. Add corn starch and stir well.
Pour one fourth of the batter into the prepared form and smooth the surface. Bake for about 8 minutes. The sponge cake must be supple.
In the meantime, prepare the syrup by combining the ingredients together.
Wait a few minutes until the cake cools, then brush one fourth of the lemon-sugar syrup on top evenly to moister the cake.
Repeat 3 times with the remaining batter, so that you get 4 layers of cake.
Assemble the cake: place one layer on a tray, and spread the mandarin curd over. Top with second layer of cake and spread the chocolate filling over. Top with a third layer of cake and top with the mandarin curd. Finally top with the fourth layer of cake.
For the Italian meringue: mix water and sugar in a small saucepan, and heat the syrup to 240°F (115°C) without stirring.*
Beat the whites and when they are foamy but not yet firm. Very gradually stream the hot sugar syrup into your egg whites as they continue to whip on low to medium speed. Once you've added all of the syrup, increase the mixer speed to medium-high. Continue mixing until the meringue reaches stiff peaks.
Cover the cake with the Italian meringue, using a tablespoon to make some swirls. Gently brown with a hand held torch to create golden swirls.
---