This delicious Greek zucchini salad with chicken, feta cheese and olives is healthy, rich in omega-3 fatty acids, and packed with protein. Wrapped in a mason jar, it makes a beautiful gluten-free lunch box for summer days.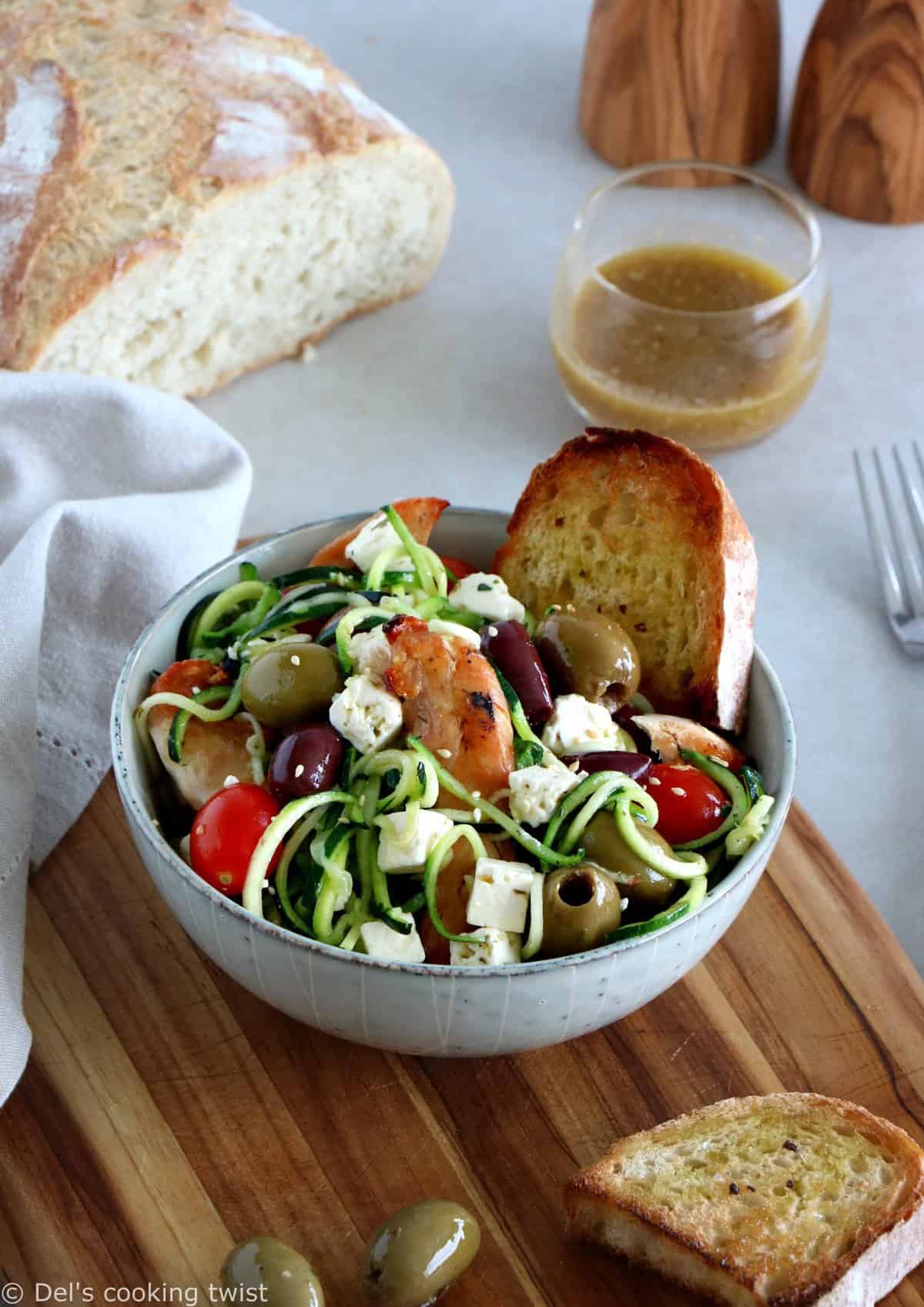 Finally spring has sprung here in Chicago. The sun is out, temperatures much warmer, and the trees have started to show their new tiny green leaves or pink or white flowers. This is such a feeling! Winter has been very, very long this year and this beautiful weather brings me joy and hope for the future, with new projects in mind. It also set my mood in a healthier lifestyle: I want to run more, do more yoga, and eat healthier with more seasonal and fresh ingredients.
Back in Sweden a few years ago, I used to have lunch near my work in a tiny place where they served the best salad in the whole world. Nothing super fancy, but a salad with fresh and high quality ingredients, with a perfect seasoning. I promised myself that I would one day share it on my blog but for some reasons I never did… until today! This recipe is perfect for spring and summer days, bring vitamins, protein, and wellness to your plate.
If you have been following me for a while, you might have noticed that I almost exclusively eat plant-based foods, and occasionally with fish. In fact, I kind of became flexitarian over the last few years, eating mostly plant-based recipes, occasionally fish, and very rarely meat. I believe we need to eat more plant-based recipes in general, both for environmental reasons as the Earth cannot provide enough resources on the long run and also for healthier reasons as the meat industry has become insane over the last 50 years. Through my recipes, my philosophy is to encourage people to eat more plant-based recipes on a daily basis.
That being said, I do not call myself vegan or vegetarian, I guess I'm just a conscious eater who cares about what I eat, which produces and ingredients I choose. With this reasoning, chicken had definitely became on my dark list after I watched a few documentaries showing the chicken industry, which is among the worst one you can find, and especially if you live in the US where the use of antibiotics and other unnecessary added hormones, etc, is a common thing.
While I was becoming almost vegetarian, I surprisingly encountered after a few years that my body was sometimes asking for more animal plant-based protein, something I absolutely never expected as I have never been a big meat eater. I think it's important to listen to your own needs however, as we are constantly evolving, our body changing, etc. So I embraced this idea without being rude to myself; I listened to my needs, and sometimes ordered a piece of meat at the restaurant when I felt like it and knew it was high quality meat only.
More recently, I found myself buying chicken breast, that I paid a fortune as I wanted it organic, with no antibiotics or added hormones, free range, and vegetarian fed. You might think I'm a little too obsessed here; I just call myself a (wanna be) conscious eater. So here I am today, with a chicken salad recipe that is actually good for you if you make sure you purchase high quality chicken – otherwise, just replace with chickpeas or any alternative plant-based protein of your choice as I did in my awesome Greek zoodles with sun-dried tomatoes and spiced roasted chickpeas recipe.
So what is this healthy and naturally gluten-free Greek salad made of?
Vitamins & Fiber: zucchini or "zoodles" as we call them (spiralized zucchini), cherry tomatoes
Protein: chicken breast
Calcium: feta cheese
Fatty-acids: gorgeous olives and olive oil
With this salad, you embrace the healthy Greek diet, considered as one of the best diet in the world based upon the people's longevity in this region. I have never been there but I feel close to this diet which is more a lifestyle than a diet, featuring sun-drenched juicy vegetables, among others. Pack this salad in a mason jar and it will make a perfect well-balanced lunch on the go. You will love summer in your plate!
Print
Healthy Protein-Packed Greek Zucchini, Chicken & Feta Salad
Author:

Prep Time:

15 mins

Cook Time:

5 mins

Total Time:

20 mins

Yield:

4

servings

1

x

Category:

Savory

Cuisine:

Healthy
---
Description
This delicious Greek zucchini salad with chicken, feta cheese and olives is healthy, rich in omega-3 fatty acids, and packed with protein. Wrapped in a mason jar, it makes a beautiful gluten-free lunch box for summer days.
---
For the salad:
4

medium zucchini, spiralized

2 Tablespoons

olive oil, divided

1/2

lb (250g) chicken breast

5.25 oz

(

150g

) herbed feta cheese, drained

2

–

3

Tablespoons green and black olives

5 Tablespoons

cherry tomatoes
Salt, to taste
For the vinaigrette:
3 Tablespoons

extra virgin olive oil

1 Tablespoon

red wine vinegar

1 teaspoon

Dijon mustard

1

small garlic clove, minced
Salt & freshly ground pepper
---
Instructions
Spiralize the zucchinis using a spiralizer or a potato peeler. Heat one Tablespoon of olive oil in a frying pan and saute the zucchini for a couple of minutes, tossing well. Remove from heat and transfer to a large mixing bowl. Reserve.
Heat the remaining olive oil in the frying pan and cook the chicken breast on both sides, until golden, about 5 to 10 minutes depending on their size. Cut into smaller pieces.
Add chicken breasts, feta, olives, and cherry tomatoes to the large mixing bowl with zucchini. Toss well, and refrigerate until ready to serve.
Prepare the vinaigrette by whisking all the ingredients in a small bowl. Reserve.
When ready to serve, pour the vinaigrette over the salad and toss all the ingredients together until the vinaigrette is evenly spread. Enjoy with freshly grilled bread brushed with olive oil and garlic for extra taste.
---