This Haunted House Halloween Cake is spooky, terribly delicious, and super fun to create – and devour! – with kids. A lovely project for your next Halloween party!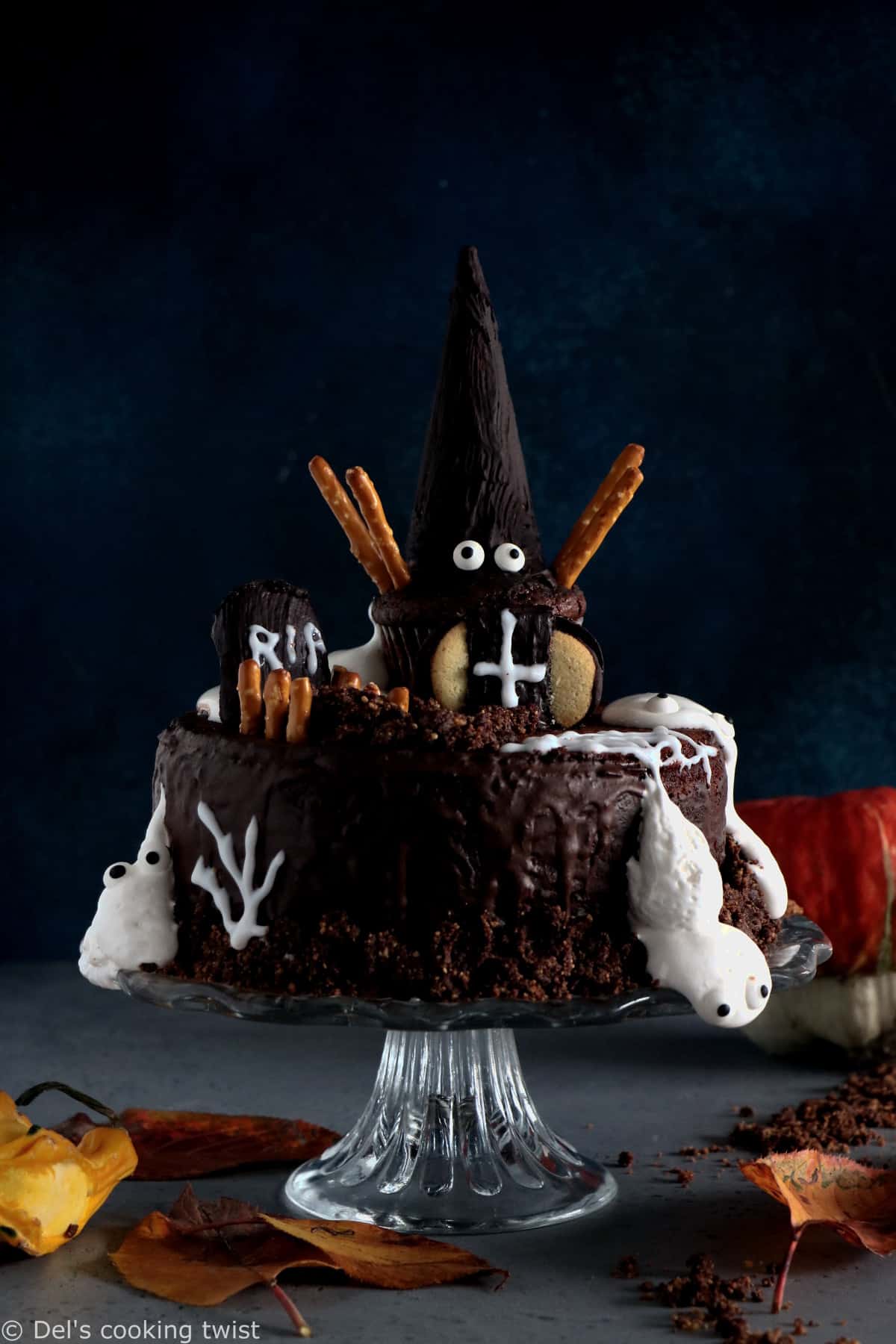 If you're looking to bake a dessert for Halloween but don't want to compromise between a fun DIY and real food, this Halloween cake is for you. As much as I love Halloween decorations, I'm always a little bit reluctant when it comes to create Halloween recipes that involves tons of candies, food coloring, and so on. As a result, and except for these PB & Jelly Mummy Hand Pies, there are not many Halloween recipes on the blog.
This year again, I found myself out of inspiration to create something simple yet impressive and delicious. Then I thought about this haunted house! Not the cookie one, that is always tricky to assemble and takes hours to make for a so-so result. No, a SIMPLE Halloween cake, with a mile-high moist chocolate cake, a muffin house with biscuits, and some marshmallow ghosts. It's scary easy and yummy!
Ingredients you need
The first thing you need to before you start this project is to make sure you have all of your ingredients. Here's a little check-list with basic ingredients, and another one with special ingredients (and alternatives, if needed).
Basic cake ingredients include: eggs, milk, butter, sugar, all-purpose flour, unsweetened cocoa powder, baking powder, vegetable oil, baking chocolate, whipped cream.
Special ingredients:
1 ice cream cone
Milano cookies (Pepperidge Farm)
Graham crackers biscuits, or similar cracker biscuits (Digestive, Lotus Biscoff, etc.).
Marshmallow cream. See note below for your own version and possible variations.
Pretzel sticks. Alternatively, you can use Mikado/Pocky biscuit sticks)
1 white icing pen
Candy eyes
A simple chocolate cake + muffin!
It all starts with a very basic chocolate cake, prepared with basic ingredients. This doesn't mean it does not need to be tasty! I wanted the cake to be light in texture and moist, with a strong flavor of chocolate. So I used buttermilk (make your own, it's easy! Check my note at the bottom of the recipe), vegetable oil instead of butter and cocoa powder rather than baking chocolate. The cake itself could be enjoyed as it is.
A small round springform + a muffin tin. I insist on the muffin tin, because it's really easy to forget to pour the chocolate batter in 2 different forms when baking. And if you forget the muffin, there's no house to your cake. So don't omit it! While a regular-size muffin tin will do, make sure you choose a small 6-to-8 inches non-stick springform, if possible with removable bottom.
When your cake is ready, let it cool, then trim off the top part so it's flat on both sides. Then, turn it upside down to make sure you decorate the perfectly flat side rather than the trimmed one.
Cookies to decorate the cake
There are 3 different cookies used in this recipe: the Milano Pepperidge Farm cookies, the Graham Crackers, the Pretzel Biscuits Sticks. Prepare/cut/Crumble all your cookies in advance while cake is baking so there are ready to use.
Milano Pepperidge Farm Cookies. To create the grave, you need 1 whole Milano cookie, to create the door you need to trim it to give it a rectangle form, to create the shutters, you need the upper and lower part of one Milano cookie.
Pretzel Biscuits Sticks. You use them for the grave and for the house arms (yes, the house has arms!).
Graham Crackers. They create the chocolate soil on top of the grave and also all around the cake. There are many other types of biscuits you could use instead. Even Pretzel biscuit crumbs would do if you don't want to end up buying 3 different kind of cookies.
Icing the cake and other decorations
There are 2 different kind of icing here: the chocolate one you use for the cake and the white icing pen for small detail decorations.
Chocolate icing. I use a very basic one here, so be reassured, you can do it too! Just make sure you use it quickly enough so it does not harden during the icing process. You want to use the chocolate icing for:
The chocolate cake
The ice cream cone
The upper part of the muffin (so the ice cream cone can stick to it)
The Milano biscuits (for the grave + the door)
White icing pen. The pen is used to create some spider webs here and there on top of the cake and on the side. You can also use it to create the windows on the door and to write the R.I.P. on the grave.
Candy eyes. Make sure you don't forget the eyes, they are what makes the cake spooky!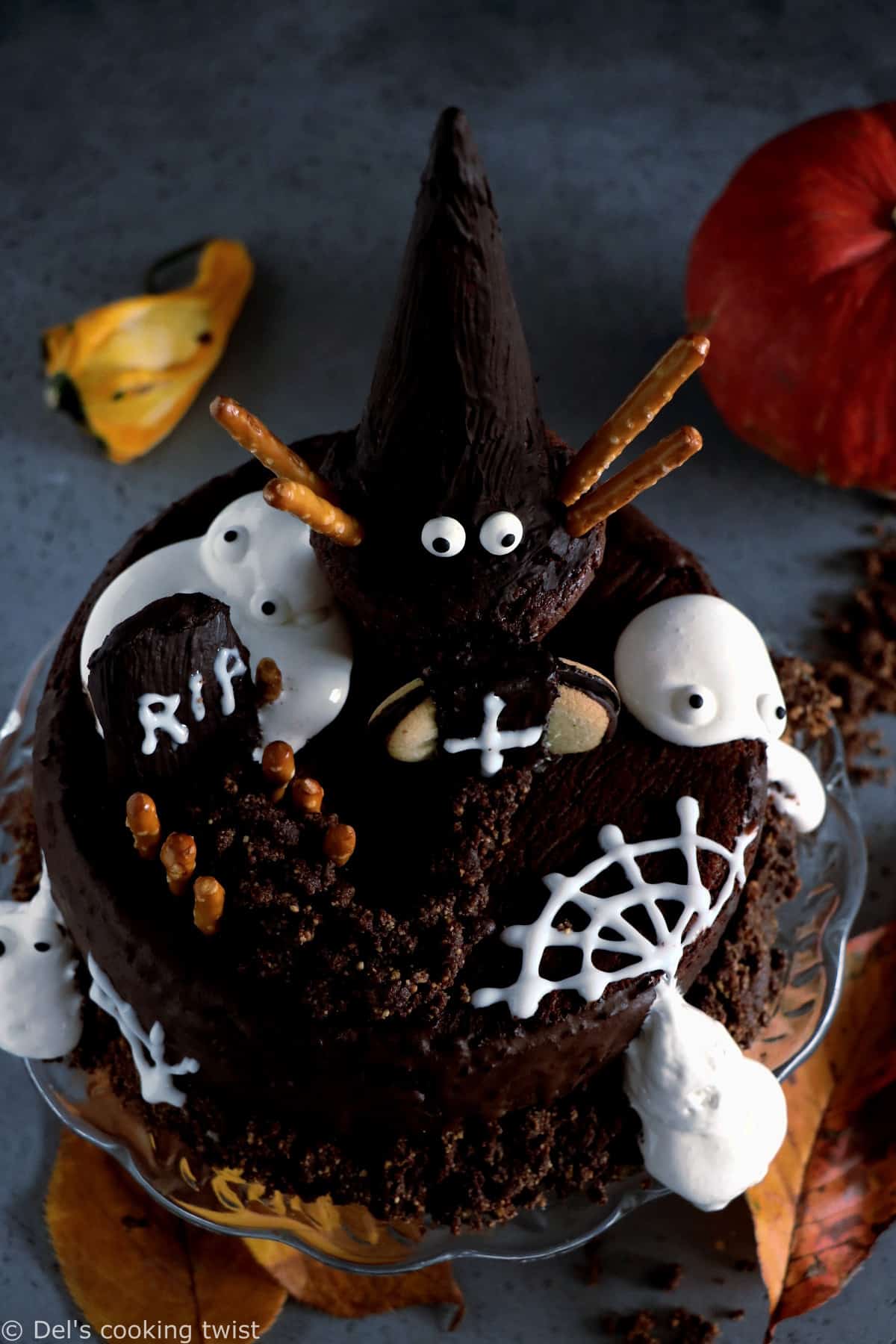 A spooky ghost decoration!
Exceptionally I used Marshmallow cream fluff for this recipe. But if you are a strong believer of using natural ingredients only, you have options. You can for instance create your own marshmallow cream using this recipe, use this delicious Italian meringue (I LOVE this recipe) but just skip the torch-part, or you can also create classic meringues baked in the oven. In this last option, the ghosts will be hard in texture instead of chewy in the two other options but they will also keep longer.
Which shape to give to my marshmallow ghosts? To this, I would simply say: don't overthink! Fill a piping bag with marshmallow cream and pipe over the cake directly in small amounts. Some will spread out as you go but it's ok, it just makes them even more spooky! If you really want to give them a meringue shape, you will probably get best result with homemade meringue. In any case, don't forget the eyes, whether you use candy eyes or just draw them with some dark chocolate.
More Trick-or-Treat Recipes
If you've been following me for a while, you know that I strive to use natural ingredients in my recipes. This goes for Halloween too! Here are a few trick-or-treat recipe ideas for your little ones:
And don't forget a few savory recipes to balance the sweets and prevent the sugar rush! A few snacks I recommend are these Carrot and Turmeric Hummus, these Sweet Potato Toasts with Kale Guacamole, the Perfect Guacamole Recipe, and the Tarte Soleil Appetizer of course!
Lastly, if you make this Haunted House Halloween Cake, be sure to leave a comment and/or give this recipe a rating, letting me know how you liked it. And of course, don't forget to tag me on Instagram! Thank you and enjoy!
Print
Haunted House Halloween Cake
Author:

Prep Time:

1 hour

Cook Time:

45 mins

Total Time:

1 hour 45 minutes

Yield:

12

servings

1

x

Category:

Cakes and pies

Cuisine:

American

Diet:

Vegetarian
---
Description
This Haunted House Halloween Cake is spooky, terribly delicious, and super fun to create. A lovely project for your next Halloween party!
---
Chocolate cake + 1 huge muffin:
2 ¼ cup

(

275g

) all-purpose flour

1 cup

(

90g

) cocoa powder, unsweetened

1 ½ Tablespoon

baking powder

1

pinch of salt

6

large eggs

1 cup

(

200g

) sugar

1 cup

(

240

ml) buttermilk, homemade*

1 teaspoon

vanilla extract

1 cup

(

240

ml) vegetable oil, neutral in taste
For the chocolate icing:
5.3 ounces

(

150g

) baking chocolate, chopped into small pieces

3 Tablespoons

(

60g

) unsalted butter, softened at room temperature

3 Tablespoons

(

45

ml) whipped cream
Cake decorations:
1

ice cream cone

4

Milano cookies

1

white icing pen

16

pieces (50g) graham crackers biscuits, crumbled

2 teaspoons

butter, melted

2 teaspoons

cocoa powder, unsweetened

½

jar (100g) marshmallow cream**

4

Pretzel sticks
Candy eyes
---
Instructions
For the cake:
Preheat the oven to 350°F (180°C) and grease a 6 or 8-inch (15-20 cm) non-stick round pan and a muffin tin (for 1 muffin only). Set aside.
In a small bowl, mix all-purpose flour, cocoa powder, baking powder, and salt. Set aside.
In a large mixing bowl, whisk eggs, sugar, buttermilk, vanilla extract and vegetable oil until combined. Add the dry ingredients to the wet ingredients.
Pour the batter into a muffin tin filled until two thirds, then pour the remaining batter into the prepared round pan.
Bake for about 20 minutes for the muffin and 45-50 minutes for the cake, or until a toothpick inserted into the center comes out clean. Remove from the oven and let cool completely.
Once cooled, trim the top part of the cake so it is flat, then invert the cake upside-down onto a cake stand***.
Icing and icing decorations:
Chocolate icing: For the chocolate icing, place chocolate and butter into a bowl. Add water to a saucepan, place bowl on top and heat in a water-bath, whisking constantly until smooth and shiny. Remove from heat, whisk in the whipped cream, then place it back on low heat and whisk until it thickens a little. Use immediately or the icing will harden.
House roof: Brush the cone with the chocolate icing in a thin layer. Add candy eyes, then transfer to a plate and place in the refrigerator until set.
Grave + Door + Shutters: Cut Milano biscuits to create the grave, the house door and the shutters. Cover the grave and the main door with chocolate icing, and stick the shutters to the door, using chocolate icing as a glue. Place in the fridge to set. Once chocolate has hardened, use white icing pen to write R.I.P with on the grave, and draw a cross on the door to create the windows.
Cake + Muffin icing: Cover the top of the muffin with chocolate icing, place the ice cream cone on top and stick it onto the cake.
Now cover the sides of the cake with the remaining chocolate icing, using a large icing spatula. Place in the refrigerator until set.
When icing is set, place the muffin on top of the cake, then draw a few spider webs, using the white icing pen.
Other cake decorations:
Ghosts: Transfer marshmallow cream to a piping bag and pipe a few ghosts onto the cake. It's ok if their shape is more or less spread out. Don't forget to add candy eyes!
Cocoa soil + Fence: Mix biscuit crumbs with melted butter and cocoa, and crumble it over the cake in front of the grave and all around the cake.**** Add Pretzel sticks to create the grave fence, the house arms, and that's it!
---
Notes
* For homemade buttermilk, pour 1 teaspoon fresh lemon juice or white vinegar into a measuring cup, then cover with milk until it reaches 1 cup. Give a good stir, and let sit for 5-10 minutes before using.
** For homemade marshmallow ghosts, you can use this recipe.
*** Useful tip to ensure cake is fixed to the cake stand: Drop ½ teaspoon of chocolate ganache in the center of a cake stand, and place the cake on top, upside down. You can use the same trick to stick the chocolate muffin onto the cake.