French leek quiche is a classic winter weeknight dinner in France and perfect after a long day skiing. Entirely plant-based and prepared with Comté cheese (you can use Gruyère too), this dish is full of comforting flavors. Pair with a glass of white wine and you've got it all!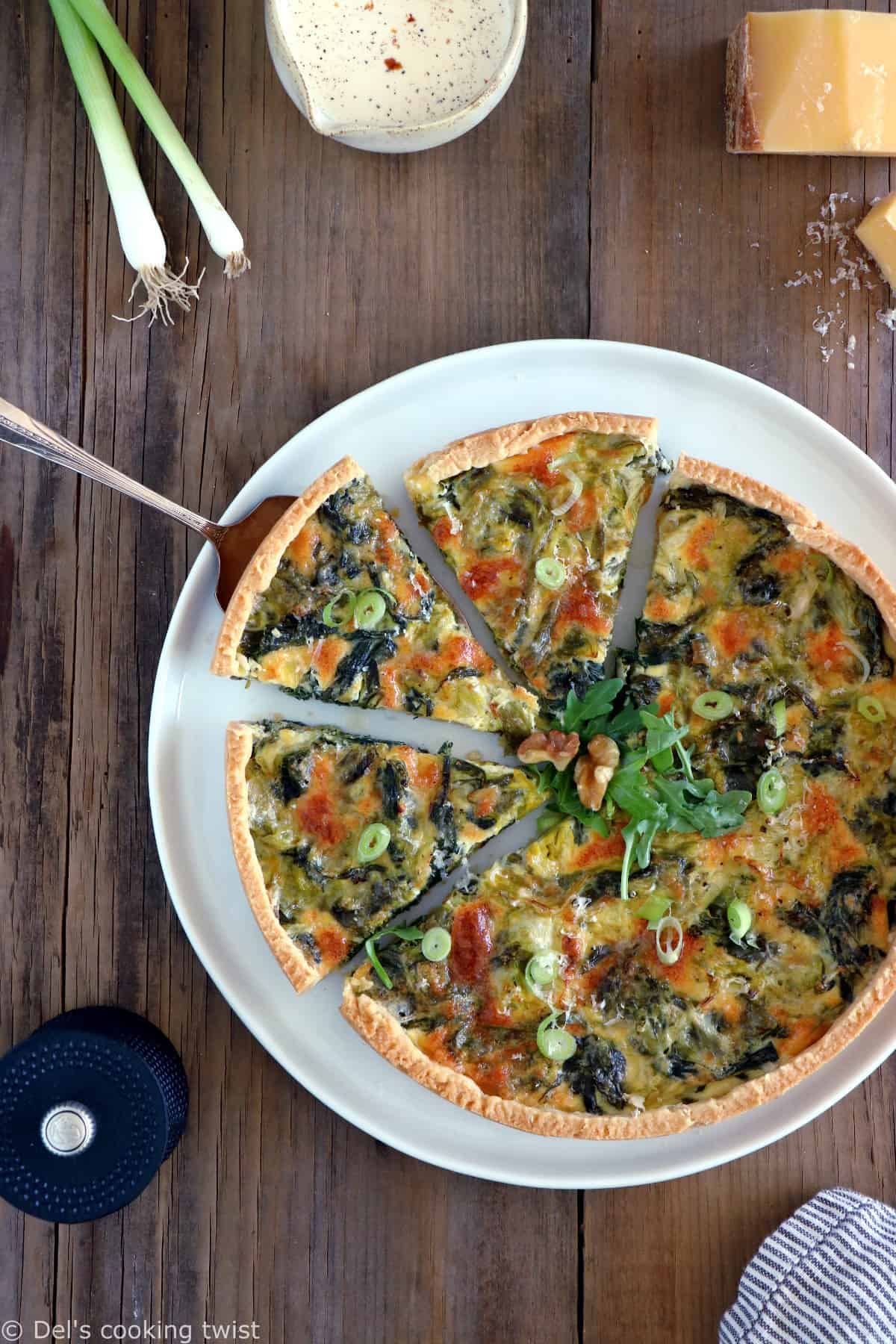 I grew up with a regular French leek quiche on the table every so often. I still remember my grandmother who would spend a couple of days a year to harvest all the leeks, wash and prepare them. In the end, she would dice it, store into ziploc bags and place in the freezer for further use. This way, we would have leek at hand year-round, ready for any type of recipe, ranging from leek and potato soup to leek quiche, among many other leek recipes.
Ever sine I moved to the US however, my consumption of leeks have been decreasing constantly, until I almost forgot about them. For some reason, it seems that leek is not very popular here and kind of gets lost among all pumpkin and sweet potato recipes in winter. Recently, when talking to a French friend, she told me she usually cook leek once a week. I, myself, couldn't remember when was the last time I had some. So I decided to fix that, grabbed a few stalks of leeks and got started in the kitchen.
How to make French leek quiche?
As often with French cuisine, and against popular belief, making leek quiche is pretty simple and won't take you long.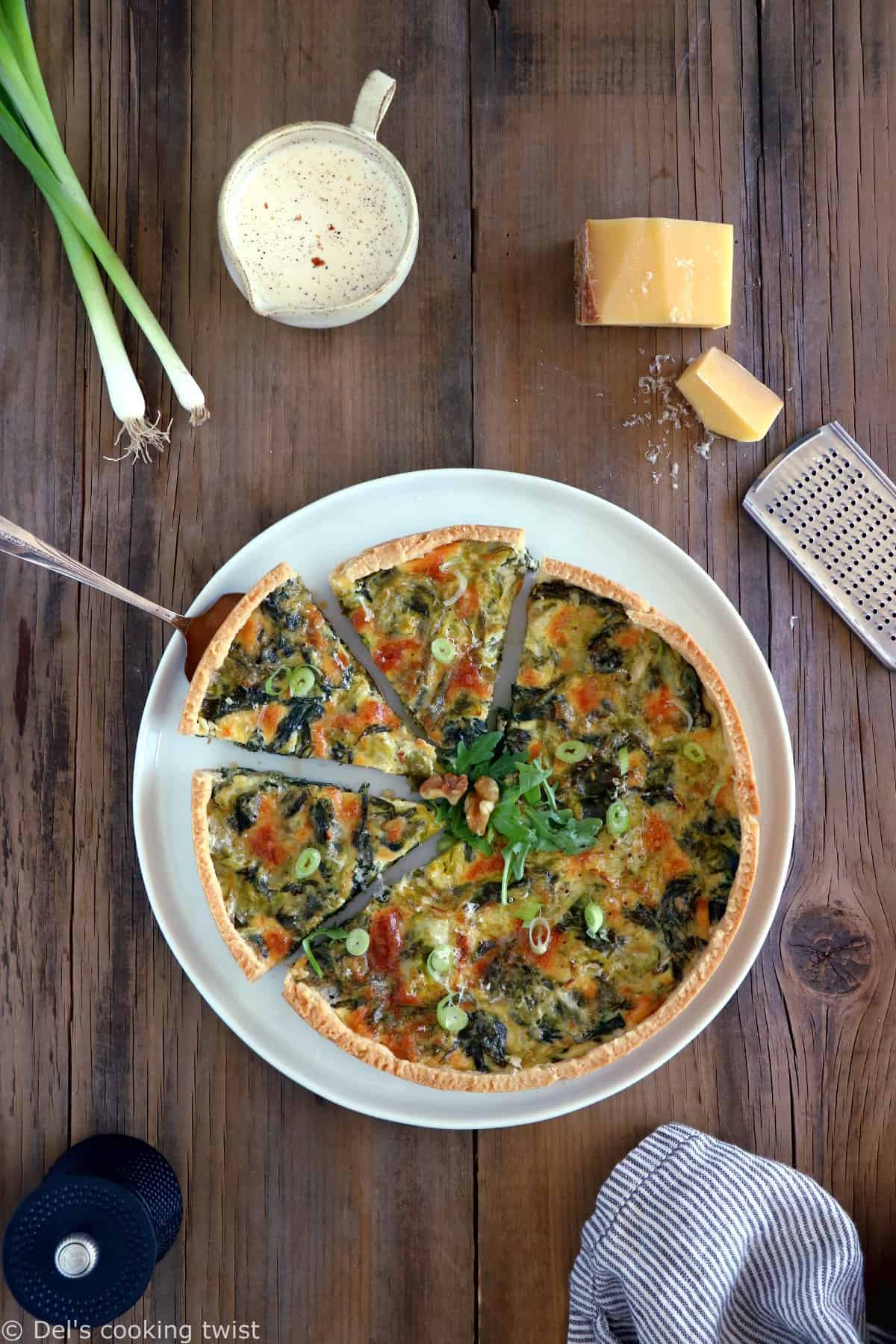 Start with pie crust – Try to make it homemade. It won't take you long and tastes way better than a store-bought one, no comparison asked. Roll out the dough into a large circle and line a pie dish.
My personal tip for meal prep is to double or triple the quantities of ingredients, then divide the dough in two or three equal parts, keep one for the recipe and freeze the other ones wrapped in cling film for later use. This way, you always have homemade crust at hand.
Then, cook the leeks – This step can take a little bit of time, considering that you will first need to wash the leek to make sure you remove sand hidden in some parts. I chose here to cook the leek wholes or halved in a high volume of boiling salted water. Once soft and tender, make sure you drain well in a colander and pat-dry with paper towel. This step will prevent leek from soaking the bottom of the crust.
Prepare the quiche batter – This is a pretty simple one, featuring eggs and heavy liquid cream, and some basic seasoning: salt, freshly ground pepper, and a hint of nutmeg (optional).
To assemble the quiche – Slice two thirds of the cheese into thick layers and lay over the bottom of the crust. Sprinkle some semolina all over – this will help to absorb the extra humidity of leek. Then cover with leek, and pour the egg batter all over. For the final touch, grate the remaining third of the cheese over the top and your quiche is ready to go to the oven!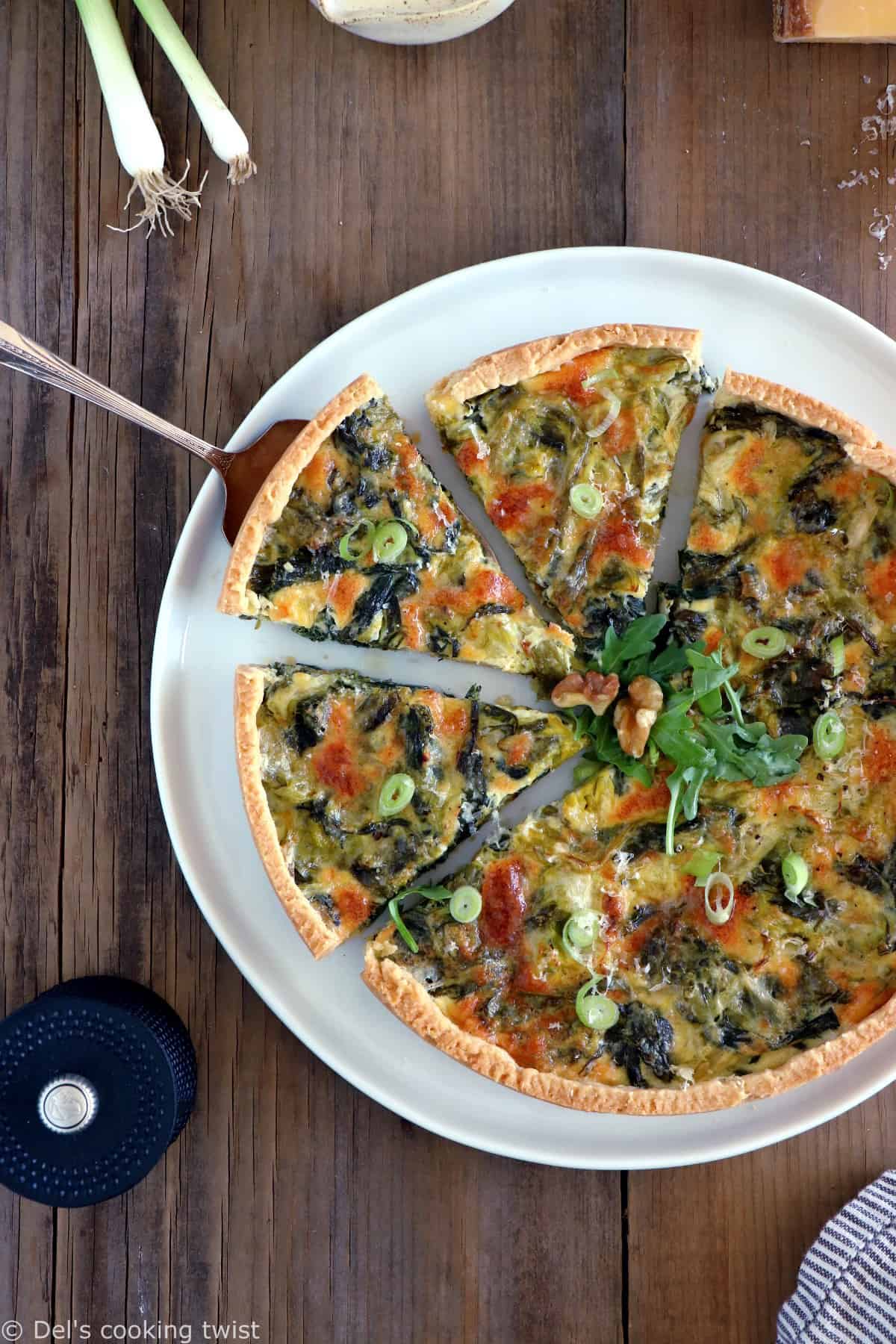 Which cheese should I use?
Depending on where you live, you might not be very familiar with Comté cheese. Comté used to be my very favorite cheese as a kid, before I decided I loved all sorts of cheese and couldn't pick a favorite.
Comté cheese belongs to the hard cheese category. It's a French cheese made from unpasteurized cow's milk in the Franche-Comté traditional province of eastern France. It has a mild and slightly sweet taste with a hard and flexible texture of creamy yellow color.
I find that Comté cheese is the one that pairs best with leek in this quiche, but you could possibly replace it with Gruyère if you would like to. If you are wondering what is the difference between the two, remember that Swiss Gruyere is aged for only three months while the French Comté is aged for a minimum of six months and is often aged for twelve months. This longer aging process brings out a bolder and richer flavor.
Personally, I would stick to one or the other cheese, but feel free to explore and try any other hard cheese that is close to these two. And if you try, please let me know. I strongly believe that recipes are meant to evolve with time and nothing makes me happier than when a recipe of mine inspires you to create your own version. That's how recipes passed along from generation to generation and will continue to do so in the future, whether you get a recipe from your mother or from internet.
More quiche recipes to try right now:
Print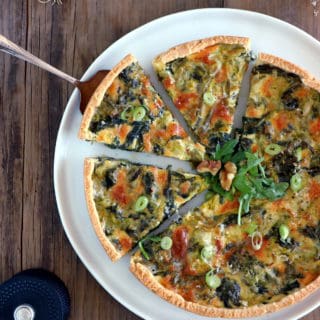 French Leek Quiche with Comté Cheese
Author:

Prep Time:

45 mins

Cook Time:

30 mins

Total Time:

1 hour 15 minutes

Yield:

6

-

8

servings

1

x

Category:

Quiches and pizzas

Cuisine:

French
---
Description
French leek quiche is a classic winter weeknight dinner in France and perfect after a long day skiing. Entirely plant-based and prepared with Comté cheese (you can use Gruyère too), this dish is full of comforting flavors. Pair with a glass of white wine and you've got it all!
---
For the dough:
1

stick (125g) unsalted butter

1½ cup

(

180g

) all-purpose flour

2

–

3

Tablespoons cold water
For the filling:
3

large leeks, white and light green part only

5.3 ounces

(

150g

) Comté cheese*

1 Tablespoon

semolina

3

large eggs

3/4 cup

+ 1 Tablespoon (

20

cl) heavy whipped cream

1/4 teaspoon

ground nutmeg
Sat and freshly ground pepper
---
Instructions
For the dough:
Preheat the oven to 390°F (200°C). Dice the butter and mix quickly with the flour and the water until the ingredients stick together and form a firm dough.
Roll a large disk and line a spring form with the crust, about 9-inch (22-23 cm) in diameter.
For the filling:
Cut away the root and dark green leaves from the leeks and cut in half lengthwise. Run under cold water to remove sand. Cook in a high volume of boiling water with salt, until leek are soft and tender. Drain in a colander, pat-dry gently with paper towel, and set aside.
In a medium size bowl, beat the eggs with the cream and season with salt, pepper and nutmeg.
Slice two thirds of the Comté cheese (3.5 ounces/100g) into thick layers and spread out at the bottom of the pie crust. Sprinkle with semolina all over to prevent the leek from being too juicy and soaking the dough. Cut leek roughly and spread all over the pie.
Finally pour the egg mixture over the pie, and grate the remaining one third of the cheese (1.7 ounces/50g) on top.
Bake for about 30 minutes and serve warm, alongside with a glass of white wine.
---
Notes
* If you have a hard time to find Comté cheese, you can replace with Gruyère cheese or any other hard cheese with strong notes.
Advance preparation: The crust will keep for a few days in the refrigerator and freezes well. The finished quiche will keep for up to a week. Warm in a low oven before serving.
Keywords: French leek quiche