Go veggie with this fancy vegetarian spinach grilled cheese sandwich with sun-dried tomatoes and pine nuts. Easy and quick to prepare, it's perfect for any occasion!
Today, let's dress up a classic sandwich with its most beautiful apparel, all in a round shape instead of the traditional square one. Immediately it becomes classy and appealing, whatever you decide to put inside. Who would believe such for a sandwich, usually considered as a quick on-the-go option when not unhealthy junk food? You'd be surprised: sandwiches can sometimes be extremely sophisticated, delicate and tasty!
In order to give my sandwiches a round shape, I used a stainless steel round form (you can choose the size you want, as long as it is smaller than the slice of bread). Note that I first pre-toasted the bread first, so that it becomes easier to cut the circles. You could of course cut directly into the fresh slices of bread but the edges will not be as precised. Try not to pre-toast too long, as the toast will be also toasted a second time in the frying pan with some butter later on.
If you don't feel you are on the fancy side or if you simply run out of time but still want to make yourself some delicious sandwiches, go for regular bread slices and trap your cheese and veggies inside, following the recipe instructions. You can also play with the bread, using white, whole wheat, or grains and seeds bread, depending on your taste or your mood.
Now what's inside these sandwiches? Yes there is cheese, I could not help it! Here I mixed fresh goat cheese and ricotta to get a milder taste (the goat cheese can be a little bit strong for some people), and added heavy whipped cream to make the texture more supple and easier to work with. Adjust the whipped cream quantity as it suits you, but keep in mind that the mixture should remain thick enough ; you don't want you cheese to run away from your sandwich while cooking in the pan!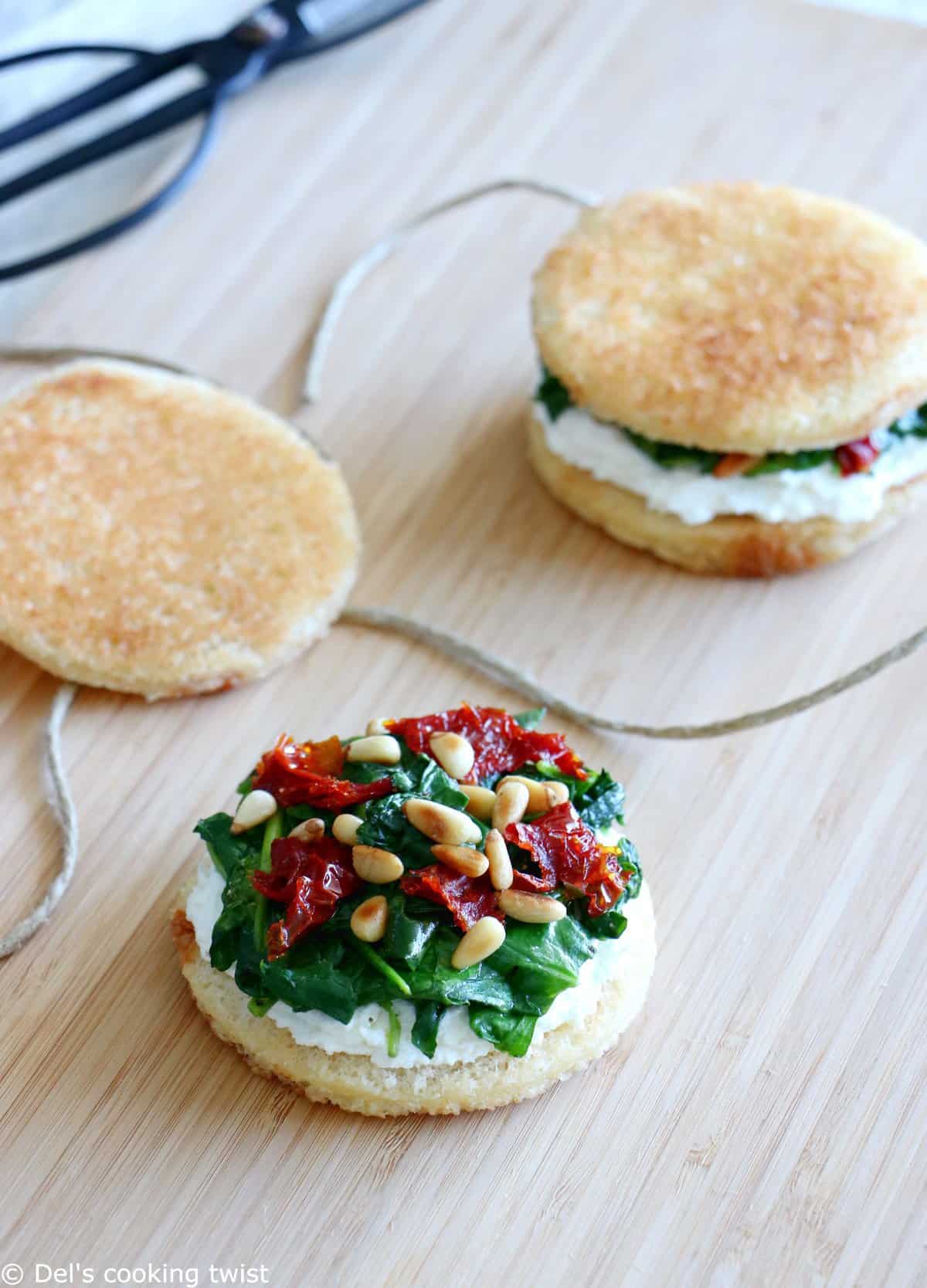 Then I added some veggies, spinach and sun-dried tomatoes to be exact. Here spinach are cooked with olive oil and garlic to give some extra taste (do not overcook, spinach reduce quickly). Then you can squeeze in some sun-dried tomatoes in between the cheese-spinach part and the bread. I used sun-dried tomatoes soaked in oil in a jar, but you can use other kinds (just plain dried tomatoes, without any addition) if desired. On top, I sprinkled some toasted pine nuts because they pair so well with the sun-dried tomatoes, plus they add a little crunchy taste with a subtle nut flavor to the sandwich.
In the end, it's really easy as a piece of cake. The only secret is to make sure that the butter melts evenly on the bread to give a subtle hazelnut taste to the bread, and to ensure the inside is warm enough before serving – you know it's ready when the cheese starts to melt on the sides. For meatless Monday or whenever you fancy eating veggies, this is the go-to recipe to have in mind!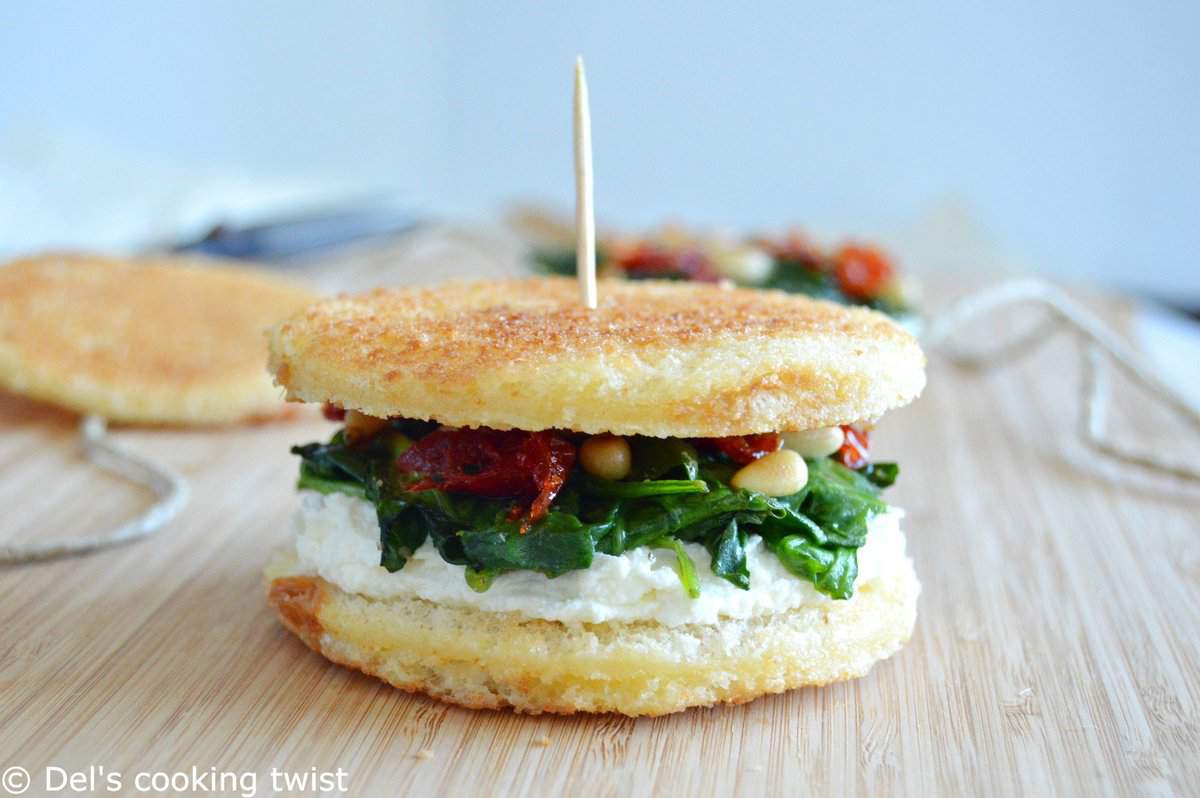 Print
Fancy Spinach Grilled Cheese Sandwich
Author:

Prep Time:

20 mins

Cook Time:

10 mins

Total Time:

30 mins

Yield:

4

servings

1

x

Category:

Savory

Cuisine:

Vegetarian
---
Description
Go veggie with this fancy vegetarian spinach grilled cheese sandwich with sun-dried tomatoes and pine nuts. Easy and quick to prepare, it's perfect for any occasion!
---
8

slices bread (either white, whole wheat, or grains & seeds bread)

1/4 cup

(

60g

) fresh goat cheese

1/4 cup

(

60g

) ricotta cheese

1/4 cup

(

60g

) heavy whipping cream
Salt & Black pepper

1 Tablespoon

olive oil

1 cup

(

225g

) baby spinach

1

garlic clove, minced

2 Tablespoons

(

30g

) pine nuts

1/3 cup

(

20g

) sun-dried tomatoes, chopped

2 Tablespoons

(

30g

) butter
---
Instructions
Slightly toast the bread slices in the toaster.
Using a stainless steel round form, cut each slice of toasted bread into a round shape.* Set aside.
In a bowl, mix together goat cheese, ricotta and heavy whipping cream. Season with salt and pepper. Set aside.
Heat olive oil in a medium-sized frying pan, and cook the baby spinach quickly, stirring continuously, about 30 seconds to 1 minute. Add the minced garlic and stir well. Set aside.
In a small frying pan, quickly toast the pine nuts on all side, about 30 seconds.
Take half of the bread slices and cover with the cheese mixture. Add some spinach, sun-dried tomatoes, pine nuts and top with the remaining slices.
In a large frying pan, melt butter and grill the sandwiches on both sides, until the cheese inside starts melting. Serve immediately, with a side of salad.
---
Notes
* Tip: use the bread leftovers to make some French toast in the oven.