Here's the BEST pecan pie recipe! This old-fashioned dessert is a classic for Thanksgiving or any holiday gathering. Easy to make, it features a flaky pie crust, a sweet, gooey center, and some crunchy pecans on top. Serve with whipped cream or vanilla ice cream.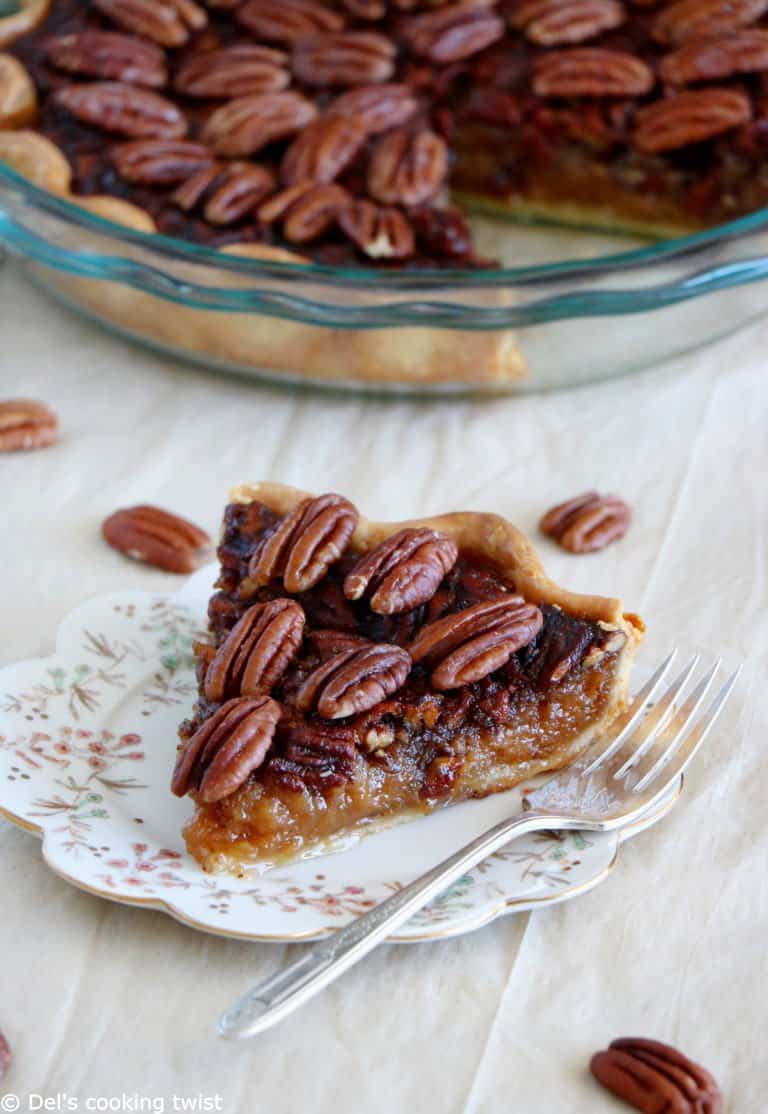 This pecan pie recipe is a family favorite for a reason. Alongside with the classic Pumpkin Pie and the Apple Pie, pecan pie is a Thanksgiving dessert staple, but it's somehow easier to make and it turns out perfectly every single time (no runny filling after baking).
This recipe calls for reel ingredients only, and is sweetened with maple syrup (rather than corn syrup) for a complex flavor profile. With the perfect balance of sweet and salty, it has everything to fix your sweet tooth.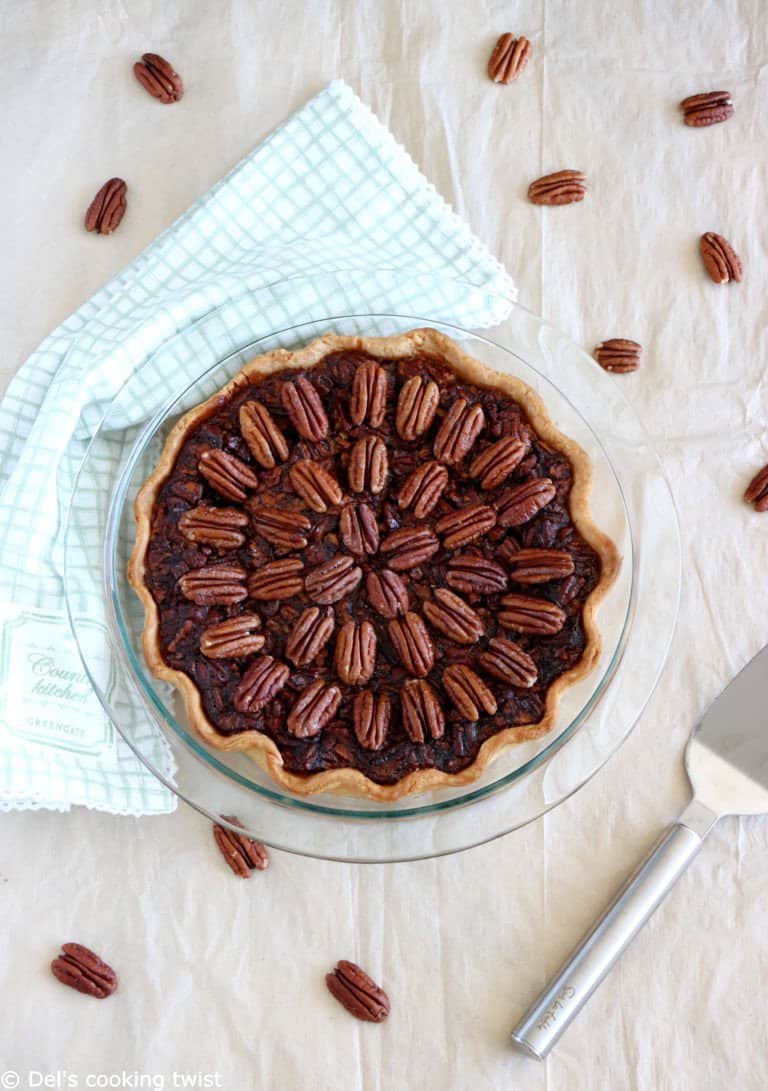 What is a pecan pie?
Pecan pie is an American dessert with Southern US origins (it's also where you find pecans). It's made from pecans, with a filling that includes butter, sugar, eggs, and typically corn syrup – here replaced with pure maple syrup. Pecan pie is usually associated with Thanksgiving and Christmas, although it's a dessert you can also eat year-round.
Why is it the BEST Pecan Pie?
Super simple to bake
An incredible gooey & crunchy texture
Sweetened with pure maple syrup (no corn syrup)
Perfectly set filling (no runny center)
The filling ingredients
This pecan pie is prepared from scratch with a homemade pie crust and a sweet pecan filling, using:
Sugar + maple syrup. Note that unlike most pecan pies, there is no corn syrup involved in this recipe. Maple syrup has a more complex flavor profile and offers more nutritional benefits. Here, the combination of both maple syrup and granulated sugar enables the pie to hold its shape.
Salted butter. Yes, I use salted butter (for once!) in my pecan pie recipe. It cuts the extra sweetness of the pie and makes every bite so decadent to the palate. If using unsalted butter, add ¼ teaspoon salt to the filling.
Pecans, crushed and halved. Make sure you use freshly bought pecans, as they tend to turn rancid with time. Here, I use crushed pecans for the filling, and pecan halves on top for a lovely finish. But feel free to use crushed pecans exclusively, it will be equally delicious.
Vanilla extract + cinnamon. For a subtle boost of flavors. You can use one or the other, or both (I'm an advocate of using both).
Eggs. Together with the maple syrup and the sugar, eggs are what creates this gooey filling that is slightly addictive.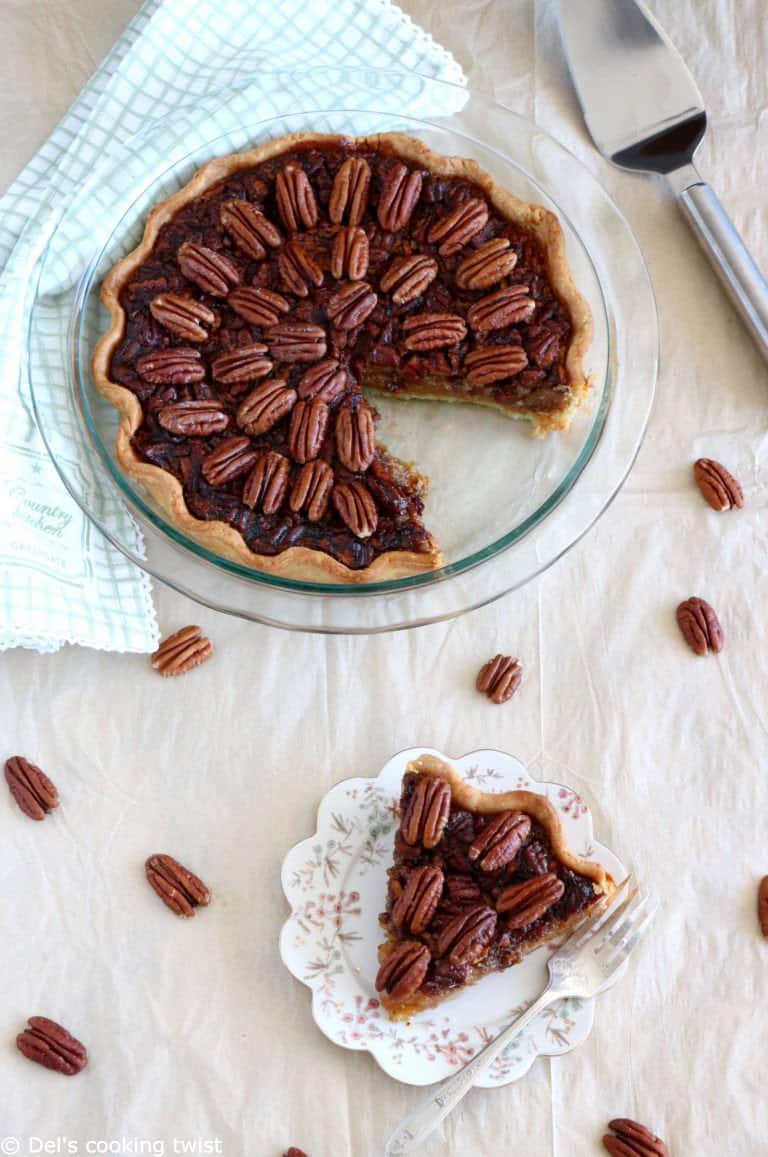 How to make pecan pie
Start with the crust. This involves making the crust, refrigerate the crust and pare-bake with dried weights. Please read the full recipe card for detailed instructions.
Next, make the pecan filling. This is the easy part of the recipe. All you need to do is mix together sugar, maple syrup, vanilla and cinnamon, and whisk in the eggs. Next thing you do is melting butter in a saucepan until it turns brown in color, then slowly add it to the sugar mixture, and stir in the pecans.
Bake! Pour the filling onto the crust and bake until just set. I like to add halved pecans on top 10 minutes before the end of the baking time, but this is totally optional. Always allow the pie to cool completely before slicing and serving.
Pro tips for making the BEST pecan pie
Quick measuring tip for the maple syrup. When measuring maple syrup, you can spray a little non-stick in the measuring cups (or brush with vegetable oil), so the syrup slides right out.
The flour tip. You can use up a little bit of flour for the filling if needed. If you're worried the filling won't set as much as it does when using maple syrup instead of corn syrup, you can add 1 Tablespoon all-purpose flour to the filling. It should do the trick.
Freeze the crust before baking. This really helps the dough to set and keep its shape while baking. I recommend 10 minutes in the freezer, but you may need a little more time if the dough has warmed up while shaping it.
Keep an eye on the pie crust as it bakes. If the pie crust is getting dark while baking, loosely tent the pie with foil or add a pie crust shield around the edges to protect it from any further browning.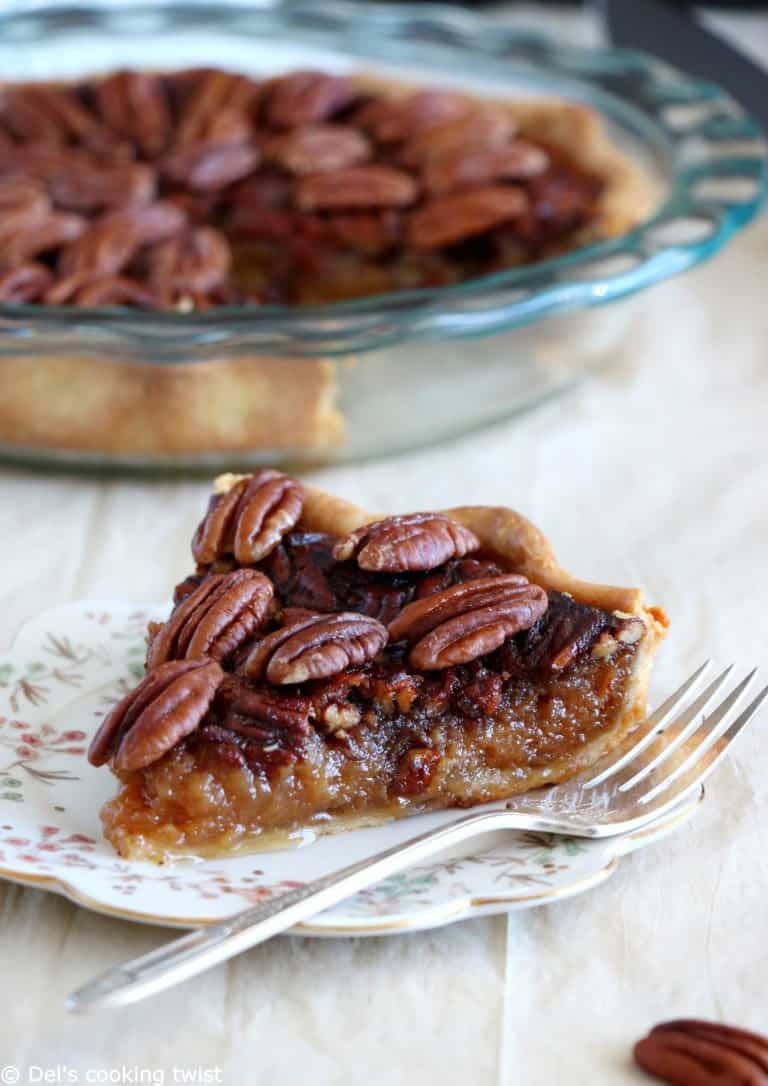 FAQ
How do I know the pie is baked? Every oven is different so it's important to look for the signs rather than relying on the baking time only. The center of the pie should puff up and look almost set, while the outer edges should be set. The pie will continue to firm up as it cools down.
Can I use honey instead of maple syrup? Yes! You can use honey in a 1:1 ratio. The flavor complexion will be slightly different, but still delicious, and the filling texture should remain stable.
Can I make a version with walnuts? Although pecans are the main ingredients of a pecan pie, you can create a variant with walnuts.
How to serve pecan pie?
Let cool at room temperature to allow the pie to firm up before slicing. Then, you can either serve it at room temperature or warm it up a few minutes. Serve with a dollop of whipped cream or a scoop of vanilla ice cream on top.
Storing and freezing instructions
Pecan pie is a great dessert to make ahead of time. Allow to cool at room temperature, cover with foil and store for up to 4 days in the refrigerator. You can also freeze the entire pecan pie. Simply wrap in a freezer-friendly bag or an airtight container and freeze for up to 3 months. To serve, thaw the frozen pie overnight in the refrigerator. Serve at room temperature or warm it in the oven for 10-15 minutes before serving.
More Thanksgiving desserts: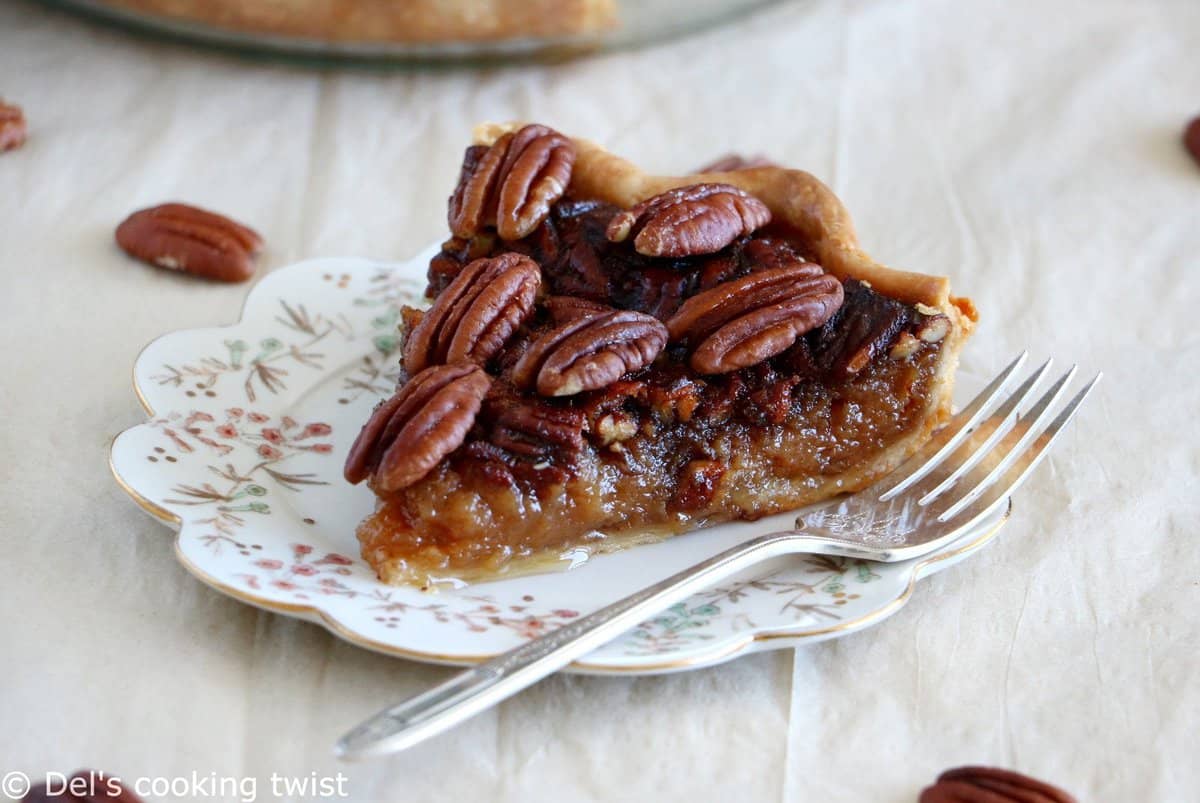 Print
Best American Pecan Pie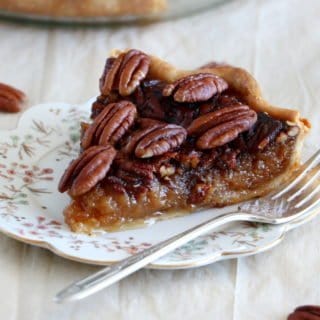 Author:
Prep Time:

30 mins

Cook Time:

50 mins

Total Time:

1 hour 20 mins

Yield:

8

–

10

servings

1

x
Category:

Cakes and Pies

Cuisine:

American recipes
Here's the BEST pecan pie recipe! This old-fashioned dessert is a classic for Thanksgiving or any holiday gathering. Easy to make, it features a flaky pie crust, a sweet, gooey center, and some crunchy pecans on top. Serve with whipped cream or vanilla ice cream.
For the pie crust:
1 ¼ cups

(

150g

) all-purpose flour

2 Tablespoons

sugar

½

teaspoon salt

1

stick (115g) unsalted butter, cold and diced

2 Tablespoons

ice cold water

2 Tablespoons

ice cold vodka (or water)*
For the filling:
1 cup

(

200g

) granulated sugar

1 cup

(

230

ml) pure maple syrup

1 teaspoon

vanilla extract

½

teaspoon salt

¼ teaspoon

ground cinnamon

4

large eggs, beaten

1

stick (115g) butter, salted**

2 cups

(

200g

) pecans, chopped (+ extra pecan halves for the top)
Instructions
For the crust, pulse together flour, sugar and salt in a food processor. Add half of the diced butter and pulse in 2-second intervals, until incorporated, then add remaining butter and pulse again. Slowly pour water, vodka, and mix on low speed, until just combined (do not over mix). Pack the dough into a ball. Wrap in a plastic wrap and refrigerate for 1 hour.
Transfer the dough to a well-floured work surface. Lightly dust with some flour and roll out the dough into a 12-inch (30 cm) circle. Transfer to a 9-inch (23 cm) pie dish, pinching the edge of the crust to sculpt an upstanding ridge. Place the pie crust in the freezer for 10 minutes to re-chill the butter before continuing.
Preheat the oven at 400°F (200°C).
Remove crust from the freezer. Line the inside with parchment paper, then fill with some pie weights or dried beans. Pre-bake for 10 minutes. Remove from the oven, and carefully remove the pie weights and parchment paper. Decrease the oven temperature to 350°F (180°C).
For the filling, whisk together sugar, maple syrup, vanilla, salt and cinnamon in a medium bowl. Add the eggs, one at a time, and beat until smooth.
Melt butter in a small saucepan over medium heat for 4-5 minutes, stirring often, until the butter turns brown and fragrant. Slowly pour butter into the mixture, and whisk to combine. Stir in chopped pecans, then pour the filling into the prepared pie crust.***
Bake for about 50 minutes, or until the filling is almost set. Remove from the oven, line with the extra pecans then bake again until the filling is perfectly set. Cool on a rack for a couple of hours before slicing and serving. Enjoy with some whipped cream or vanilla ice cream.
Notes
* The use of vodka is optional in this recipe. If not using vodka, use a total of ¼ cup (60 ml) water for the crust.
** If using unsalted butter, use an additional ¼ teaspoon salt to the filling.
*** You can add 1 Tablespoon of all-purpose flour if you're worried the filling is too runny when using maple syrup (instead of corn syrup in most recipes). It should do the trick.
Did you make this recipe?
Lastly, if you make this Best American Pecan Pie, be sure to leave a comment and give this recipe a rating, letting me know how you liked it. And of course, don't forget to tag me on Instagram! Thank you and enjoy!