Simple is best, and it's exactly how this avocado poached egg salad feels like: simple, basic and healthy ingredients tossed together. Top it with a delicate raspberry vinaigrette and it immediately becomes a fancy dish that will soon amaze your taste buds.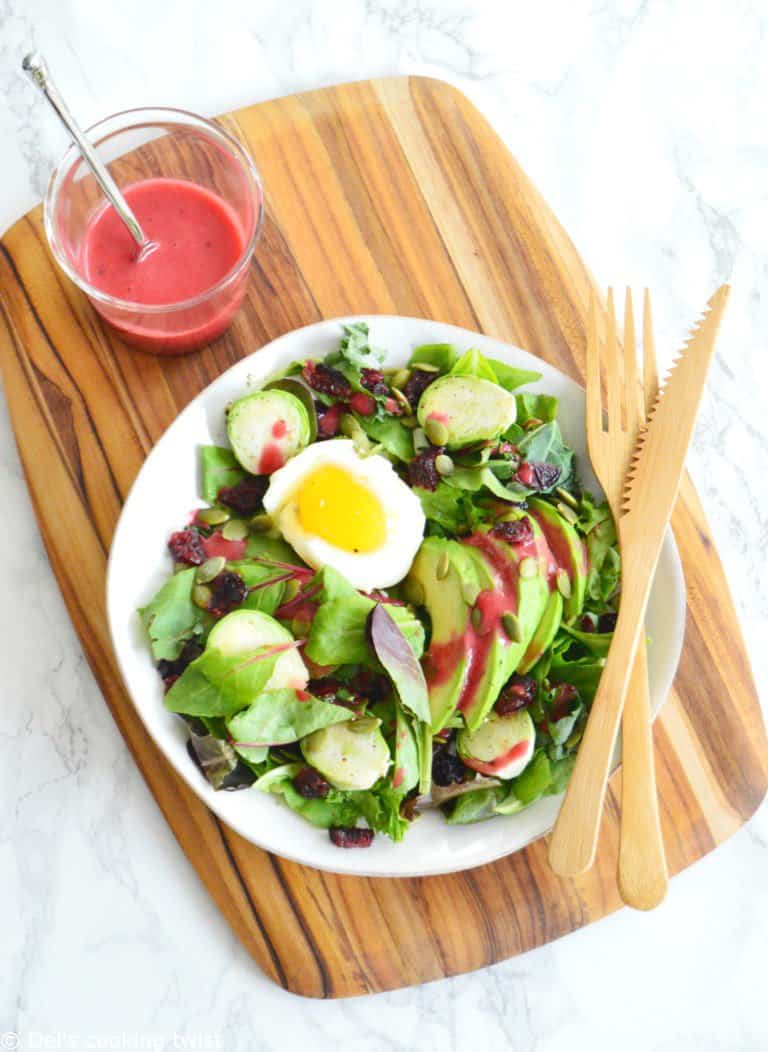 With the Fall season going on and while the days are slowly getting darker, colder, and shorter, we need to fill up with vitamins to keep us alert and in good shape. In this context, greens are often neglected as we are mostly craving for heavier seasonal ingredients. Eating seasonal is mandatory and you should not give up pumpkins, cabbage, carrots, potatoes and sweet potatoes, Brussels sprouts, etc. However, and as life is a question of balance, it is also important to eat raw ingredients.
In this mixed salad, you can use whatever salad ingredient you like (lettuce, arugula, kale, baby spinach, or even raw Brussels sprouts, or green or red cabbage). Add some avocados, which are often referred to as a superfood given to their numerous health properties. They contain more potassium than bananas and are loaded with heart-healthy monounsaturated fatty acids (needed to fight and lower cholesterol and triglyceride levels). They are also a good source of dietary fiber, vitamin K, copper, folate, vitamin B6, potassium, vitamin E and vitamin C.
The addition of protein is also important in this salad, and they are brought here by the eggs to keep it vegetarian. In this recipe I suggest soft-boiled eggs instead of hard-boiled eggs. So what's the difference between them? Hard-boiled eggs are cooked so that the egg white and egg yolk both solidify, while for a soft-boiled egg the yolk, and sometimes the white, remain at least partially liquid. To crack them easier, the key is to use at least one week old eggs. Indeed, as eggs age, they gradually loose moisture through the pore in their shell and become easier to peel.
You could also make poached eggs instead of soft-boiled eggs. They often seem very tricky and fussy to make, but they are actually not at all. You want hot water but if it's boiling a lot it doesn't work well. Also, you don't want your poached eggs overcooked (3 minutes it is only) in order to avoid rubbery whites and firm yolks. Keeping in mind these two principles will help you to avoid common mistakes. For the rest, just follow the instructions in the recipe note below.
Then top your salad with some pumpkin seeds and cranberries if desired. Pumpkin seeds contain a wide variety of nutrients ranging from magnesium and manganese to copper, protein and zinc. Cranberries are in season right now and they are also packed with health properties. They are a good source of vitamin C, dietary fiber and manganese, as well as a good source of vitamin E, vitamin K, copper and pantothenic acid.
The final touch of this salad and what makes it fancy and delicate in taste is the homemade raspberry vinaigrette. With their rich color, sweet juicy taste, and antioxidant power, they add some additional vitamin C to your salad. For a change, you can sometimes replace them with fresh cranberries in your vinaigrette, especially now while they are still in season. It would make a perfect starter or side dish on your Thanksgiving table!
Print
Avocado Soft-Boiled Egg Salad with a Raspberry Vinaigrette
Author:

Prep Time:

10 mins

Cook Time:

3 mins

Total Time:

13 mins

Yield:

2

servings

1

x

Category:

Savory

Cuisine:

Healthy
---
Description
Simple is best, and it's exactly how this avocado poached egg salad feels like: simple, basic and healthy ingredients tossed together. Top it with a delicate raspberry vinaigrette and it immediately becomes a fancy dish that will soon amaze your taste buds.
---
For the vinaigrette:
1/4 cup

(

30g

) frozen raspberries

1

small shallot, chopped very fine

1/2 teaspoon

mustard

1/4 cup

(

60

ml) apple cider vinegar

1/2 cup

(

120

ml) olive oil
Salt and freshly ground pepper
For the salad:
2

–

3

cups (150-2

15g

) mixed salad

1

avocado, cut in half

1

handful Brussels sprouts, cut in half

2

eggs

1

handful cranberries

1

handful pumpkin seeds
---
Instructions
For the vinaigrette: mix the frozen raspberries in a food processor until smooth. Drain to get rid of the seeds and turn it back to the food processor. Add the shallots, mustard, vinegar and olive oil, and mix until smooth. Season with salt and pepper.*
Place the salad in a plate. Cut the avocado in half, peel and remove the stone. Slice it into thin layers and dispose onto the plate. Add the Brussels sprouts, cut in half.
For the soft-boiled eggs (or poached eggs**): put the eggs in a saucepan and cover with cold water. Set the pan over medium-high heat and as soon as the water reaches a brisk simmer, start timing, cooking the eggs for 4-5 minutes maximum. Crack the shell gently, cut in half and dispose over the salad. The white must be solid while the yolk is still runny.
Sprinkle some cranberries and pumpkin seeds, and pour the raspberry vinaigrette over the salad.
---
Notes
* This vinaigrette will keep refrigerated for a few weeks. Whisk to remix the vinaigrette before using.
** For the poached eggs: add a small dash of vinegar into a pan of steadily simmering water. Crack eggs individually into a ramekin or cup. Create a gentle whirlpool in the water to help the egg white wrap around the yolk. Slowly tip the egg into the water, white first. Leave to cook for three minutes. Remove with a slotted spoon, cutting off any wispy edges using the edge of the spoon.