A couple of months ago, I wrote a guest post for my very good friend Mo, from the blog Have Mo's Cake and Eat It Too. Do you know already her? Mo is a French girl in her twenties, who enjoys life 100%. She is crazy about raspberries, fashion and running. Plus she loves travelling! In the past few years, she has lived in the US, France, Sweden and she now lives in the UK. She started blogging years ago and last year she dedicated her new blog to her culinary adventures linked to her running and travelling life.
If you want to learn more about Mo and/or my relationship to Mo whom I met years ago, hop over to the guest post that I wrote on her blog. I'm also happy to share here after this chocolate and hazelnut brownie recipe that I had also published on her blog a while back.
I have to say that the first version of this brownie was kind of an experiment for me, since it was totally dairy free and without any refined sugar. The result was great but I knew it could have been even better. So I adjusted the recipe a little bit. I don't follow any particular diet, so as far as I am concerned there is absolutely no need to bake a dairy free recipe. Plus I keep thinking that even if we can use some substitutes instead of sugar, the granulated consistency of sugar adds a little something to any baking. So I adjusted the quantities and added some "needed" ingredients I didn't use at first. The result was amazing. The hazelnut butter enhances the great taste given by the chopped hazelnuts and blends in perfectly with the chocolate. At the same time, I used a little butter so that it can give the brownie this moist texture I relish. Then I made a compromise between agave syrup and sugar until I could find the consistency I really like when it comes to brownies.
If you are into trying new brownie recipes, I can tell you straight away, this one will amaze your taste buds!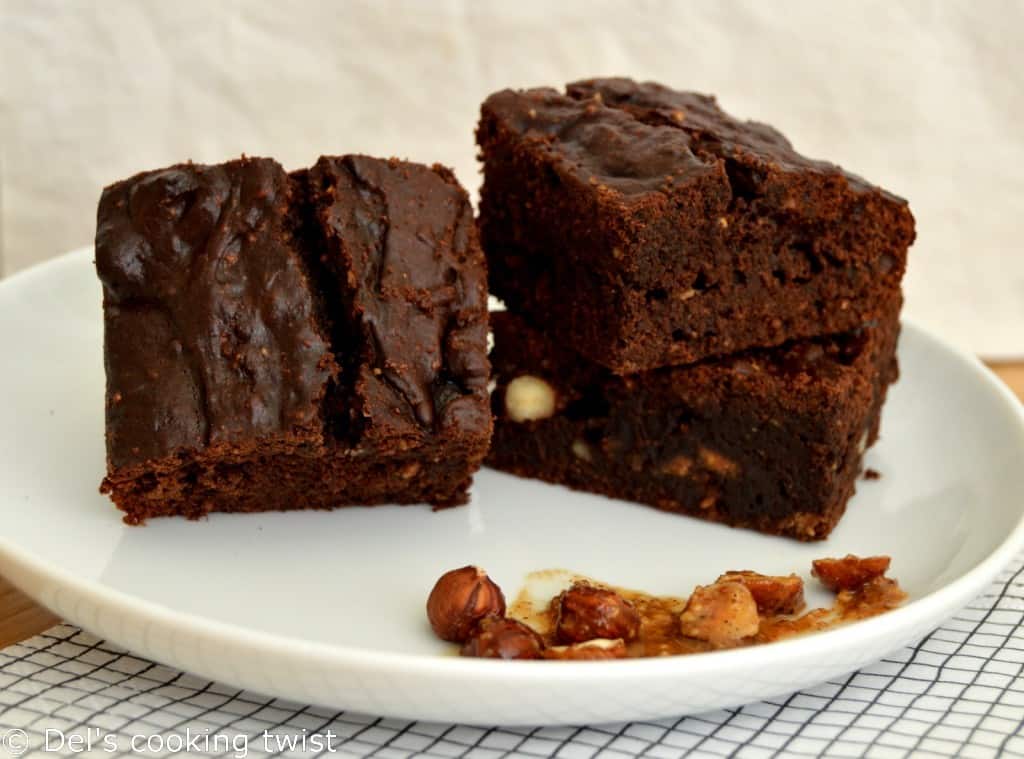 Ingredients (Serves 8):
100g hazelnut butter
60g unsalted butter
3 tbsp agave syrup
50g granulated sugar
1/2 tsp baking soda
200g dark chocolate
100g flour
4 large eggs
100g hazelnuts, chopped
Preparation method:
1. Preheat the oven to 180C. Melt the chocolate and butter in a water bath (bain marie) or in the microwave.
2. Mix together the agave syrup and hazelnut butter, then add the melted chocolate, flour, sugar, bicarbonate and stir. Add the eggs and then tap in the chopped hazelnuts.
3. Pour into a previously greased square cake pan and bake for about 15-20 minutes. Allow the chocolate and brownie to cool, then cut it into squares and serve with a vanilla cream!