Easy upside-down cherry cake with crusted pistachios and deliciously flavored with rum. The perfect summer dessert!
Cherries are in season. Hurry up and bake as much as possible with these beauties. When I was at my parents in France in June, the cherry trees were packed with fruits and I was really tempted to prepare a recipe with them. Unfortunately I was so busy with the wedding preparation that I didn't have time to prepare a cherry recipe for the blog. So frustrating! However, my mom made some cherry jam. She also baked some lovely mini cherry clafoutis (clafoutis a classic in France) and tried my Rustic Cherry Galette. It was a success. If you haven't tried it late, you should definitely give it a go.
The high season of cherries is June-July. It's the time for summer vacations, summer harvests in the countryside, and also Bastille Day on the 14th of July, i.e. today! For this special occasion, I had to share with you a recipe that evokes French summer. A few years ago, I shared my French Style Apricot and Almond Pie. Cherries and apricots are my two summer favorite fruits (especially when they are baked in cakes and pies… I'm such a "gourmande"!), and both of them are perfect to use for picnic recipes. This is a good news as there should always be a picnic on Bastille Day!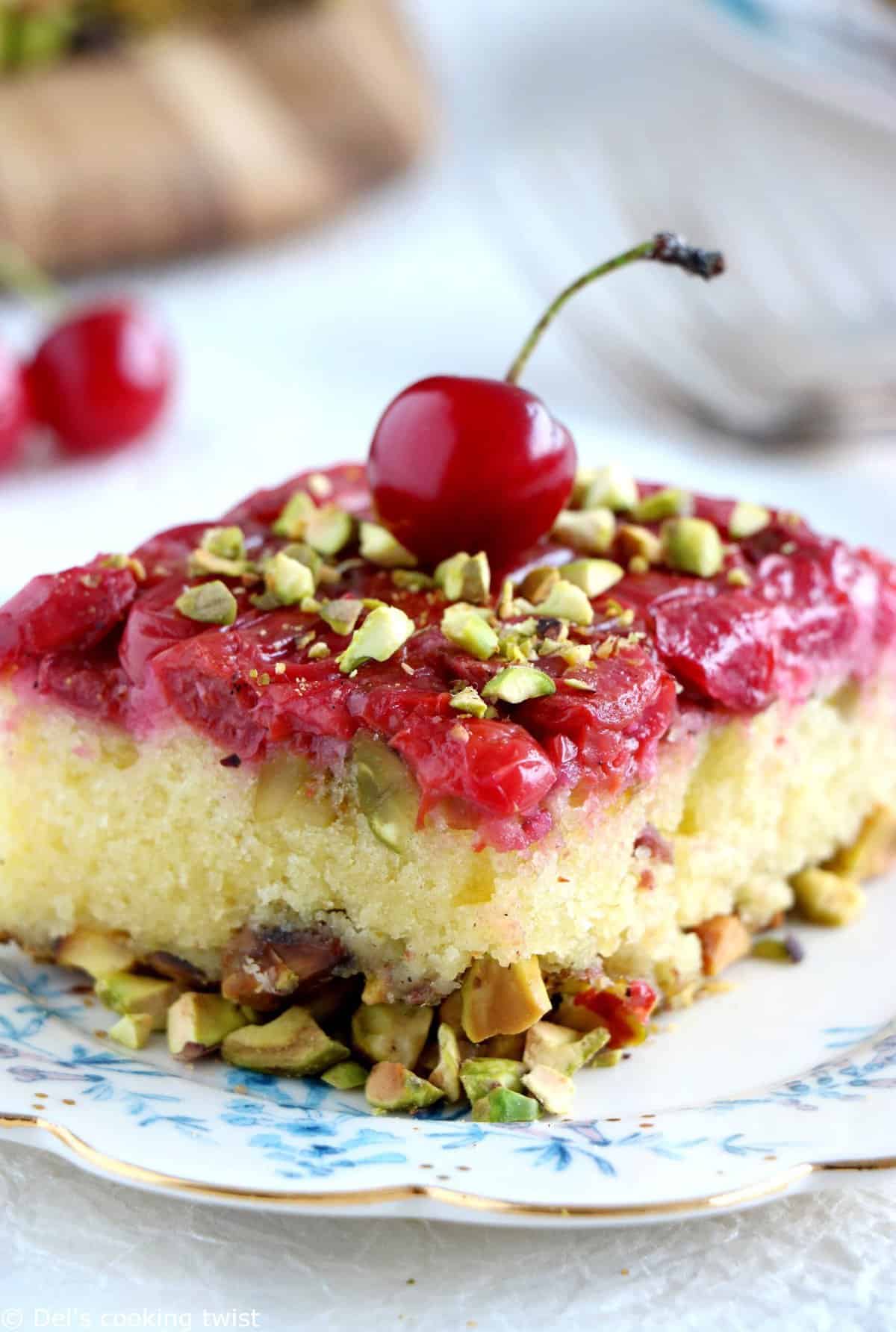 I almost forgot that the last 7 years indeed, as I happened to be most of the time invited at the French embassy in Sweden to celebrate Bastille Day. But now when I look back in the past, I remember that during my childhood we used to organize a huge picnic with my relatives on each Bastille Day. Every year, we would choose a different place, most of the time close to a place we could go for a swim after the picnic. These memories seem very far away now and I must have been very young (OR is it that I'm very old now?…. aaaahhh!) as I can't remember if each family would come with their own picnic or if each of them (each aunt, uncle, grandma, etc.) would be in charge of preparing something. I believe that every family would bring their own picnic but we would gather some small appetizers with everyone, and same for the dessert. Maybe it's my fantasy and it was not exactly like that but I like the idea.
I also remember that for dessert we had either some cherry pies or clafoutis, or some apricot pies. Sometimes we would have desserts with other seasonal fruits, but no chocolate and no berries (maybe strawberries). I miss these old traditions were food was always homemade, with seasonal ingredients people would pick themselves in the orchards near by. But I might recreate part of the tradition today, as I am invited for a giant picnic in Chicago to celebrate Bastille Day with other French people. Everyone is supposed to bring its own picnic and I'm already curious to see what others will bring (I'm always in search for new inspiration, especially when you find an old family recipe people keep for  generations).
My upside-down cherry cake will be just perfect. I first wanted to share a cherry clafoutis with you but being French, I found it too simple, too basic. I needed a new challenge, a cherry recipe with a little twist, something unusual. While almonds are usually best friends with cherries, pistachios are not the ones we think of, at first. So I liked the idea. Also because once toasted and crushed, they bring a lovely crispy texture that cuts the softness of cherries. As for batter, I simply prepared a cake batter, that I slightly flavored with rum and vanilla.
The cherries are first reduced in a syrup made of sugar, vanilla and rum, after what you use them to cover the bottom of your baking pan, previously greased or lined with parchment paper. Pour the cake batter all over the cherries and add a final layers of pistachios. Try to slightly incorporate the pistachios into the cake batter a little bit, so that the layer will remain intact when you will turn the cake upside down. Decorate with some extra crusted pistachios, maybe a few fresh cherries and some whipped cream if desired, and you've got your perfect summer dessert, just on time for Bastille Day!
Print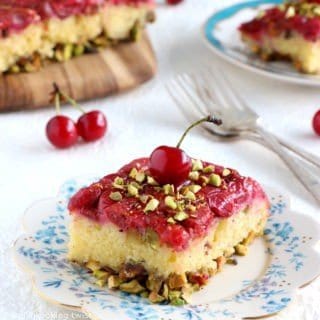 Upside-Down Pistachio Cherry Cake
Author:

Prep Time:

30 mins

Cook Time:

25 mins

Total Time:

55 mins

Yield:

6

-

8

servings

1

x

Category:

Cakes and Pies

Cuisine:

French recipes
---
Description
Easy upside-down cherry cake with crusted pistachios and deliciously flavored with rum. The perfect summer dessert!
---
2 cups

(

500g

) pitted cherries

3/4 cup

(

150g

) cane sugar

2 Tablespoons

rum

1/2

vanilla pod, seeds

4

–

5

Tablespoons non-salted pistachios (+ extra for serving)

1/2 cup

(

120g

) salted butter

1

large egg

1

orange, juice and zests

1 cup

(

120g

) all-purpose flour

1 teaspoon

baking powder
---
Instructions
Preheat the oven to 350°F (180°C). Line a 11 x 7-inch (28 x 18 cm) baking pan with parchment paper.*
Cook the pitted cherries with their juice in a non-stick frying pan with 1/4 cup (40g) of the sugar, one Tablespoon of rum and the vanilla seeds for about 5-10 minutes. Once ready, cover the bottom of the baking pan with the fruits.
Roast the pistachios for a few minutes in a non-stick frying pan, then roughly chop in a food processor.
Mix the butter with the remaining sugar (1/2 cup, 110g) until the mixture becomes foamy. Stir in egg, orange juice, grated zest, and the remaining Tablespoon of rum. Fold in the flour with the baking powder, in two additions. Mix well.
Pour the batter on top of the cherries in the pan, then distribute the pistachios on the top making sure they are well encrusted in the dough.
Cover with aluminum foil (to prevent pistachios from burning) and bake for 25 minutes. A toothpick should come out clean.
Remove from the oven and let sit for a few minute. Then pass a knife around the edges of the pan and turn the cake upside down on a serving dish. Decorate with extra pistachios.
---
Notes
* you can use individual ramekins instead if you wish. In this case, skip the parchment paper and grease the ramekins with butter before using them.