Swedish chanterelle mushroom tart is a classic in Sweden. Originally made with Västerbotten cheese and freshly picked chanterelle mushrooms, this "Västerbottenpaj med kantareller" usually comes as a side to the traditional Crayfish party but can be enjoyed anytime chanterelles are in season. Here's my version with Parmesan cheese – but feel free to use Västerbotten cheese if you find some!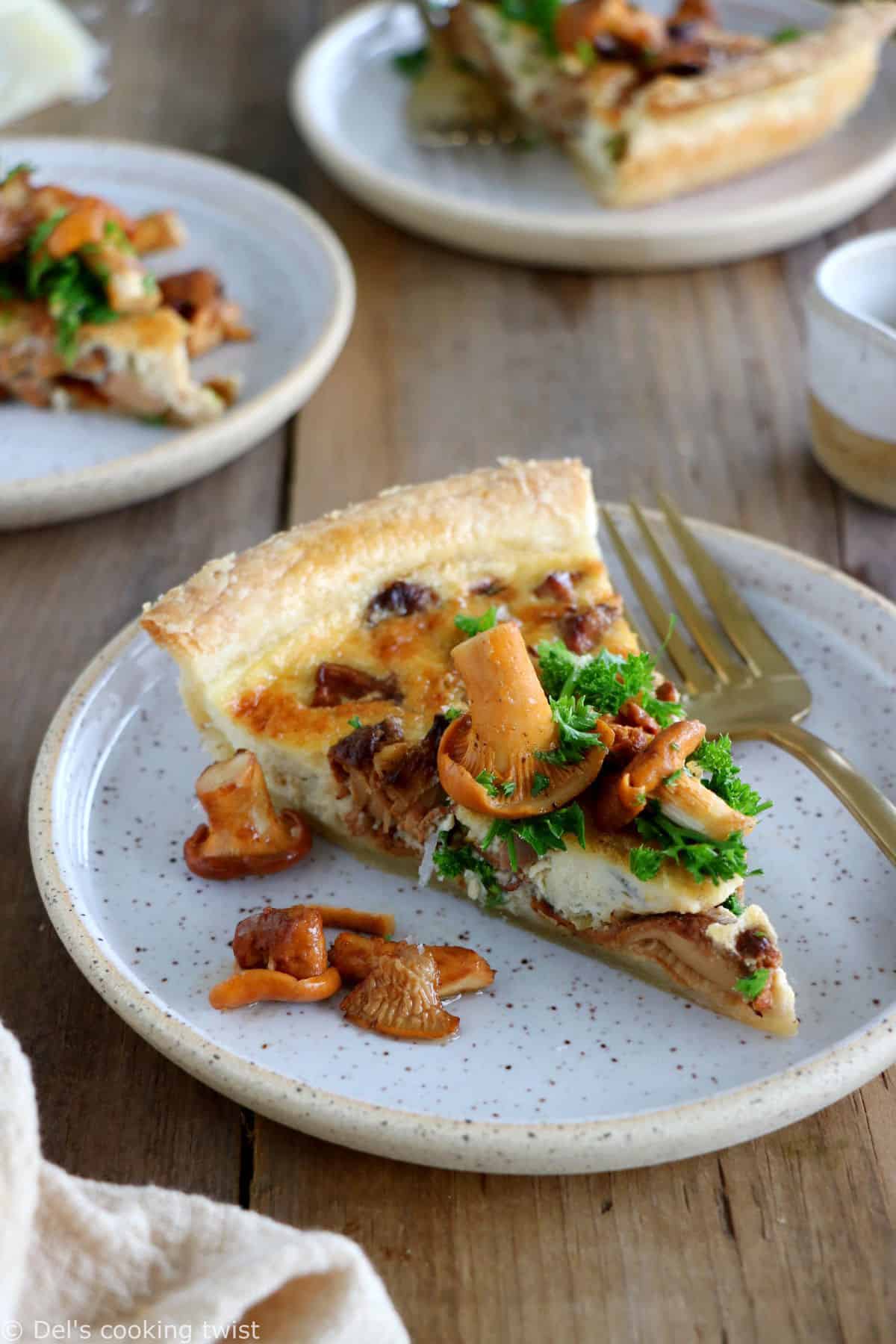 I randomly stumbled upon chanterelles mushrooms at the market the other day and immediately took the occasion to use them in a Swedish classic recipe I used to make when I lived in Sweden (fun fact: did you know that I spent 6 years of my life in Sweden?). You all know the classic IKEA cinnamon rolls or meatballs (here's a veggie version), but this chanterelle mushroom tart may seem new to you, so here's a little bit more background behind the recipe.
What is Swedish Chanterelle Mushroom Tart?
The chanterelle mushroom tart is a traditional Swedish recipe usually prepared with Västerbotten cheese (Västerbottenost in Swedish), originated from the Västerbotten region in Sweden. It's a hard cow's milk cheese, strong in flavor and made of a firm and granulated texture with tiny holes. The tart often comes in a version featuring chanterelle mushrooms, since this tart is traditionally served at a Crayfish party held at the end of summer/beginning of fall, when mushrooms are in season. In my version, I suggest how to replace Västerbotten cheese with other cheeses that are easier to find.
Ingredients you need
Chanterelle mushrooms. This recipe calls for fresh golden chanterelles, so you'd better use them while in season. Chanterelles are a delicate and subtle gourmet trumpet-shaped mushroom. Most often they are golden but you can also use their brown version, a little smaller in size and called "trättkantareller" in Swedish (as opposed to the regular golden ones "kantareller").
Grated cheese. The traditional recipe calls for "Västerbotten", a Swedish cow's milk cheese with a semi-sharp flavor. If you do not live in Sweden, this cheese may be hard to find, but you can easily replace it using a mix of ⅔ grated cheddar and ⅓ grated parmesan. Alternatively, use parmesan cheese only.
Spring onions / leek. Melt thinly sliced spring onions (scallions) or leek (white part only) with some butter. This will enhance the chanterelle mushroom flavors.
Eggs + cream. These are key ingredients for any quiche recipe. Use heavy liquid cream preferably. Alternatively, sour cream or crème fraîche would do too.
Parsley. I would say it is optional in the recipe but the herbs add some refreshing flavors and pair very well with the chanterelles.
Homemade crust. I used a homemade butter pie crust.
Pro tips to make Swedish chanterelle tart
If you've baked quiche before, this chanterelle tart will be no more difficult. Find below a few pro tips to help you make it as beautiful as possible:
Make yourself a favor and bake the crust from scratch. It will really make the difference, and when using ingredients as precious as these chanterelles, you just want the very best trust me.
Be sure to wipe the mushrooms after you washed them and before you sauté them in the pan. If they contain too much humidity, they risk to be too watery when cooking and eventually make the crust soggy.
Sauté for a few minutes until fragrant and tender but do not wait for too long or they will shrink and you will be left with half of them.
How to serve chanterelle mushroom tart?
According to the Swedish tradition, you would serve Västerbottenpaj med kantareller with crayfish at a crayfish party (kräftskiva in Swedish), usually hold at the end of August. But really, anytime when chanterelles are in season is a great occasion to serve this chanterelle tart on its own and with a side of lettuce.
Variations around the recipe
Depending on where you live and on the season, you may not have all the ingredients to make the original Swedish Chanterelle Tart (also called Västerbottenpaj med kantareller). Good news is you can swap some ingredients and still create a delicious mushroom and cheese tart. Here's how:
Replace chanterelles with other mushrooms. Cremini mushrooms would do, although there are probably the ones that the most neutral in flavor. My preference goes to a wild mushrooms blend, including Chanterelles, Crimini, Oyster & White Shimej. If you live in North America, you can find them at Whole Foods.
Play with the cheese! Västerbotten cheese (Västerbottenost in Swedish) is the one traditionally used in this recipe. This hard cow's milk cheese is easy to find in Sweden, but not really when you live abroad. For this reason, I recommend a mix of grated cheddar and parmesan cheese. Or maybe consider Comte cheese.
More quiche recipes you'll love:
Try also these mushroom recipes: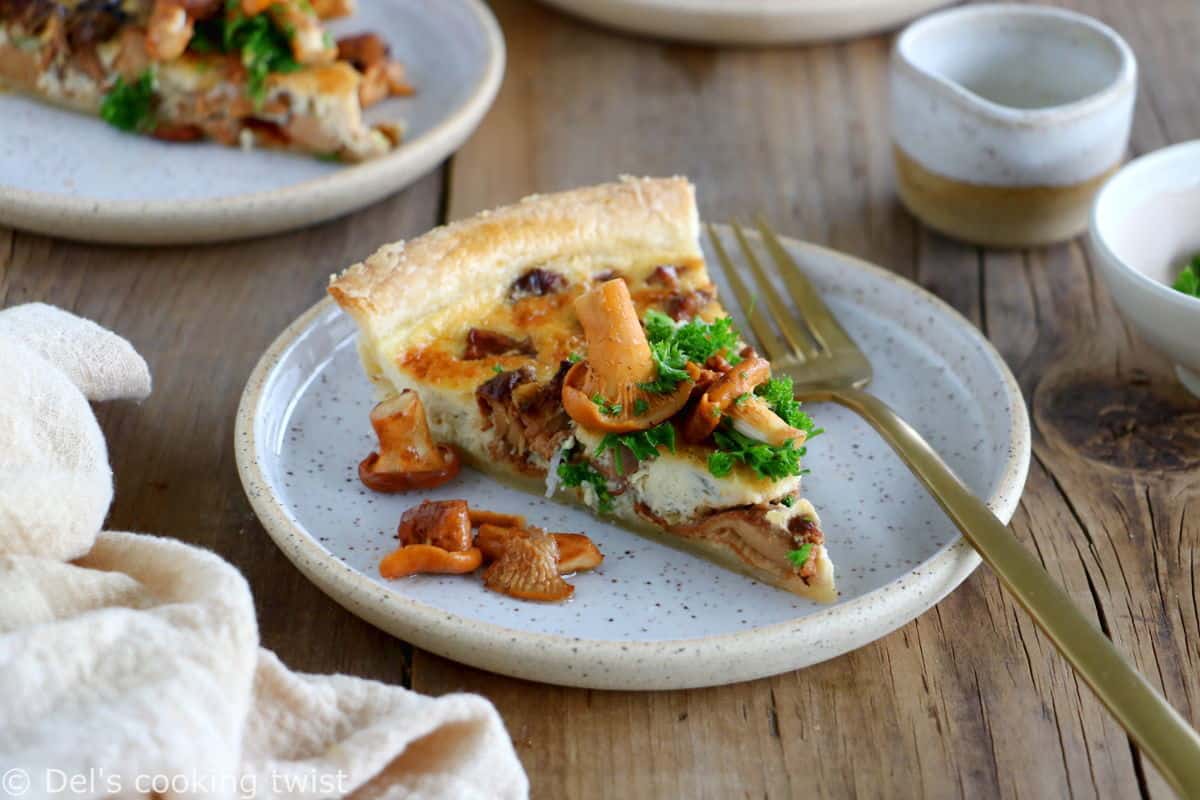 Print
Swedish Pie with Västerbotten Cheese & Chanterelles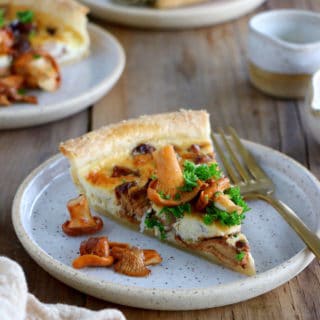 Author:
Prep Time:

25 mins

Cook Time:

25 mins

Total Time:

50 minutes

Yield:

8

servings

1

x
Category:

Quiches and Pizzas

Cuisine:

Swedish

Diet:

Vegetarian
Swedish chanterelle mushroom tart is a classic in Sweden. Originally made with Västerbotten cheese and freshly picked chanterelle mushrooms, this "Västerbottenpaj" usually comes as a side to the traditional Crayfish party but can be enjoyed anytime chanterelles are in season.
For the crust:
1 ½ cup

(

180g

) all-purpose flour

1

pinch of salt

½ cup

(1 stick/

120g

) unsalted butter, diced

1 Tablespoon

cold water, or more as needed
For the filling:
4 cups

(about

400g

) fresh chanterelles, brushed and washed

4

spring onions, thinly sliced*

1 Tablespoon

fresh parsley, chopped + more for serving

1 Tablespoon

(

15g

) unsalted butter
Salt and freshly ground black pepper, to taste

4

large eggs

½ cup

(

120

ml) heavy liquid cream

⅔ cup

(

150g

) Västerbotten cheese** (or ⅔ cheddar cheese + ⅓ parmesan cheese)
Instructions
Preheat the oven to 400°F (200°C) and grease the bottom and sides of a 9 or 10-inch (23-25 cm) pie dish. Set aside.
Mix all the ingredients for the crust until they stick together and form a thick dough, adjusting the quantity of water if needed. Wrap the dough in cling ilm and allow to cool in the refrigerator for 30 minutes.
Roll out the dough into a large disk and line the prepared baking dish with the crust. Prick the bottom and sides with a fork, then place in the refrigerator again while you're preparing the filling.
Thoroughly brush and wash the chanterelles mushrooms to get rid of the dirt, and cut the larger ones into smaller pieces. Dry them in a towel before using (important step***), and reserve the small ones to decorate the pie.
Melt butter in a large frying pan placed over medium heat. Once melted, add spring onions (or leek) and sauté for about 2 minutes. Add the previously washed and wiped chanterelles and sauté for about 3-4 minutes, until fragrant and tender. Season with salt and pepper, add parsley, and stir well. Set aside.
In a mixing bowl, whisk in the eggs with cream and season with salt and pepper.
Sprinkle half of the grated cheese over the crust, add mushrooms, the remaining grated cheese, and pour the egg mixture all over.
Bake for about 25 minutes or until golden and baked through. Serve warm or lukewarm, with extra sautéed chanterelles and fresh parsley.
Notes
* Alternatively, you can use 1 small leek, thinly sliced.
** Västerbotten cheese is the typical Swedish cheese to make Chanterelle mushroom quiche. This hard cheese can easily be replaced by a mix of Parmesan cheese and Cheddar cheese, or Parmesan cheese only.
*** It is important to dry the mushrooms before using so they don't release too much water while cooking and make the crust soggy.
Keywords: Chanterelle Mushroom Quiche
Did you make this recipe?
Lastly, if you make this Swedish Pie with Västerbotten Cheese & Chanterelles, be sure to leave a comment and give this recipe a rating, letting me know how you liked it. And of course, don't forget to tag me on Instagram! Thank you and enjoy!