Elevate your brunch game with this savory Dutch baby pancake with herbs and garnished with caramelized onions and fresh burrata. Pour the batter in one skillet, place in the oven and watch it puff here and there! Make sure you add other savory toppings, and share immediately with your loved ones. A fun, entertaining dish that always make everyone happy!
I have tried sweet Dutch baby pancake in the past and loved it ever since. It's the perfect recipe for a lazy brunch for which ideally you'd like to have some pancakes but don't feel like making every single one of them. With a Dutch baby pancake, you pour all the batter at once in a skillet, place it in the oven, and wait until ready to share with the other guests.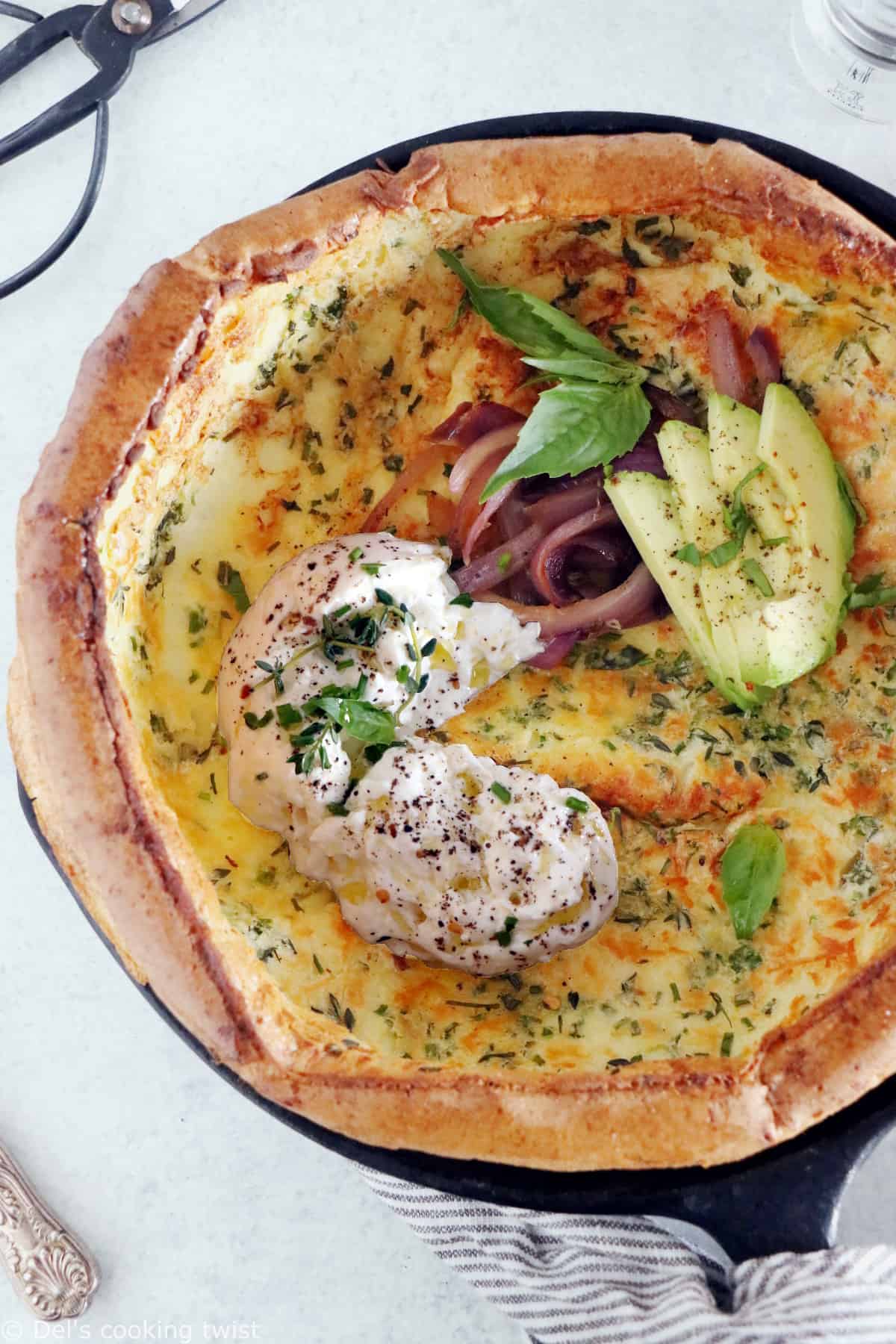 What is a savory Dutch baby pancake?
Today, I'm bringing the Dutch baby to the next level, and twist it into a savory version. Somewhere in between a frittata, a baked omelette or a giant pancake, this savory Dutch baby pancake does not contain a leavening agent and is always baked in the oven. Hence, it's thicker and denser than a pancake.
Here, I seasoned the batter with some herbs, then I topped the Dutch baby with caramelized onions, torn burrata and a few slices of avocado. D.e.l.i.c.i.o.u.s. Oh, and no need to say it also works perfectly as a quick breakfast for dinner!
Is a Dutch baby pancake, Dutch?
We sometimes call it German pancake, so which is which? Well, what cracks me up when I think Dutch baby pancake is that it has nothing Dutch but the name! As the story goes, the recipe, derived from a German pancake dish, was introduced in the US in the early 1900's by a family-run restaurant. One of the daughter named it Dutch instead of Deutsch (pronounced doïtch), which is the german word for "German". Years later, the restaurant trademarked the name "Dutch baby".
Ingredients for savory Dutch baby pancake
You need very basic ingredients to make the batter: eggs, milk, melted butter and flour, and salt. For a savory version, it's also important to play with the seasoning. Here I used parmesan cheese, herbs, and garlic. The seasoning can change from time to time, so feel free to explore with herbs, spices and grated cheese of your choice.
How to make savory Dutch baby pancake?
The main characteristic of a Dutch baby is that it's baked in the oven (ideally in a cast iron skillet), rather than being cooked and flipped on the stove as you would do for pancakes. Here's how to make it from scratch in just a few easy steps:
Preheat the skillet in the oven with some butter until hot.
Mix all the batter ingredients in a blender until smooth: eggs, milk, flour, salt and melted butter.
Pour the batter into the skillet.
Sprinkle with herbs, minced garlic and grated parmesan.
Bake until it puffs up and browns on the sides.
IMPORTANT: Make sure you don't open the oven while baking or your Dutch baby will deflate instantly.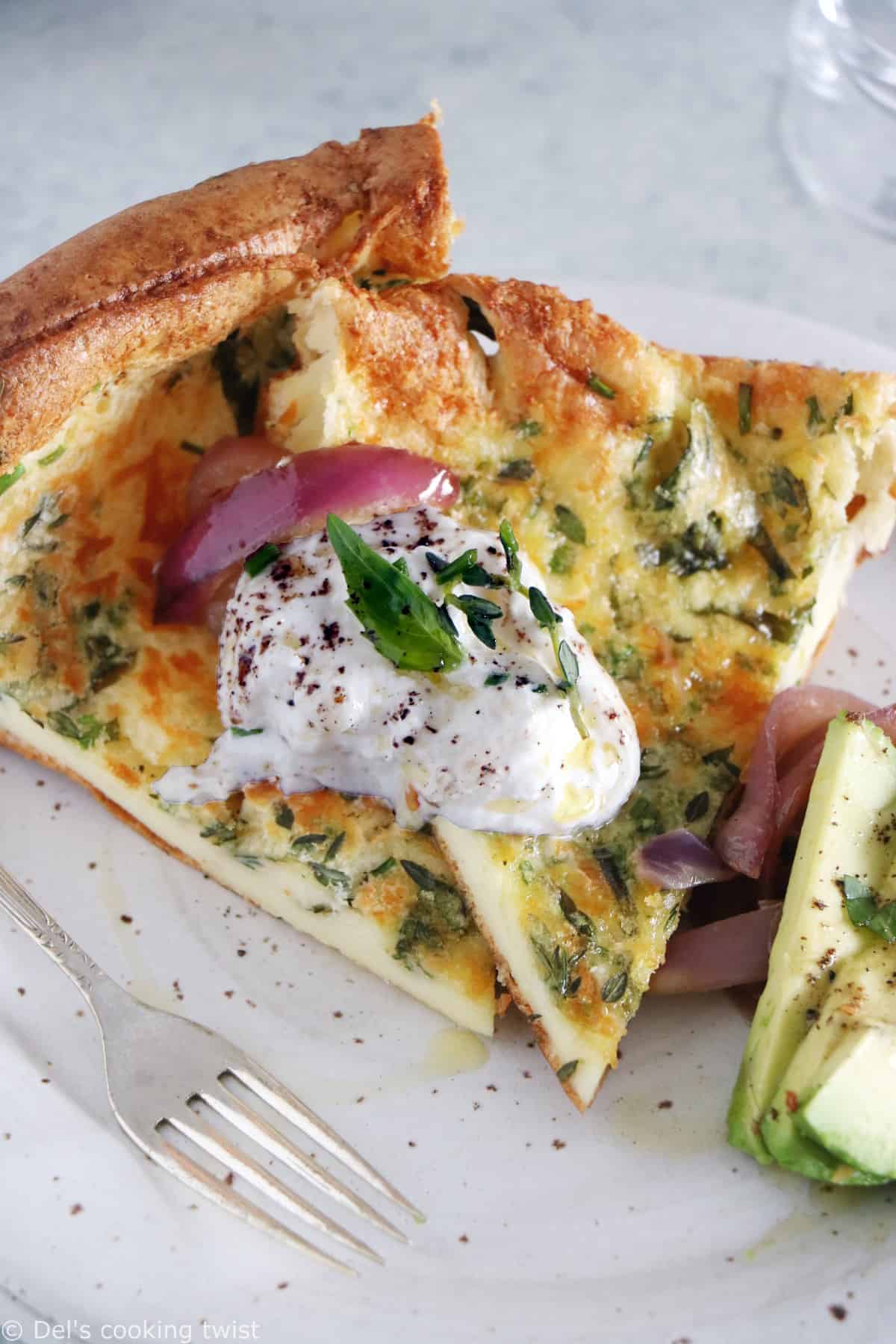 Savory toppings I used (vegetarian)
There are many ways for you to serve this Savory Dutch baby pancake. Let your inspiration bloom; the sky is the limit! See below the toppings I used:
Caramelized onions. They're sweet, soft and slightly sticky, contrasting perfectly with the herbs.
Fresh burrata cheese, torn. I love burrata with everything, or almost. It adds a very creamy and refreshing texture to many savory dishes. Alternatively, you could use some fresh mozzarella, or fresh goat cheese.
Avocados. Yep, now you have your greens too! But honestly, you could add some fresh baby spinach or arugula, cherry tomatoes, or other greens of your choice.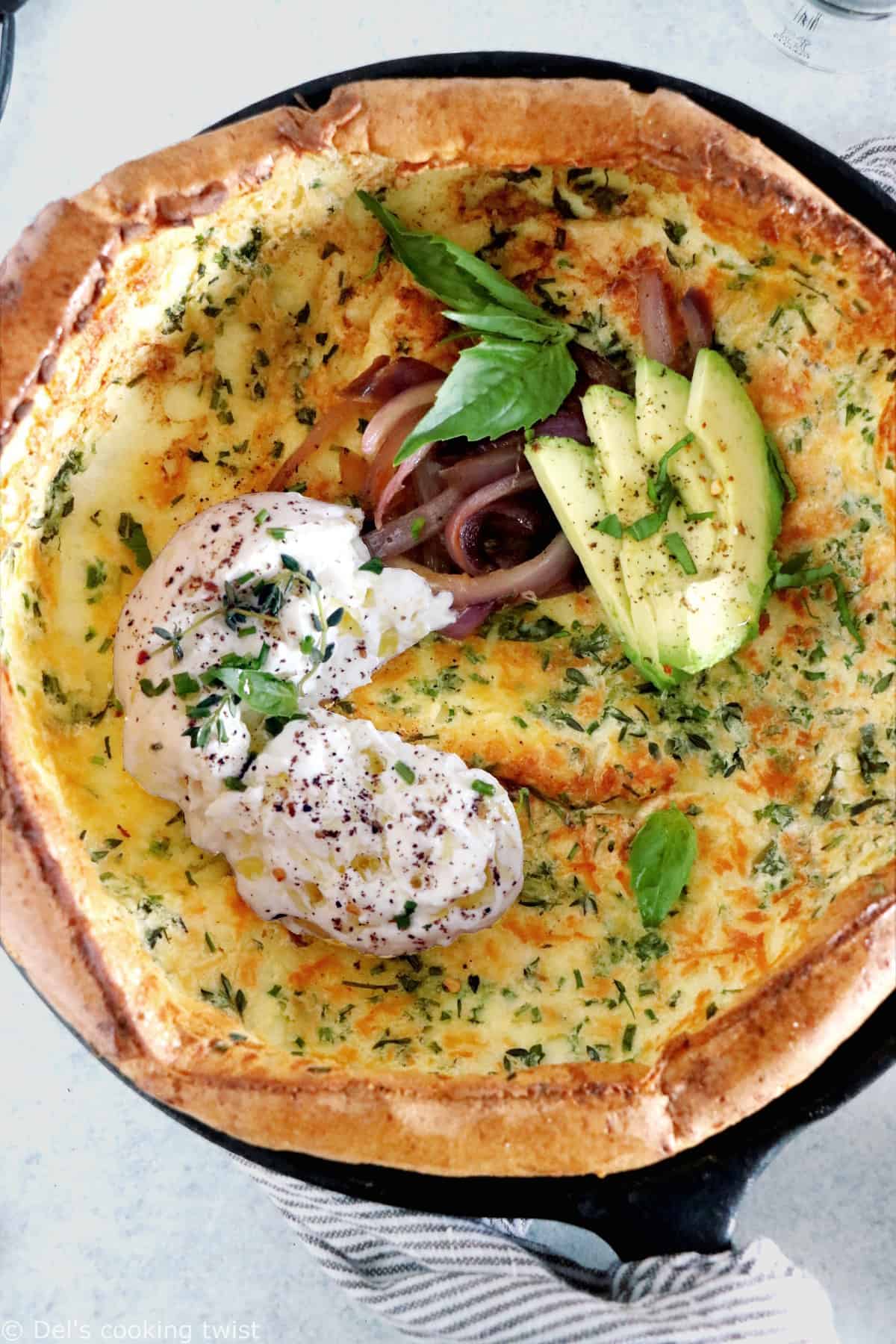 More savory brunch recipe ideas:
Reader's favorite pancakes recipes: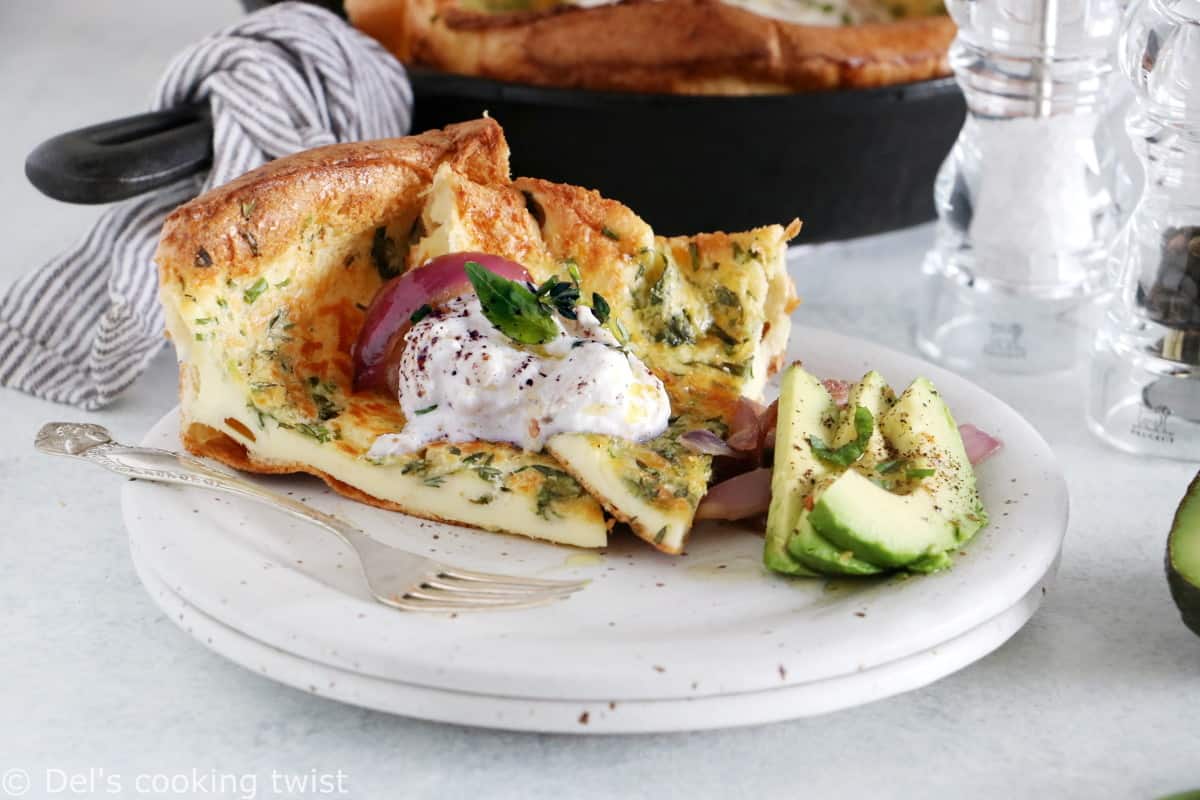 Lastly, if you make this Savory Dutch Baby Pancake, be sure to leave a comment and/or give this recipe a rating, letting me know how you liked it. And of course, don't forget to tag me on Instagram! Thank you and enjoy!
Print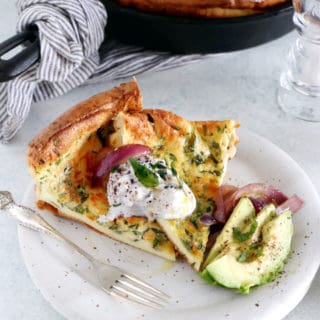 Savory Dutch Baby Pancake
Author:

Prep Time:

30 mins

Cook Time:

25 mins

Total Time:

55 minutes

Yield:

4

servings

1

x

Category:

Savory

Diet:

Vegetarian
---
Description
Elevate your brunch game with this savory Dutch baby pancake with herbs and garnished with caramelized onions and fresh burrata. Pour the batter in one skillet, place in the oven and watch it puff here and there!
---
For the dutch baby pancake:
4

large eggs

⅔ cups

(

160

ml) milk

⅔ cup

(

80g

) all-purpose flour

6 Tablespoons

(

85g

) butter, divided

¼ teaspoon

salt

2 Tablespoons

parmesan cheese, grated

3 Tablespoons

fresh herbs (chives, thyme and basil), finely chopped

1

small clove garlic, minced
For serving:
1

small red onion, thinly sliced

2 teaspoons

balsamic vinegar

1 Tablespoon

sugar or honey
1

ripe avocado, sliced

8 ounces

(

225g

) fresh burrata cheese
Salt and freshly ground black pepper

1 Tablespoon

extra virgin olive oil
Additional fresh herbs
---
Instructions
Preheat the oven to 450°F (230°C). Add 2 Tablespoons butter in a 10-inch (25 cm) cast iron skillet. Place the skillet in the center of the oven for 5 minutes.
In a blender, mix the eggs together with milk, flour, salt, and 2 Tablespoons melted butter (slightly cooled) until the batter is very smooth.
In a small bowl, combine the minced garlic, herbs and parmesan cheese.
Remove the hot skillet from the oven and pour the batter into the skillet. Sprinkle the herb mixture all over and bake for 20-25 minutes or until the Dutch baby pancake is fully puffed and browned on top. Important note: DO NOT open the oven during the first 15 minutes of cooking or you might deflate your pancake.
Meanwhile, melt the red onions in the 2 remaining Tablespoons of butter in a skillet placed under medium heat until soft and translucent, stirring often. Add the sugar/honey, pour in the balsamic vinegar and continue to cook for 5-10 minutes until the onions are gently caramelized and slightly sticky.
Remove the Dutch Baby from the oven. Garnish with the caramelized red onions, the sliced avocado, and sprinkle torn burrata cheese. Add extra fresh herbs, salt and pepper, and finish with a drizzle of olive oil all over. Serve and enjoy!
---
Notes
* You can use a mix of these herbs, just use one of them, and you can also add some fresh dill if you wish.
Keywords: Savory Dutch Baby Pancake