Just 4 ingredients for this quick fruit chia pudding recipe prepared with coconut milk and a rhubarb strawberry compote. Super easy to make, it's a perfect nutritious vegan breakfast, snack or even dessert.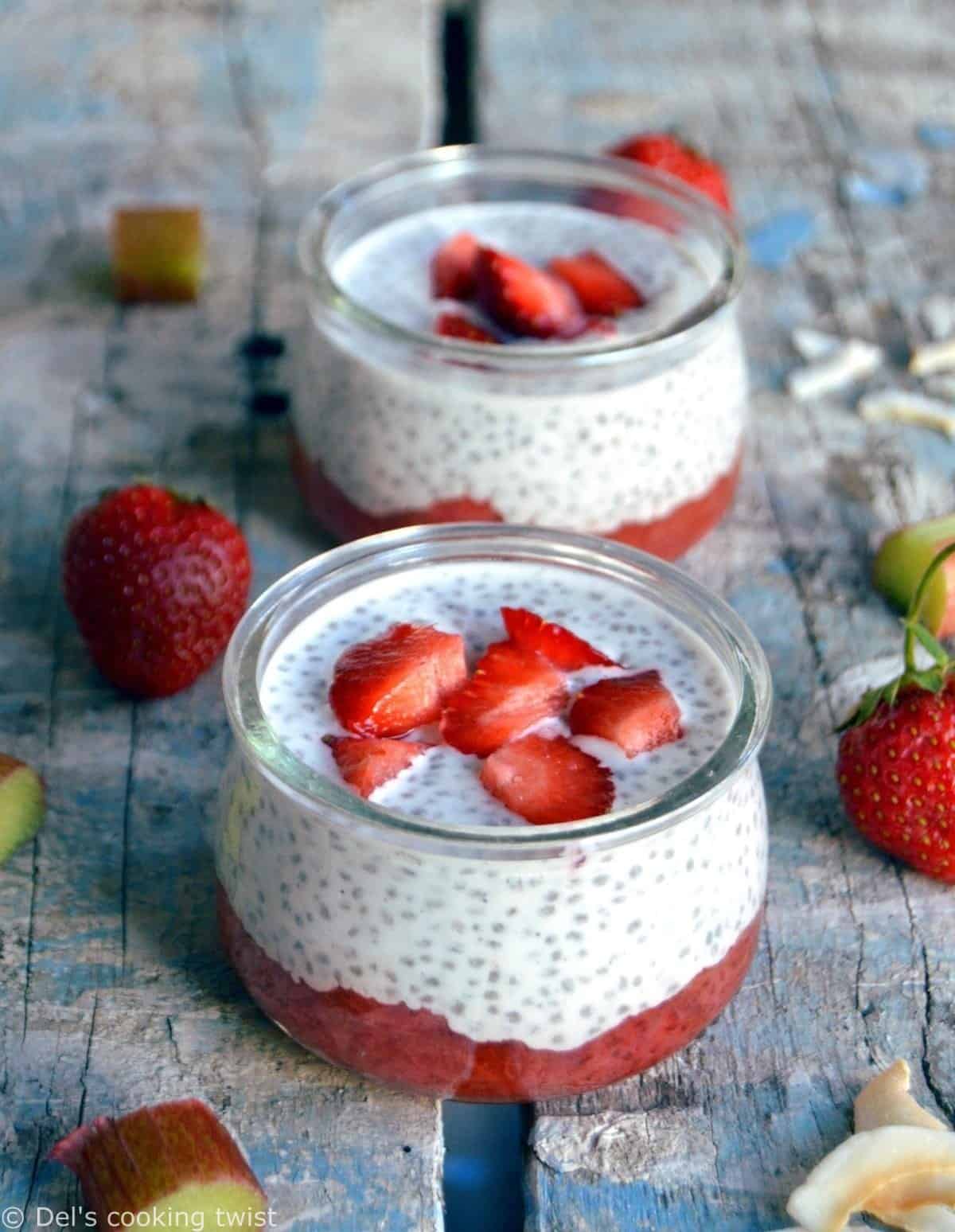 It's been a while since I last shared a healthy breakfast recipe. Fueling your body in the morning is an important habit and helps set the tone for the day. It's proven that breakfast eaters have more nutritious diets and I'm all up for it as I'm definitely a morning person.
Breakfast is indeed one of my main motivation to get out from the bed in the morning. During the week, they must be quick to prepare, healthy, and including fruits. They change from day to day, depending on my mood, my cravings or the time I have to prepare them. If you are looking for some inspiration, I definitely recommend you check out my 12 Healthy Breakfast Recipes. It's a good start to brighten up your mornings with colorful healthy breakfast ideas.
A couple of years ago, I shared a chia pudding recipe with acai and pecans. Since then, I have prepared countless versions for various occasions, and especially for my yoga breakfast events. Chia pudding are extremely versatile and because they don't taste much, you can pretty much use any ingredient of your choice to flavor them. It's also super simple to adapt the recipe based on seasonal ingredients, like I did today using strawberries and rhubarb.
How to make chia pudding?
The chia pudding recipe is basic and simple. Just 2 ingredients combined together, a little bit of magic, and it's ready. So how does it work? It's all about the ratio between chia seeds and liquid. Chia seeds can absorb 9 times their weight in liquid, but for making chia pudding I like to stick with a 1:6 ratio. So I use 3 Tablespoons of chia seeds to 1 cup of liquid.
The liquid is up to you and will vary based on preference and dietary restrictions. My favorite one remains unsweetened coconut milk, full fat, as it brings a thick, creamy consistency and make a really filling breakfast, snack or dessert. Any other plant-based milk such as almond or cashew would work too, as well as regular caw milk if you are not vegan or dairy intolerant.
The chia seeds start to absorb the liquid pretty quickly, but you do need to give the pudding a bit of time to build the gel-like consistency. My recommendation is to prepare it the day before (it takes less than a minute) and let sit overnight. It's the only way to make sure you have this creamy texture. Hence, the chia pudding is an awesome meal-prep option.
Health benefits and environmental impact of chia seeds?
Chia pudding is loaded with fiber, protein and healthy fats, low in sugar and super filling. It's also naturally gluten-free and it makes a great vegan breakfast when using plant-based milk.
However, and as for many other superfoods, we still need to consider environmental impact and sustainability. Victim of their popularity and a rising demand, chia seeds have resulted in a sudden and dramatic increase in production that comes with environmental consequences such as soil erosion and the loss of soil nutrients.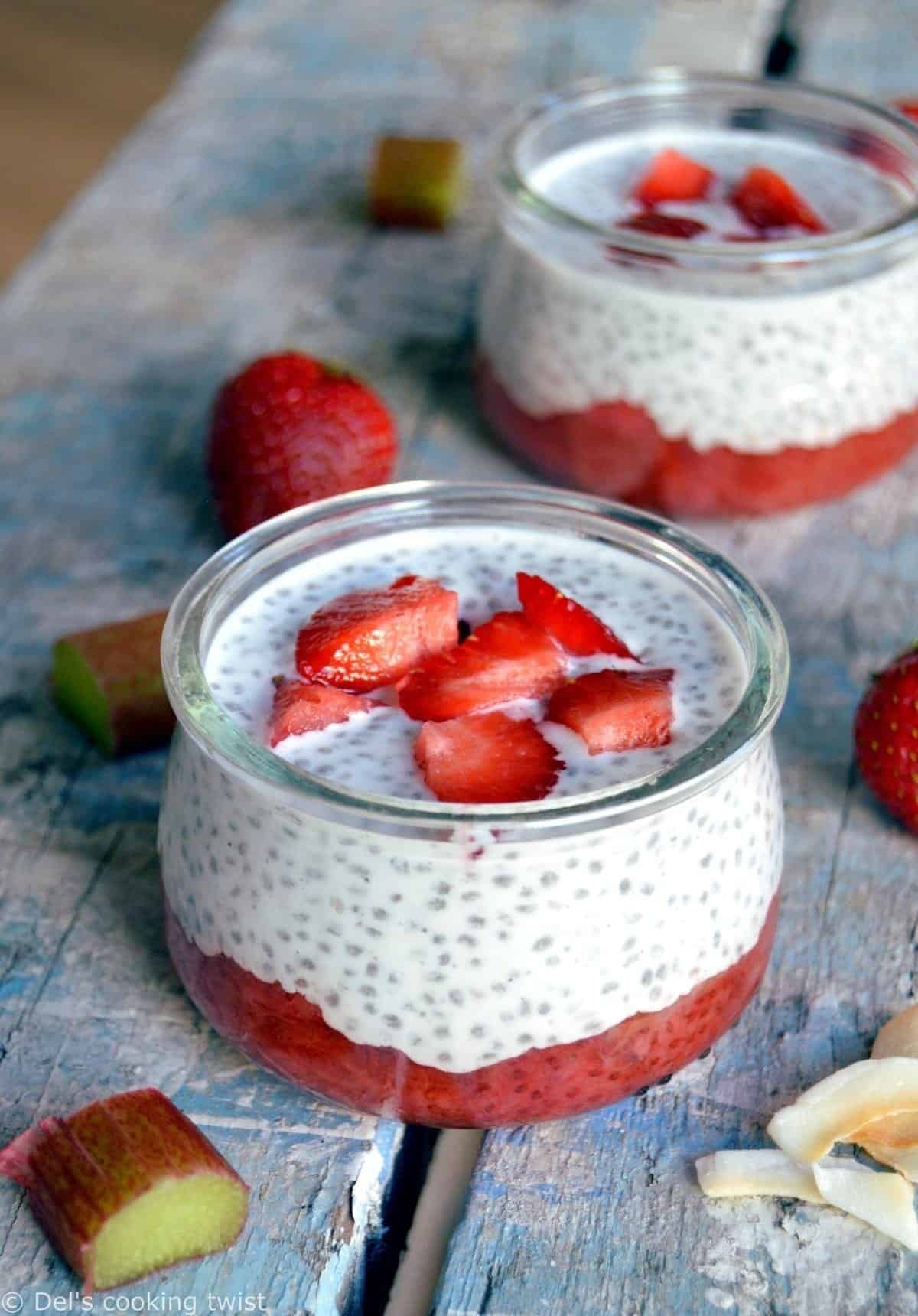 What does it mean for you? Being aware of the environmental impact of any imported food in general and superfoods in particular doesn't mean you should ban these ingredients from your diet. Just try to keep them occasional rather than eating them all the time. As for everything else, it's always a matter of finding balance.
Other healthy breakfast recipes you will love: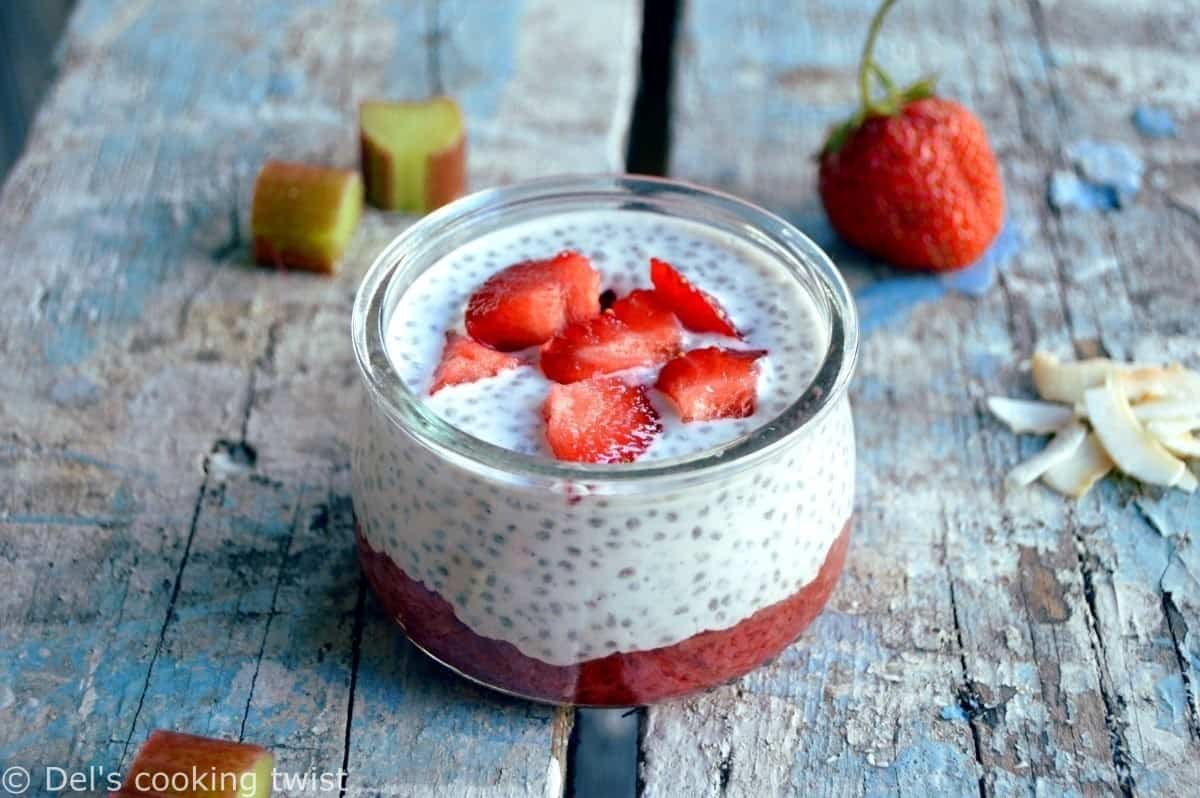 And for any breakfast on the go for busy mornings, I recommend you check these 10+ Nutritious Grab-And-Go Snacks. I wish you all a beautiful healthy day!
Print
Rhubarb Strawberry Chia Pudding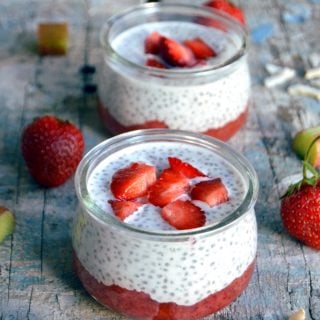 Author:
Prep Time:

10 mins

Cook Time:

15 mins

Total Time:

20 mins

Yield:

2

-

4

servings

1

x
Category:

Breakfast

Cuisine:

Healthy
Just 4 ingredients for this quick fruit chia pudding prepared with coconut milk and a rhubarb strawberry compote. Super easy to make, it's a perfect nutritious vegan breakfast, snack or even dessert.
For the chia pudding:
1 cup

(

240

ml) full-fat coconut milk

3 Tablespoons

chia seeds

1/2

teapoon vanilla exract

1 teaspoon

agave or maple syrup (optional)
For the rhubarb-strawberry compote:
1/4

lb (125g) strawberries, hulled and cut into quarters

1/4

lb (125g) rhubarb, stalks washed and sliced in 2-inch (

5

cm) slices

1 Tablespoon

agave or maple syrup

1 Tablespoon

water
Instructions
For the chia pudding:
Add the chia seeds and milk to a bowl and stir together. Let sit for 10 minutes, then stir again once the seeds have started to gel.
Cover the bowl and place in the refrigerator overnight.
For the rhubarb-strawberry compote:
Combine compote ingredients in a saucepan, bring to a boil and gently simmer over medium-low heat until reduced and thickened and the fruit has softened, about 15 minutes. Remove from heat and let cool.
Divide the cooled compote into 2 to 4 glasses, and pour the chia pudding on top. It's ready!
Back-To-School
,
Berries
,
Chickpeas
,
Dairy-Free
,
Fruit Desserts
,
Gluten-Free
,
Healthy
,
Oatmeals & Granolas
,
Quick & Easy
,
Refined Sugar-Free
,
Snacks
,
Spring
,
Summer
,
Vegan
Did you make this recipe?
Lastly, if you make this Rhubarb Strawberry Chia Pudding, be sure to leave a comment and give this recipe a rating, letting me know how you liked it. And of course, don't forget to tag me on Instagram! Thank you and enjoy!