Quick and easy to put together, this sweet potato casserole made with a crunchy pecan topping is a favorite for Thanksgiving or anytime really.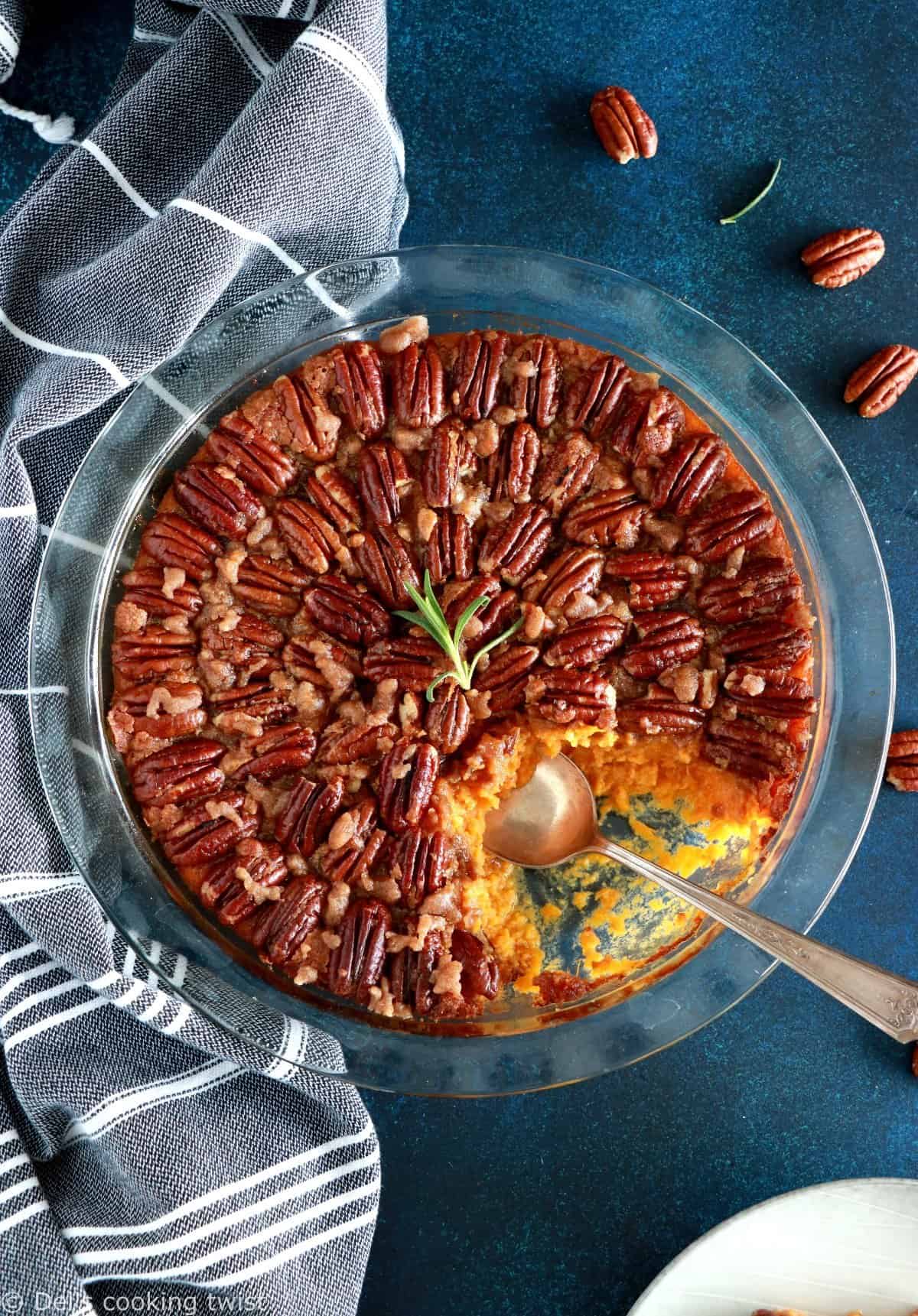 I had my very first sweet potato casserole a couple of years ago for a Thanksgiving celebration here in Chicago and I now wonder how I lived all these years without knowing the existence of this fabulous sweet dish. Featuring sweet potatoes and pecans, it's the perfect harvest dish; no wonder we serve it for Thanksgiving. The pecan sweet potato casserole is rich, buttery, with a brown sugary crunch. But before we go any further, let me re-open an old debate:
Dessert or Side Dish?
That is the question. Yes, it really is. At first I have always thought it was a dessert. Of course it is made with sweet potatoes, and sweet potatoes are commonly considered as vegetables, but so is pumpkin, and no one ever question why we use pumpkin in desserts. It's a fact and it's accepted. Same with carrots, or zucchini, to name just a few.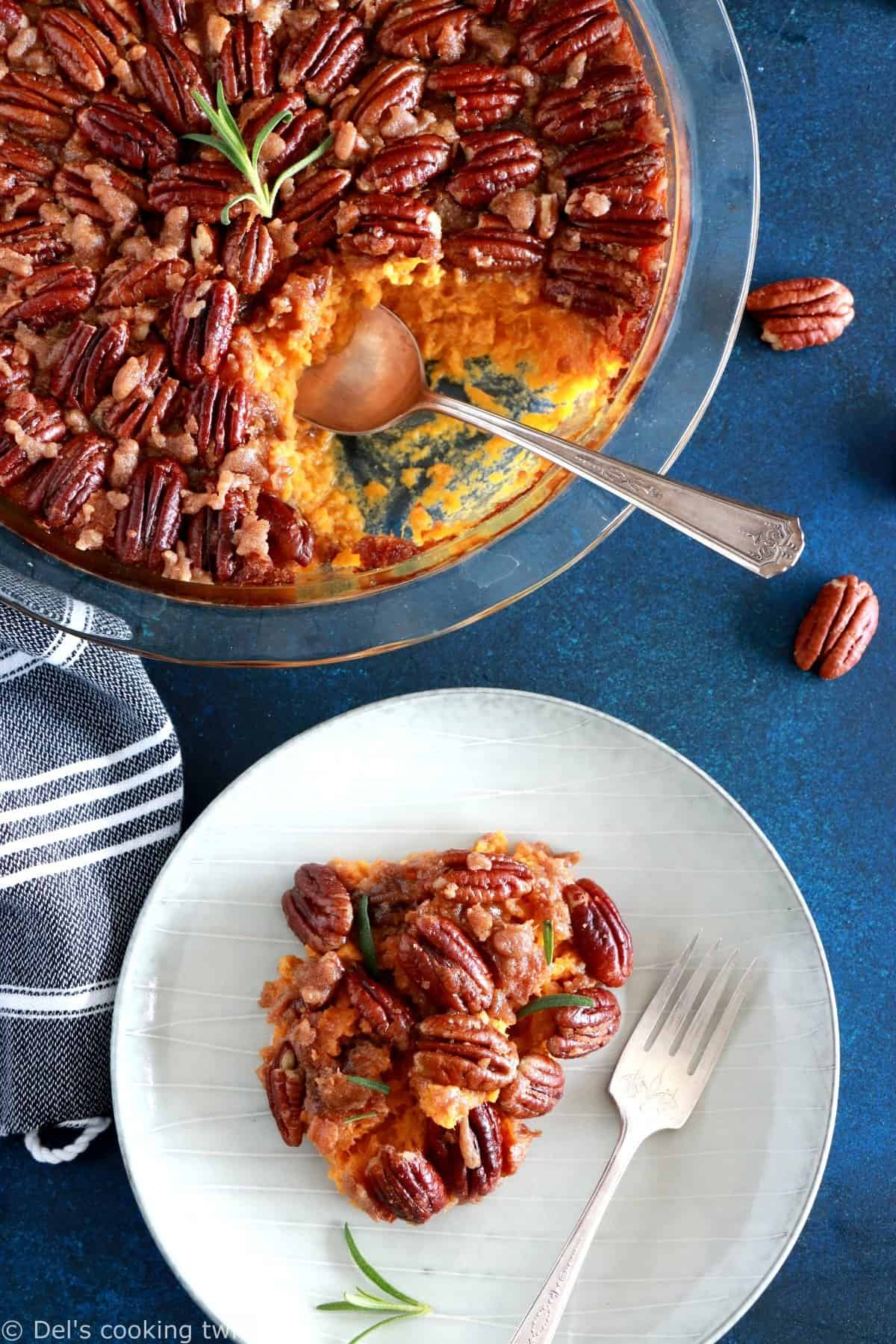 And there I am, the naive French girl coming to Chicago for the first time in her adult life and take it for granted: veggies can be used in desserts, and so are sweet potatoes. Obviously. Except that it is not that simple, and not everyone agree on that. In fact, I first had the debate with my hubby David. When I first told him I was preparing a new dessert for the blog – a sweet potato casserole – he immediately jumped to his feet and said it was actually a side dish. But, but, but… darling, it is sweet, I replied!
Well, all things considered, if veggies can be used in desserts, why a sweet treat couldn't be used as a side dish? As a big sweet and savory fan, nothing really surprises me and I'm really open-minded about this kind of questions. But some people take it very seriously, and you can even read statistics about it. I read some that were in favor of the side dish at 60% versus 40% dessert, and then other statistics seeing it as a dessert by 80% of people while 40% would tell it's a side dish (or is it the other way around for both stats?). Anyhow, let's just say not everyone agree on that subject, and if you ask me, it is clearly a dessert as it is sweet enough (but still not too sweet) and is enough served by itself.
Make ahead tips
One thing everyone agrees on however, is that the sweet potato casserole is most certainly a holiday dish, and mostly served for Thanksgiving and sometimes for Christmas Eve dinner. And as for most of holiday dishes, this one comes with useful make ahead tips. You can start up to 2 days before, prepare the sweet potato mash on one side, the pecan crumble topping on the other side, and refrigerate each separately. On the baking day, bring to room temperature, assemble the casserole in a baking dish or alternatively in an oven-proof cast-iron skillet, and bake it at 350°F (180°C) until warmed through.
The tradition wants to garnish with rosemary or thyme, which most certainly makes it in favor of the side dish. Even though I prefer mine as a dessert, I like to add some anyway. It brings a subtle taste and goes, surprisingly enough, very well with the sweet taste of the sweet potato casserole. I would then serve it as is, with no extra toppings such as heavy cream or so, but if you serve it as a side dish, you can add green beans and turkey. For this version however, I would suggest to cut the sugar quantity a little bit – advice from a French girl about an American dish, so really feel free to make your own opinion and follow it or not, I wouldn't be hurt I promise. And now, here's the recipe!
Print
Pecan Sweet Potato Casserole
Author:

Prep Time:

20 mins

Cook Time:

40 mins

Total Time:

1 hour

Yield:

8

servings

1

x

Category:

Desserts

Cuisine:

American
---
Description
Quick and easy to put together, this sweet potato casserole made with a crunchy pecan topping is a favorite for Thanksgiving or anytime really.
---
3

large sweet potatoes, peeled*

1/3 cup

(

75g

) unsalted butter, melted

1/2 cup

(

90g

) light brown sugar

2

large eggs, beaten

1/2 cup

(120ml) heavy cream

1 teaspoon

vanilla extract

1/4 teaspoon

salt

1/3 cup

(

40g

) all-purpose flour

1/3 cup

(

60g

) light brown sugar

1/2 teaspoon

ground cinnamon

1/3 cup

(

75g

) unsalted butter, melted

2 cups

(

250g

) pecans
Fresh rosemary or thyme, for garnish
---
Instructions
Place the sweet potatoes in a large pot and cover them completely with water. Bring water to a boil, reduce heat and simmer for 20 minutes or until the potatoes are tender. Drain the water and set aside.
Preheat oven to 350°F (180°C). Grease a 9-inch (23 cm) deep oven-safe skillet or a similar size baking pan.
Using a potato masher, mash the potatoes until smooth, leaving some chunks for texture. Add the butter, brown sugar, beaten eggs, heavy cream, vanilla, and salt, and stir well. Spoon the mixture into prepared pan.
In a medium bowl, whisk the flour, brown sugar, and cinnamon together. Using a rubber spatula, fold in the melted butter and pecans until the mixture is totally combined. Spoon evenly over the sweet potatoes.
Bake for 30-40 minutes or until golden brown on top. Garnish with fresh thyme or rosemary and serve warm.
---
Notes
* It makes about 4 cups mashed sweet potato.
Shop the recipe

Here are some items I used for the recipe:
Stainless Steel Potato Masher | Glass Pie Dish | Cake Serving Set | Stainless Steel Measuring Cups | Measuring Spoons
Some of the links above are affiliate links, which pay me a small commission for my referral at no extra cost to you! Thank you for supporting Del's cooking twist.