Here is a sumptuous and elegant lemon meringue pie made easy for you. Learn how to master this classic dessert with a homemade crust, a subtle lemon curd and a fluffy Italian meringue.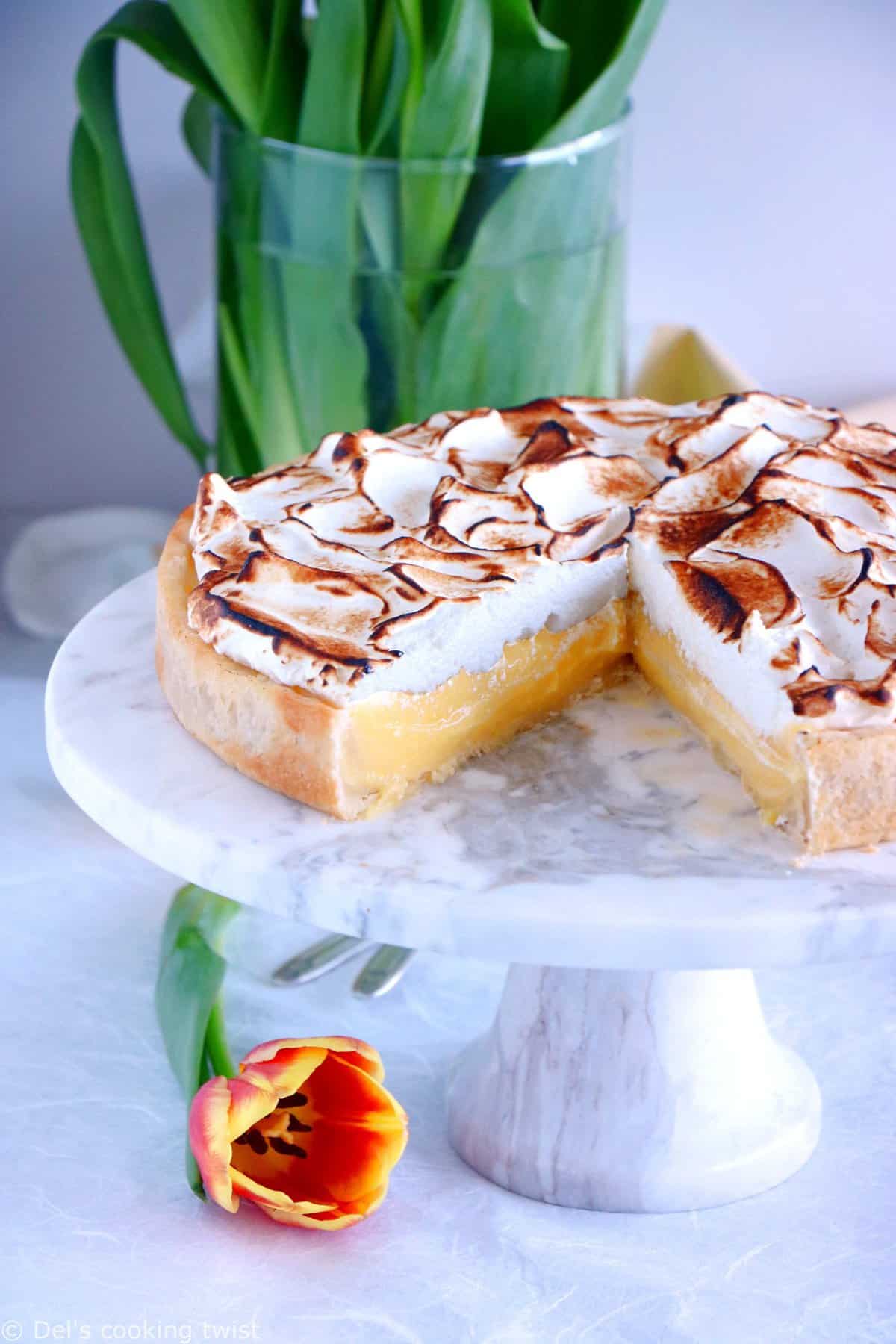 When I think about it, I can't believe I haven't posted my lemon meringue pie recipe in almost 5 years I have been blogging. It was about time to change that, so I chose it as my French baking recipe for April. For the ones who missed that part, I started a new challenge on the blog this year with the idea of sharing each month a French baking recipe. So far you enjoyed the recipe of the French galette des rois (+ a detailed puff pastry tutorial), a French brioche à tête, and not one but five (yes, five!) no-knead bread recipes that turn out just fine every single time with no effort.
At some point, I knew I had to share my lemon meringue pie as well, which is David's all-time favorite dessert! I love it too, and even more now that I own a blow torch, that enables me to create beautiful shades on my meringue (I always believe that pretty food taste better. Are you with me on that assumption?) Fun fact: when browsing various lemon meringue pie recipes on the web, I noticed there were two different schools, the French one, and the American one, the first one being slim and elegant, the second one decadent and fluffy.
Just google "lemon meringue pie" and then "tarte au citron meringuée" (the French name), and notice the difference. They look completely different. All this made me wonder about the exact origin of this pie. Is it really French after all? I was not too sure so I did some research. Lemon meringue pie is indeed in French people's top four favorite desserts, but its origins are quite complex. It started with the lemon curd, which was invented at the end of the 18th century by the Quakers in the UK. This curd was actually similar to the one made with lime and used in the key lime pie in the southern states of the United States (and in particular in Florida). Soon a variation with lemon was invented: the lemon pie.
It later got imported to Europe through Switzerland, where Alexandre Frehse improved the recipe and invented the lemon meringue pie, based on the meringue recipe invented by the Italian Chef Gasparini. The lemon meringue pie recipe we know nowadays comes from the American pastry chef Elizabeth Goodwell, who wrote the recipe in 1806. So, it's not French that much in the end, right? Except that you find it in every pastry shop in France in its most elegant way.
Having all that in mind, one question appeared to me: which one would I share with you? Well, I'm French, I can't help it, and I like elegance in all my pastry desserts so I naturally went to the one I was used to since I was a kid. But I brought some changes to the recipe, especially the crust. I used here the shortbread crust recipe from my Orange Crème Brûlée Tart, as I find it just divine with custard.
This crust is really easy to prepare as you use a food processor; throw in all the ingredients and pulse until the dough comes together. You obtain a very smooth dough. I then roll it out in between 2 sheets of cling film to prevent from sticking to the rolling pin and place in the refrigerator to set for one hour before lining the pan. Another option consists in placing the ball of dough directly in the pan and using your finger tips to flatten to line the bottom of the form. It's more rustic and not very sexy but it actually works extremely well too.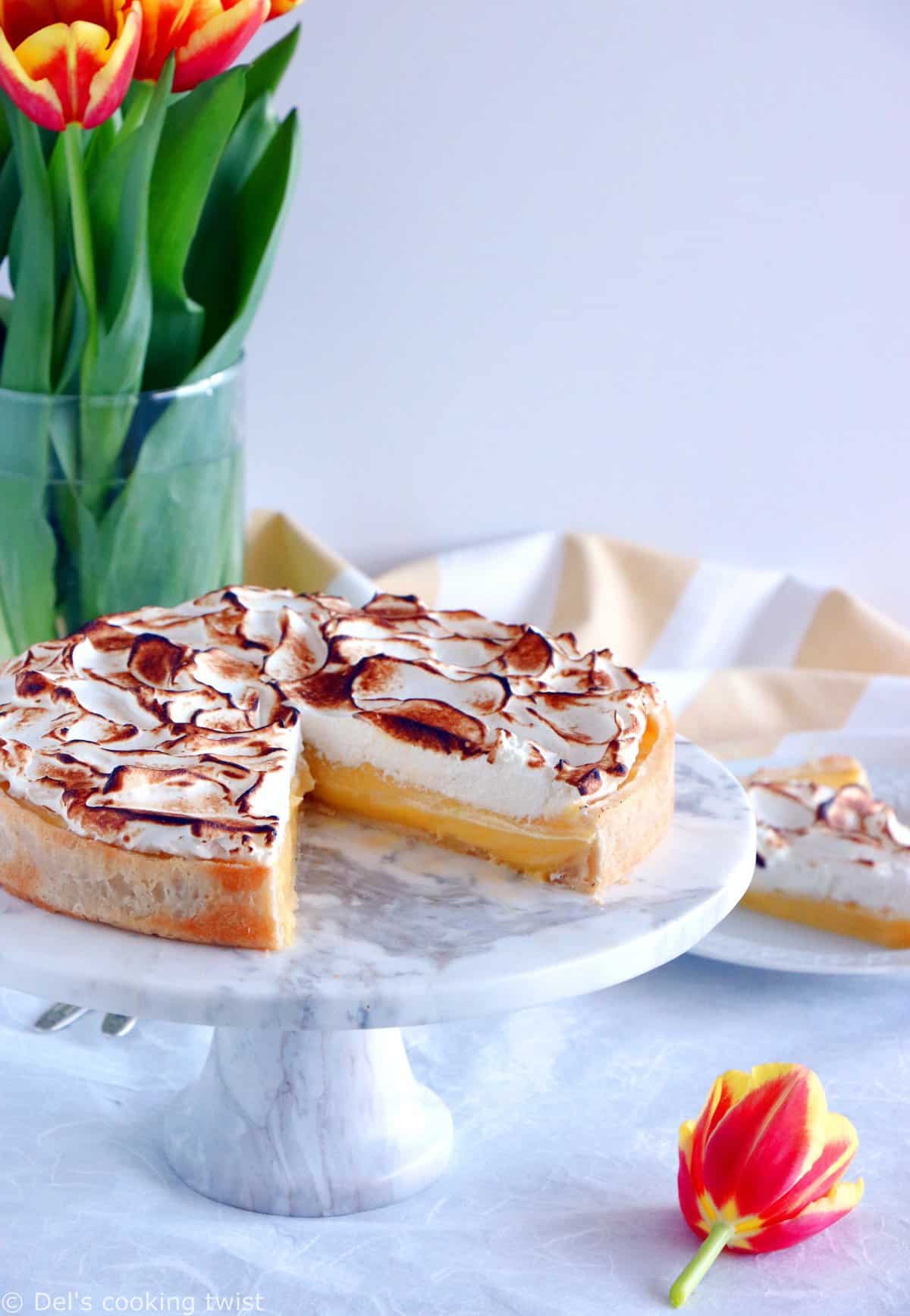 Now the lemon curd. I picked here a very simple lemon curd recipe that is impossible to fail – you will love it and for sure make it again for other uses. Eggs, lemon, lemon zest, and sugar are the basic ingredients. Wait until it cools down a little bit before filling the pie crust with the curd, place in the refrigerator and wait until you prepare… the beautiful meringue!
My go-to recipe when it comes to meringue is the Italian version, that can be a little bit scary at first as you need to use a thermometer to make sure your syrup is at the right temperature. It's actually way easier than it sounds, and clearly the texture and taste are so much better than a French meringue that you will soon learn how to master it too.
Just a piece of advice. Make sure your egg whites are already fluffy – but not too hard – when you pour the syrup. Pour extremely slowly, beating well in between two additions to make sure the syrup is absorbed. If you just pay attention to it, you are sure to have a perfect fluffy Italian meringue, whether you use a stand mixer or a hand mixer (I tried with both).
The final touch is always the best one: swirl the meringue with a spoon, then use your torch and blow some beautiful flames to give these golden shades. If you do not own a torch, just place in the oven for a few minutes, watching carefully through the oven window to make sure it doesn't burn. And voilà, the perfect meringue pie for you!
Print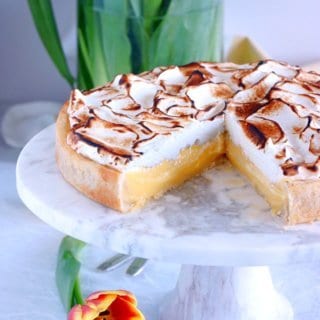 Lemon Meringue Pie
Author:

Prep Time:

1 hour

Cook Time:

12 mins

Total Time:

1 hour 12 mins

Yield:

8

servings

1

x

Category:

Cakes and Pies
---
Description
Here is a sumptuous and elegant lemon meringue pie made easy for you. Learn how to master this classic dessert with a homemade crust, a subtle lemon curd and a fluffy Italian meringue.
---
For the crust:
1 ½ cups

(

180g

) all-purpose flour

1 cup

(

110g

) powdered sugar

½ teaspoon

salt

1 ½

sticks (170g) cold butter, diced
For the lemon curd:
1/2 cup

(

120g

) fresh lemon juice
Zest of

2

lemons

2/3 cup

(

160g

) unsalted butter, diced

5

large eggs

1 cup

+ 2 Tablespoons (

225g

) caster sugar
For the Italian meringue:
½ cup

(

100

ml) water

½ cup

(

100g

) caster sugar

2

egg whites
---
Instructions
For the crust:
Place all the ingredients in the bowl of a food processor and pulse until the dough starts to form clumps, about 30 seconds to 1 minute. Gather the dough with your hands, shape into a ball, and roll it out in between 2 sheets of cling film in a large 10-inch (25 cm) circle. Place in the refrigerator to set for 1 hour.
Preheat the oven to 425°F (220°C) and grease a 9-inch (23 cm) pie dish with removable bottom.
Remove cling film sheets and line the pie dish with the crust, adjusting with your finger tips if needed (the dough is very fragile). The edges must be 1/2 inch up (1.5 cm), not more.
Place parchment paper in the pie dish, cover with heavy weights (such as dried beans), and bake for 10-12 minutes or until light golden brown. Remove from the oven and let cool.
For the lemon curd:
Heat lemon juice with zests and butter in a saucepan over medium heat.
In a mixing bowl, mix eggs and sugar. Pour 1/3 of lemon juice over this mixture, mix well, and transfer to the saucepan. Let the mixture thicken on medium heat, stirring constantly.
When the lemon curd is ready, pour it over the pie crust and let cool in the refrigerator.
For the Italian meringue:
Mix water and sugar in a small saucepan, and heat the syrup to 240°F (115°C) without stirring
Beat the whites until soft peaks form (they must be foamy but not yet firm). Very gradually pour the hot sugar syrup into your egg whites as they continue to whip on low to medium speed. Once you've added all of the syrup, increase the mixer speed to medium-high. Continue mixing until the meringue produces stiff peaks.
Cover the pie with the Italian meringue, using a tablespoon to make some swirls. Gently brown with a hand-held torch to create golden swirls, or place it in the oven for a few minutes, watching carefully through the oven window to make sure it doesn't burn.
---