This easy honey peach galette with a buttermilk crust is a summer favorite and a recipe to keep a lifetime. Simple pleasures are always best!
This is huge, guys. This is a big day for me. I am finally sharing a peach recipe on the blog. You probably haven't noticed that peach recipes were missing here, and you probably don't know the reason either. Do I make you slightly curious now? Ok, I have a confession to make: I do not like peaches! Or I "did" not like peaches should I rather say. I know, I know, you are probably saying or thinking right now: "What? How can someone not like peaches, they are the most delicious fruits of the entire world?" I have heard that sooooo many times…
The real question here is why I did not like peaches until my early thirties, while I like absolutely everything else. Seriously I eat everything – except peaches. There is indeed a simple explanation to that. When I was a child, someone I barely knew forced me to eat a peach although I didn't want to. The person took my head on one hand, and with the other one grabbed the fruit and put it in my mouth. I almost threw up everything. To be honest, I am completely over it now. I mean, I'm not a child anymore, right? But for some reason, this apparently insignificant fact got stuck in my subconscious or something like that, coming to the point that I couldn't stand someone eating a peach in front of me, I couldn't stand the texture and couldn't stand the smell (I'm still struggling with this last part).
A psychological effect. That's what it is, even though I don't really like the idea. And there is something I learned from this tiny trauma: never force a child to eat something he refuses to. Kindly invite him to eat it, include the ingredient in an appetizing recipe or find a similar trick, try again and again in different enticing ways if necessary, and eventually he will like it. I had to do my own recovery myself, and it took over 20 years, how ridiculous! At some point when I was a teenager and all into cooking and baking, I remember I baked a peach pie with a lot of almond meal for my family. It was a first step, touching the fruit. I tried it, and I must admit I enjoyed it I think. But still the idea of peaches disgusted me.
Eventually, the blog became my therapy and I did try again recently, convinced that I would like it and that I just needed to fight the old demons from the past. I finally found myself ready for it. And there I am today, with a beautiful peach galette! To make the recipe more appetizing to me, I prepared a crust with a lovely nutty taste, used some almond meal (which always work well with summer fruits anyway), sweetened the fruits with honey and vanilla, and sprinkled some slivered almonds on top. Prepared like this, I knew there were no way not to like it. I still struggled with the first bite begging the demons to go away for good, and with no surprise, I liked it. I know this is no breaking news for you but this is for me: peaches are good!
Now that you know all my story, let me tell you a little bit about the recipe. I have published different galette recipes on the blog before (see below), trying different kind of crusts. This time, I tried a buttermilk crust, curious about both the taste and texture the buttermilk would bring here. I love using buttermilk in cakes, breads or muffins, but had never tried in a crust.
The result is absolutely fabulous: a flaky texture with a subtle rustic flavor. I prepared the dough in a food processor, which helps the dough comes together beautifully. Because of the buttermilk, the dough is slightly sticky and can be delicate to handle, especially if it's hot in your house. If so, place it in the refrigerator again until cold and still supple. I also place it in the freezer quickly right after I filled the galette to ensure it will then keep its shape when baking in the oven.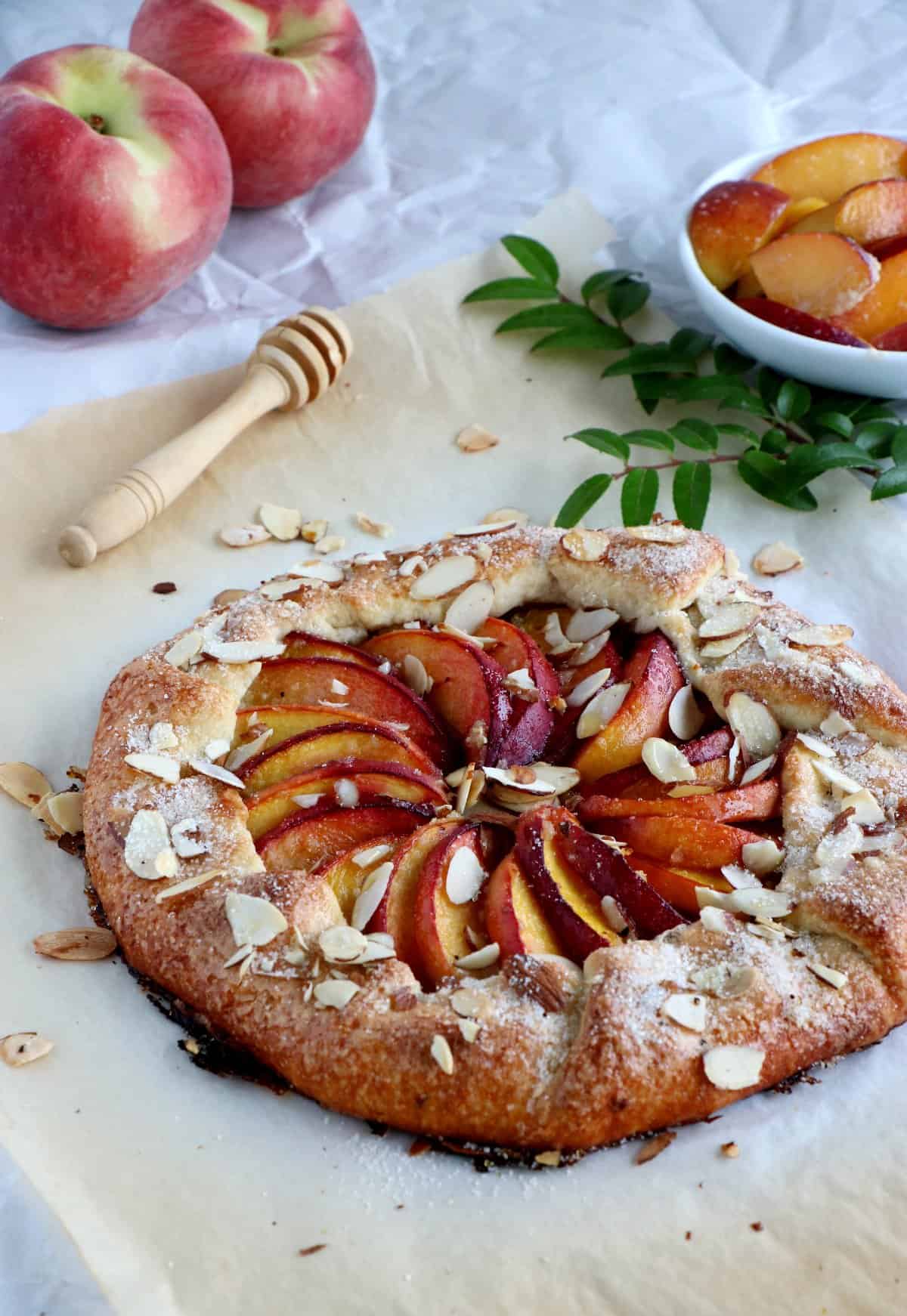 If you like fruit pies and galettes, you might also like:
The filling is here very simple: simply combine peaches with vanilla and honey. For this last one, you can adjust the quantity a little bit, depending on how sweet you like your food, but also depending on how ripe your peaches are. I placed the peaches over a bed of almond meal which prevent their juice to go through the crust and brings a lovely additional taste to the whole galette. And for the final touch, I sprinkled raw sugar over the edges of the galette and a few slivered almonds as well. Enjoy as is, or with a side of whipped cream or vanilla ice cream!
Print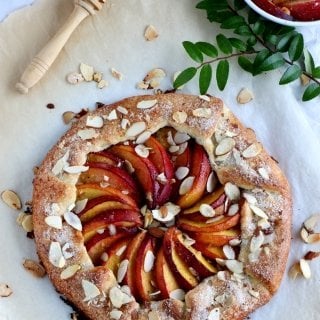 Honey Peach Galette with Buttermilk Crust
Author:

Prep Time:

30 mins

Cook Time:

30 mins

Total Time:

1 hour

Yield:

4

servings

1

x

Category:

Cakes and Pies
---
Description
This easy honey peach galette with a buttermilk crust is a summer favorite and a recipe to keep a lifetime. Simple pleasures are always best!
---
For the buttermilk pie crust:
1 1/4 cups

(

150g

) all-purpose flour

1/2 teaspoon

salt

1 Tablespoons

(

15g

) granulated sugar

1/2 cup

(1 stick/

115g

) unsalted butter, cold and diced

1/4 cup

(

60

m) cold buttermilk*
For the peach filling:
3

medium yellow peaches, sliced

2

–

3

Tablespoons (

30

–

34

ml) honey

1/2 teaspoon

(

5

ml) vanilla extract

1/4 cup

(

25g

) almond meal
For brunching:
1

large egg, beaten +

1 Tablespoon

water

2 Tablespoons

(

30g

) raw sugar
Slivered Almonds
---
Instructions
For the buttermilk crust:
In a food processor, combine flour, salt and sugar and pulse to combine. Scatter the diced butter over and pulse about 10 times, until slightly mixed. Pour in the cold buttermilk* and pulse until the dough is sticky and comes together.
Pour the dough out onto a sheet of cling film, flatten into a thick disc, then wrap in cling film. Place in the refrigerator for about 1 hour.
For the peach filling:
In a medium mixing bowl, combine the peaches, honey, and vanilla, until peaches are well coated.
Remove the dough from refrigerator, place over a sheet of parchment paper and roll out into a 10-inch (25 cm) circle .
Sprinkle the almond meal over the dough, leaving about 2 inches (5 cm) around the border. Arrange the peaches on top of the almond meal, then fold the edges of the dough in over the fruit, pleating the edges as you work your way around the fruit to form a free-form tart that is roughly 9 inches (23 cm) in diameter.
While still on the parchment, place the galette onto a baking sheet and place into the freezer for 30 minutes to an hour. This will help the galette maintain its shape during baking.
Once chilled, preheat the oven to 400°F (200°C).
For brunching:
Prepare the egg wash by mixing one beaten egg with one tablespoon of water, and brush over the edges. Sprinkle the edges with raw sugar, and sprinkle slivered almonds over.
Bake the galette for about 30-35 minutes or until golden brown and the juices are bubbling. Serve lukewarm with a side of whipped cream or vanilla ice cream.
---
Notes
* For homemade buttermilk, place one teaspoon of lemon juice or white vinegar in a measuring cup, pour milk over up to 1/4 cup, and stir well. Let sit for 10 minutes and it's ready to use!