The classic French crepes recipe you need in your life. Perfect for any occasion, they can be served with either a sweet or a savory toppings.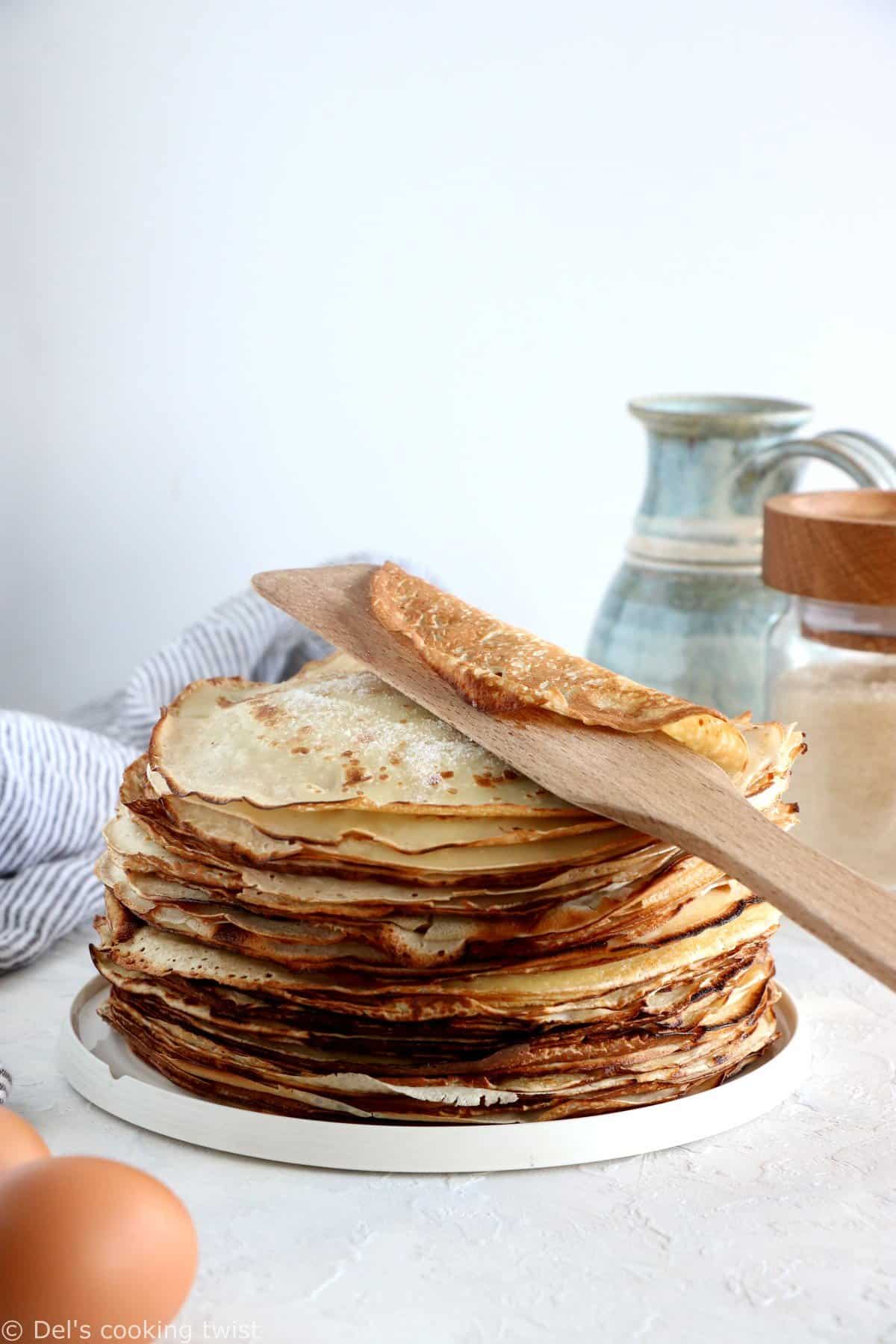 Crepes must be the very first recipe you learn as a kid in France, and also probably one of the first recipe you learn by heart (together with the yogurt cake – have you heard about it by the way?). School has started again everywhere now (whether you are in France, Sweden or the US), and we clearly feel a "back to school"/September weather, with a few slightly colored leaves showing up there and there. The temperatures are still hot here in Chicago but this back to school feeling hit anyway, and I felt like having crepes like kids would have after school.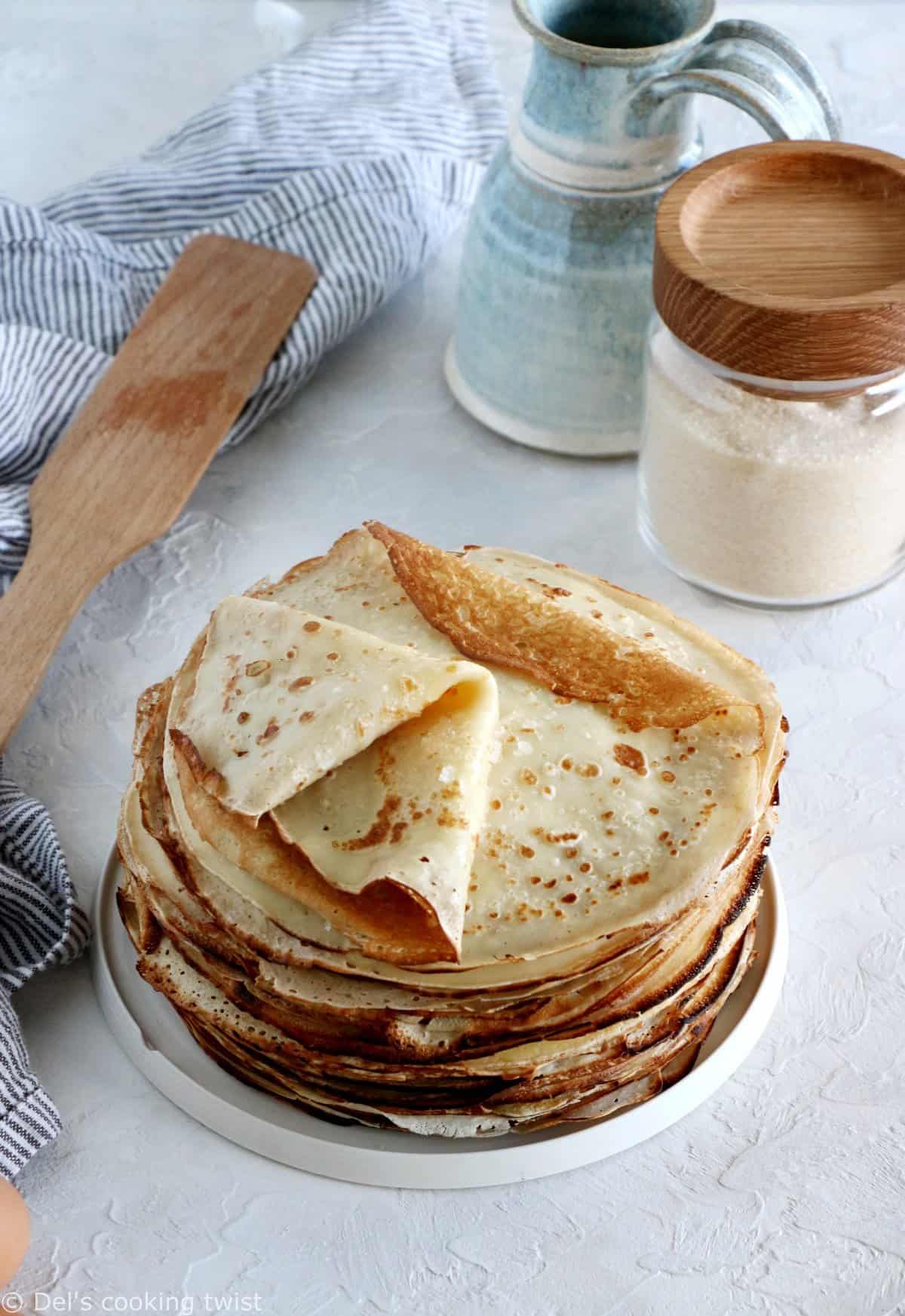 But wait a minute: my blog is all about recipes with a twist, so why share such a classic recipe with basic ingredients? I've got 2 answers here: first of all, every family in France has its own crepes recipes, and there are as many crepes recipes as there are families in France. And then, I'm French, so I figured I should take part in the crepes debate and add my very own crepes recipe with you too. Are you in? Then follow me!
So what's in a basic crepes recipe?
Eggs, milk, flour, and butter (or vegetable oil). That's it! No, there is no sugar in a classic crepes recipe, so that you can then use the filling of your choice, sweet or savory. If you know you make exclusively sweet crepes for dessert, it's ok to add one Tablespoon of sugar in the batter.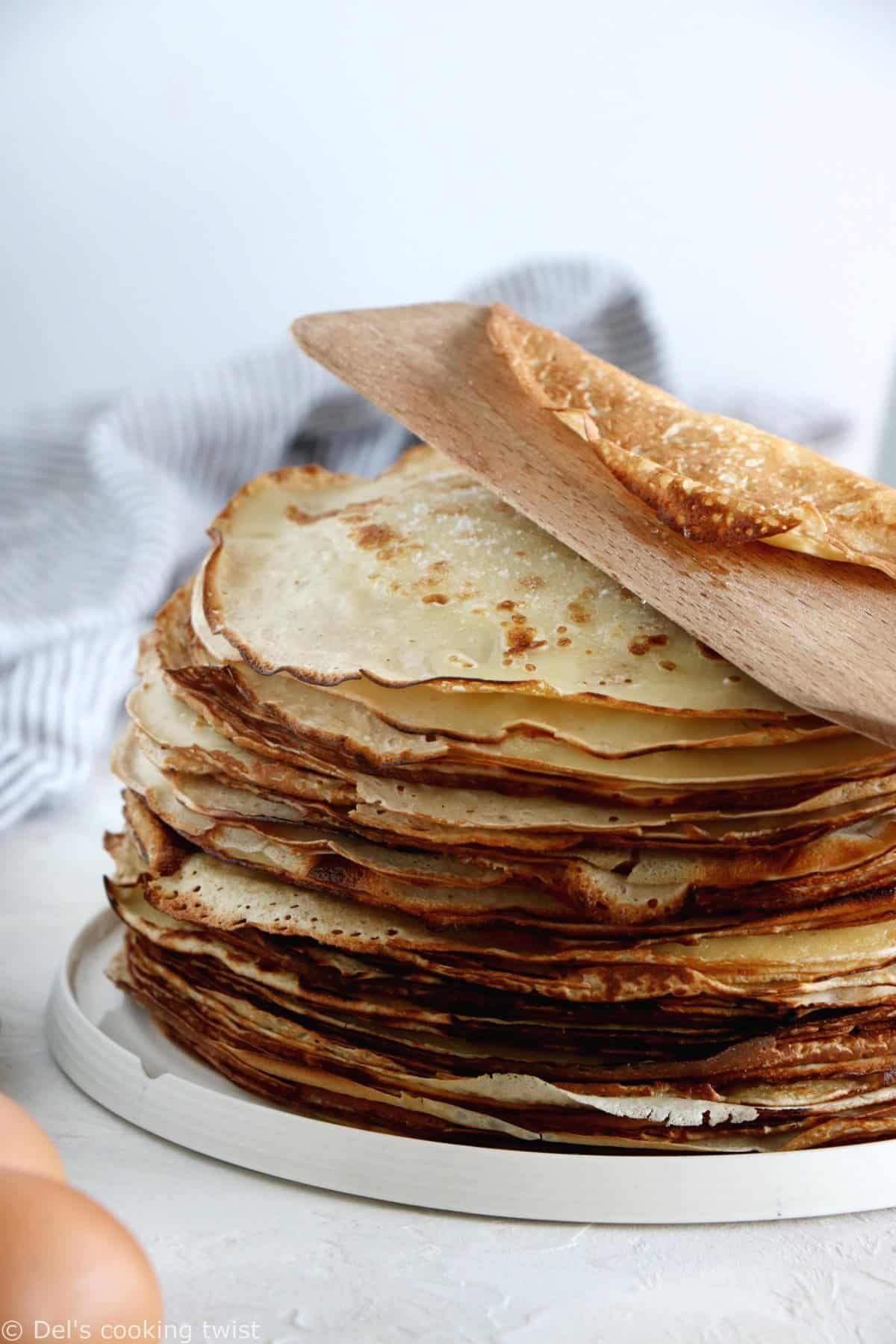 Melted butter or vegetable oil in my crepes?
I choose melted butter most of the time as it gives a much better flavor to your crepes and make them lighter in texture as well. However, note that this is more a matter of taste and you could totally replace the melted butter with vegetable oil in the same quantity (i.e. 50g melted butter = 50 ml vegetable oil). If you do so, I recommend you go for an oil that is neutral in taste: don't ever go for olive oil for instance, it will be too strong in taste. I don't really recommend coconut oil either, as it gives a sweet coconut taste to the crepes. Instead, go for a regular canola oil or sunflower oil.
How much milk for thin, supple crepes?
Then the most important thing to keep in mind when making French crepes is that they need to be very thin in texture. They are not pancakes: they are larger, and much, much thinner. To obtain the perfect thin texture, you can adapt the quantity of milk you use in the batter until you get the desired consistency, especially if you use whole milk (which is not necessary in my opinion, semi-skimmed milk is totally fine).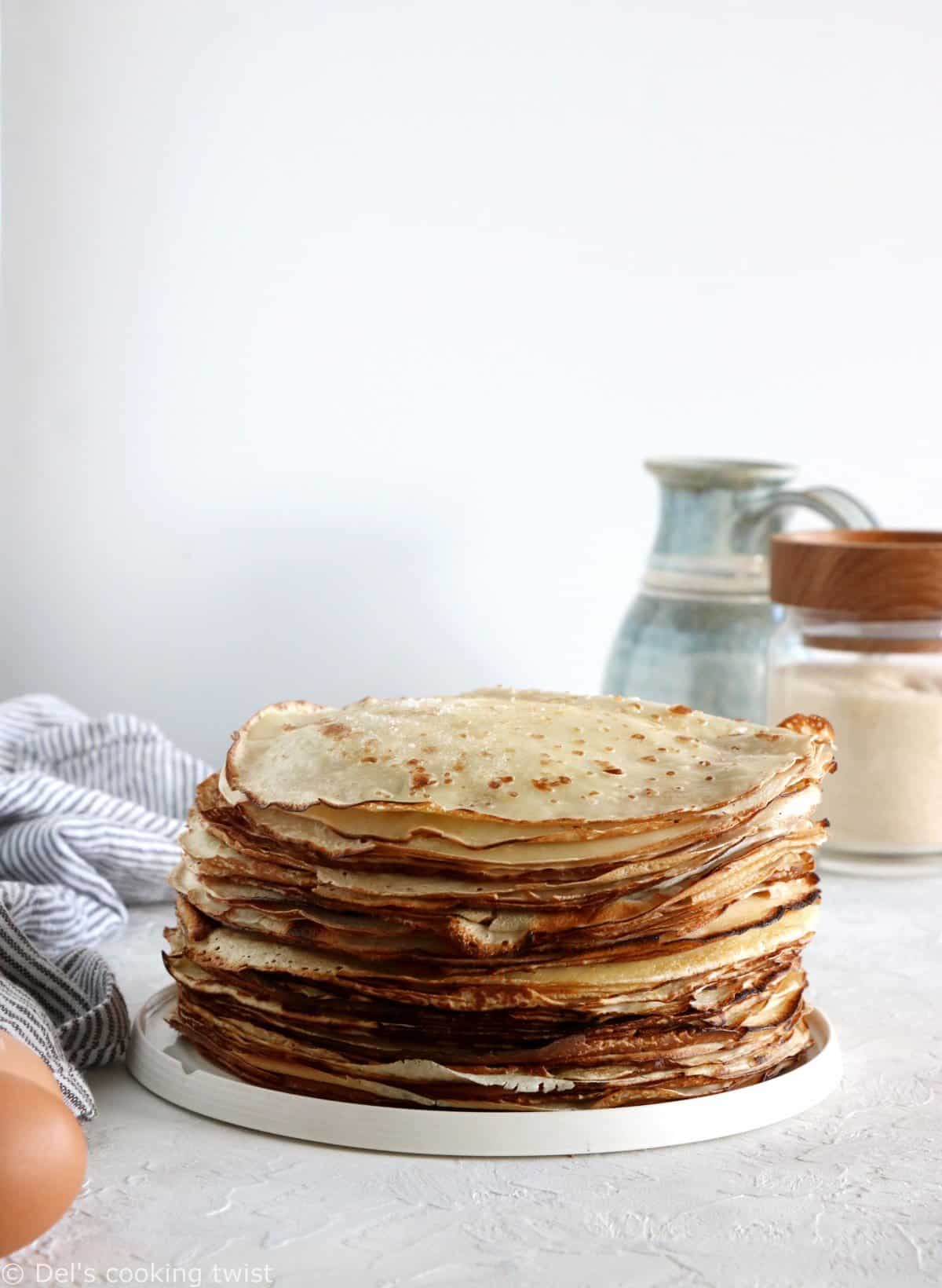 Ooops, I messed up the first crepe!
Oh, and don't you worry if your first crepe is a fail, we usually say in France that we always fail the first crepe! The reason? A pan not hot enough when we pour the batter inside.
To prevent that from happening I recommend you heat the pan with oil for almost a minute before you pour the batter into it, it will help you to get a beautiful first crepe. But maybe you'll do like me and fail on purpose, so that you can eat the fail crepe right away while making the other crepes, hehe! And I'm pretty sure I'm far from being the only one doing it.
My favorite toppings:
Now grab your favorite toppings: lemon and sugar, strawberry or apricot jam, melted chocolate, and enjoy your crepe party! Find below my favorite toppings for crepes: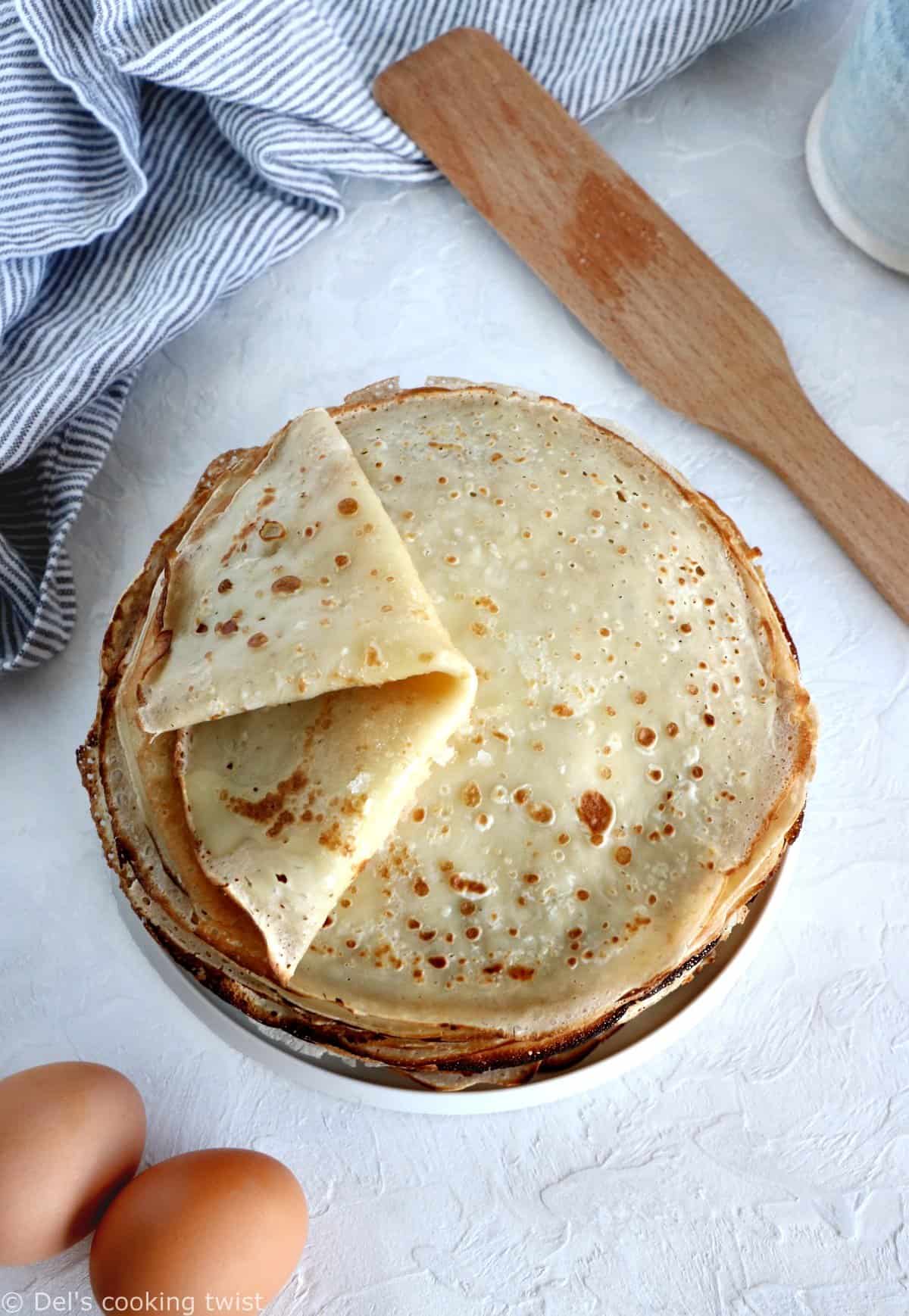 More crepes recipes:
Lastly, if you make these Easy French Crepes, be sure to leave a comment and/or give this recipe a rating, letting me know how you liked it. And of course, don't forget to tag me on Instagram! Thank you and enjoy!
Print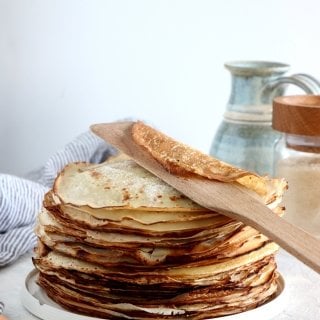 Easy French crepes
Author:

Prep Time:

5 mins

Cook Time:

15 mins

Total Time:

20 mins

Yield:

20

crepes

1

x

Category:

Cakes and Pies

Cuisine:

French
---
Description
The classic French crepes recipe you need in your life. Perfect for any occasion, they can be served with either a sweet or a savory topping.
---
2 cup

(

250g

) all-purpose flour*, sifted

1

pinch of salt

4

large eggs

1/4 cup

(

50g

) melted butter

1 Tablespoon

(

15g

) sugar (optional)

2 cups

(

500

ml) milk

2 Tablespoons

oil for cooking
---
Instructions
Pour flour and salt in a large bowl and make a well in the center. Add the eggs, the melted butter, and the optional sugar if desired. Whisk vigorously starting from the center, and slowly start to pour in a little milk, mixing as you pour, to keep the batter smooth. Pour in the rest of the milk until it looks smooth. Cover the bowl and let sit for 2 hours.**
Heat a 15 cm/6-inch crepes pan and grease with oil using a piece of paper towel. Pour in a ladle of dough by tilting the pan in all directions to distribute the dough well. Heat until the surface is cooked, then flip the pancakes and cook the other surface for about a minute, or until the crepe becomes lightly blonde. Proceed the same with the remaining batter.
Stack the crepes onto a plate, and serve with your favorite topping (usually in France: butter and sugar, jam, or melted chocolate).
Notes
* or you can use 1 2/3 cups (200g) all-purpose flour + 5 Tablespoons (50g) cornstarch for a lighter batter.
** Don't skip this part, or if you run out of time allow the batter to sit for at least 30 minutes. This will help you get lighter crepes in texture.