Easy and delicious curried leek potato soup, prepared with 5 ingredients only, and packed with warm, comforting flavors. The soup is also naturally vegan and gluten-free!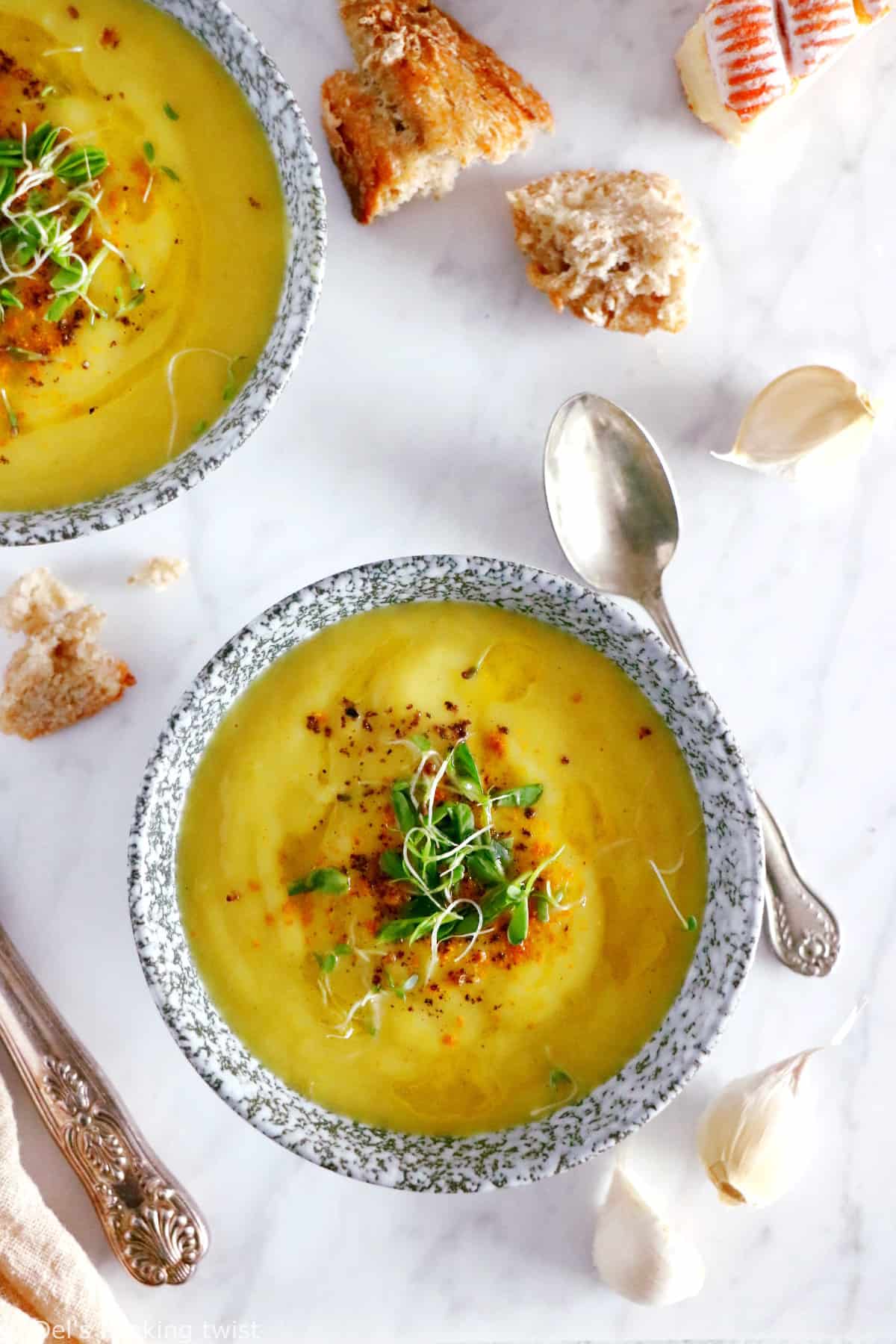 I grew up with soup every night for dinner at home. For most kids, this would have been boring as hell, but for me this was just normal, and I even enjoyed it. Well, to be fair, my parents let me believe that eating soup everyday would help me to grow. As a kid, I thought I would become taller (although I soon had some serious doubts when looking at my grandpa who had soup every single day and was rather short). Only years later, I understood that soup wouldn't make me taller physically, but would simply help me to grow healthier!
The soup menu would change often, and one of my favorite was the simple yet comforting leek-potato soup. So today's soup is just an ovation to my childhood, and it's also one of my daughter's favorite foods since she started eating solids a few months ago. So I added a few simple tweaks, spiced it up with some curry, and this curried leek potato soup was born!
An easy 5-ingredient soup
Yes, you need just 5 simple ingredients to make this simple leek potato soup:
Onions. Use white or yellow onions.
Leeks. I used 2 very large ones, but anything between 2 to 3 medium-large leeks would do. Make sure you rinse them well with running water before using to avoid any traces of soil.
Potatoes. Starchy potatoes bring some texture and help to thicken the soup. Yellow (Yukon gold), Russet or Red potatoes work perfectly in this recipe.
Vegetable Stock. I like to use vegetable stock or broth to make this soup 100% vegan. Another option consists in using a vegetable bouillon cube (Knorr-style) and dissolve in boiling water.
Yellow curry powder. Combine yellow curry powder with paprika for an extra kick, and adjust the seasoning as needed and depending on your own tastes. Don't skip salt and pepper, that's what makes the difference between a good soup and a delicious one!
How to make curried leek potato soup?
Sauté the onions with some olive oil, and stir in curry powder. Adding curry from this very first step is the best way to develop its flavors evenly in the soup.
Add the leeks and sauté for a few additional minutes until soft.
Then add the potatoes and pour in the stock. I recommend you use half or the two thirds of the stock, then adjust the quantity as needed.
When potatoes are cooked through, mix the soup with a hand blender until smooth. And voilà!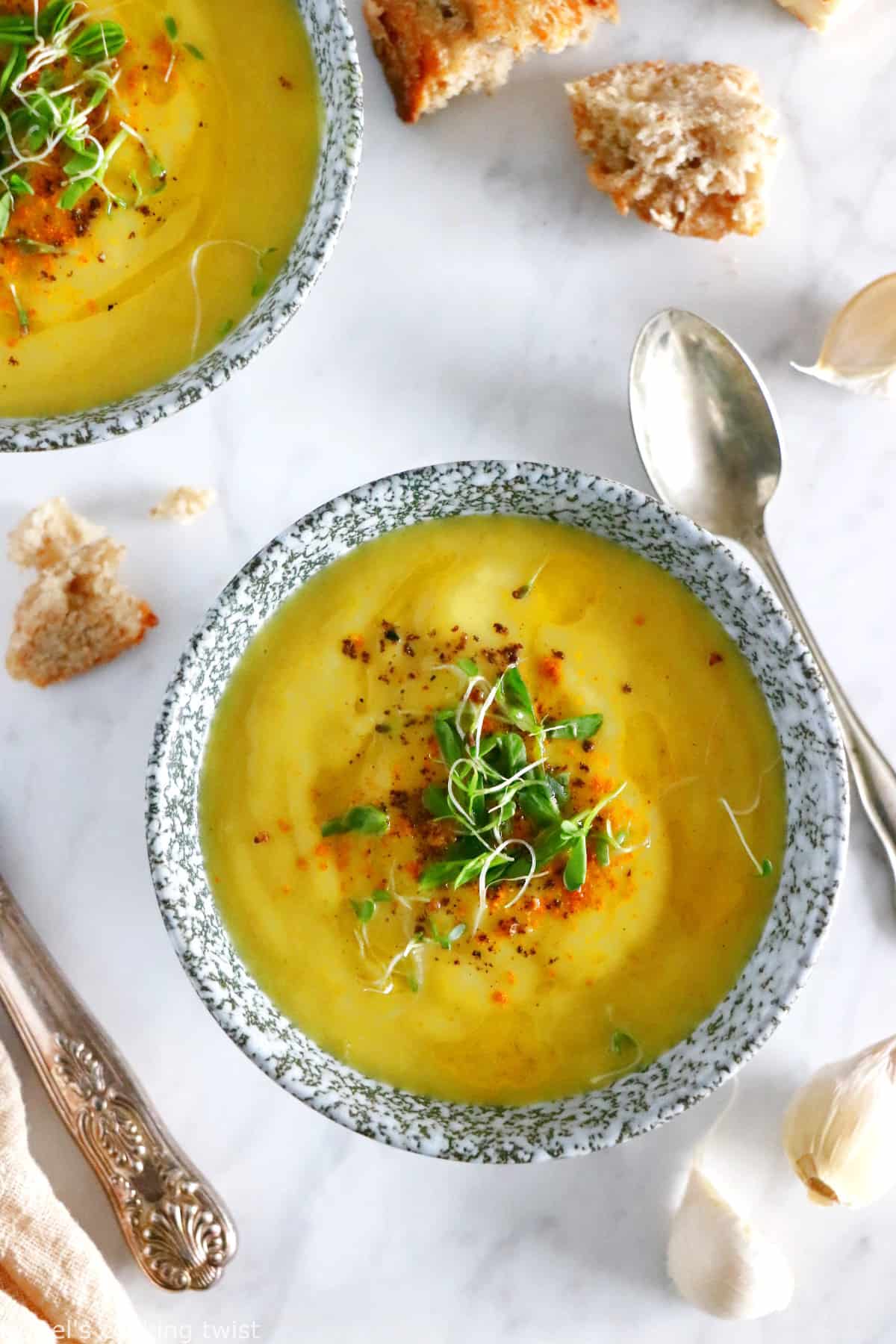 Is this soup healthy?
This curried leek potato soup is homemade prepared with plain, natural ingredients, vegetables exclusively. It is thus naturally vegan, high in fiber, and also gluten-free. In this regard, yes, the soup is rather healthy and way healthier than any store-bought soup, high in sodium and packed with artificial flavors. If however you are watching your starch intake due to medical reasons, the soup should be part of a healthy diet overall.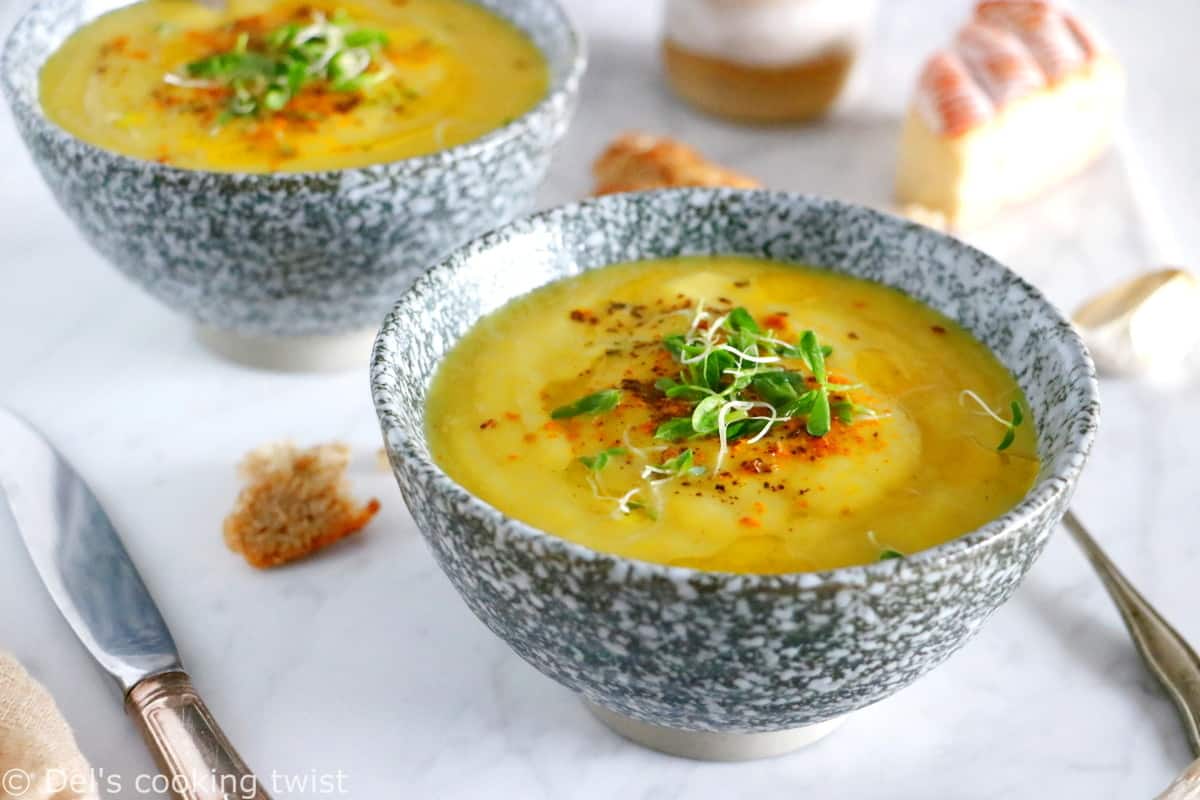 Variations around the recipe
There are many ways to customize this curried leek potato soup. Some possibilities include:
Make it creamier with an addition of milk or cream. For a vegan version, you can replace with almond milk or cashew milk.
Garnish with roasted chickpeas to make the soup more filling.
Add some extra cheese, either as a topping or in the soup itself. You can for instance add some Brie cheese or fresh goat cheese to the soup, and/or top with grated cheese of your choice.
Play with the spices. You can add some cumin to the soup, some herbs (thyme for instance), and you can even omit the curry for a plain leek potato soup version.
Be creative every time you make this soup and feel free to let me know how you lightened up this soup with your personal touch!
What to serve with your soup?
More winter comforting soups:
Print
Curried Leek Potato Soup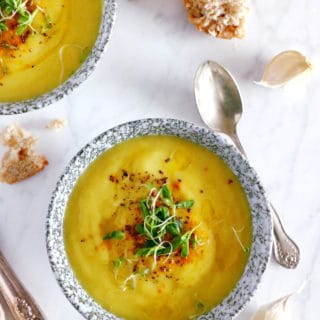 Author:
Prep Time:

10 mins

Cook Time:

30 mins

Total Time:

40 minutes

Yield:

4

servings

1

x
Category:

Soups

Diet:

Vegetarian
Easy and delicious curried leek potato soup, prepared with 5 ingredients only, and packed with warm, comforting flavors. The soup is also naturally vegan and gluten-free!
2 Tablespoons

extra virgin olive oil

1

white or yellow medium onion, chopped

2

to

3

medium-large leeks (

400g

), sliced

1

pound (450g) potatoes, peeled and diced

3 cups

(

750

ml) vegetable stock, or more as needed

1 Tablespoon

yellow curry powder*

½ teaspoon

paprika powder*
Salt and pepper, to taste*
Instructions
Heat olive oil in a large saucepan on medium heat. Add onions, and sauté for a few minutes until softened.
Add the curry powder, the paprika, stir, and sauté for a few additional minutes, until fragrant.
Cut the ends of the leeks, remove the outer layer and chop off the dark green tops. Slice the leeks, place in a colander and rinse well to get rid of any soil.
Add leeks to the onion mixture, and leave to sweat and cook. The leeks will reduce in volume and become soft and wilted. It may take around 10 minutes.
Add the diced potatoes to the pan along with the vegetable stock, and leave to simmer for about 20 minutes, or until the potatoes are fork-tender.
Use a hand blender (or transfer to a blender) and blend until smooth. Place back in the saucepan on low-medium heat, and adjust seasoning* as needed. Serve into bowls with a drizzle of olive oil, and garnish with sprouts or herbs of your choice. Enjoy warm!
Notes
* Depending on your own tastes and how sensitive you are to spicy food, you may need to add or reduce the amount of curry. It's always better to add a little less in the beginning and adjust the seasoning in the end. Also, paprika is optional, so feel free to skip it for any reason of yours. Taste, and adjust the seasoning with salt and pepper before serving.
Keywords: Curried leek potato soup
Did you make this recipe?
Lastly, if you make this Curried Leek Potato Soup, be sure to leave a comment and give this recipe a rating, letting me know how you liked it. And of course, don't forget to tag me on Instagram! Thank you and enjoy!