Rich in coffee flavors, this rich and moist coffee loaf cake with espresso frosting will be perfect for an afternoon tea or to serve as a dessert with a cup of coffee. 
Calling all coffee lovers here! Here's the BEST coffee loaf cake you could ever dream of. It took me a few attempts to perfect the recipe but I'm glad I finally managed to obtain a loaf that is incredibly moist and loaded with coffee flavors. Now you can have your coffee and eat it too!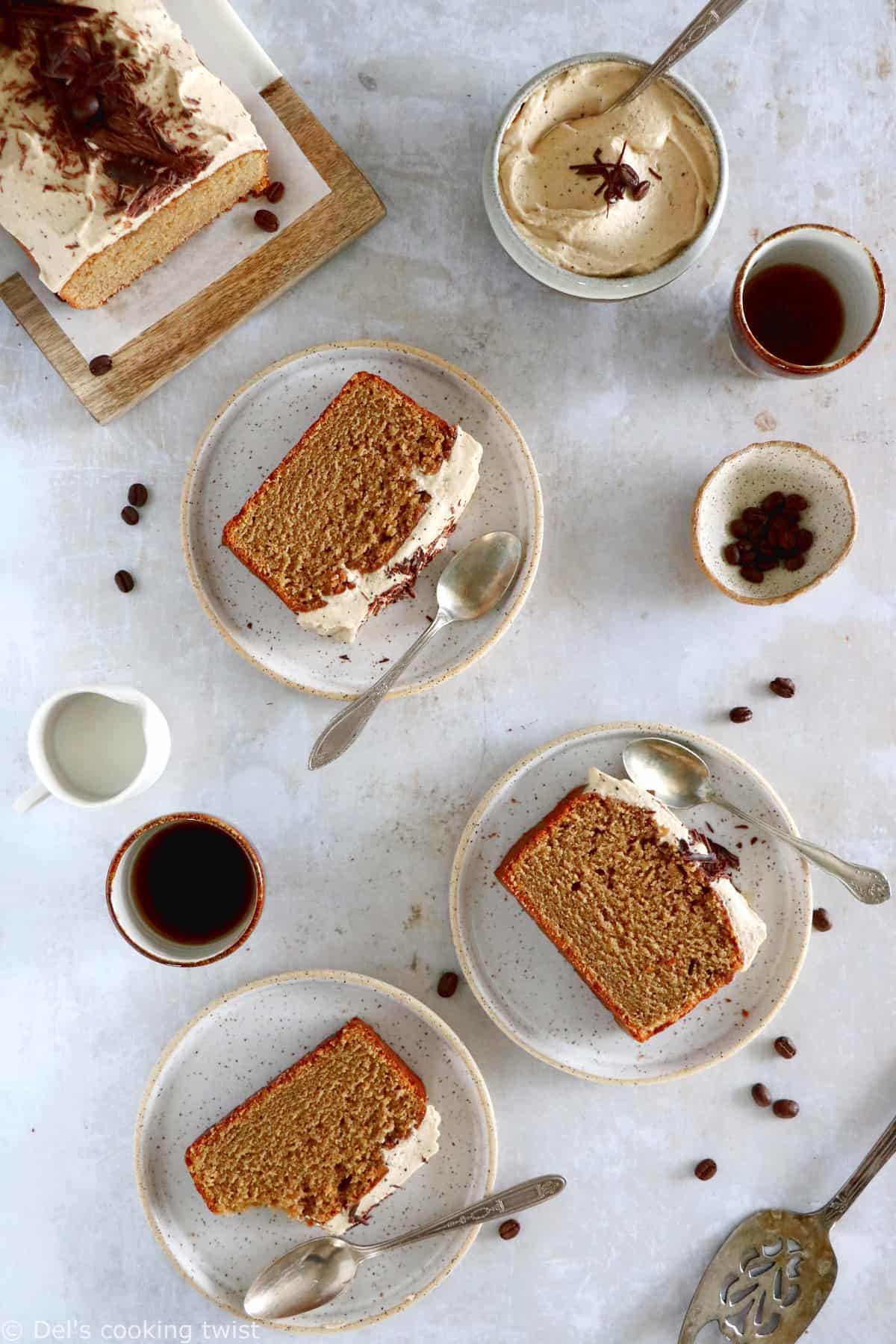 Perfectly moist, tender and infused with coffee flavors, the loaf is topped with a light and fluffy espresso frosting that is just beyond amazing. This loaf makes a great coffee cake for an afternoon tea, and will also do amazing served as a dessert after a festive meal.
The coffee loaf cake ingredients
All-purpose flour. Remember to sift it before using.
Baking powder. It helps the cake to rise, don't forget it.
Salt. It always creates a nice contrast in sweet baked goods. If you're using salted butter, skip the salt in the recipe.
Butter. I recommend unsalted butter (since the recipe already calls for salt) and completely softened before using. This is very important in the success of the recipe.
Sugar. Granulated sugar works fine in the recipe.
Milk. Use 2% or whole milk, but avoid 1% milk for best results.
Eggs. Use them at room temperature and beat them slightly before using.
Coffee granules. See note below about the use of instant coffee (rather than brewed coffee).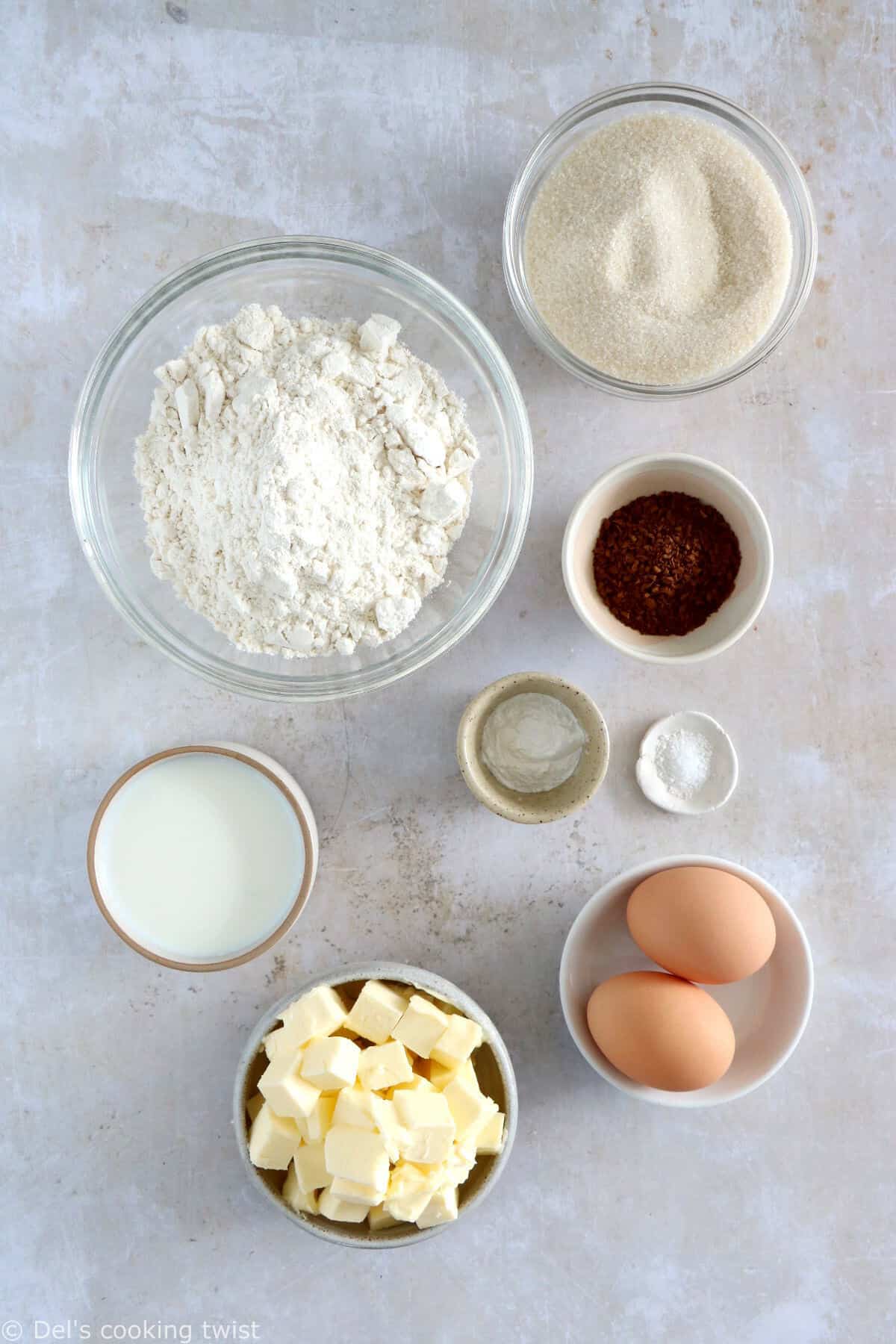 Which coffee should I use for my coffee loaf cake and why?
True coffee lovers will wonder why I use instant coffee granules rather than brewed coffee or finely ground coffee beans in this recipe. Truth is, instant coffee often works best in baked goods, especially when it's mixed with other wet ingredients (unlike my Espresso Chocolate Chunk Cookies in which ground coffee is mixed with the dry ingredients).
Here, instant coffee granules are dissolved with just a little bit of hot water, creating rich and intense coffee flavors that infuse throughout the cake without compromising the texture. Using brewed coffee however would compromise the dry/wet ingredient ratio, therefore I do not recommend it in this recipe.
How to make the espresso frosting?
This coffee loaf cake could very well be served as is, without the espresso frosting. But if you want to go the extra mile, the frosting adds in coffee flavors that makes the loaf even more delicious. Light and not too heavy unlike most frosting, this one is prepared with whipping cream, confectioners' sugar, and infused espresso.
To make the espresso frosting, it's important to start with making the espresso mixture first, sift it, and allow it to cool completely (to speed up the process, you can place it in the freezer for 10 minutes). Then, beat the cold whipping cream and confectioners' sugar in the bowl of a stand mixer until soft peaks form, and slowly pour in the cooled espresso mixture, until completely infused.
Recipe tips for success
Prefer instant coffee. I said it before, but using instant coffee granules (even if you don't drink it at home) is your way to success when it comes to baking. The coffee granules dissolve instantly and do not leave a grainy texture in your cake, like finely ground coffee would do.
Cream butter and sugar correctly. This is the number 1 rule to create the moist texture in your coffee loaf cake. This step is very delicate, so make sure that 1/ your butter is perfectly softened, and 2/ that you cream butter and sugar long enough to allow the mixture to become airy and fluffy.
Allow coffee to cool down slightly before adding to the batter. When adding your coffee to the creamed butter and sugar, make sure it is lukewarm (not warm!), and pour it very slowly and gradually. If you go too fast or if your coffee is too hot, the butter particles will separate and make the batter grainy, not creamy (see troubleshooting below).
Beat the eggs lightly before using. This ensures that you do not overmix the batter and keep it light and airy, which will further on make the cake perfectly moist.
Sift your flour before using. It makes it thinner and smoother and will enable a better incorporation in the batter.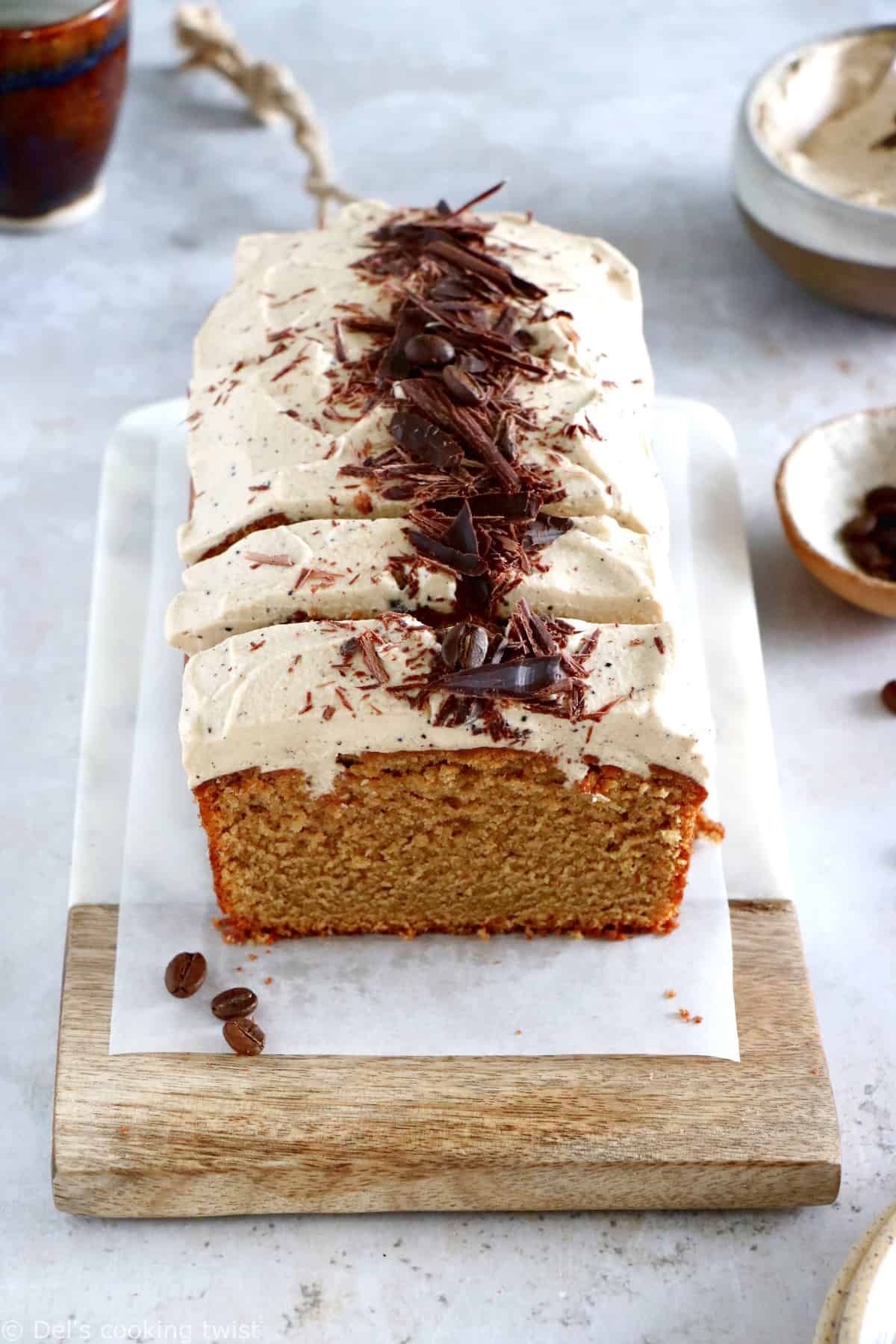 Troubleshooting
While this coffee loaf cake is pretty simple to make, there is one important step that can ruin the whole recipe if you don't process correctly. In other words, what happens if I fail the creaming process and the batter separates? 
First of all, do not blame yourself, this can happen to anyone of us. Reading the recipe instructions a little too fast, or adding the coffee all at once and still hot… there are so many reasons. The good news is that you can still make good use of the batter with just one little trick. Simply grab your immersion blender and mix the the batter until perfectly smooth again. There will be less air in the batter and your cake will turn a little bit more dense than it would normally, but at least you'll have a decent loaf cake and will avoid having the butter swimming over the loaf after baking. I hope this helps!
Serving suggestions and recipe variations
This coffee loaf cake is delicious served as is, without the frosting, with a simple cup of tea or coffee, or topped with the espresso frosting for even more intense coffee flavors.
You can add ½ cup (90g) chocolate chips to the cake batter to create a delicious chocolate chip coffee loaf cake. If you're using regular size chocolate chips, I recommend you coat them with some flour before using in the recipe, to prevent them from sinking into the bottom of the loaf. You could also use walnuts or pecans instead.
Coffee lovers should also try…
More loaf cake recipes you'll love
Loaf cake recipes count among my favorite cakes. They're perfect for breakfast, tea time, dessert and beyond. Plus, you can easily grab a slice on the go. With 5-star reviews, this Buttermilk Banana Bread and the Best Ever Lemon Poppy Seed Loaf count among your very favorite recipes from the site together with the Orange Pound Cake. I also recommend you try this amazing Streusel Cinnamon Swirl Coffee Cake that is just perfect for a coffee break. I hope you enjoy!
Lastly, if you make this Coffee Loaf Cake with Espresso Frosting, be sure to leave a comment and/or give this recipe a rating, letting me know how you liked it. And of course, don't forget to tag me on Instagram! Thank you and enjoy!
Print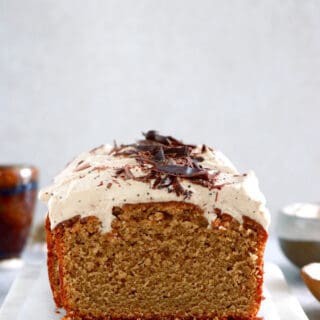 Coffee Loaf Cake with Espresso Frosting
Author:

Prep Time:

45 mins

Cook Time:

1 hour

Total Time:

1 hour 45 minutes

Yield:

8

servings

1

x

Category:

Loaves
---
Description
Rich in coffee flavors, this rich and moist coffee loaf cake with espresso frosting will be perfect for an afternoon tea or to serve as a dessert with a cup of coffee. 
---
For the coffee loaf cake:
1 ¾ cups

(

225g

) all-purpose flour, sifted

2 teaspoons

baking powder

¼ teaspoon

salt

¾ cup

(

175g

) unsalted butter, softened

1 cup

(

200g

) sugar

⅔ cup

(

150

ml) milk

2

large eggs, lightly beaten

4 teaspoons

instant coffee granules, dissolved in 1 Tablespoon hot water
For the espresso frosting:
1 ¼ cup

(

300

ml) whipping cream

2 Tablespoons

espresso powder (or very finely ground coffee)

2 teaspoons

instant coffee granules

1 cup

(

120g

) confectioners' sugar
Chocolate shavings, to decorate (optional)
---
Instructions
Preheat the oven to 325°F (160°C) and line a 9×5-inch (23×13 cm) loaf pan with parchment paper.
In a large mixing bowl and using an electric hand mixer, cream together softened butter and sugar, until light and fluffy, about 2 full minutes.
Slowly add the beaten eggs and mix on a low-speed until combined. If the mixture starts to curdle or split, add one or two spoonfuls of sifted flour and mix again, until smooth.
Keeping the mixer on a slow speed, slowly pour the cooled coffee mixture, milk and the rest of the flour.
Transfer to the prepared loaf pan and bake for about 1 hour or until cooked through (if a toothpick inserted in the center comes out clean, cake is ready). Let cool for 10 minutes in the pan, then transfer to a cooling rack and let the loaf cake cool completely.
For the frosting, place espresso powder and instant coffee in the bottom of a measuring glass. Cover with ¼ cup (60 ml) whipped cream and heat in the microwave until coffee is dissolved. Sift in a fine mesh strainer, reserving the infused coffee in a small cup. Place in the refrigerator to cool completely (you can also place in the freezer for 10 minutes to speed up the cooling process).
In the bowl of a stand mixer fitted with the whisk attachment, whisk together the remaining whipping cream and confectioners' sugar until soft peaks form. Slowly pour in the espresso mixture, whisking continuously, until well combined. Whisk until frosting is smooth, fluffy and holds a soft peak.
Spread the espresso frosting over the cooled coffee loaf cake, decorate with chocolate shavings if desired, and enjoy! The cake will keep in the refrigerator in an airtight container for about 3-4 days.
---
Notes
* Important note. Before you start the recipe, prepare all of your ingredients (sift the flour, beat the eggs, allow butter to come to room temperature and be perfectly softened, prepare the coffee mixtures both for the cake and the frosting). This will spare you some precious time while making the recipe.
Keywords: Coffee Loaf Cake