With this recipe we give the Swedish gravlax salmon the distinctive pungent taste of the horseradish and the beautiful color of beetroot.
As my last day in Sweden before starting new adventures abroad (more info to come soon!), I am happy to share with you today this authentic Swedish recipe of salmon gravlax (cured salmon).
I take here the occasion of the crayfish party to share this recipe, a late summer celebration held in August, which is for me a perfect occasion to say goodbye to my beloved Sweden – bye for now though, I will be back!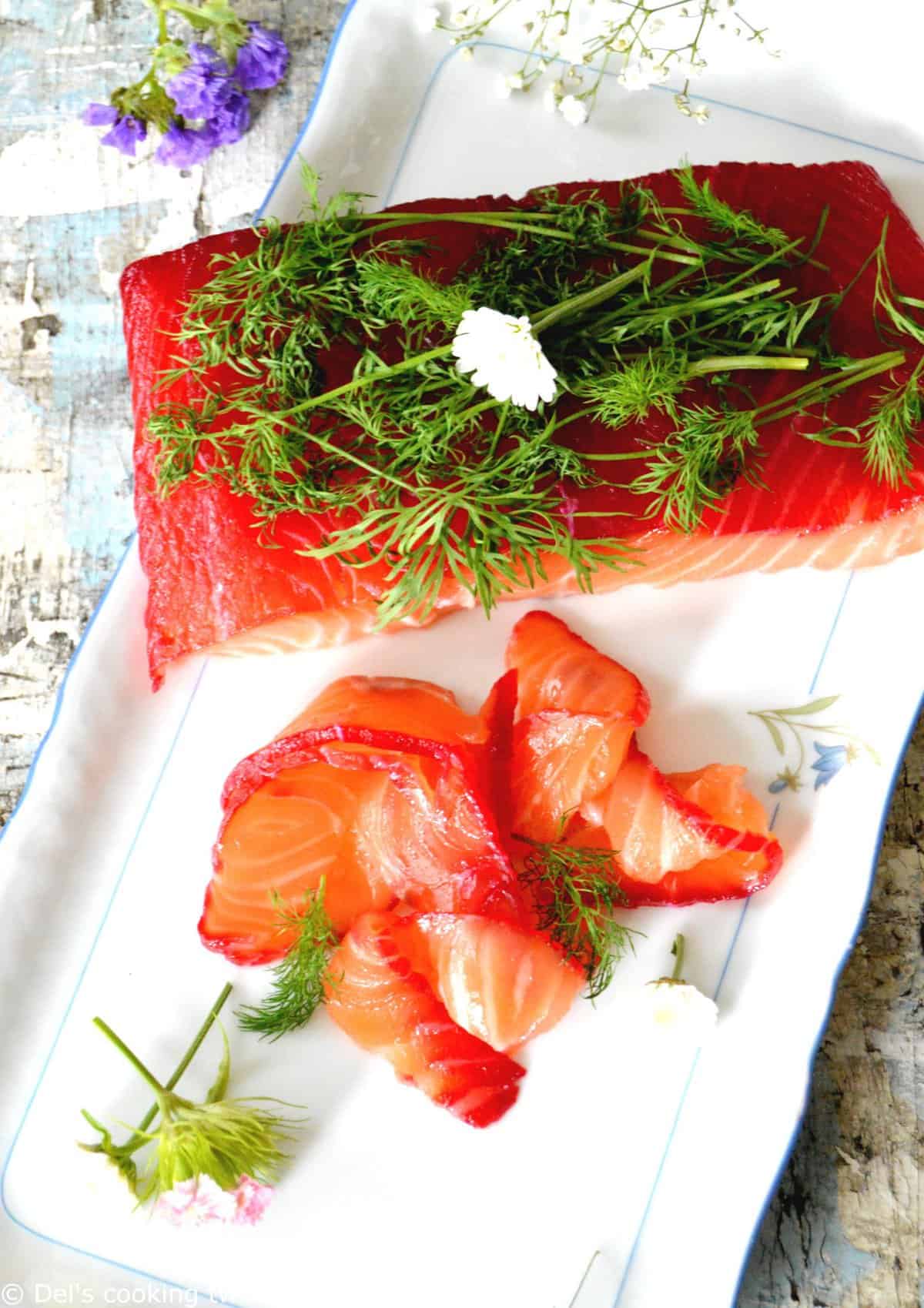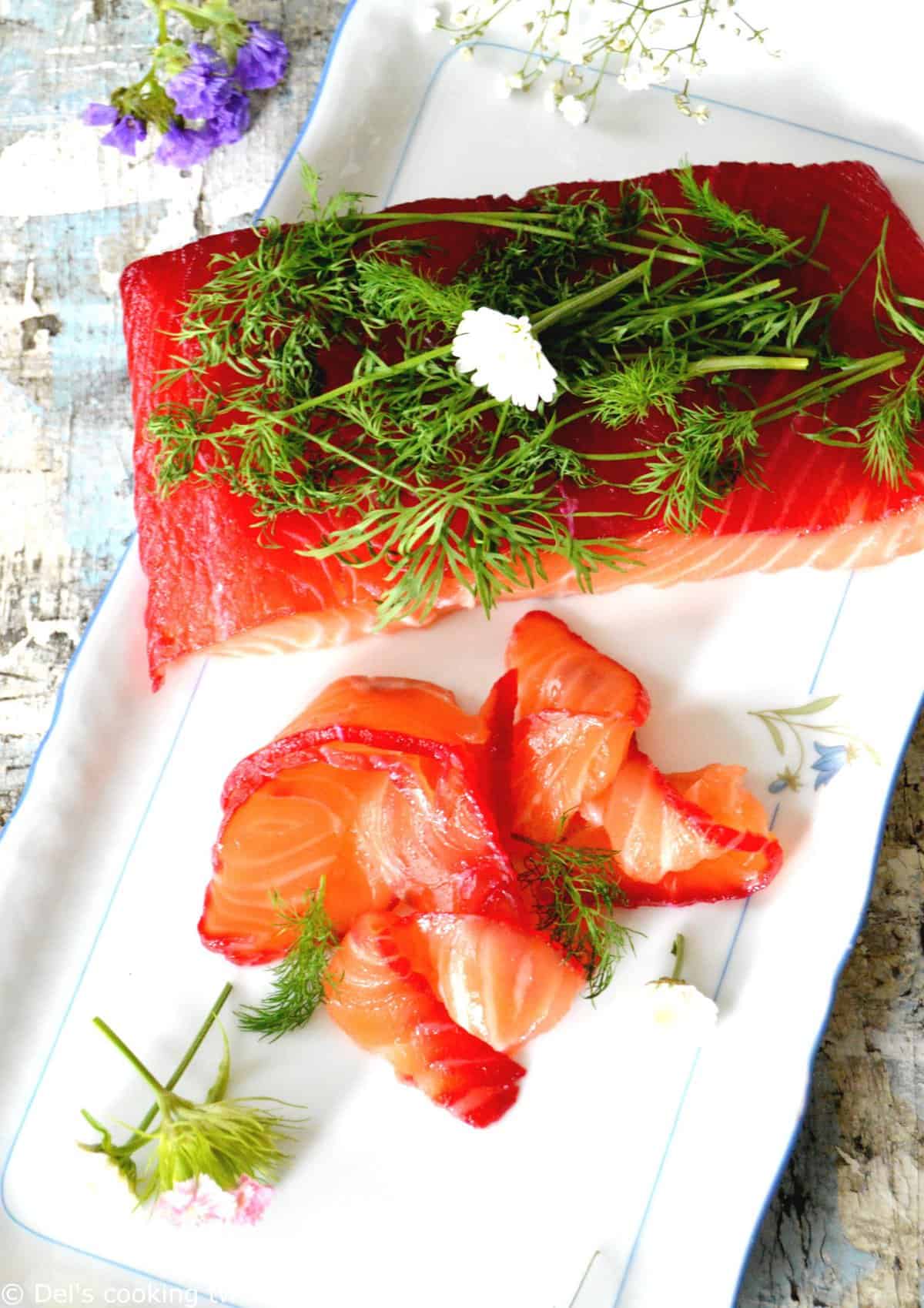 But let's go back to the recipe itself. Salmon gravlax (or Swedish Sugar and Salt Cured Salmon) is one of the most popular dish in Sweden and an absolute delicacy. Swedes enjoy it at any celebration, served into thin slices, along with other dishes or as starter. The high time celebrations as Midsummer in June and the Christmas celebration Julbord, always come along with some gravlax on  the table, most likely served as a starter or accompanied with other dishes.
By now at this time of the year, it is the high season for crayfish parties (kräftskiva in Swedish). This traditional summertime eating and drinking celebration is a tradition that refers to the crayfish harvesting, that was for most of the 20th century, legally limited to late summer. Nowadays, most of the crayfishes are actually imported in order to meet the needs.
Dining is usually outdoors (weather permitted) and the crayfish is of course the star of the show, together with the Västerbotten cheese (a lovely mature crumbly Swedish cheese), that you can serve as a block on the table with the famous Swedish cheese slicer and a basket of thin crispy bread, or if you want it more elaborated, bake a Västerbotten pie to get along with the crayfish. Surprisingly easy and utterly delicious combination. Add to this a few bowls of pickled herrings, a new potato salad… and why not some slices of gravlax!
Consisting in raw salmon cured in salt, sugar and dill, the salmon gravlax takes its name from the Middle Ages, when gravlax was made by fishermen who salted the salmon and lightly fermented it by burying it in the sand. The word gravlax itself comes from the Swedish word gräva ("to dig" ; modern sense "to cure (fish)"). Today fermentation is no longer used but instead the salmon is "buried" in the dry marinade described above.
This recipe may sound like a lot of work, but curing your own salmon is much easier than you think. You need to plan ahead, as the flavors need about two days to sink into the salmon properly, but it's worth the wait. Good news however: you will need only 15 minutes doing the actual curing.
Again, I couldn't stick to the original recipe and added a twist to this salmon gravlax. Using beetroot in this recipe will give the salmon a beautiful pink color, while the freshly grated horseradish will bring to the salmon a distinctive pungent taste. Serve it on a toast consisting on dark bread, garnished with a lemon and dill cream, and decorate with some sunflower seeds.
Print
Beet Cured Salmon Gravlax with Horseradish
Author:

Prep Time:

15 mins

Total Time:

15 mins

Yield:

6

-

8

servings

1

x

Category:

Savory

Cuisine:

Swedish recipes
---
Description
With this recipe we give the Swedish gravlax salmon the distinctive pungent taste of the horseradish and the beautiful color of beetroot.
---
1/2 cup

(

90g

) granulated sugar

1/4 cup

(

60g

) salt

1 Tablespoon

cracked white pepper

28 oz

(

800g

) fresh salmon fillet, skin on

1

large bunch fresh dill, roughly chopped

2 Tablespoons

freshly grated horseradish

10

,5 oz (300g) red beet, raw, peeled and grated
---
Instructions
Mix together sugar, salt and white pepper and spread this mixture over the salmon (on the sides also), skin-side down.
Turn back the salmon again and distribute dill and freshly grated horseradish on top of the salt/sugar marinade.
Peel and roughly grate the raw beetroots, using gloves to avoid coloring your hands in pink, and cover the salmon with a huge layer of grated beetroot.
Place the salmon into a plastic bag, tie back and place it into a shallow dish with the skin side on top.
Place it in the refrigerator and leave it to cure about two days, turning it over twice during this time, to ensure an even cure and color all the way through.
Once the salmon is cured, remove it from the plastic bag, brush off the curing ingredients (and discard), then pat it dry with kitchen paper. If necessary, rinse the salmon into cold running water to get rid of the excess of salt.
To serve, slice the gravlax into long, wafer-thin slices, leaving the skin behind, and arrange the slices on a serving plate.
---
Notes
NB: Note that you can also make this recipe without horseradish if you have difficulties to find some or if you don't like it so much.