Healthy, nourishing and protein-packed, this vegan buddha bowl has it all: fluffy quinoa, crispy spiced chickpeas, mixed greens, and a curry dressing!
You have  probably all heard about buddah bowls before. Buddha bowls are these colorful bowls usually composed of vegetables, healthy grains, and protein that have been among the hottest food trends over the past couple of years. Healthy, nourishing, they are also most of the time – if not always – vegan and gluten-free.
I personally enjoy these bowls myself a lot and I'm surprised I haven't shared a single buddha bowl recipe with you earlier. The thing is that it is hard for me to choose which one is my favorite and I usually build mine, based upon what's in season and most importantly what I have at hands in my fridge. Buddha bowls are indeed very forgiving and you can actually build yours the way it pleases you. Taking this into consideration, today's recipe is just one among other buddha bowl possibilities.
MY LATEST VIDEOS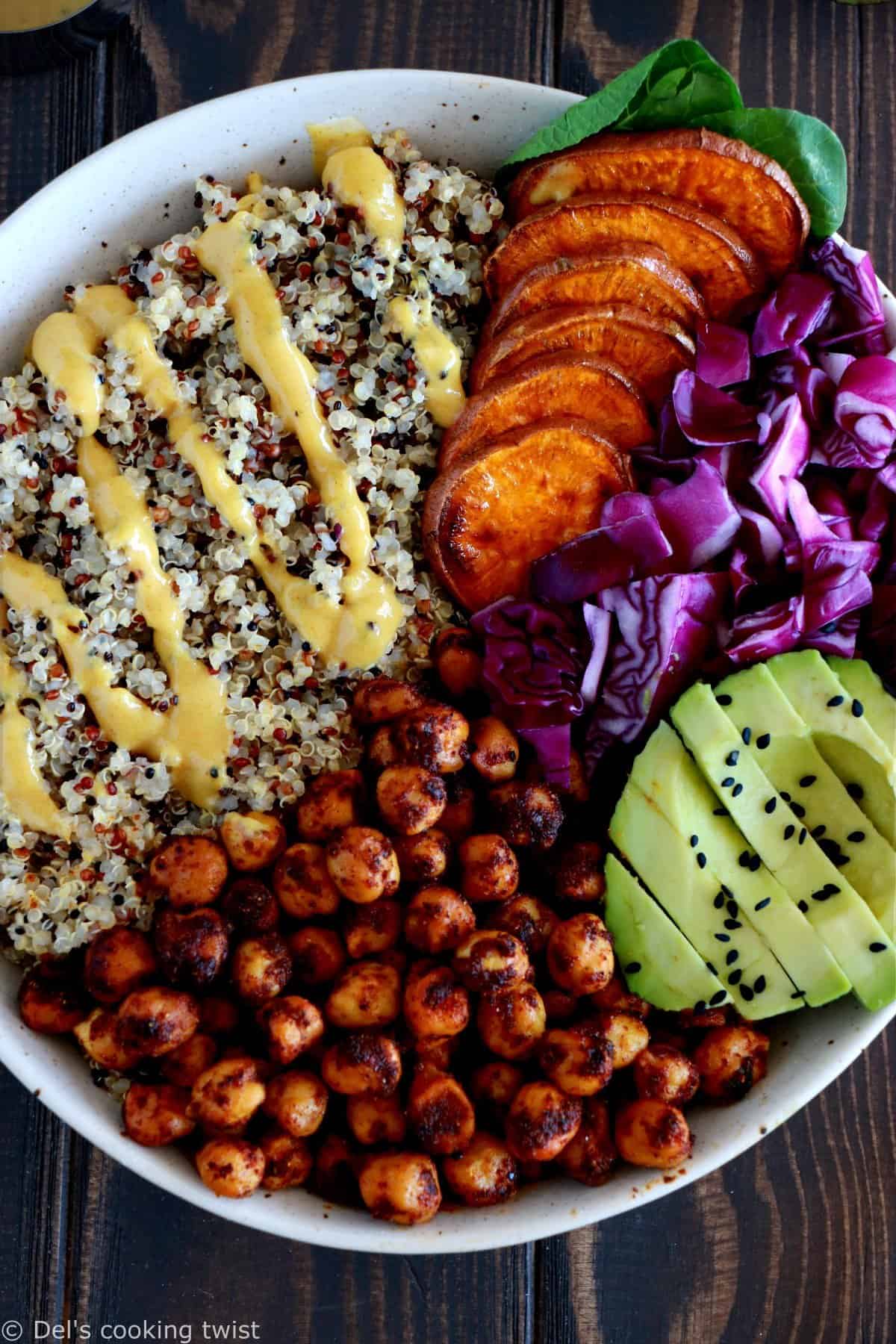 Why sharing a buddha bowl with you today? Well simply because it's a perfect lunch idea for whoever wants to eat healthy, using seasonal ingredients, yet still feel full and satisfied at the end of the meal. Here's how I do: I cook a huge quantity of quinoa in advance (usually on Sunday), roast chickpeas and sweet potatoes, and then I'm ready for the so-called batch cooking, preparing my lunch boxes in advance for the following week. Each day, I simply add a few greens and fresh ingredients (avocado, red cabbage, mixed greens) to the box and I'm ready to go.
And there it is. This buddha bowl is that nutritious energy boost you need to get you through the work day, it really is. It's full of all the good veggies, grains, proteins, and healthy fats that your body need to keep you going through busy days. This one features spiced roasted chickpeas and sweet potatoes as main ingredients. Feel free to swap out with any other ingredients of your choice for whatever you love or whatever is in season: cauliflower, broccoli, mushrooms, roasted pumpkin, cooked spinach… It's also a good way to eat as many different vegetables as possible and get all the vitamins your body needs.
Let me break the bowl down for you ingredient by ingredient.
Sweet Potatoes – high in vitamin C, which promotes a healthy, glowing complexion.
Chickpeas – provides a high content of protein and make an excellent replacement for meat in vegetarian and vegan diets.
Purple Cabbage – rich in vitamins C and K and high in anti–oxidants (great for your skin).
Avocado – full of fatty acids and antioxidants. The fatty acids help to moisturize and soften skin cells, while avocado's antioxidants (beta-carotene, vitamin C and vitamin E) prevent wrinkles and slow down the visible signs of aging.
Quinoa – provides a high content of protein and fiber.
Again, remember that the options are endless, so have fun with this recipe and adapt it to use ingredients you love and make it pretty (I like when some vibrant, fresh colors pop out from the bowl).
A few words about the dressing now: it's basically a simple vinaigrette to which I added some curry powder and one teaspoon of tahini, bringing a smooth texture. Packed with flavors, it's my new favorite and it also guarantees to turn any boring veggie bowl or salad into something really delicious. Generously drizzle over the buddha bowl and enjoy!

Spiced Chickpea Sweet Potato Buddha Bowl
Healthy, nourishing and protein-packed, this vegan buddha bowl has it all: fluffy quinoa, crispy spiced chickpeas, mixed greens, and a curry dressing!
Ingredients
For the quinoa bowl:
1 medium sweet potato, sliced
2 Tablespoons olive oil, divided
2 cups cooked chickpeas or 1 15oz/420g can, drained
1½ teaspoon curry powder
½ teaspoon smoked paprika
½ teaspoon chili powder
Salt and pepper
1 cup (270g) quinoa, rinsed
2 cups (500ml) water
For the curry dressing:
⅓ cup (80 ml) olive oil
2 Tablespoons balsamic vinegar
2 teaspoons Dijon mustard
1 teaspoon tahini
½ teaspoon curry powder
Other vegetables and toppings:
1 avocado, halved and sliced
1 cup (100g) red cabbage, shredded
1 cup (225g) raw spinach or mixed greens
Sesame seeds
Instructions
Preheat the oven to 400°F (200°C) and line a baking sheet with parchment paper. Set aside.
For the sweet potatoes and the chickpeas:
In a medium size bowl, toss the sweet potato slices with one tablespoon of olive oil. Season with salt and pepper.
Arrange the sweet potato slices onto half of the baking sheet and set aside
Re-use the same medium size bowl with the remaining olive oil, spices, salt and pepper. Add the drained chickpeas and toss until evenly coated. Transfer to the over empty half of the baking sheet.
Bake sweet potatoes and chickpeas at the same time for about 20 minutes, stirring from time to time. When done, remove from oven and let cool.
For the quinoa:
Bring 2 cups water to a boil, then add quinoa and lower the heat. Simmer for about 15 minutes until all water is absorbed. When it's done, remove from heat and keep covered for about 10 minutes so quinoa can absorb any excess water.
For the dressing:
Whisk all the ingredients in a small bowl.
Assemble the quinoa bowls dividing in each bowl the quinoa, sweet potato slices, curry-spiced chickpeas, red cabbage, avocado halves, mixed greens or spinach. Drizzle everything with the mustard curry dressing, and sprinkle with sesame seeds.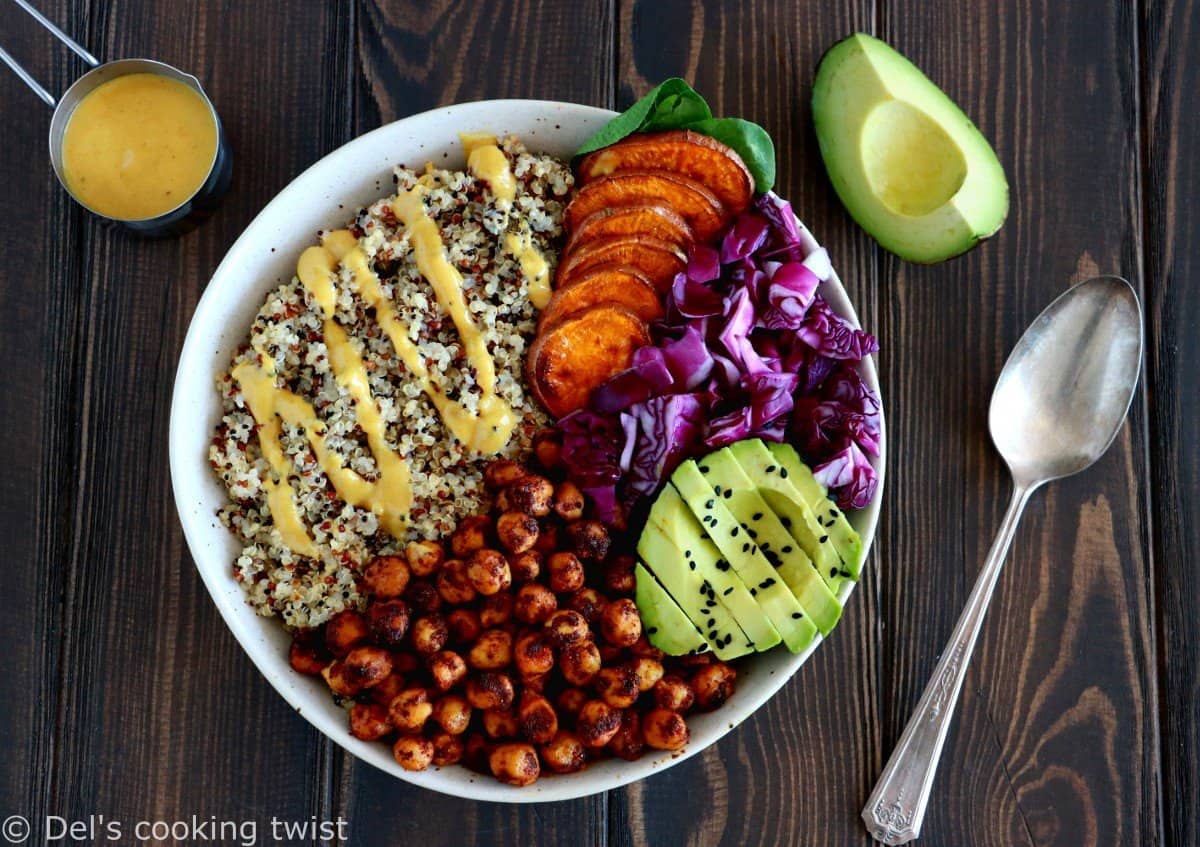 You might also like: