I'm so excited that fall has arrived, it means pumpkin season! It's time to introduce you my new favorite: some delicious and perfectly moist pumpkin muffins filled with cream cheese.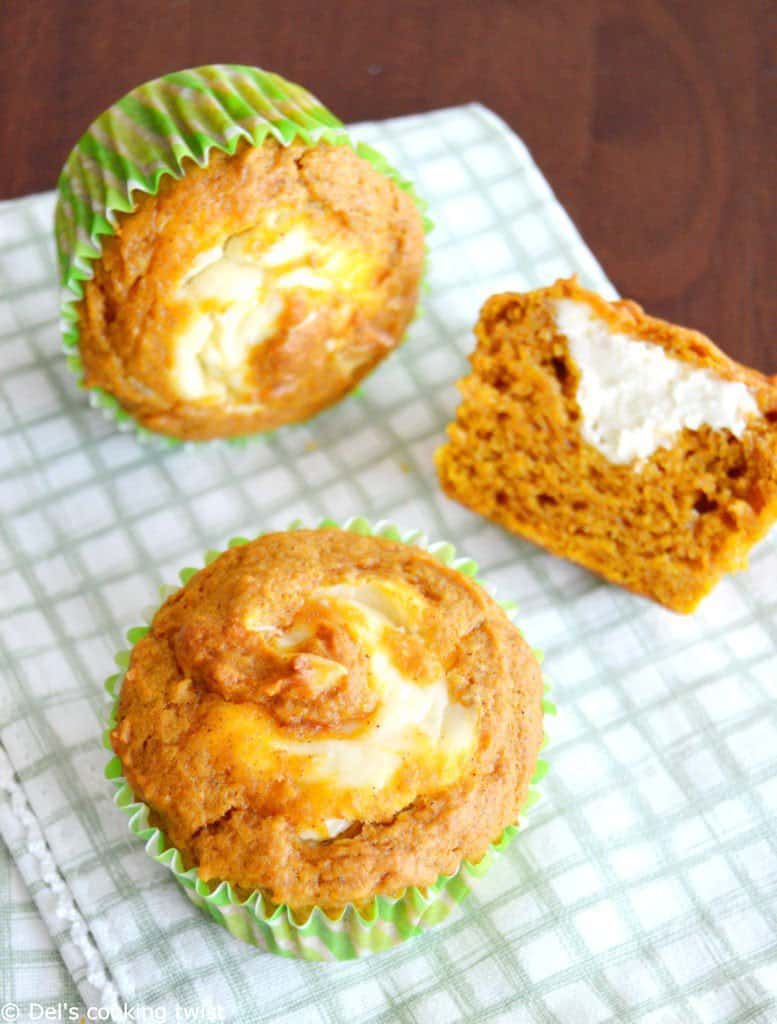 I recently asked my other half if I should first publish a pumpkin bread recipe or a pumpkin cheesecake muffin recipe on the blog. His answer was immediate: "pumpkin cheesecake" he said. By words only, he was already convinced by the recipe (don't blame me if I didn't go for the other option this time, but I'm sure you will forgive me very soon)!
Just try to imagine (help yourself with pictures here) a perfectly moist pumpkin muffin, deliciously spiced, sweet without being too sweet, and filled with cream cheese. A kind of inside-out muffin cheesecake. In one bite only, you get both the moist texture of the cake and the creamy texture of the cream cheese. Seriously, this is just heaven!
MY LATEST VIDEOS
And in spite of its apparently advanced technique, it is more easier to bake than you think, and you won't even need a pipping bag to insert the cream cheese filling into the muffin. Just take a little spoon and insert the cream cheese in the center of the cupcake cup when 2/3 filled, and cover with the remaining batter, filling the cup up to 3/4. Pretty easy, right?
I am telling you, these pumpkin cheesecake muffins are worth a try and they will please everyone in the family, even the one(s) telling you that he/she doesn't really like pumpkin or any kind of sweet treats. Here both the pumpkin puree and the cream cheese cut the sweetness of the muffin that is sweetened just as needed and deliciously flavored with a delicate pumpkin spice mix. The pumpkin spice taste is actually here much less stronger than the one you have in a pumpkin pie. This is due to the flour in the recipe, that gives a cakey and airy texture to the muffin (while the pumpkin pie filling consists mainly of wet ingredients such as pumpkin puree and eggs, enhancing the taste of pumpkin).
Depending on where you are, you might have difficulties to find the magic pumpkin spice mix, that we simply add to the recipe. It's very easy to find in the US but not as easy in other countries. This can add a challenge to the recipe, so I thought about it for you and prepared you a note in the recipe telling you how to make your own pumpkin spice mix. It's actually very simple, consisting of ground cinnamon, ginger, nutmeg and cloves (see proportions below in the recipe).
My advice: double or triple proportion of your homemade pumpkin spice mix, fill a lovely small glass jar with the spices, put a sticker and a lovely ribbon around, and you have here a perfect homemade edible present for your friends. You can also make some for yourself, as you can use this spice mix in many of your fall recipes (pancakes, waffles, apple pies, soups…), and even flavor your drinks, making a pumpkin spice latte or a mulled wine.
Or, you can simply spare some pumpkin spice mix to make these adorable inside-out pumpkin cheesecake muffins over and over again. Being very tiny with an airy texture, they actually disappear very quickly!
Pumpkin Cheesecake Muffins
I'm so excited that fall has arrived, it means pumpkin season! It's time to introduce you my new favorite: some delicious and perfectly moist pumpkin muffins filled with cream cheese.
Cuisine:
American recipes
Ingredients
For the muffins:
½ cup or 1 stick (120g) unsalted butter, at room temperature
1⅔ (7 oz, 200g) cups all-purpose flour
½ teaspoon baking powder
1 teaspoon baking soda
½ teaspoon salt
2½ teaspoon pumpkin spice*
1⅓ cups (270g) sugar
1 teaspoon vanilla extract
2 large eggs
1 cup (15 oz, 425g) canned 100% pure pumpkin
⅓ cup (80 ml) water
For the cream cheese filling:
8 oz cream cheese, at room temperature
2 Tablespoons sugar
1 large egg
1 teaspoon vanilla extract
Instructions
Make sure that butter and cream cheese at room temperature before starting the recipe.
Preheat the oven to 350°F (180°C) and line a muffin pan with muffin cups.
In a large bowl, sift together the flour, baking powder, baking soda, salt and pumpkin pie spice. Set aside.
In a medium-sized bowl, and using a stand mixer, cream together the softened butter, sugar and vanilla until light and fluffy, about 2 minutes.
Add the eggs, one at a time, and pumpkin. Mix until well combined.
Pour the dry ingredients into the wet ingredients in two or three increments, adding the water in the middle of the process. Stir well until combined (do not overmix the batter).
Spoon a portion of the muffin batter into each cup, filling it ⅔ full.
For the cream cheese filling: in a bowl of a stand mixer fitted with the paddle attachment, beat together the cream cheese, sugar, egg and vanilla.
Spoon the cream cheese filling and place it in the center of each muffin cup. Cover with the remaining pumpkin batter, filling the cup ¾ full.
Bake for about 20 minutes, or until a toothpick inserted comes out clean.
Allow the muffins to cool in the pan for 5 minutes, and transfer to a wire rack to cool completely.
Notes
* You can also make your own pumpkin pie spice, and store it in a air-tight container or a jar. Here is a quick recipe (yealds: 3 tablespoons): 2 tbsp ground cinnamon, 1 tbsp ground ginger, 2 tsp ground nutmeg, 1 tsp ground cloves. You can use it in various desserts such as an apple pie, pancakes and waffles, but also in your soups and in mulled-wine.