Today, I'm happy to share with you a classic from the French cuisine that you can enjoy in every bistro in Paris: the warm goat cheese salad!
This easy dish is the one you need when you run out of ideas for your lunch or dinner anytime of the year. It's a very versatile salad, and you can adapt the recipe as much as you like depending on your mood.
You can for instance add some pumpkin seeds or pine nuts, replace the honey dressing with a mustard dressing, use some fresh figs, sun-dried tomatoes or even some marinated eggplants. Just be creative and let me know your own twist to this recipe!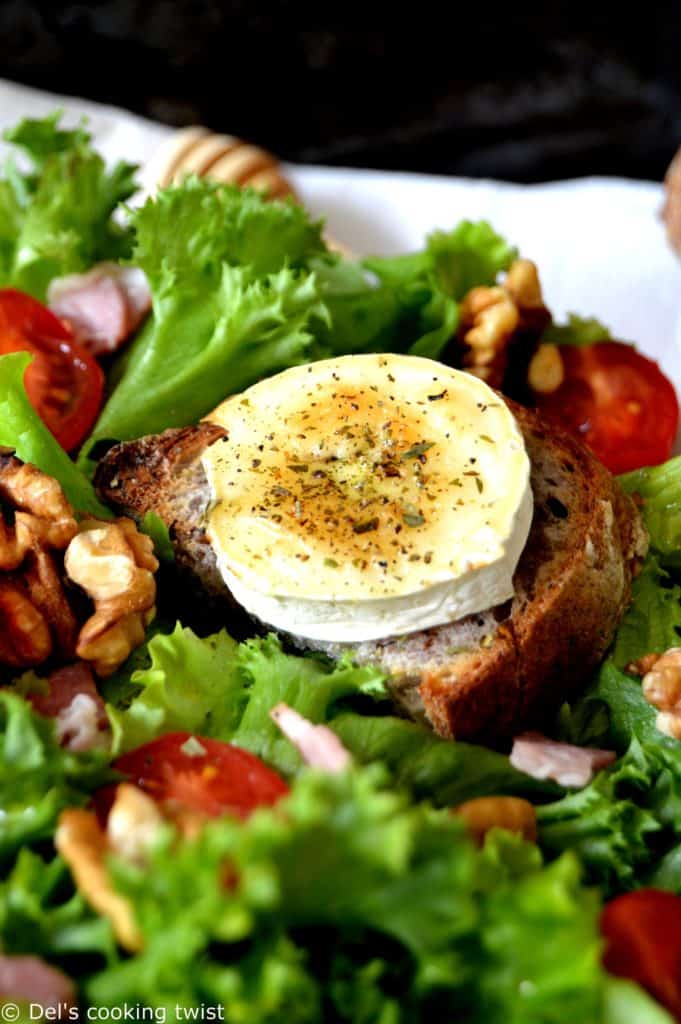 My own twist today is to add some red pepper to the dressing, so that you get a slightly spicy taste that enhances the goat cheese and honey duo.
I received this lovely red pepper from South America in the French gourmet box La Bonne Box from August, in which you always find some lovely delicacies. Have a look at their website if you want to learn more about it. To me, it's the perfect gift for my friends!
But for now, it's time to enjoy this goat cheese salad… Bon appétit!
Warm Goat Cheese Salad with a Spicy Dressing
Enjoy an authentic easy French recipe, both sweet and savory. The perfect dish to prepare when you run out of ideas for lunch or dinner.
Ingredients
For the salad:
4 slices sourdough bread
4 thick slices goat cheese
50g walnuts
150g bacon, diced
200g salad (lettuce or others)
15 cherry tomatoes
1 tbsp honey
1 tbsp butter, for frying
1 tbsp French Herbes
Black pepper, freshly ground
For the dressing:
3 tbsp olive oil
1 tbsp balsamic vinegar
1 tsp honey
1 small red pepper, finely chopped
Salt and pepper
Instructions
Preheat the oven to 350 F (180 C).
Fry the bread on both sides in a frying pan with the butter.
Remove from heat and dispose the bread slices on a baking tray covered with parchment paper. Add the goat cheese on top of each slice, sprinkle some fresh herbs and drizzle a kick of honey.
Bake halfway until the cheese gets a nice brown color, about 5-8 minutes.
In the meantime, fry the diced bacon in a frying pan without added fat, for about 4-5 minutes, stirring regularly.
Display the lettuce in the plates, decorate with cherry tomatoes, walnuts and diced bacon, and place the goat cheese toast on top. Ground some fresh pepper on top.
Mix all the ingredients for the dressing in a small bowl and drizzle over the salad. Serve warm, while the cheese is hot.