Today is the day of the #Battle Food 8# organized by my blogger friend Marine en cuisine and we are all supposed to create a hot chocolate recipe! The perfect idea to warm you up in Winter (even if here in Sweden, we are still waiting for the cold)!
For those who don't know the concept, the Battle Food (Bataille Food in semi-French) is a culinary challenge which gathers the food blogging community and everyone with a huge passion for cooking around a new challenge each month.
This concept was created by my friend Jenna, from Bistro de Jenna, and I invite you all to visit her amazing blog, she's definitely one of my references among all the blogs I follow. Amazing recipes, amazing pictures, a beautiful culinary world!
A month ago, I took part in my first French Battle Food ever organized by Miam Addict and the theme was to whip up a slice of bread garnished with yummy and unexpected ingredients (you can find my recipe here). I had so much fun meeting new bloggers and other people who share the same passion for cooking that I decided to do it again this month. So here I am with a hot chocolate recipe!
I've been thinking quite a lot lately about the hot chocolate recipe I wanted to whip up for this challenge. I even went to Angelina tea room in Paris with a couple of friends (Hi there!). At Angelina, they serve an amazing "chocolat chaud à l'ancienne", an old fashioned creamy hot chocolate which reminds you of the ones you were sipping in your childhood. A must try if you're heading to Paris!
Because I'm a chocolate lover, I was looking for a recipe which is strong enough in chocolate and really creamy as well, like the one they serve at Angelina but in a slightly different way. Of course as usual, I read many recipes and ended up creating my own one with chilli.
It might sound a little pretentious but I must admit I'm really proud of myself this time! You'll find in this hot chocolate everything you are looking for: a delicious taste of chocolate of excellent quality balanced with the great taste of the milk and a slight hint of chilli, all in a very creamy texture. Pure happiness. Or is it bliss?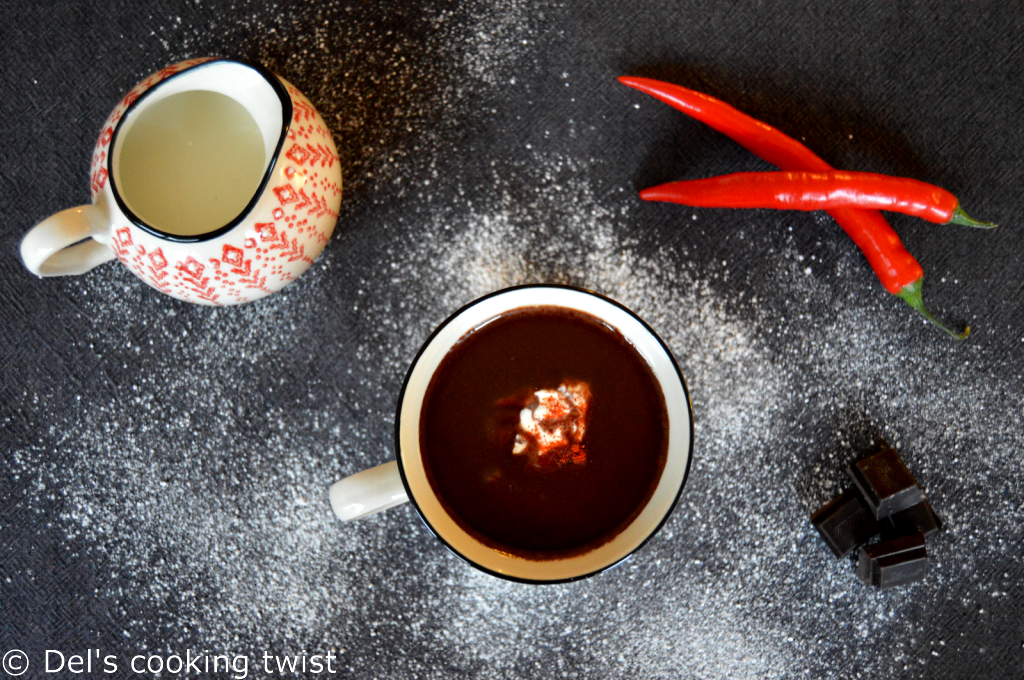 Ingredients (Serves 2):

50g dark chocolate at 70%
30g chocolate with chilli (Lindt)
1 tsp cocoa powder, 100% cocoa
40 cl milk
20 cl cream
1 tbsp honey Lune de Miel
1/2 chilli, seeded
1/2 tsp cinnamon
1/2 vanilla pod
1 pinch of salt
Preparation method:

1.Make a slit through the vanilla pod and scrape the seeds into a medium sized saucepan. Also add the vanilla pod. Pour 2/3 of the milk, honey and the rest of the spices, except for the chilli. Boil for a few minutes, then reduce the heat and simmer for 10 minutes, stirring constantly.
2. Chop the chocolate into small pieces. In a small saucepan, melt the chocolate together with the cream. Pour the blend into the first saucepan. Pour the remaining 1/3 of milk into the chocolate saucepan to rinse it and then pour it all into the first saucepan.
4. Add the half chilli (seeded) and simmer for 2 minutes on medium high heat. Then take out the chilli, as well as the vanilla pod. It's ready to serve!
Thank you so much Marine for this great Battle Food, and also to all the participants (see the list of the participants in the French version of this post).