A couple of months ago, my boyfriend and I got ourselves a Le Creuset. I somehow feel even more French now that I have this authentic French utensil in my own kitchen and I'm aiming at cooking as well as my grandmother now!
Anyhow, I will be eagerly revisiting some French classics and twist them my own way. Tenderloin is this very tender piece of pork that is almost totally fat-free and for this reason I have always loved it. Plus, there are many different ways of cooking it. A few weeks ago I invited my girl friend Marion for dinner and since we're both French girls living abroad, I felt like cooking French.
I found this tenderloin recipe in a cooking notebook I put together ten years ago by gathering many recipes from magazines (that was my cooking life before blogging!). The reciped picture looked good, the
dish seemed tasty, so I decided to give it a try! Then I stumbled upon this red cabbage recipe that I got from a German penpal from Karlsruhe a long time ago. This is not so common for me to cook red cabbage and I usually eat it raw in a salad. But this braised red cabbage is really delicious and matches the tenderloin perfectly.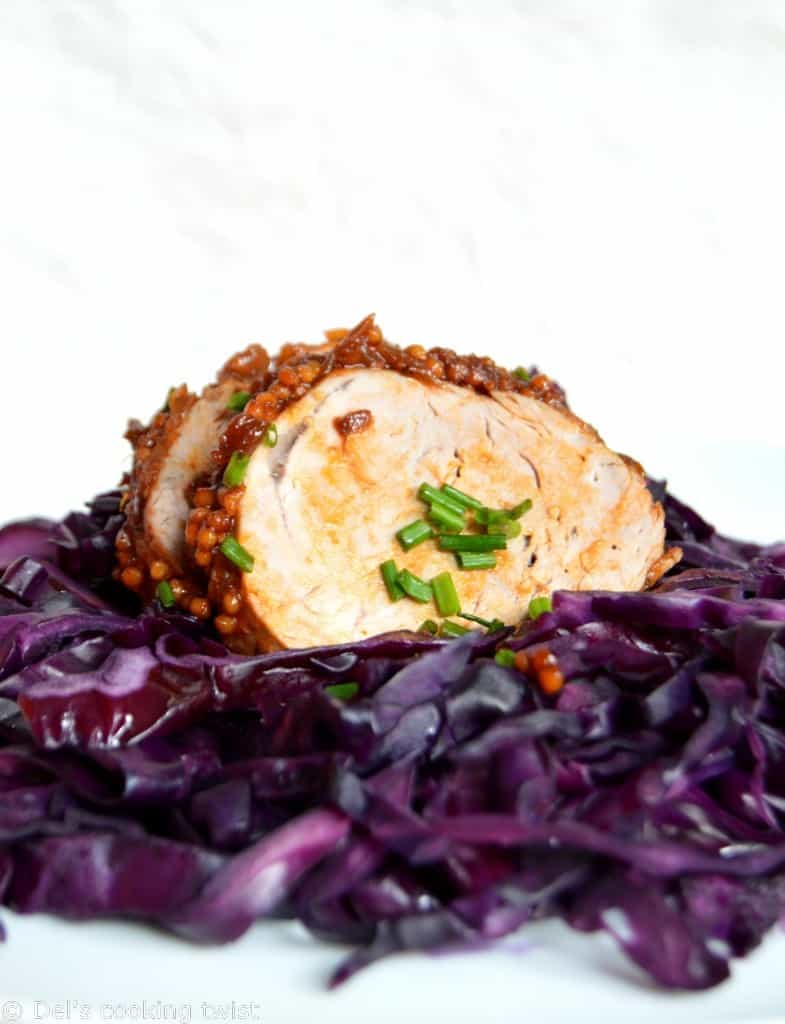 Marion really enjoyed the dish and pushed me to publish the recipe on my blog so that she could cook it again. There is nothing which makes me happier than seeing people – and especially my friends – trying out my Del's cooking twist recipes, so here it comes. Bon appétit!
Ingredients (serves 4):
For the pork tenderloin:
1 pork tenderloin
1 red onion, finely chopped
1 tbsp unsalted butter
1 tbsp olive oil
1 tsp dehydrated fond de veau
1 tbsp tomato paste
1 tbsp mustard seeds
1 tbsp finely chopped chives
For the red cabbage:
1/2 red cabbage, chopped
1 yellow onion, finely chopped
1 sliced apple
1 handful raisins
4 tbsp balsamic vinegar
2 tbsp sugar
2 tbsp honey
25g butter
Preparation method:
1. For the tenderloin : in a pan (the Le Creuset), sear the tenderloin on all slides in 20g butter et 1 tbsp olive oil, along with the chopped onion. Once the tenderloin has acquired a golden color, drizzle it with the fond de veau, then pour a glass a water in the pan. Stir in the tomato paste. Season (salt & pepper). Add in the mustard seeds, then simmer for 45 minutes, flipping the tenderlion on all sides on a regular basis.
2. For the red cabbage: remove the first leaves and core the cabbage. Chop it into fine strips using a knife with a long blade.
3. In a saucepan, boil a small glass of water together with the balsamic vinegar, the sugar, honey, and butter. Add the red cabbage and chopped onion. Cover and simmer for 45 mns. Thirty minutes into the the process (15 mn before the end), add the sliced apples and raisins.
4. Serve slices of tenderloin on a bed of red cabbage and top with chopped spring onions.