Game-changing vegan zucchini frittata made with chickpea flour. Naturally gluten-free, it makes a perfect healthy, wholesome, and satisfying everyday meal.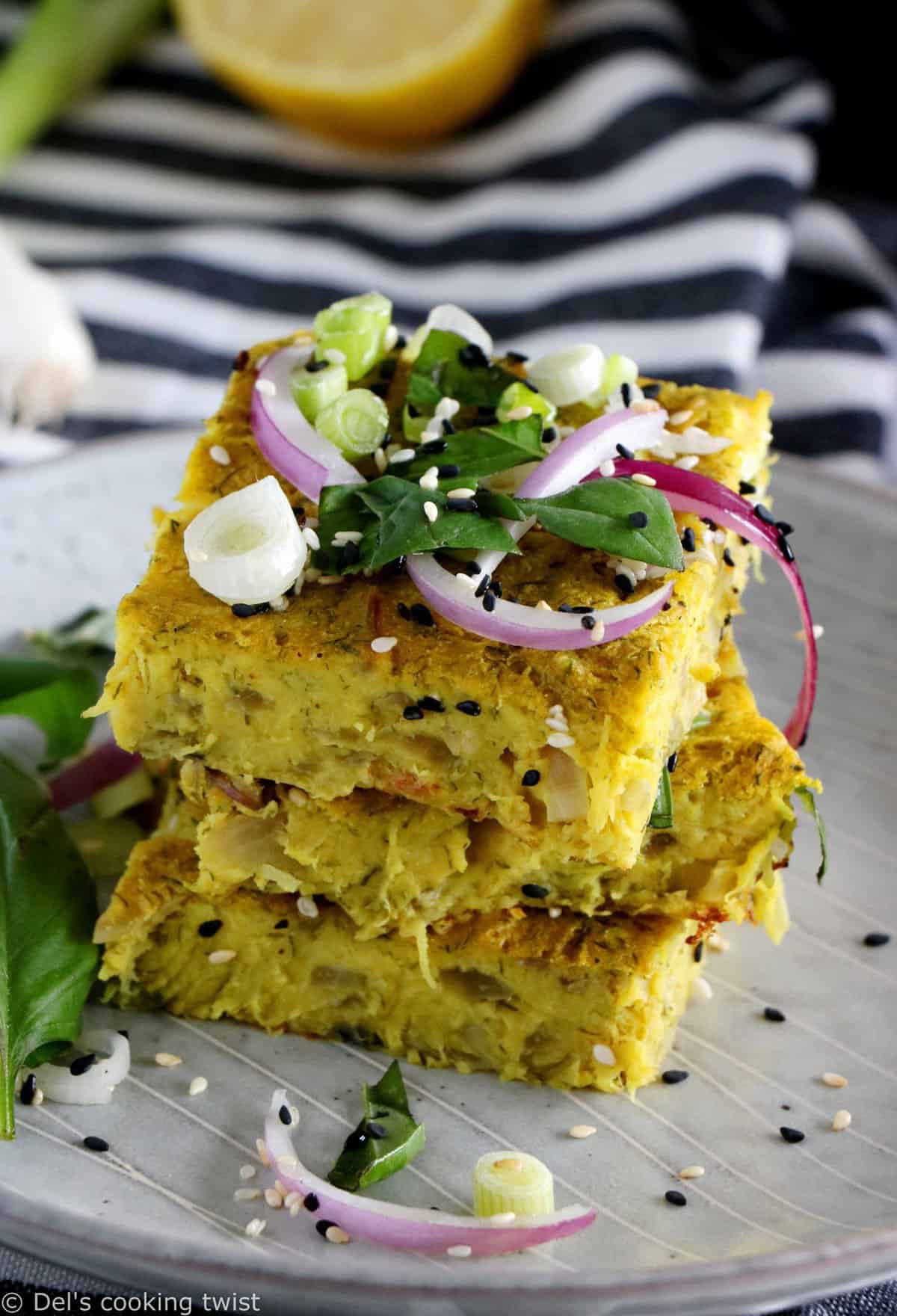 Whether you are vegan, gluten-free, try to maintain a healthy plant-based diet, a lower cholesterol level, or simply are a curious mind, this recipe is for you. Eating vegetarian most of the time, I noticed that my eggs intake was maybe a little bit too high. I do not mind eggs at all, but I believe it's great to vary foods as much as possible – this is to me the best way to eat healthy. Eggs are my easy go-to ingredient for lazy days: they are so quick and easy to prepare. Nothing can beat eggs!
Joking apart, have you tried to use eggs substitute yourself? If so, which ones have you tried and liked? When in New York back a while ago, I tried some "eggless" scrambled eggs (I know, it sounds crazy to say it, hehe) in a vegan restaurant and found them very interesting. They were indeed prepared with soft tofu, you maybe have tried yourself already. Tofu is fine but I do not always have some at home, which doesn't help me to go well with the idea of a quick omelette – again, the dish I typically go for when my refrigerator is almost empty with just a few veggies to use.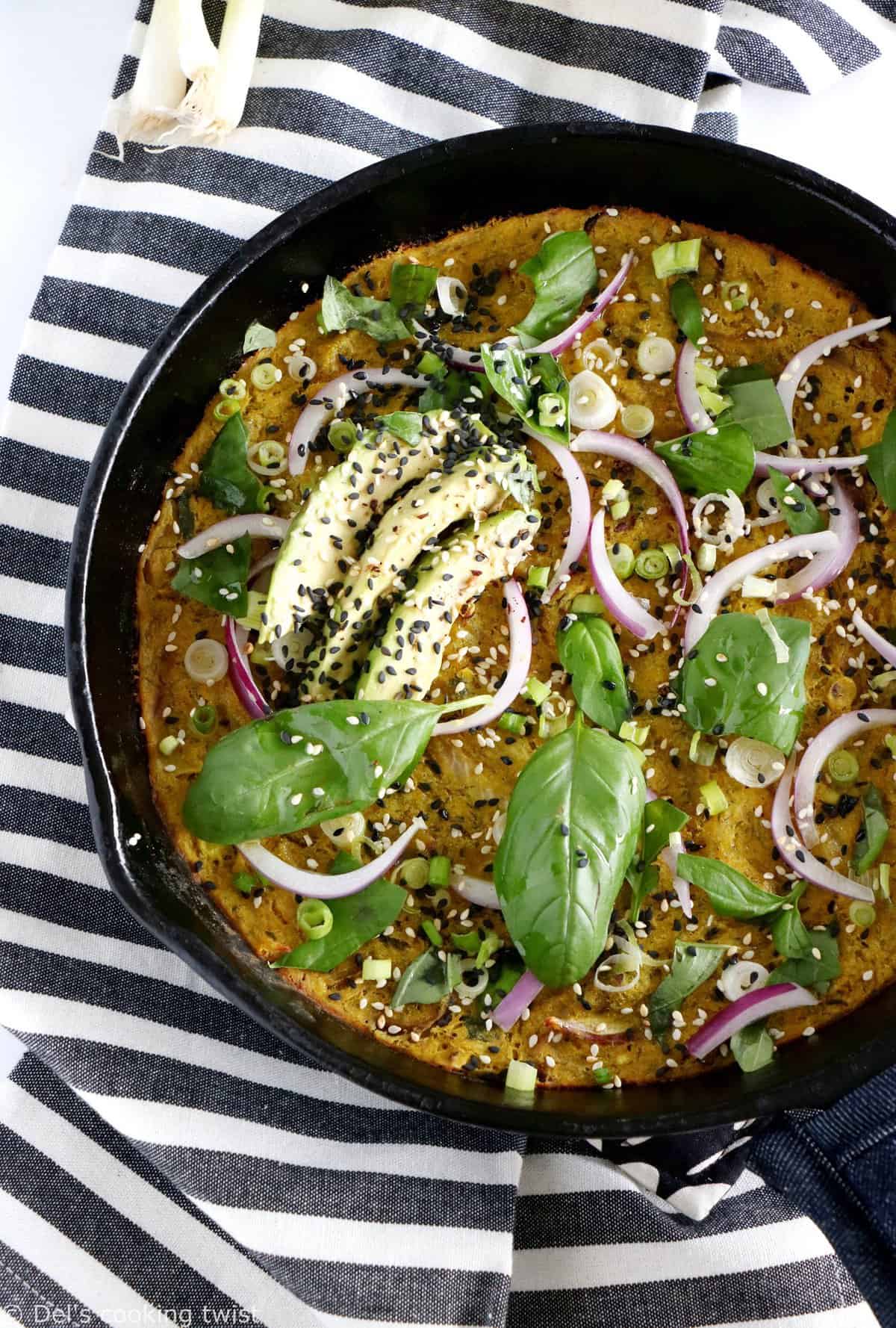 The idea of using chickpea flour have convinced me when I tried a vegan matcha crème brûlée (still in NYC, different restaurant). The texture is mind-blowing, really. And wow, this is SO easy to prepare. I hope you are ready because I am about to reveal to you the secret of my frittata: chickpea flour + water. Yes, that's it, nothing more. It seriously couldn't be easier! I also love the fact that you can have chickpea flour in your pantry, which makes it perfect for an improvised meal.
As for a classic omelette or frittata, you can use any vegetable of your choice, using what's in season, what you personally like or simply have at hand. If you use a cast-iron pan, all you need is gently sauté the vegetables, and then pour the chickpea mixture over before baking in the oven. If you use a pyrex pan instead, don't forget to line it with parchment paper first (or simply grease the bottom with butter). In this second scenario, you will need to sauté the vegetables in a sauté pan first, and then transfer to the pyrex pan and pour the chickpea mixture over, which doubles the dishes but work equally well for the recipe.
Besides, it is mandatory to season properly the chickpea batter before baking it, as it does not have so much taste on its own. In my version, I used some spices like coriander, turmeric and paprika, and added a generous amount of salt (important for this recipe!) and freshly ground pepper. Again, feel free to adapt the recipe, using other spices of your choice. My only advice would be to keep the turmeric, a sweet spice that also brings the lovely yellow color to the chickpea mixture, making it looking more like eggs. You can also add herbs, like I did here with basil. In other versions, I would use cilantro, sage, or thyme. Play with any seasoning you fancy and make the recipe yours.
Note also that in a more advanced version, the chickpea mixture could be used as a batter for a quiche! I like quiches a lot and always wondered how to make them vegan in a nice way. Again here the use of soft tofu could do the trick, and so would the chickpea mixture. Really, this recipe is so easy that I could almost prepare it everyday!
I usually enjoy my frittata cut into square and garnished with additional spring onions, basil leaves and sesame seed (just because it looks even more appetizing). Serve with a side of lettuce with vinaigrette or why not some hot sauce or tomato sauce. Possibilities are endless and that's what I love so much about this vegan and gluten-free frittata, besides the fact that it is also a rather healthy plant-based dish. Bon appétit!
Print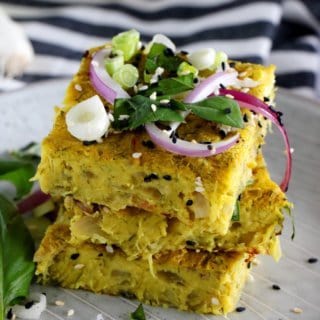 Vegan Zucchini & Red Onion Frittata (Gluten-Free)
Author:

Prep Time:

45 mins

Cook Time:

30 mins

Total Time:

1 hour 15 mins

Yield:

4

servings

1

x

Category:

Savory

Cuisine:

Vegan
---
Description
Game-changing vegan zucchini frittata made with chickpea flour. Naturally gluten-free, it makes a perfect healthy, wholesome, and satisfying everyday meal.
---
For the Frittata:
1

medium red onion, sliced

1

–

2

tablespoons olive oil

1

large or

2

medium zucchini, grated

3

grated garlic cloves, crushed

1/2 teaspoon

ground coriander

1/2 teaspoon

ground turmeric

1/4 teaspoon

ground paprika

1

handful basil leaves, chopped

3

–

4

green onion sprigs, chopped
Salt and pepper, to taste

1 cup

(

90g

) chickpea flour

1

and 1/2 cups (

360

ml) water
Toppings (optional):
Sesame seeds
Basil leaves
Green onion, chopped
Hot sauce or tomato sauce
---
Instructions
Preheat the oven to 350°F (180°C).
In a non-stick frying pan, melt red onions in olive oil until translucent. Add grated zucchini, crushed garlic, coriander, turmeric, paprika, and stir often as you cook, about 5 to 10 minutes.
Mix in the chopped basil and green onion and turn off the heat. Add salt and pepper as desired (make sure there is enough salt or it will be tastless).
In a large bowl, whisk together chickpea flour and water. Add the zucchini mixture and stir everything up evenly, to make sure the zucchini do not sink to the bottom.
Pour into a cast-iron skillet or a lined pyrex pan, and bake for about 30 minutes, or until slightly golden brown. Slice and serve with toppings of your choice and a side of green salad.
---