These strawberry cheesecake blondies are a dream come true and your soon-to-be summer favorite. On top of a delicious blondie bottom, you have a fabulous cream cheese layer and gorgeous fresh strawberries.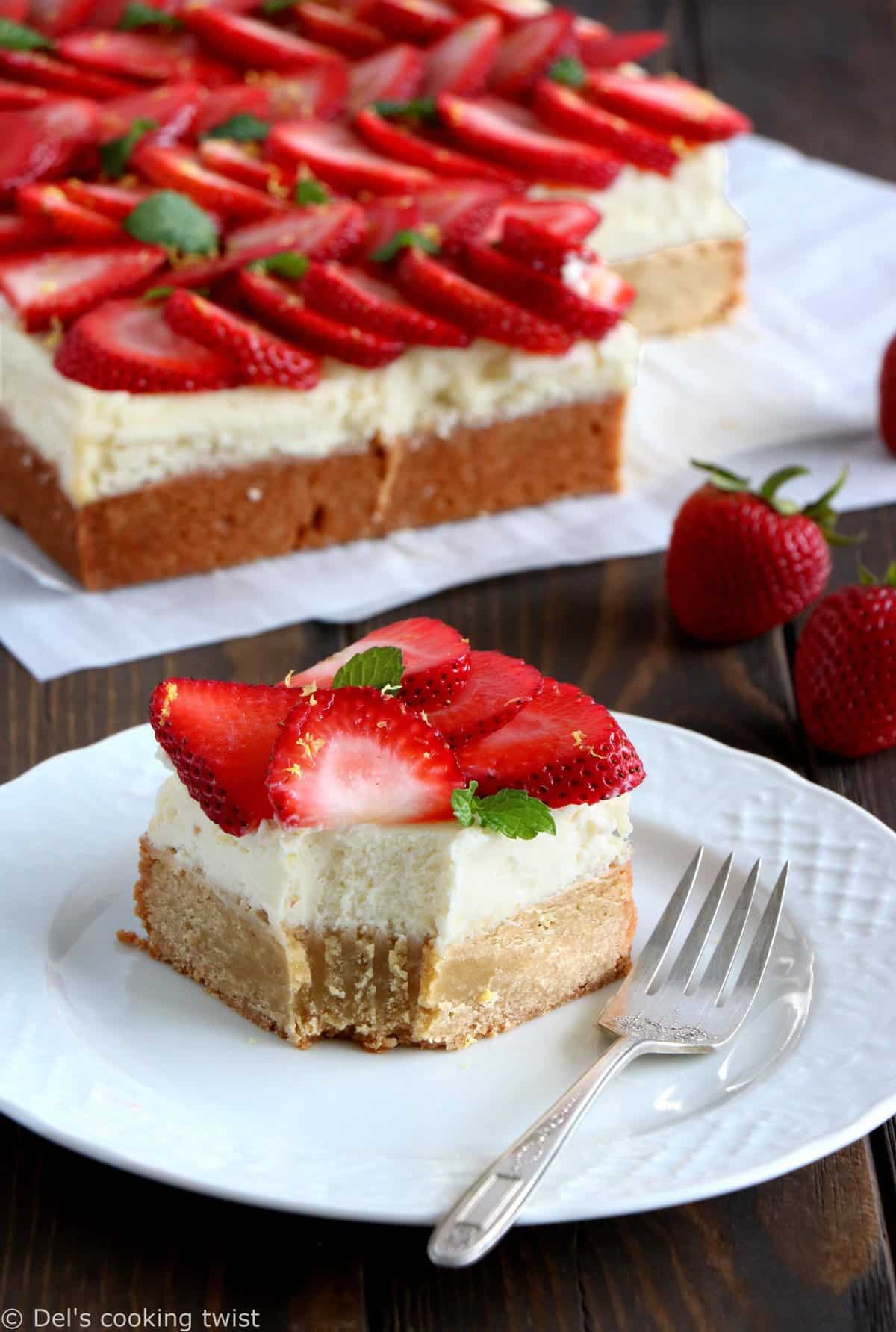 A little while ago, I baked some adorable mini strawberry cheesecake for a private event I was catering. Guests loved them so much that I decided to share the recipe with you, in a familial version rather than individual portions, because it's quick, easy, and perfect to share.
It's strawberry season and time to enjoy them in every way possible. When ripe, strawberries are juicy, sweet, slightly tart, and often best eaten raw by themselves or to top desserts and salads. Strawberries are also loaded with vitamin C, folid acid, fiber, and antioxidant properties. One cup of strawberries contains indeed 160% of the daily recommended vitamin C.
A few words about the blondie bottom…
While a classic cheesecake is usually made of a simple breadcrumbs bottom – most of the time Digestive biscuit crumbs or equivalent mixed with melted butter – this version calls for a blondie bottom instead.
What are blondies? To make it simple, blondies are usually considered as opposite of brownies because the former are vanilla-based and the latter chocolate-based. In reality, both blondies and brownies call for flour, sugar, butter and eggs, which makes them quite similar to each other in texture.
Being a little bit bored with the classic biscuit crumb cheesecake bottom, the idea of blondies sounded wonderful to me. I made mine without any chocolate chips as I did not want any additional flavors in my cheesecake. However, I once made the test with white chocolate chips (about 1 cup) and it worked very well too. Note that you could also enjoy these blondies by themselves, and completely skip the cheesecake part. If so, feel free to replace white chocolate chips with dark or milk ones instead, or why not with butterscotch chips.
A classic and simple cheesecake filling
Now for the cheesecake part, I simply mixed together room-temperature cream cheese, heavy liquid cream, sugar and egg, and lemon zest, until the batter is smooth. You will need to beat for a few minutes with an electric hand-mixer to get the right texture. If you like the lemony taste, you could even add a few drops of lemon extract or one teaspoon of lemon juice. It will add a lovely fresh touch to your cheesecake, which makes it perfect for a hot summer day.
Fresh strawberries on top!
The final touch is of course to add the freshly sliced strawberries on top and sprinkle with lemon zest. Note that I used raw strawberries and did not find it necessary to previously coat them with sugar. The reason here is to find the right balance of flavors and texture in the cheesecake: here the blondie bottom is already sweetened enough and brings an interesting contrast with the plain cheesecake layer and the freshly harvested strawberries. If you really are a sweet tooth, sprinkle sugar on top, and enjoy!
Side note about the blondie-cheesecake ratio
The ratio here is 1/2 blondie bottom and 1/2 cheesecake filling. If however you prefer having a more cheesecake look-alike texture with a ratio of 1/3 bottom and 2/3 cheesecake filling, feel free to cut the blondie bottom proportions in half.
Can I make mini strawberry cheesecake blondies?
You sure can! The recipe is exactly the same, you do not need to change anything. Use a muffin tin to make individual cheesecake blondies, and simply cut the baking time by a few minutes, depending on the oven you use. You want the blondie to be soft but not firm yet, and the cheesecake almost set but still white in color. Top with fresh strawberries, and you're all set!
Other cheesecake recipes to try:
Also don't miss these 20+ very berry recipes for even more inspiration!
Lastly, if you make these Strawberry Cheesecake Blondies, be sure to leave a comment and/or give this recipe a rating, letting me know how you liked it. And of course, don't forget to tag me on Instagram! Thank you and enjoy!
Print
Strawberry Cheesecake Blondies
Author:

Prep Time:

30 mins

Cook Time:

30 mins

Total Time:

1 hour

Yield:

9

servings

1

x

Category:

Cakes and Pies

Cuisine:

American recipes
---
Description
These strawberry cheesecake blondies are a dream come true and your soon-to-be summer favorite. On top of a delicious blondie bottom, you have a fabulous cream cheese layer and gorgeous fresh strawberries.
---
For the blondie:
1 cup

(

225g

) unsalted butter, melted

1 1/3 cups

(

240g

) cup light brown sugar, tightly packed

2

large eggs +

1

egg yolk

1 teaspoon

vanilla extract

2 1/2 cups

(

280g

) all-purpose flour

2 teaspoons

cornstarch

1 teaspoon

baking powder

½ teaspoon

salt
For the cheesecake:
350g

(

12 oz

) cream cheese, at room temperature

⅓ cup

(

70g

) sugar

1

large egg

⅔ cup

(

160

ml) whipping cream

1

lemon, zest only

1

lb (450g) strawberries, sliced

3 Tablespoons

sugar (optional)
Lemon zest
---
Instructions
For the blondie:
Preheat oven to 350°F (175°C) and line a 9×9 (23 x23 cm) pan with parchment paper.
Combine melted butter and sugar in a large bowl. Add eggs, egg yolk, one at a time, stirring well after each addition. Stir in vanilla extract.
In a separate bowl, whisk together flour, cornstarch, baking powder, and salt.
Gradually stir dry ingredients into wet until completely combined.
Spread batter evenly into prepared pan. Bake at 350°F (180°C) for about 15-20 minutes, until edges just begin to turn golden brow.
For the cheesecake:
Using an electric mixer, beat the cream cheese, egg, sugar, whipping cream, and zest until smooth.
Pour the filling over the blondie and bake for 15 minutes. Allow the cheesecake to cool in the oven with the door ajar.
In a medium size bowl, mix sliced strawberries with lemon zests and sugar if using. Then place in the fridge and let cool for about 2 hours. Remove 10 to 15 minutes before serving and enjoy!