For the second time in a row, I'm taking part in the Battle Food challenge. For those who read me regularly, you might wonder what the difference is between the Battle Food and the Bataille Food. These two French culinary challenges organized on a monthly basis aim to gather food lovers around a common theme. Everyone is invited, bloggers and non bloggers, to bring up their ideas and whip up a great recipe.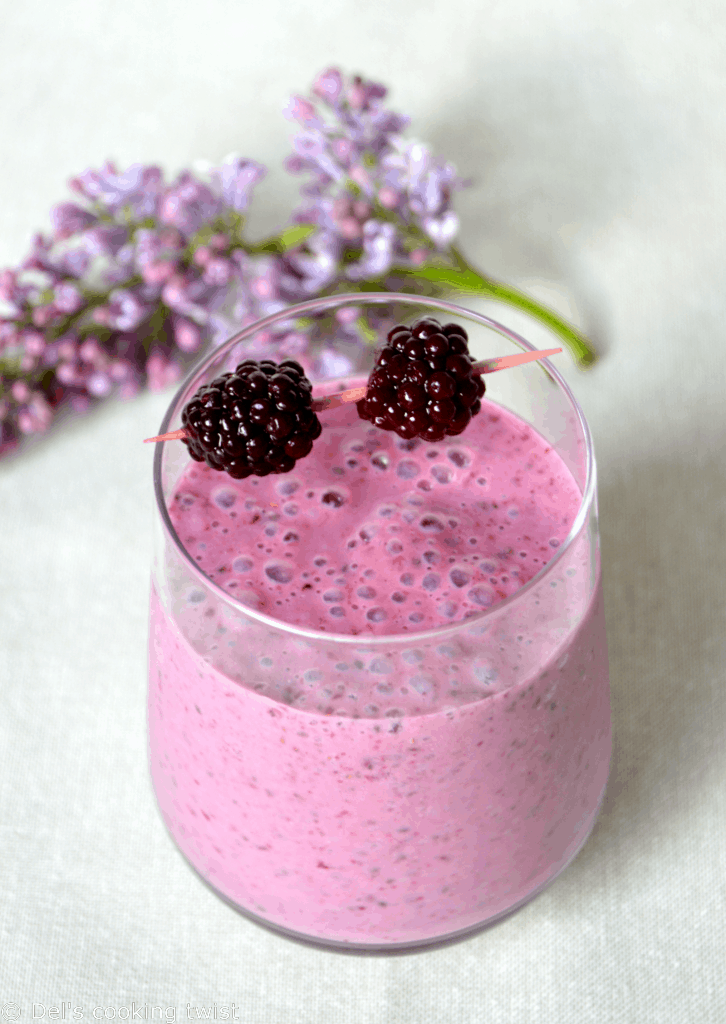 This time, the two ladies from La cuisine d'Anne et Olivia decided to celebrate the opening of Summer (a bit in advance) by launching the theme of "Sweet drinks". I immediately accepted to take part and it didn't take long before I found the recipe. I love all sorts of berries; they are pretty, delicate and full of vitamin C. Among them, I have my favorites, and blackberry is one of them. I remember picking blackberries with my younger sister Marie in the woods when I was a child and I would then bring them back to my mom, hoping she would use them in a pie or prepare some tasty blackberry jam, which she did sometimes but not so often unfortunately for me.
So blackberries were the main ingredient I wanted to use for my sweet drink. Then I keep hearing about chia seeds and their super powers. Since I'm always curious about trying new ingredients, I went for this one, thinking it would match the blackberries all in a smoothie. The result was amazing: a very tasty and healthy smoothie perfect for breakfast or to drink as a snack anytime during the day!
Ingredients (serves 2):
200g frozen blackberries
1 tbsp chia seed
2 cups semi-skimmed milk, fresh
2 tbsp honey
4 fresh blackberries for decoration
2 toothpicks
Preparation method:
1.Blend all the ingredients with a blender for 5 minutes. Make sure you use frozen blackberries and cold milk so that the smoothie becomes slightly frothy.
2. Serve in two glasses. Put two blackberries in each toothpick and put across the top of the glass and enjoy!